Jump To Recipe
What's the weirdest thing you've ever added to a smoothie? I think my top three would be butternut squash, cucumber, and cauliflower. They may sound strange, but they go completely unnoticed and pack in a ton of benefits! Plus, if you steam them (the squash and cauliflower) or cut them (the cucumber) and freeze them ahead of time, they're easier to digest. They'll also help create the thick, frozen smoothie texture I love!
If you've never tried any of these smoothie ingredients, today is the day! I'm sharing a Cucumber Mango Smoothie, which of course, includes cucumber! It's bright, refreshing, and ultra-hydrating.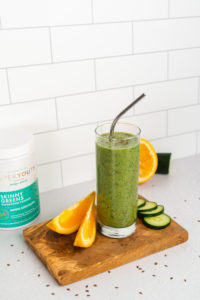 Health Benefits Of Cucumber Mango Smoothie
This Cucumber Mango Smoothie is bursting with beneficial greens and superfoods. It also comes together so quickly, I guarantee you'll be making it on repeat all summer long. Here are my three favorite ingredients in this delicious smoothie, and a few of their amazing benefits:
1. Skinny Greens Mango Splash
This isn't like other greens powders–it tastes amazing! It contains 34 supergreens that help to nourish the body from the inside out. Benefits include dropping stubborn weight, glowing skin, improved focus and mental clarity (goodbye busy brain!), better digestion (no more bloat!), and reduced inflammation. This is hands down one of my favorite smoothie add-ins because in just one scoop you get so many amazing results.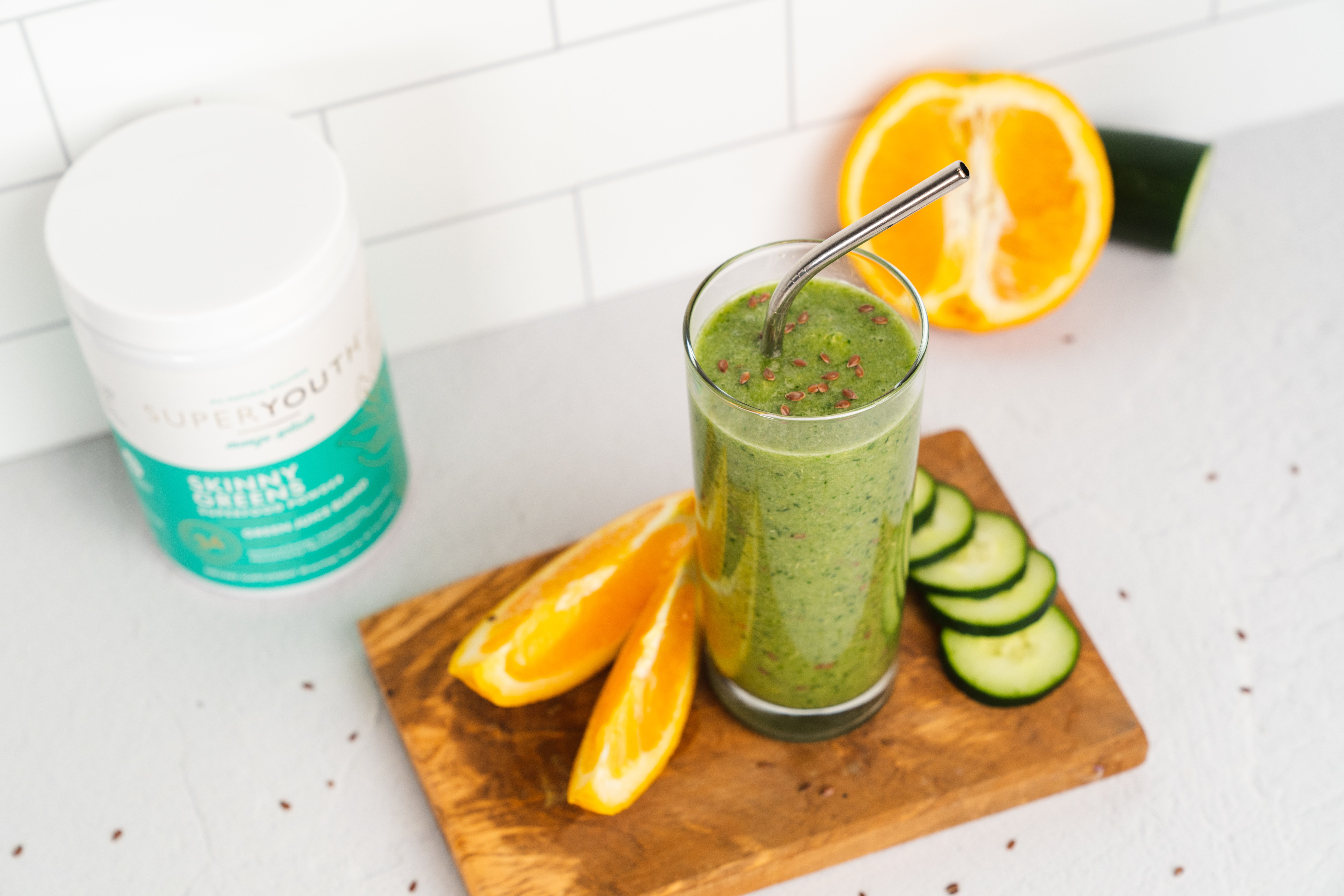 2. Cucumber
Don't knock it 'til you try it! Cucumbers are made up of over 95% water, making them super hydrating. You won't taste it at all in your smoothies, especially this one. Cucumbers are also a great source of vitamin K, which is great for bone health, and can even help fight cancer. [1] Plus, cucumbers are great for getting a clear, glowing skin complexion!
3. Flaxseed
 Flaxseeds are a powerful type of seed, called linseed, that contains a rich source of vitamin C, vitamin B6, calcium, iron, and potassium. The tablespoon amount added into this Cucumber Mango Smoothie adds nearly two grams of protein. For a small seed, that's great! In addition, the omega-3s found in flaxseed are key in helping fight inflammation and improving mood. [2] 
Green Juice Superfood Powder
Skinny Greens Mango Splash
Juicing made simple! Skinny Greens has 34 essential superfoods, stress-relieving adaptogens, & pre and probiotics for all of the daily nutrients your body craves.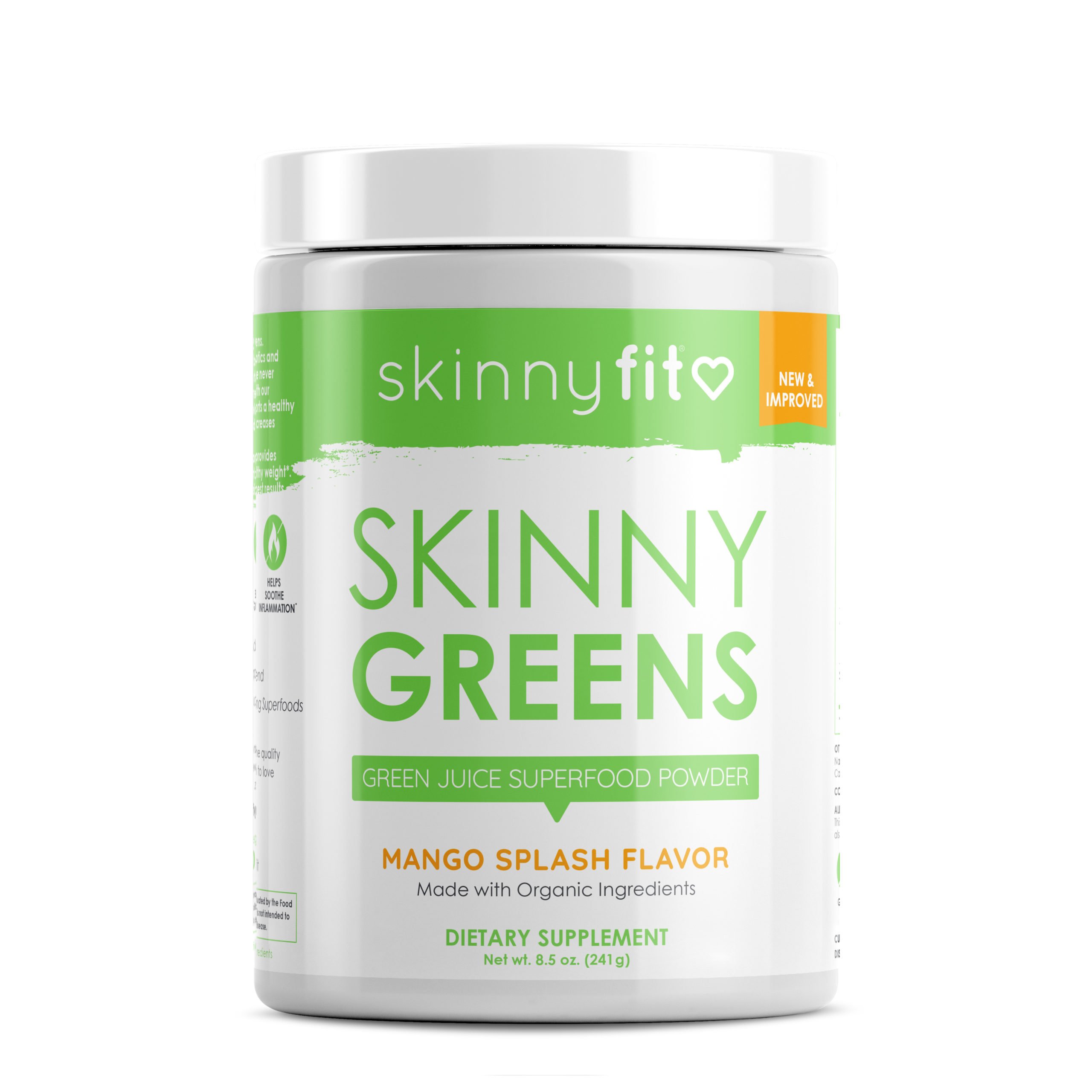 Crisp Cucumber Mango Greens Smoothie
You need to make this Cucumber Mango Smoothie! It's hydrating, skin clearing, mood boosting, and oh so tasty!
Prep Time: 5 min
Cook Time: 0 min
Total Time: 5 min
Serving Size: 1 smoothie
Ingredients
1/3 cup mango
1 orange peeled
1 cup chopped cucumber
1 tablespoon flaxseed
1 cup spinach
1 scoop Skinny Greens Mango Splash
Steps
Add all the ingredients to a blender
Blend until smooth (add more water as needed to reach desired thickness)
Enjoy!