Jump To Recipe
Most fall pumpkin recipes are made up of sweet drinks and desserts. Rich cookies and pies, and sugar-filled coffee and cocktails. But what about us savory ladies? Those of us that have bigger cravings for salty than sweet deserve some delicious fall recipes, too! 
If you love salty, festive, crispy treats more than sweet ones, you're going to love today's recipe. It's one of my favorite flatbread recipes, and it's just as festive as a pumpkin spice latte.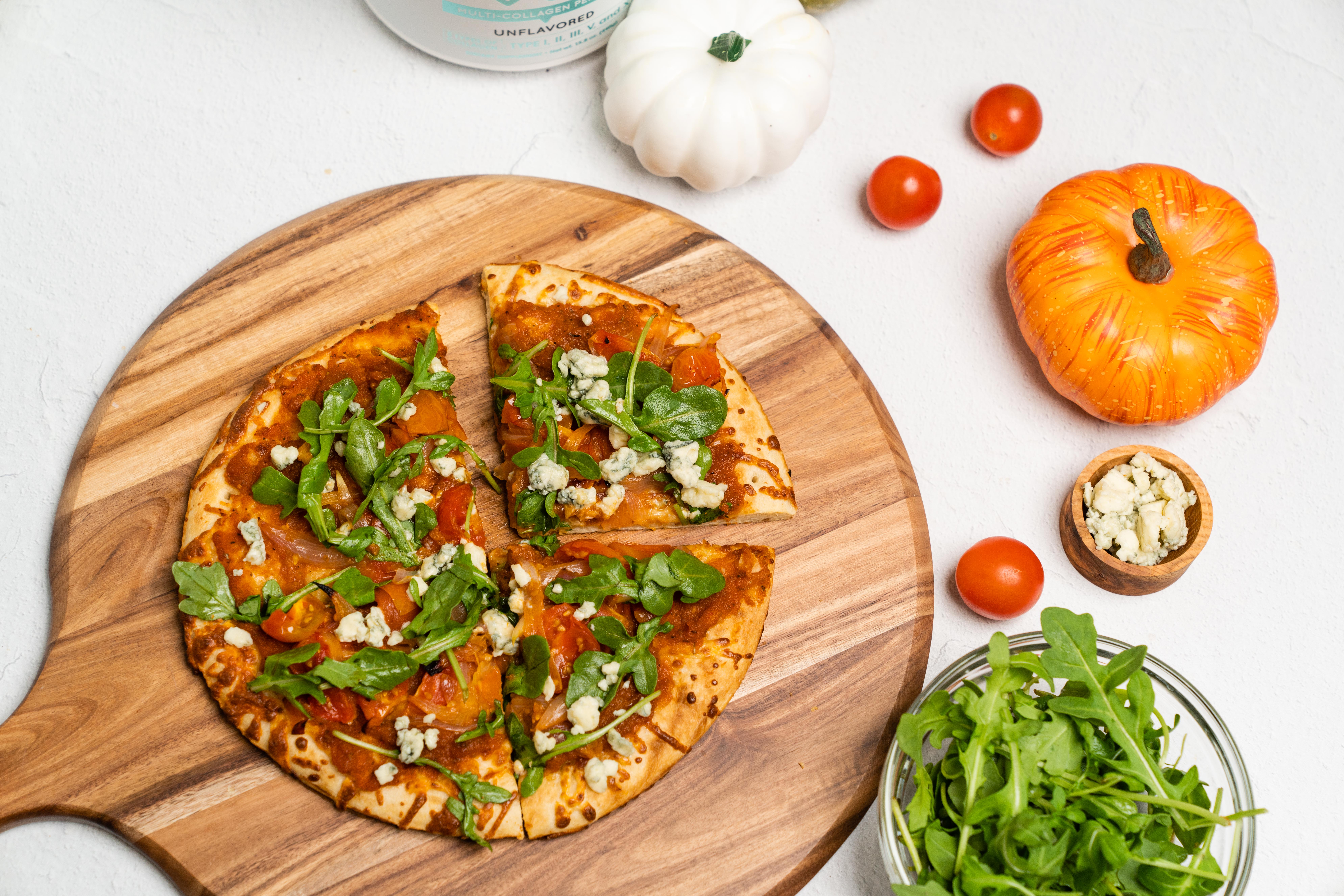 Benefits of Crispy Pumpkin Flatbread
Out of all of the savory pumpkin recipes I've made, this one is by far my favorite. Not only is it delicious and festive, but it's a dish that won't leave you feeling guilty or overly stuffed. First of all, this recipe is packed with fresh herbs and spices. Garlic, shallots, and the dried Italian seasoning give this flatbread flavor, and a load of benefits! Studies show that cooking with and consuming a variety of herbs and spices can promote anti-inflammatory and anticarcinogenic properties. [1] So, don't skimp on the spices!
The fresh produce also brightens this recipe up. The vitamin A in pumpkin is great for boosting immune function, and tomatoes are a great source of vitamin B and potassium. Still, arugula is the star of this recipe for me. I can't get enough of arugula, and I add it to just about everything I can. Arugula is a great green for improving digestion, increasing calcium consumption, and reducing inflammation in the body. [2] Win-win!
Lastly, this recipe is all made with fresh, whole foods. Not only do you save time and money by cooking at home, but it also reduces the amount of toxins your body is exposed to. This is a bright and delicious recipe you can whip up at home while enjoying the delicious flavors of a restaurant-worthy dish. I guarantee this is one of those pumpkin recipes that you'll be making on repeat this fall!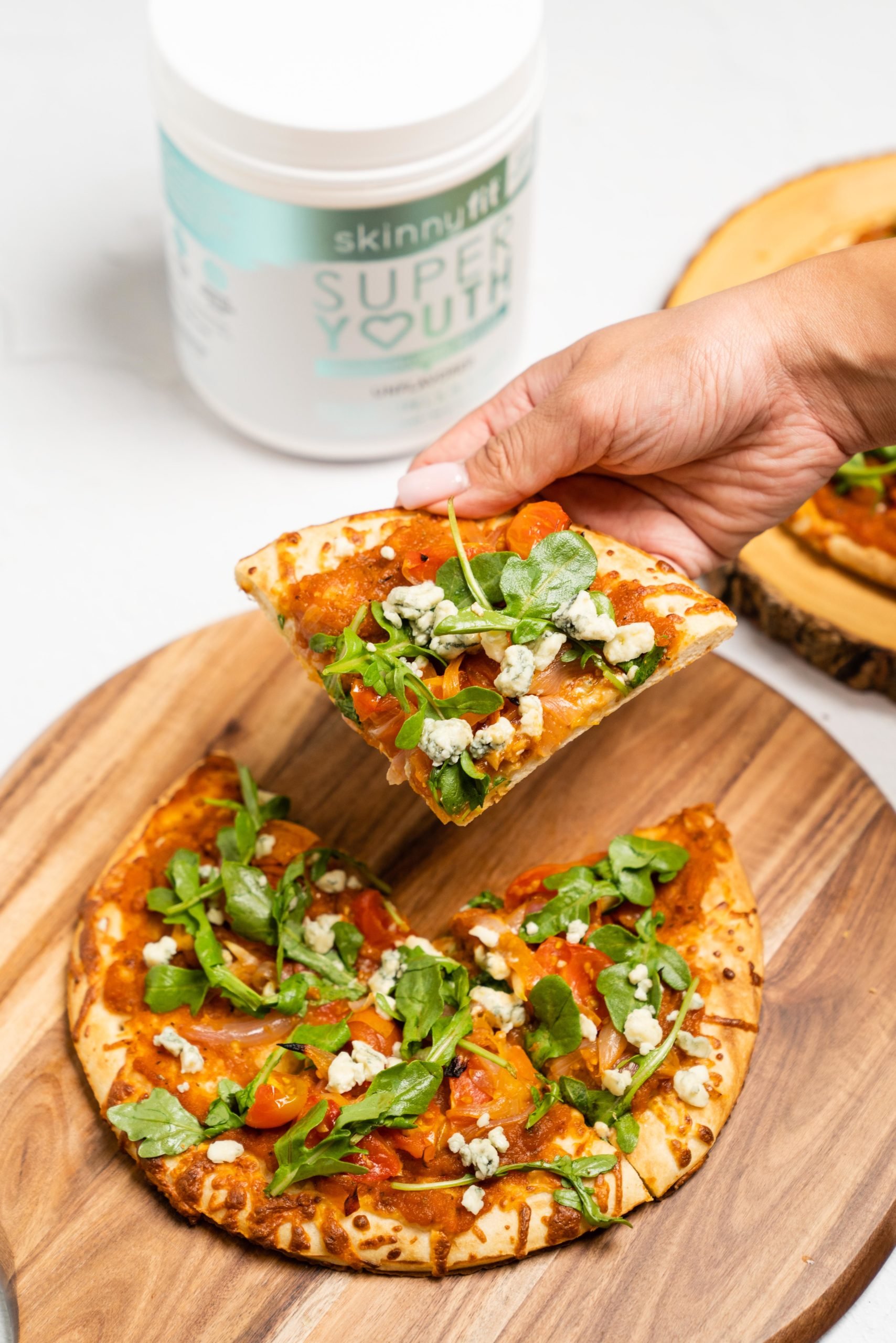 What Ingredients Do I need?
Flatbread recipes can seem intimidating, but this one is made with many ingredients you may already have on hand. 
You'll need olive oil, minced garlic, tomato paste, canned pumpkin, water, crushed Italian seasoning, salt, grape tomatoes, sliced shallots, individual pizza crusts, fresh arugula, balsamic vinaigrette, and crumbled blue cheese. In less than an hour, you'll have a delicious crispy pumpkin flatbread!
Mentioned In This Post
SkinnyFit Unflavored Collagen
Look and feel younger with Super Youth Multi-Collagen Peptides! This versatile collagen powder includes 5 collagen types from 4 natural sources to restore youthfulness from the inside out.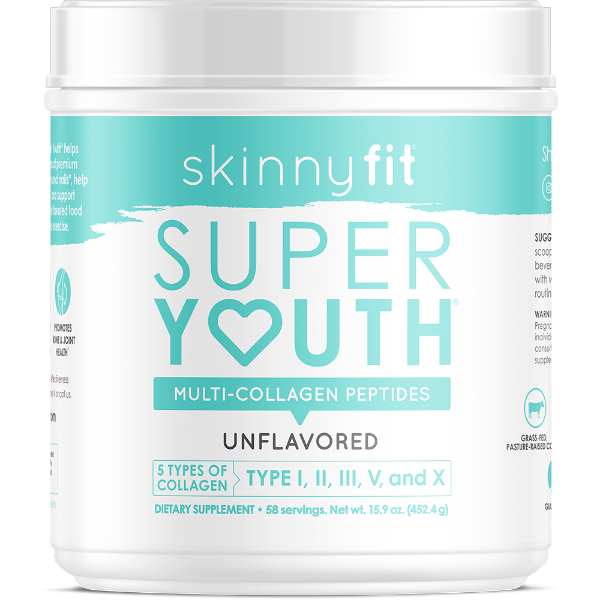 Crispy Pumpkin Flatbread
Prep Time: 10 min
Cook Time: 10 min
Total Time: 20 min
Serving Size: 4
Ingredients
1 Tbsp plus 2 tsp olive oil
2 cloves minced garlic
1 Tbsp tomato paste
¾ cup canned pumpkin
¼ cup water
1 tsp Italian seasoning, crushed
¼ tsp salt
4 cups grape tomatoes, halved
4 shallots, sliced
4 thin pizza crusts
4 cups fresh arugula or arugula-baby spinach blend
1-2 Tbsp balsamic vinaigrette
¼ cup crumbled blue cheese
1 scoop Unflavored Super Youth
Steps
Preheat oven to 400 degrees. For marinara sauce, in a small saucepan heat 2 tsp olive oil over medium heat.
Add garlic; cook and stir 30 seconds. Add tomato paste; cook and stir 30 seconds.
Stir in pumpkin, water, Italian seasoning, Unflavored Super Youth, and salt. Cook 5 minutes to blend flavors, stirring occasionally.
In a medium skillet, cook tomatoes and shallots in the remaining olive oil, stirring frequently, over medium-high, 8-10 minutes or until tomatoes burst.
Bake pizza crusts directly on the oven rack for 2 minutes, then remove from oven and place on a large baking sheet. Spread pumpkin sauce evenly over crusts. Top with tomatoes, shallots, or desired toppings, and bake for 4 minutes.
Meanwhile, in a bowl toss arugula with vinaigrette to coat, then finish with topping arugula on flatbreads and sprinkle with blue cheese.