Jump To Recipe
When it's a hot summer day, and the afternoon hunger cravings kick in, the only thing on my mind is vegetable spring rolls. They're light, refreshing, healthy, and so delicious. If you've ever had spring rolls, you know that the sauce is what really ties the dish together. 
You don't have to order take-out or go out to eat to enjoy vegetable spring rolls, though! Today, I'm sharing my tried and true, so simple spring roll recipe. They're so easy to make in bulk, so you can snack on them throughout the week.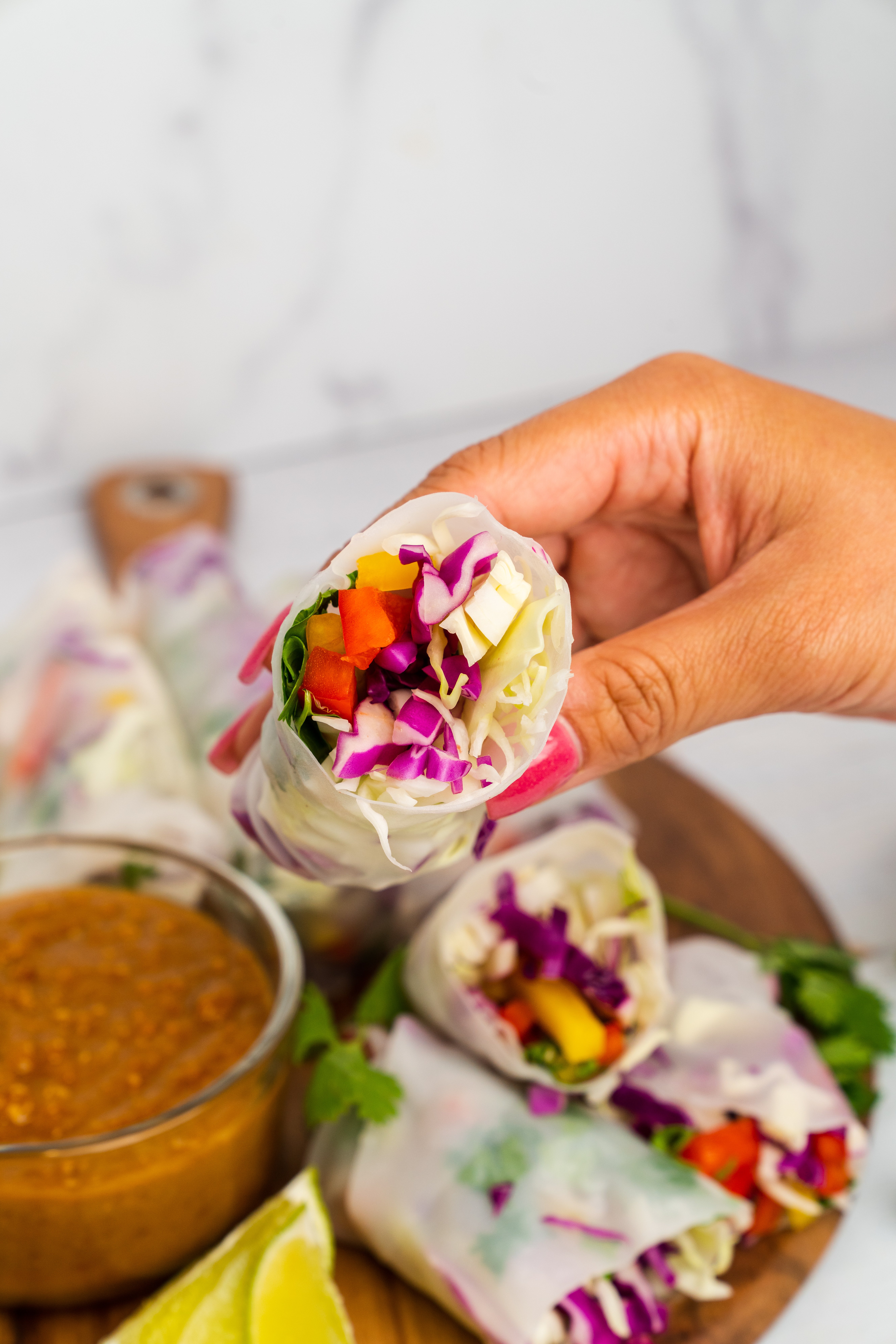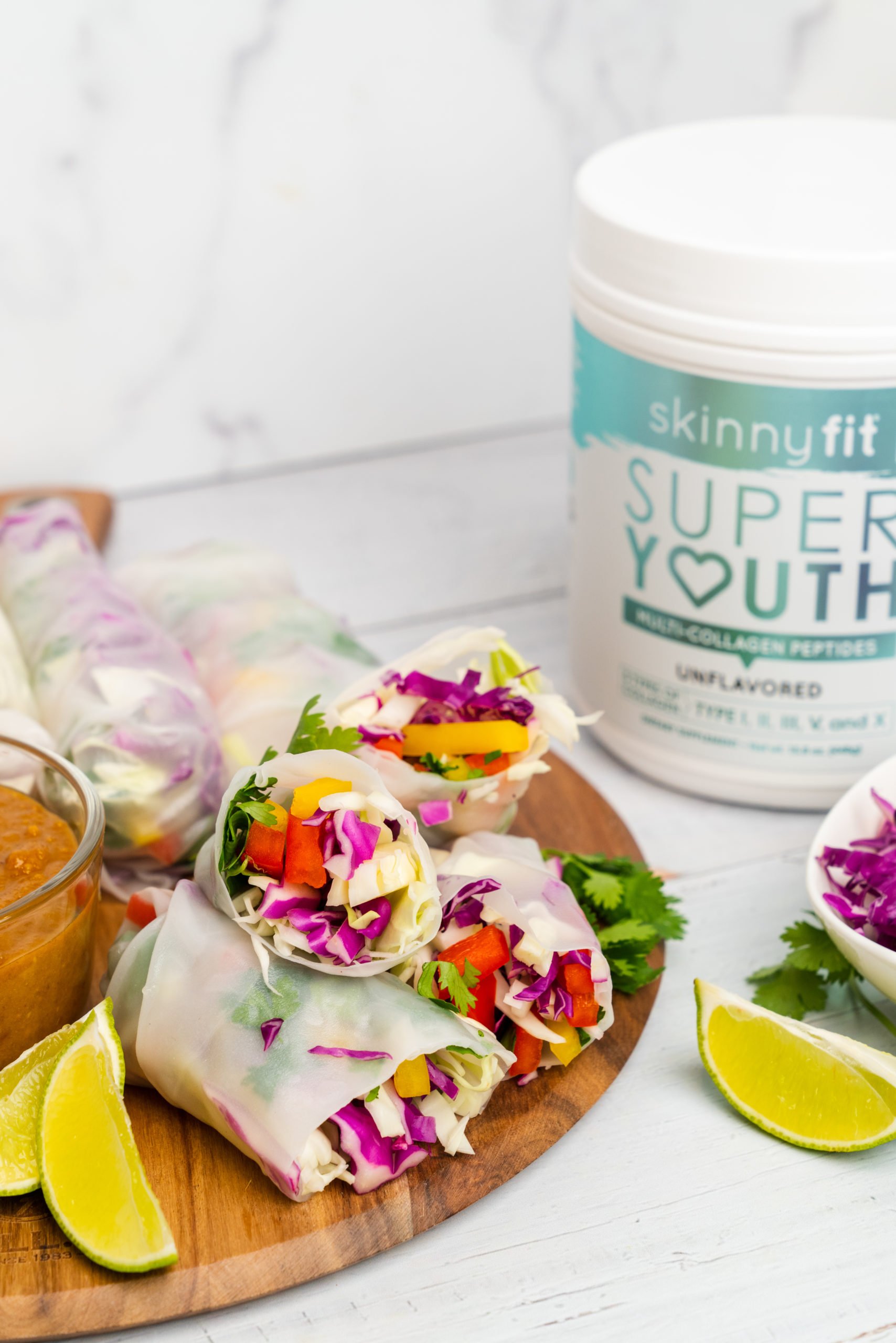 What Are Rainbow Vegetable Rolls?
Vegetable rolls are made with a medley of herbs and veggies wrapped in rice paper. They're most notably found in Southeast Asia, and can be found on the appetizer menu of most Chinese restaurants. They are typically vegan or vegetarian-friendly, and come with a delicious sesame-based dipping sauce.
The spring roll recipe I'm sharing with you today includes all of the above!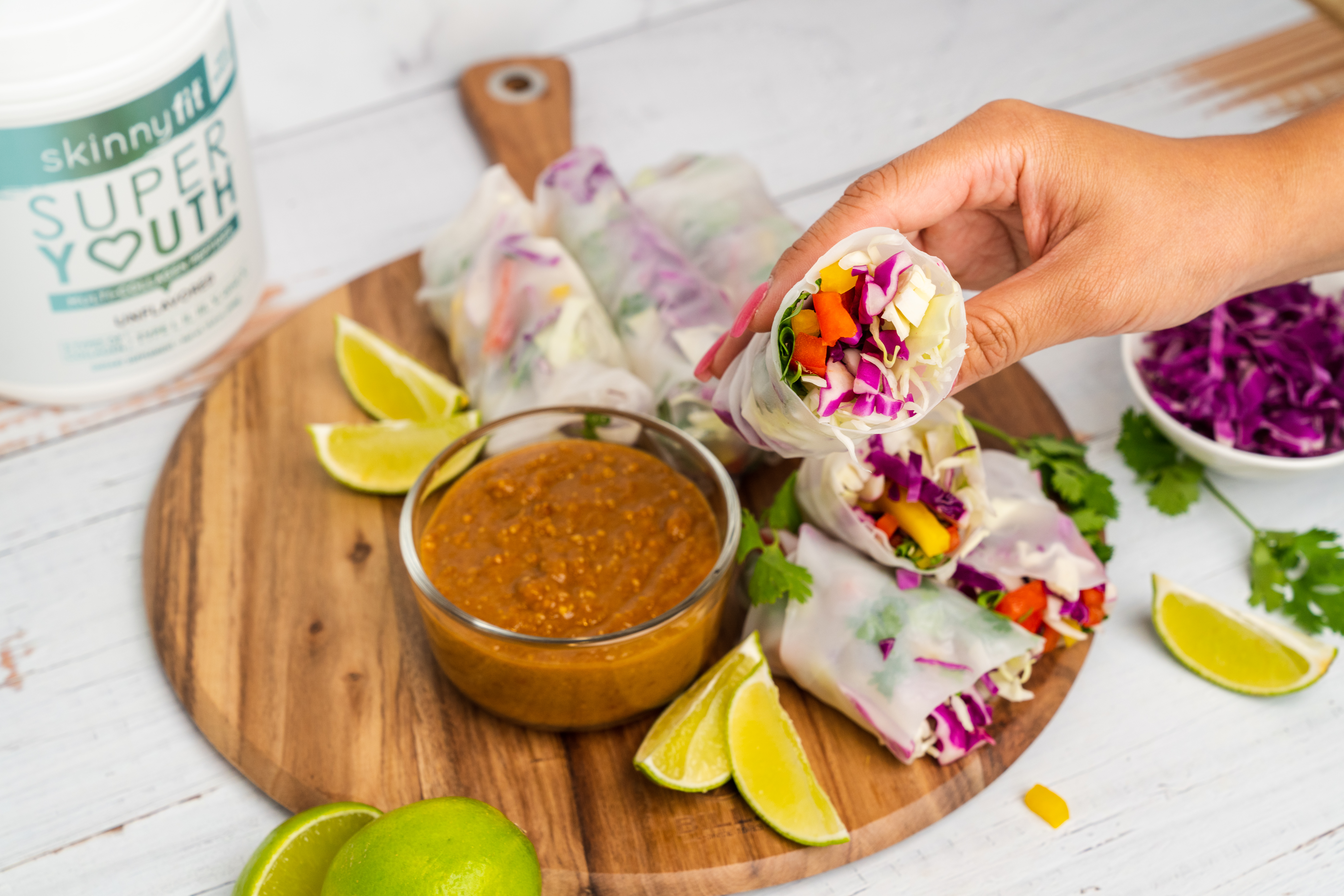 Benefits Of Rainbow Vegetable Rolls
Even just hearing the name of these veggie rolls, you can tell they're good for you! Every bite is refreshing, light, and so tasty, too. The first thing I love about this spring roll recipe is how many veggies are packed in. The variety of colors are what make spring rolls so pretty, but it's also what adds to the health benefits! Any time you see a vibrant colored fruit or veggie, it's made possible by phytonutrients, which contain a variety of vitamins and minerals. This recipe includes red and yellow peppers, red and white cabbage, and cilantro. 
The sauce, which is arguably the star of the show, is made with my go-to collagen – Super Youth. Collagen is the building block of our skin. It's what helps our skin glow, look and feel elastic, and even what helps keep it firm and lifted. As we age, our collagen production starts to diminish. But supplementing with a good quality, hydrolyzed collagen like Super Youth can help boost our body's own collagen production. This means brighter, radiant skin, tighter, firmer skin, and an overall pop of youthfulness. Can you tell why I try to add it into everything!?
Head to the grocery store, grab all your ingredients, and be sure to share this recipe with a friend!
Mentioned In This Post
SkinnyFit Unflavored Collagen
Look and feel younger with Super Youth Multi-Collagen Peptides! This versatile collagen powder includes 5 collagen types from 4 natural sources to restore youthfulness from the inside out.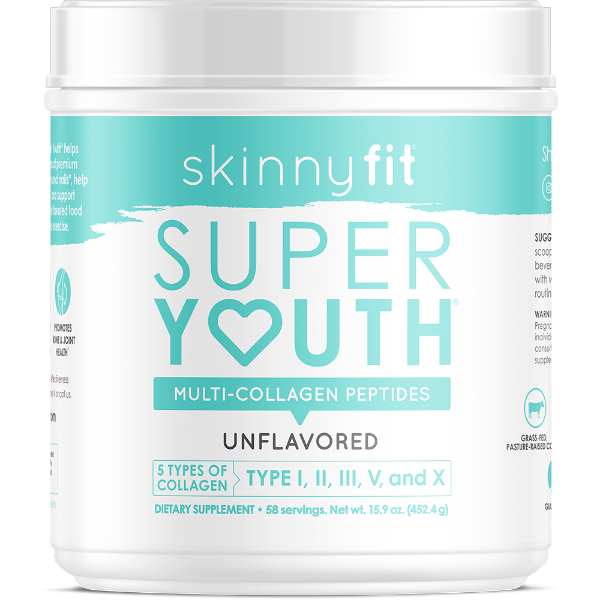 Easy Rainbow Vegetable Rolls w/ Spicy Peanut Sauce
Get the recipe for healthy, glow-inducing spring rolls that include a secret ingredient for skin-clearing benefits. Spoiler: it's probably already in your pantry!
Prep Time: 10 minutes
Cook Time: 7-10 minutes
Total Time: 20 minutes
Serving Size: 4-6 Rolls
Ingredients
1 cup roasted, salted peanuts
4 tablespoons extra-virgin olive oil
3 tablespoons Asian sesame oil
1 clove of garlic, roughly chopped
4 tablespoons soy sauce
4 tablespoons fresh lime juice (approx 2 limes)
1 tablespoon room temperature water
1 ½ tablespoon honey
1 ½ tablespoon sriracha
1 ½ cup finely shredded white cabbage
1 ½ cup finely shredded red cabbage
1 large red bell pepper, cut into matchsticks
1 large yellow bell pepper, cut into matchsticks
1 cup fresh cilantro, leaves only
8 sheets rice paper
1 scoop Super Youth Unflavored
Steps
Preheat oven to 350 degrees.
Pour peanuts onto a dry baking sheet and toast them in the oven, about 7-10 minutes.
Let peanuts cool and place roasted peanuts in a food processor or blender.
Blend/pulse until peanuts are finely chopped, then add olive oil, sesame oil, chopped garlic, soy sauce, lime juice, water, honey, sriracha, and Super Youth Unflavored and process until mixture becomes a fine paste.
Scrape spicy peanut sauce into a bowl and set aside.
Shred cabbages and slick bell peppers into matchsticks, then set aside.
Soak rice paper one piece at a time in room temperature water for around 20 seconds.
Place rice paper on a dry wooden board, and place a small handful of white cabbage, red cabbage, red bell peppers, yellow bell peppers, and cilantro in the middle of the rice paper.
Fold the paper from the bottom up, then fold in the sides, and finish rolling tightly.
Repeat with the rest of the rice paper and vegetables.
Slice each vegetable roll diagonally into two pieces and serve with spicy peanut sauce.