Jump To Recipe
As the long awaited crisp autumn air sets in and leaves change colors, it's the perfect time to embrace the cozy warmth of seasonal flavors. In fact, some of my favorite dishes are ideal for the fall and winter months! This Fall Roasted Garlic Kale Spaghetti Squash recipe is more than just a dish, but a delicious ode to the season's abundant harvest! Imagine a plate that not only satiates your hunger but also nourishes your body and soul – a comforting and healthful choice, perfect for sharing with loved ones during festive holiday get-togethers! To make it even more exceptional, the addition of collagen elevates both its taste and its wellness benefits. So, grab your apron, and let's get cooking!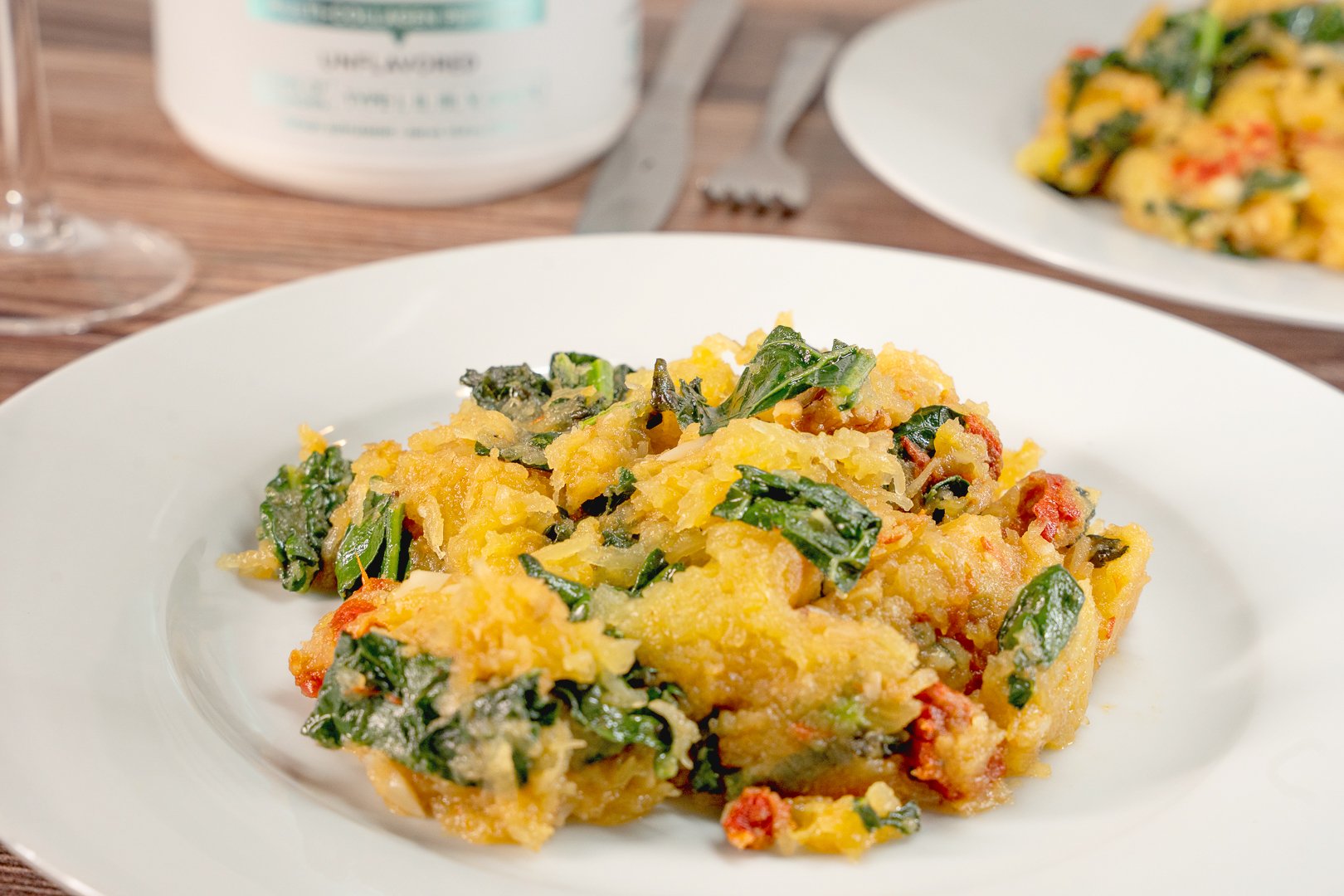 Hearty and Healthy for the Holidays:
This recipe combines three nutritional powerhouses: roasted garlic, kale, and spaghetti squash.
Garlic: Often referred to as nature's antibiotic, garlic is a fall favorite known for its numerous health benefits. It's a source of antioxidants, vitamins, and minerals. Garlic can support your immune system, making it an ideal addition to your diet during the flu-prone season.
Kale: This leafy green superstar is rich in vitamins A, C, and K, as well as fiber and various minerals. It's known for its potential to lower cholesterol, support digestion, and promote heart health. Kale's earthy flavors make it a perfect companion for the season's dishes.
Spaghetti Squash: As a low-carb alternative to traditional pasta, spaghetti squash adds a layer of health-consciousness to this recipe. It's a source of fiber, vitamins, and minerals, making it a nutritious base for your fall-inspired meal.
This recipe is like a big, comforting nutritional hug for your body during the cozy fall season when you're craving warmth and nourishment. By diving into the flavors of garlic, kale, and spaghetti squash, you'll not only relish a tasty meal but also give your body a boost of essential nutrients! Trust me, it's a win-win for your taste buds and well-being!
With the holiday season approaching, this recipe is an excellent addition to your repertoire. It's hearty enough to satisfy your guests and healthy enough to align with your wellness goals. So, don't miss the chance to create this wholesome masterpiece in your own kitchen. Your body and taste buds will thank you!
Mentioned In This Post
SkinnyFit Unflavored Collagen
Look and feel younger with Super Youth Multi-Collagen Peptides! This versatile collagen powder includes 5 collagen types from 4 natural sources to restore youthfulness from the inside out.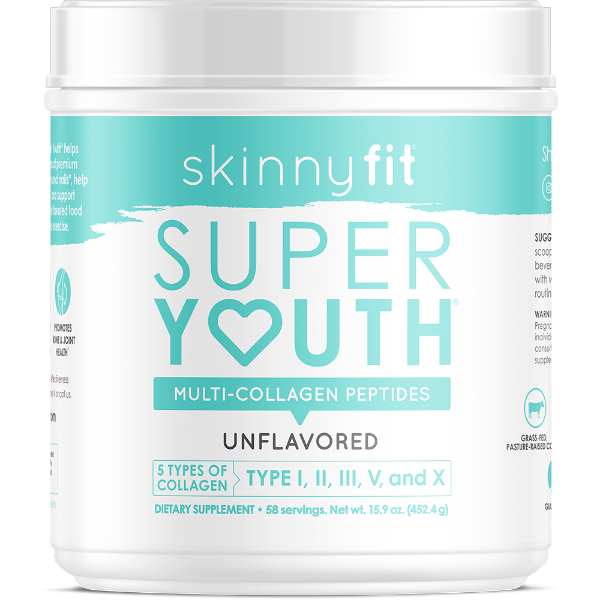 Fall Roasted Garlic Kale Spaghetti Squash
Prep Time: 20 mins
Cook Time: 1 hr
Total Time: 1 hr 20 mins
Serving Size: 2 servings
Ingredients
1 medium-sized spaghetti squash, roasted
1 small head kale, chopped
4 tablespoons olive oil (2 tbsp for roasted squash and 2 tbsp for vegetable mixture)
1/3 cup sun-dried tomatoes, drained
1 scoop Unflavored Super Youth
1/3 cup raw walnuts
1 bulb garlic
Pepper and sea salt, to taste
Steps
Preheat the oven to 400 degrees F.
Chop the tip and the tail off of the spaghetti squash, cut it in half lengthwise, and scoop the seeds out of each half.
Rub a tablespoon of olive oil over the flesh of each half. Sprinkle it with salt and pepper.
Place the squash cut-side down on a baking sheet.
Roast the squash for 35 to 50 minutes or until the flesh is tender. Note: For crunchy noodles, roast for 35 minutes. For al dente noodles, roast for 40-45. For tender noodles, roast for 50 to 55 minutes.
When the squash is cool enough to handle, use a fork to gently scrape the flesh, releasing spaghetti-like strands. Do this until both halves of the spaghetti squash are scraped clean and place the "spaghetti" into a large serving bowl.
Note that some water will seep out of the "spaghetti" – in order to drain the water, allow the spaghetti to sit in a bowl (or fine colander) and use a slotted spoon to scoop it on plates.
Roast the spaghetti squash according to these instructions, along with the garlic. To roast garlic, cut the top off of the bulb, drizzle with olive oil, and wrap in foil. Place in the oven with the spaghetti squash for the whole duration of roasting. Roast the walnuts for 5 minutes if desired.
When the spaghetti squash and garlic (and walnuts) have finished roasting, allow them to cool enough to handle. Once cool, use a fork to release the strands of spaghetti squash and place in a large bowl. Peel the garlic cloves, give them a rough chop, and transfer them to the bowl with the spaghetti squash.
Heat the olive oil in a large skillet over medium heat and add the chopped kale. Cover and cook until kale has wilted, about 3 to 4 minutes. Add the sun dried tomatoes, along with the spaghetti squash, roasted garlic, walnuts, and Unflavored Super Youth. Continue cooking and stirring until all of the ingredients are well-combined and heated through. 
Add sea salt to taste and taste the spaghetti squash for flavor. Serve and enjoy!