Jump To Recipe
Grilled peaches just might be the best summer dessert you can possibly sink your teeth into. The sweetness of this southern fruit lends itself perfectly to the open flame of a backyard grill, crackling as their juices heat in the final moments of the main meal, just waiting to be served. As a warm dessert, they lend themselves nicely to sweet, chilled after-dinner delights.
A typical grilled peaches recipe suggests pairing with vanilla ice cream or dessert wine—but, c'mon, when have I ever offered you a typical recipe? If you ask my taste buds, grilled peaches' favorite pairing is mascarpone—a flavorful Italian cream cheese often made with lemon juice, vinegar, or citric acid. And then we top it with honey. 🤤 Can you think of anything better?
Despite their mouthwatering appearance, you don't have to be a master chef to learn how to grill peaches—it's actually really simple to make. In fact, when they try this grilled peaches recipe, don't be surprised if your friends and family start thinking you've been secretly running a southern-style dessert kitchen behind their back!
Stick with me as I show you how to grill peaches in a way that's both mouthwatering and bursting with health benefits.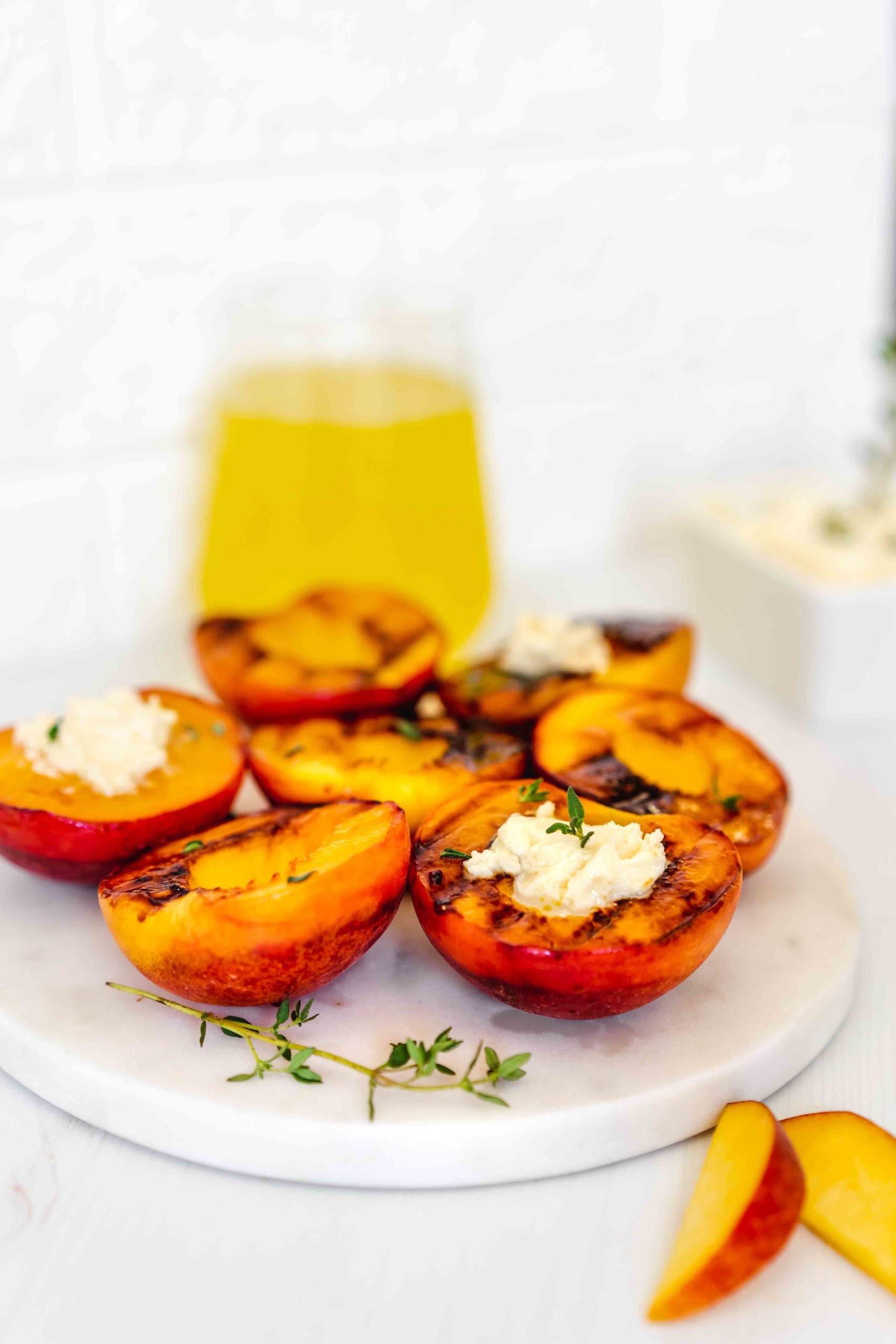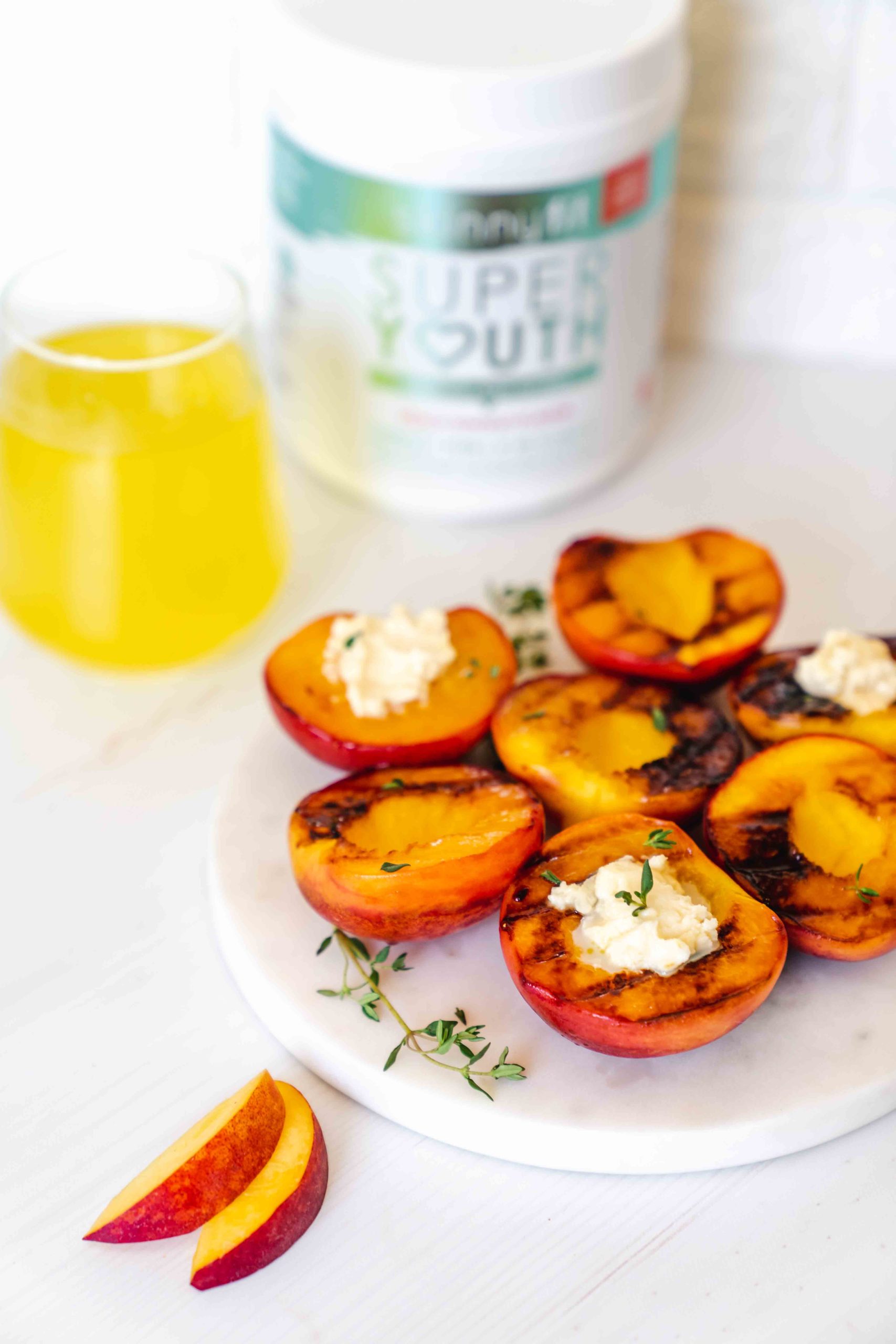 Health Benefits Of Peaches
Generally speaking, when it comes to food nutrients, color equals nutrient-density and (usually) the more colorful the fruit or veggies, the healthier they are for you. And just look at those peaches—all that yellow-orange vibrance is a key indication of headful benefits. In fact—too many benefits to list here, but let's take a look at some important benefits of peaches. 
Supports eyesight. That's because peaches contain generous amounts of beta-carotene, the "night-vision pigment" found in most orange-colored veggies, fungi, fruits, roots. Because beta-carotene converts to vitamin A, it's been shown to help improve night blindness. Beta-carotene also works as a powerful ocular antioxidant, shown in studies to be helpful against cataracts and macular degeneration. [1] They're also rich in two vision-supporting eye nutrients, lutein and zeaxanthin.
Boosts immunity. Being a precursor to vitamin A, the beta-carotene found in peaches makes them a great go-to for immune support. Vitamin A is a powerful anti-inflammatory, and plays a crucial role in our bodies immune response. [2] 
Low in calories. One normal sized peach weighs in at just 58.5 calories. [3] This makes peaches more than a sweet treat, but a nutrient dense fruit that can help with weight management. Like most fruits, though, peaches do have a fair amount of sugar—natural sugar—so keep that in mind when planning out your diet.
Rich in vitamin C, which is another crucial nutrient for immune system support. Vitamin C is an extremely potent antioxidant that contributes to our immune health, fending off virus attacks on our body, such as from colds and flus. 
Help keep skin looking young. That's right! Want great skin? Learn how to grill peaches! Okay, it's not so straightforward… But the vitamin C in peaches does support skin cell function and actually helps improve your body's collagen synthesis. The pro-collagen power of vitamin C makes it one of the best anti-aging nutrients out there. [4] You get lots in every bite of peach—but you get even more in from this grilled peach recipe, thanks to my (super delicious) secret ingredient, revealed below. 
What To Serve With Grilled Peaches
Learning how to grill peaches is the easy part—deciding what delectable toppings and sides to serve them with can get super tricky! Here are my four favorite companions to any grilled peaches recipe.
Mascarpone cheese—The same stuff tiramisu is made from. Compared with other cheeses, it's got a high fat content, so keep that in mind if you've eaten a lot of high-fat foods beforehand.

Vanilla ice cream—A popular grilled peaches companion, as mentioned, and a safe bet for less adventurous pallets. If you don't have mascarpone cheese, go with a grilled peaches recipe calling for vanilla ice cream. 
Peach Mango Collagen—Amp up the juicy flavor and youth-preserving benefits of peaches with a scoop of Super Youth Peach Mango collagen. This secret ingredient adds a world of benefits for your body, such as healthier skin, hair, and nails; stronger joints and ligaments, digestive support, protein boost, and helps stave off hunger for longer. No grilled peaches recipe is complete without it.
Honey—Sweet and delicious, and a great topper for ice cream or mascarpone cheese. Grab a local honey to help with seasonal allergies.
How To Grill Peaches
This grilled peaches recipe is as simple as it gets—so let's get to it!
Step One: After washing your peaches, cut them lengthwise and ditch the pit (or bury it in the autumn soil—properly watered it might sprout in the spring!). Then lather each slice with olive oil and a sprinkle of brown sugar.
Step Two: Spread peaches skin side up on a heated grill pan, grate, or skillet. Cook on medium-high until slightly charred.
Step Three: With your peaches chillin' and grillin' prep your honey mascarpone by whisking the cheese, honey, and vanilla extract in a bowl until fluffy.
Step Four: When peaches are slightly charred, top with the mascarpone mix and drizzle with a bit of honey for presentation and extra deliciousness. 
Step Five: Pair each serving with a glass of Peach Mango Super Youth for the ultimate grilled peaches experience and age-defying benefits.
Mentioned In This Post
SkinnyFit Peach Mango Collagen
Look and feel younger with Super Youth Peach Mango! This fruity collagen powder includes 5 collagen types from 4 natural sources to restore youthfulness from the inside out.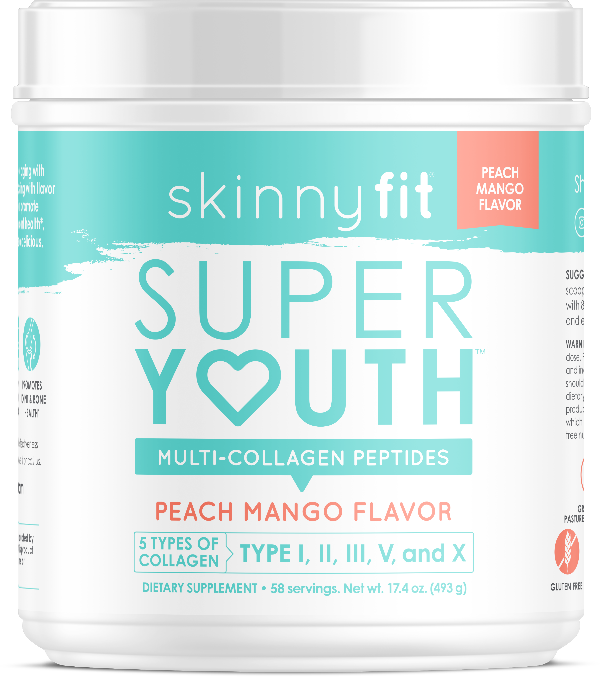 Grilled Peaches w/ Mascarpone & Honey Recipe
Sink your teeth into summer's best dessert: grilled peaches! This delicious grilled peaches has a secret ingredient that makes skin & hair shine!
Prep Time: 5 minutes
Cook Time: 7 minutes
Total Time: 12 minutes
Serving Size: 12 halves
Ingredients
6 ripe peaches
3 tbsp olive oil
1 tsp brown sugar for each peach halve
1 ½ cups mascarpone
2 tsp vanilla extract
4 tbsp honey
Fresh thyme (optional)
1 scoop Super Youth Peach Mango collagen
Steps
Wash peaches, slice lengthwise, and remove the pit. Brush each peach halve with olive oil and sprinkle with brown sugar.
Heat a grill pan, outdoor grill, or skillet to medium-high heat. Once the pan is hot, add peaches skin side up. Cook until the peaches are soft and slightly charred. While the peaches are cooking, prepare the honey mascarpone.
Combine mascarpone cheese, vanilla extract, and honey in a bowl and stir with a whisk until light and fluffy.
Once peaches are finished cooking, serve warm and top with a spoonful of the honey mascarpone. Drizzle each with additional honey and fresh thyme if desired. 
Serve with glass of Peach Mango Super Youth. Enjoy!