Jump To Recipe
When you think of fall-inspired food, what smell do you think of? Is it roasted nutty squash, or is it a sweet, cinnamon-coated dessert? For me, it's the latter. Baked cinnamon apple slices are the taste of my childhood. I remember picking fresh apples in upstate New York with my grandma, peeling them oh so carefully back at the house, and impatiently waiting for the oven timer to go off. The whole house would smell incredible.
The best part about baked cinnamon apples is how simple it is to make. Yes, there's a little bit of effort that goes into the preparation, but it's worth it. If you've ever made them before, and felt like they kind of fell flat in the flavor department, here's why. The secret to making the best baked apples is to use a variety of apple colors. For example, instead of just using honeycrisp (red) or granny smith (green) apples, use a combination of the two. This adds an extra dimension to the dish, and guarantees a sweet and savory combo of flavors.
The next must is to cut the apples just right. Cutting them too thin will make them soggy, and too thick will make them too dense. Slicing the apples about ¼ inch thick is the perfect in-between, and will guarantee a delightfully soft crunch.
As you know, I can't share any recipe without making it a tad bit healthier. So, of course, I added in my go-to collagen, Super Youth. It goes completely unnoticed taste-wise, but adds a good amount of protein, and of course, the beautifying effects you know and love. I can always get behind a dessert that will help make me look younger!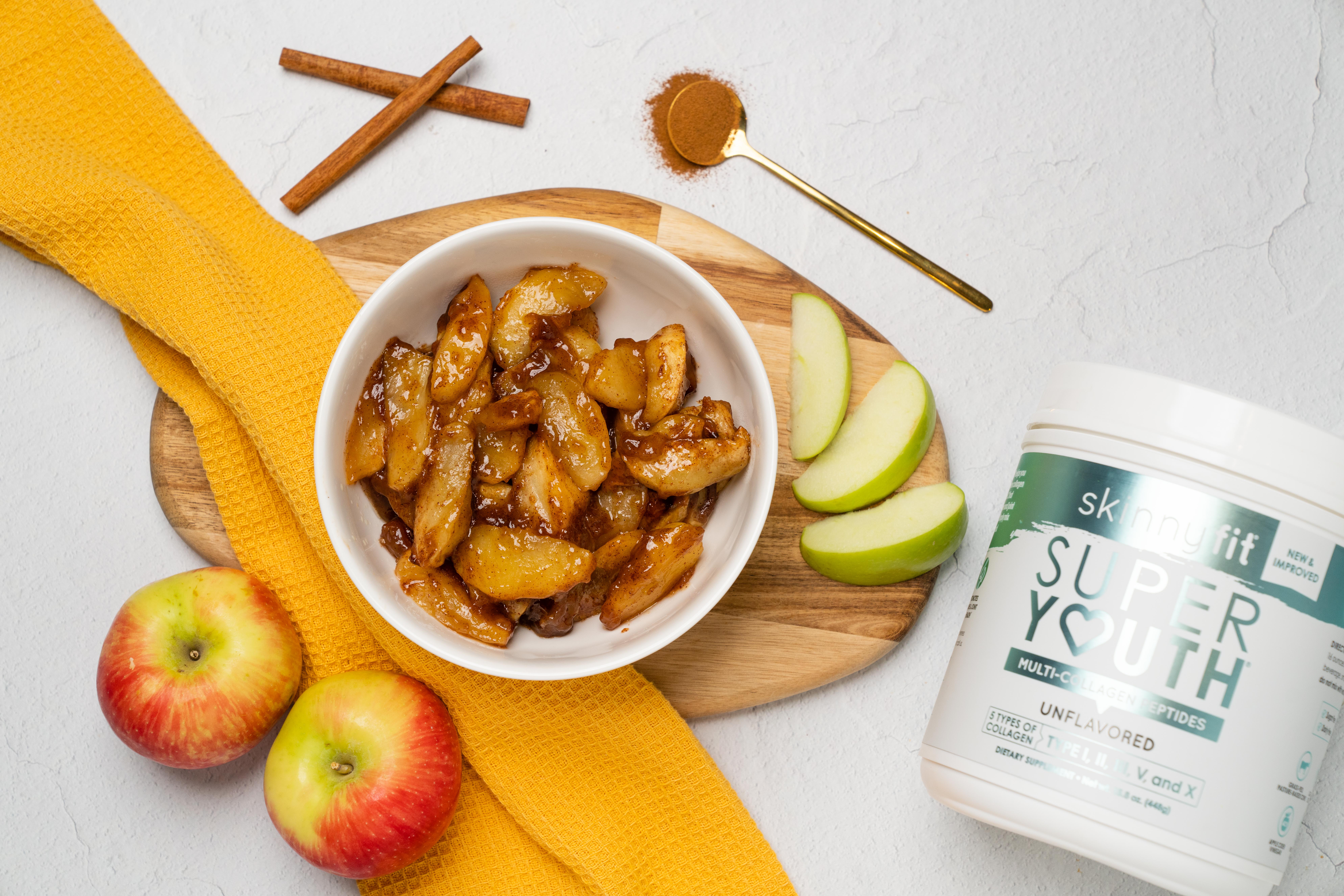 Mentioned In This Post
SkinnyFit Unflavored Collagen
Look and feel younger with Super Youth Multi-Collagen Peptides! This versatile collagen powder includes 5 collagen types from 4 natural sources to restore youthfulness from the inside out.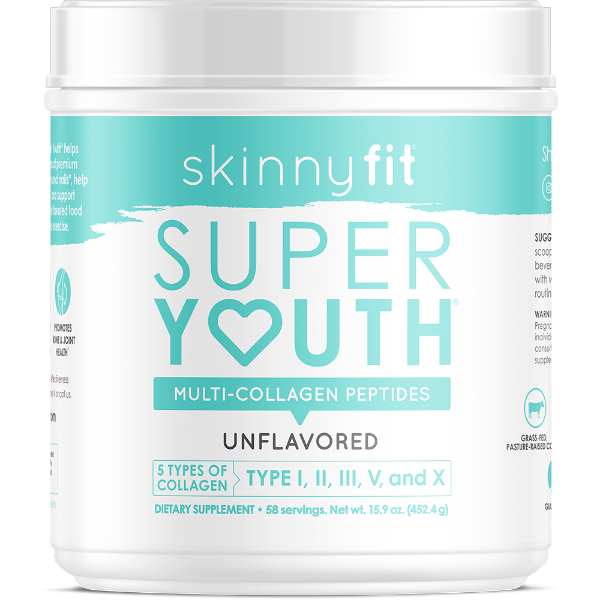 Baked Cinnamon Apple Slices
Without further ado, please enjoy my favorite October recipe – baked cinnamon apple slices. Yum!
Prep Time: 10 minutes
Cook Time: 45 minutes
Total Time: 1 hr 10 minutes
Serving Size: 1/2 cup
Ingredients
4 Honeycrisp apples, peeled, cored, and sliced 1/4 inch thick
2 Granny Smith apples, peeled, cored, and sliced ¼ inch thick
3/4 cup light brown sugar
3 Tbsp cornstarch
2 Tbsp unsalted butter, melted
2 Tbsp lemon juice
1 1/2 tsp ground cinnamon
1/4 tsp salt
1 scoop SY Unflavored
Steps
Preheat the oven to 350 degrees.
Combine apples, brown sugar, cornstarch, butter, lemon juice, Super Youth, cinnamon and salt in a large bowl.
Stir until the apples are fully coated, then transfer to a 9-by-13-inch baking dish; cover with foil. Bake for 45 minutes.
Remove the foil and stir the mixture, then bake, uncovered, until the apples are tender and caramelized, about 10 more minutes.
Cool for 5 minutes, then serve!
Refrigerate leftovers to enjoy as a sweet and healthy dessert throughout the week!