Jump To Recipe
Raise your hand if your parents let you use food coloring while cooking when you were younger. 🙋‍♀️ This was always sooo exciting for me, except when I would get carried away and use too many colors, so the final product would turn out brown…not so appetizing…
BUT, when it did turn out right, pink foods were my favorite concoction! So it's no surprise that this PINK chia seed pudding recipe absolutely blows my mind (and my taste buds)!
What's even better is that this healthy snack, looking oh-so-beautiful, is packed with anti-aging and weight loss-friendly ingredients that leave your skin (and waistline) feeling very thankful. 🙏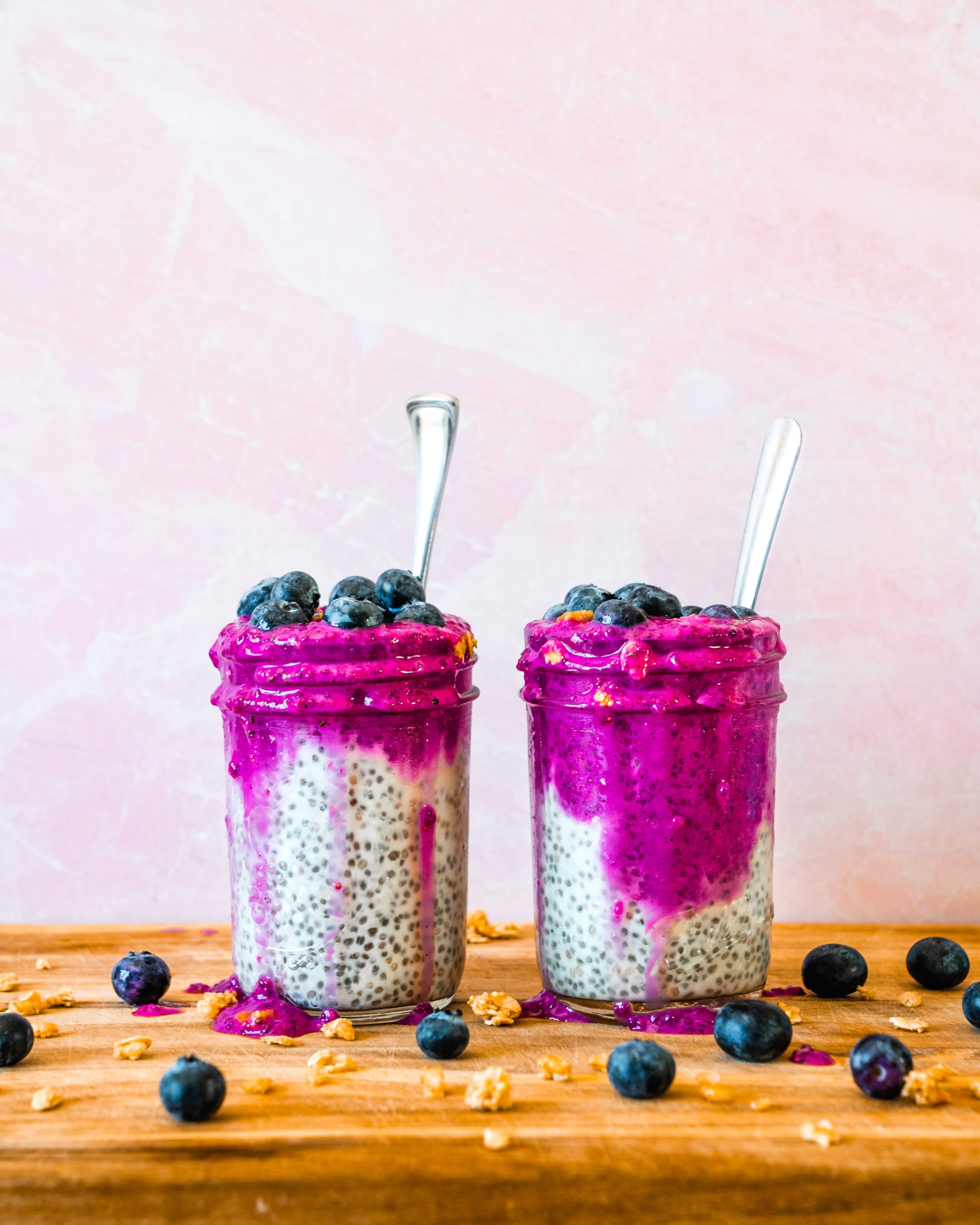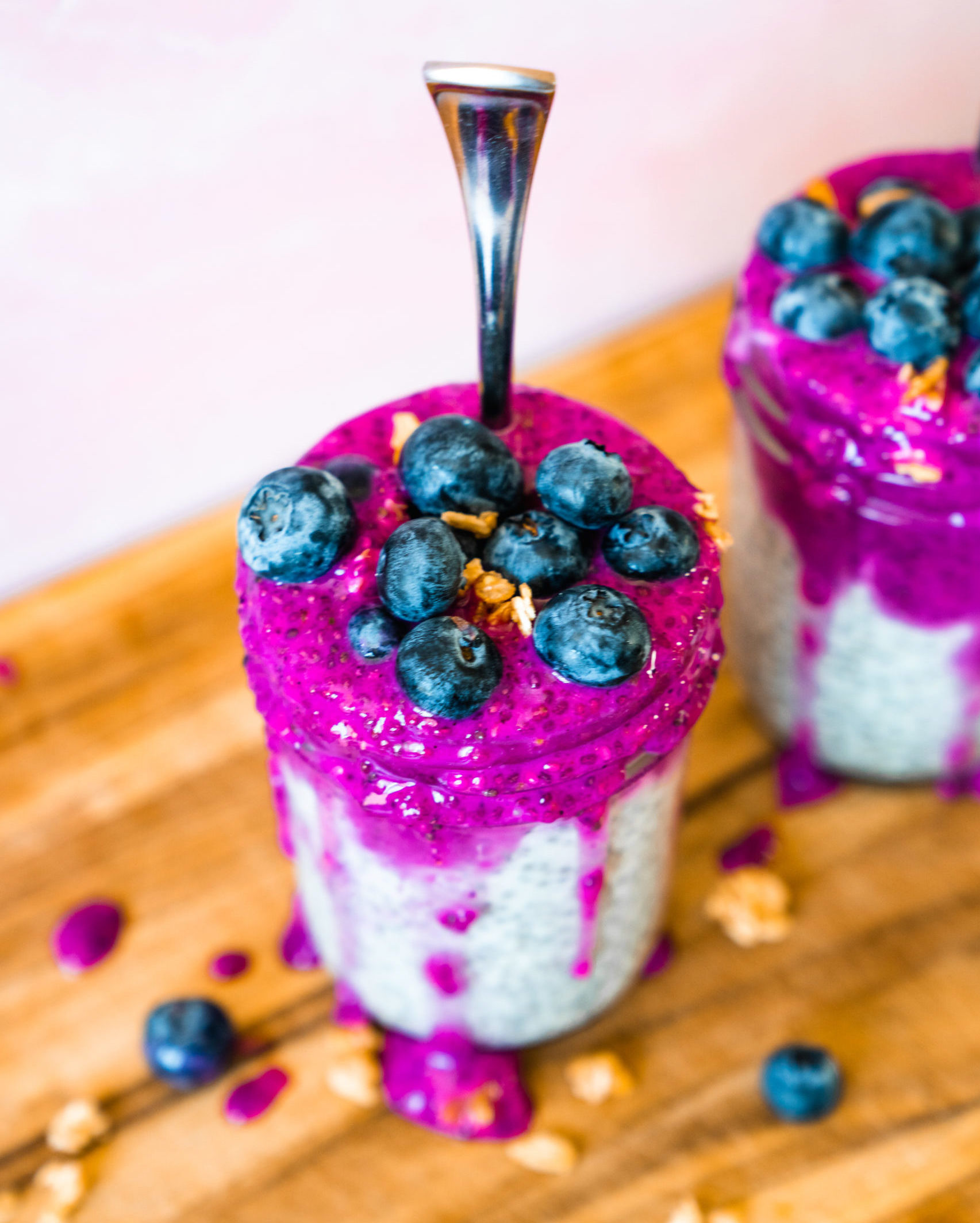 Chia Seed Health Benefits
Chia seeds popularity have gone up MASSIVELY in the wellness world lately, and for good reason! Despite the fact that chia seed sales have skyrocketed over the last decade, these little guys aren't anything new at all. In fact, back in the day, the Aztecs and Mayans regarded them highly for their sustainable energy and high-in-health benefits.
It took a little time, but modern-day nutritionists and health-conscious people everywhere have finally realized why the Aztecs prized chia seeds so much!
This chia seed pudding recipe makes it easy to pack the powerful health punches of chia seeds, with bonus ingredients for smooth skin and weight loss!
1. Antioxidants
Chia seeds are high in antioxidants, making this chia seed pudding extremely beneficial for your body's cells. Antioxidants help fight off free-radicals, which can damage your cells, causing signs of premature aging, and in more serious cases, long-term health issues (1).
So, when you learn how to make chia seed pudding, you're not only fighting the signs of aging, but also packing in some healthy protection for your body. 😊
2. Nutrients
Tiny but mighty, chia seeds have a ton of nutrients! A one-ounce serving of chia seeds contains fiber, protein, omega-3s, calcium, magnesium, zinc, potassium, and vitamin B3 (2), just to name a few. 
And not only that, but one ounce of chia seeds contains only 137 calories! So, I guess it's safe to say that chia seed pudding is deliciously & nutritiously slimming!
3. Fiber & weight loss
28 grams of chia seeds (one ounce), has 12 grams of carbs. The good, no AMAZING news, is that 11 of those grams are fiber! What does this mean? Well, even though fiber is in the carbohydrate family, it does not raise blood sugar and your body doesn't digest it, completely different from digestible carbs such as sugar. 
So, keto dieters rejoice! This chia seed pudding recipe is 100% a low-carb food. 🎉
And because of its high soluble fiber content, chia seeds absorb a TON of water for their weight, take on a jelly-like consistency, and expand in your stomach. This helps you feel fuller and helps you eat fewer calories throughout the day. 
4. Other benefits
If you're wondering how to make chia seed pudding, the answer will make you very happy! This chia seed pudding recipe cooks overnight in the fridge, giving you an excellent reason to wake up on the right side of the bed in the morning. 😊 Simply grab it, and go!
As if this chia seed pudding recipe couldn't get any better, I've also added your favorite anti-aging secret weapon—Super Youth collagen! If you don't already know, Super Youth collagen contains all 5 types of collagen peptides to help smooth wrinkles, reduce joint pain, and help create stronger, longer, hair & nails.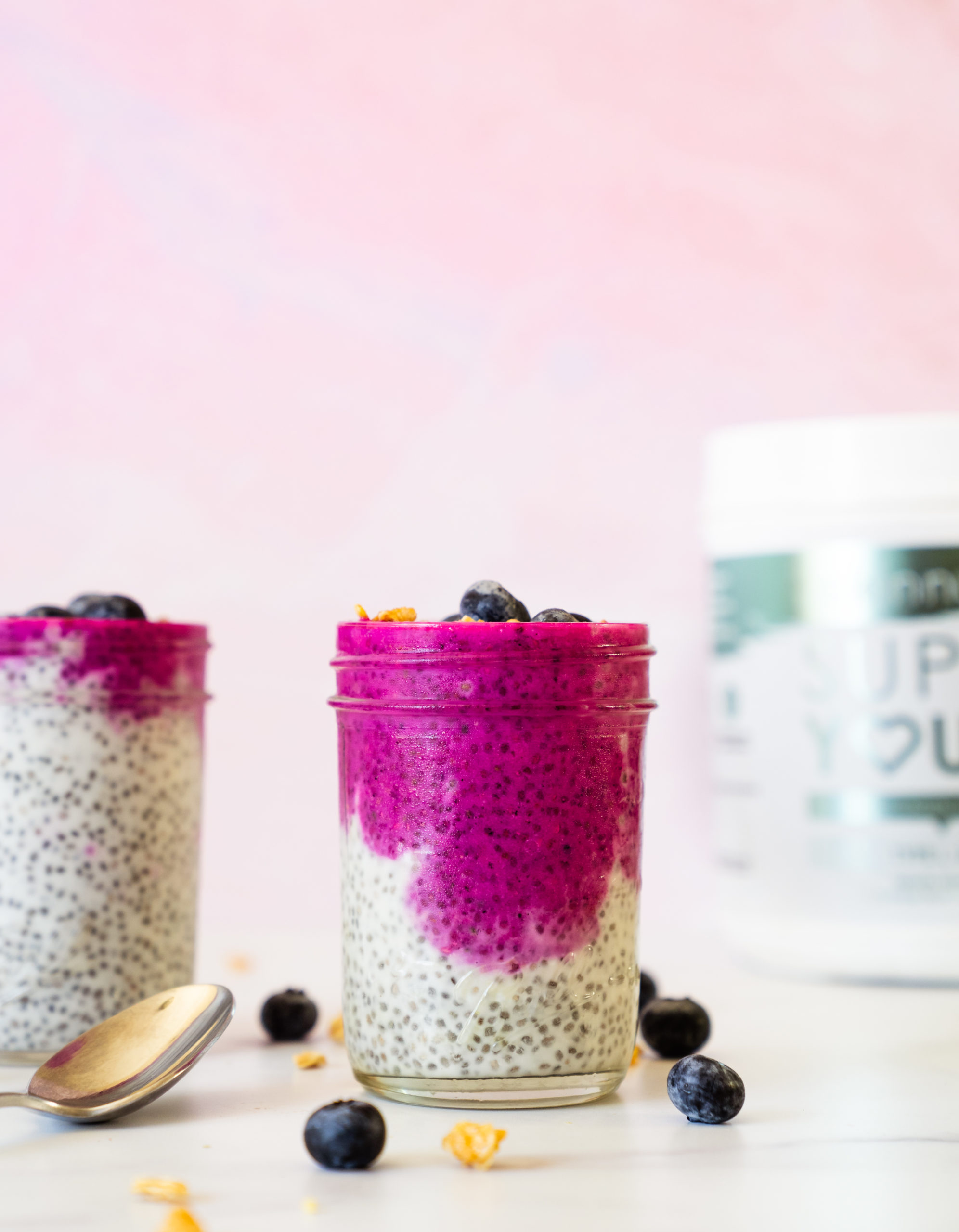 How To Make Chia Seed Pudding
Learning how to make chia seed pudding couldn't be simpler! You can make it the night before to save time in the morning, and maybe even give yourself an extra 10 minutes of snoozing. 😴
The final product? A chia seed pudding recipe that is pretty in pink (no food coloring needed 😉!) But is it too pretty to eat? Nahhhhhh…you won't be able to resist, hehe! 
Mentioned In This Post
SkinnyFit Unflavored Collagen
Look and feel younger with Super Youth Multi-Collagen Peptides! This versatile collagen powder includes 5 collagen types from 4 natural sources to restore youthfulness from the inside out.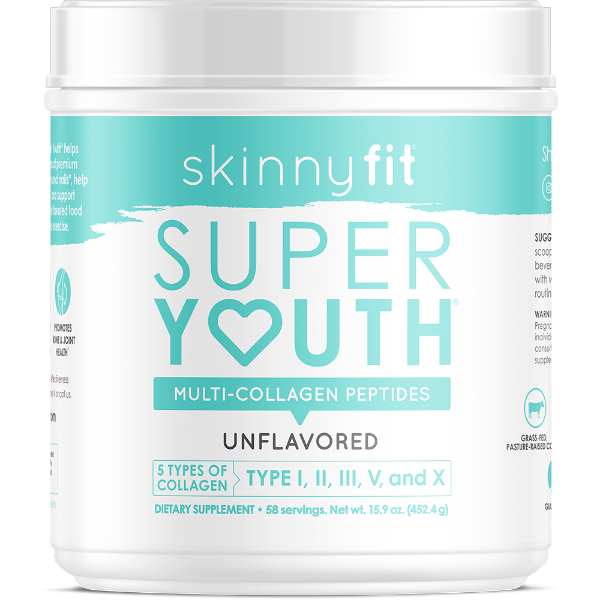 Pink Chia Seed Pudding Recipe
This pink chia seed pudding recipe is almost too beautiful to eat... But trust me, you'll want to eat it every day! It's easy, healthy, delicious, & under 100 calories!
Prep Time: 5 minutes
Cook Time: 1 hour (or overnight)
Total Time: 1 hour 5 minutes
Serving Size: 6 servings
Ingredients
1 cup almond milk (or milk of choice)
¼ cup chia seeds
1 tbsp maple syrup (or preferred natural sweetener)
1 tsp vanilla extract
2 scoops Super Youth Unflavored Collagen
Zest of one lime
¼ cup strawberries
¼ cup fresh pink dragon fruit (pitaya)
Fresh strawberries or blueberries (for topping)
Steps
Mix the chia seeds, milk, maple syrup, vanilla extract, lime zest, and Super Youth. Set aside.
Puree the strawberries and dragon fruit in a blender or food processor. Add to the chia mixture.
Mix well and place in the fridge for at least one hour, or overnight.
Serve with fresh fruit.
Total Calories: 100
Carbs: 12.5g
Fats: 4.5g
Protein: 6g
Sugar: 3.5g
Fiber: 5g