Jump To Recipe
For some reason, I used to only like soup when I ordered it at a restaurant. At home, my recipes always seemed to fall flat and leave me unsatisfied. They're either too salty, too boring, or just lack enough protein and fat to keep me full.
One day last week, I was feeling under the weather. My husband was out of town, so I called my sister to bring me some soup, but didn't specify what kind. I just said anything that will make me feel better. After one bite my throat was soothed and my stomach settled. When I asked her where she got it, I didn't believe her when she said she made it herself. She said it's one of her go-to easy soup recipes and she makes it whenever her kids feel under the weather.
Since I wasn't going to make her come over every few hours for the next couple of days, I asked for the recipe. Not only is it so simple, but it's also one of her low calorie soup recipes. Talk about a win-win! Today, I'm sharing the recipe with you so you can enjoy it, too.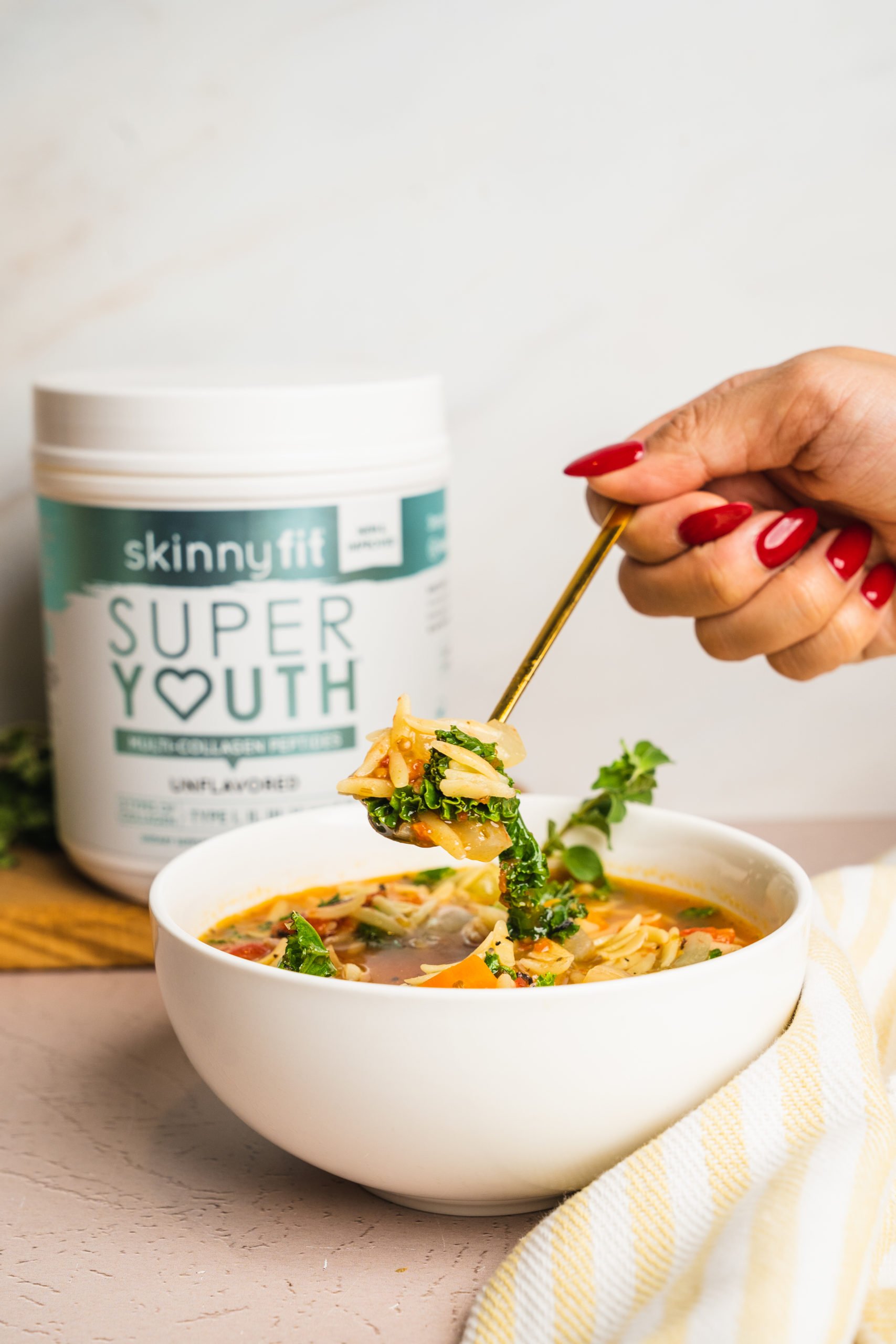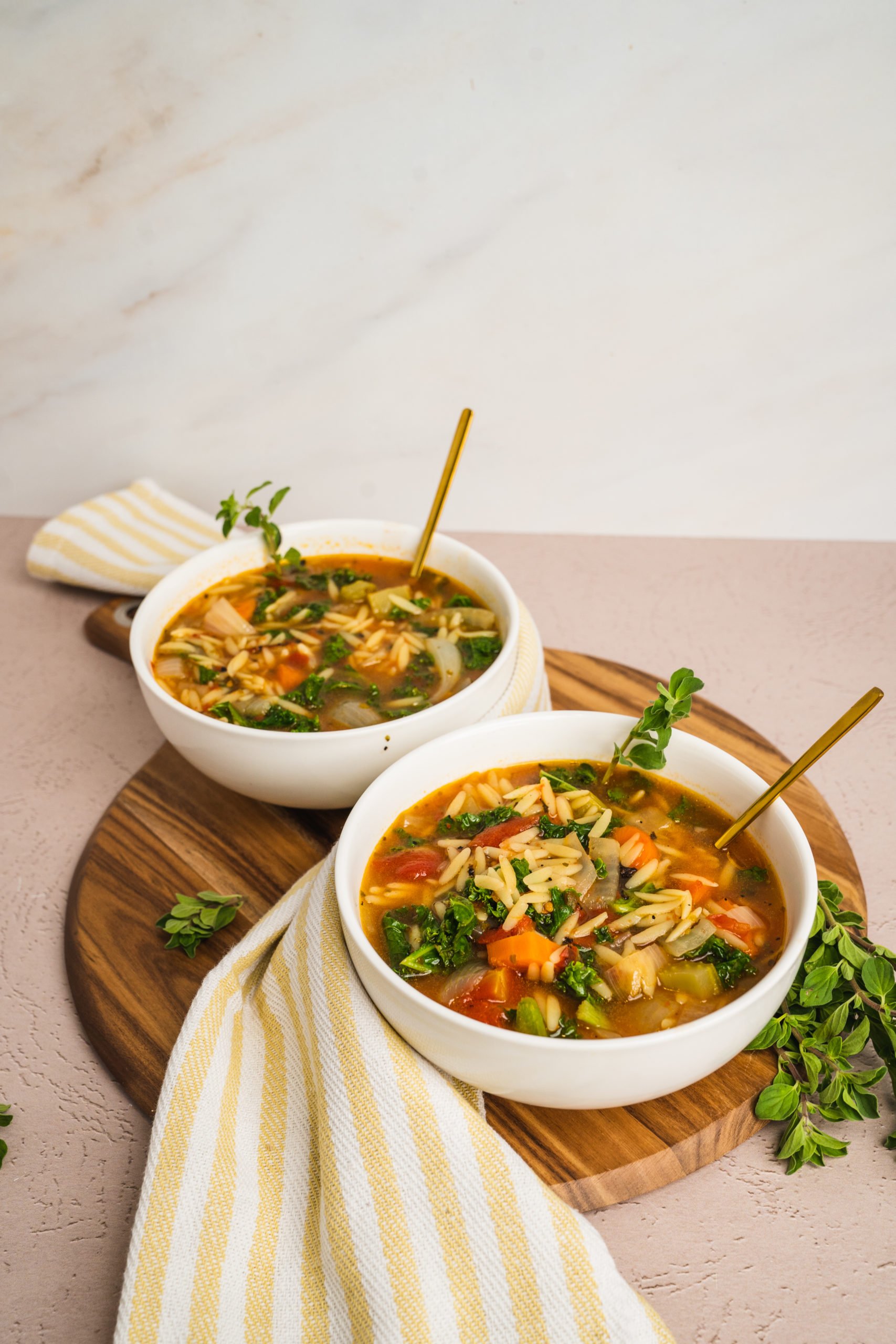 Health Benefits of Kale Soup
Delicious easy soup recipes aren't easy to come by, especially when they're low calorie soup recipes. This Tuscan Kale Soup is hands down the best at-home soup recipe I've ever found, and I can't wait for you to try it.
My favorite part about this soup is it has so many fresh herbs and spices. Oregano, basil, sea salt, and red pepper flakes all come together to add dimension and anti-inflammatory benefits to this soup. The celery and onion add an extra boost of flavor and potassium, and the orzo pasta helps make this soup hearty and satisfying. 
The star of the soup, of course, is kale. Kale is one of my favorite superfoods because you can add it to almost anything! It contains a high amount of antioxidants, vitamin A, vitamin C, and is also great for eliminating unwanted toxins in the body. This is probably why it made me feel so good when I was sick! Paired with gut healthy broth and collagen, this soup is a must for whenever you're feeling under the weather.
Mentioned In This Post
SkinnyFit Unflavored Collagen
Look and feel younger with Super Youth Multi-Collagen Peptides! This versatile collagen powder includes 5 collagen types from 4 natural sources to restore youthfulness from the inside out.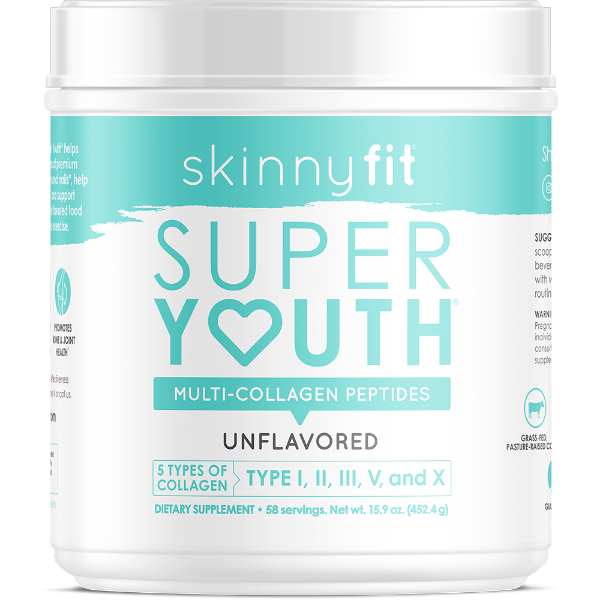 Hearty Tuscan Soup
Add this page to your list of easy soup recipes for the winter months. I promise you're going to love it!
Prep Time: 15 minutes
Cook Time: 30 minutes
Total Time: 45 minutes
Serving Size: 4 servings
Ingredients
1 tbsp olive oil
1 onion, chopped
3 ribs celery, chopped
3 carrots, chopped
1 tsp each: salt, dried oregano, dried basil
¼ tsp crushed red pepper flakes
1 15oz. Can fire-roasted tomatoes
4 cups vegetable broth
2 cups water
¾ cup orzo pasta
4 cups chopped kale
1 tbsp lemon juice
1 scoop SY Unflavored
Steps
Cut kale into ribbons
Heat olive oil in large soup pot over medium heat
Add the onion, celery, carrots, salt, oregano, basil and red pepper flakes. Cook for 10 minutes or until softened
Add the Unflavored SY, tomatoes, broth, water and orzo then bring to a boil. Reduce heat to medium and cook for 12 minutes or until orzo is tender
Stir in the kale until wilted, seasoning if needed
Stir in the lemon juice, serve, enjoy!