Jump To Recipe
Looking for a crowd-pleasing holiday fruit punch (without the 'punch'?) This non-alcoholic drink recipe is perfect for groups wanting a 'dry' event for the holidays!
Please, please, tell me I'm not the only one that drank jungle juice in college. You know, the bright red, fruit punch bowl that somehow never got low? It was a sugar-packed fruit punch recipe with everything you wanted it to taste like to distract you from realizing how drunk you really were. Cringe.
Hey, we all have some food and drink choices we're not proud of, right!?
Jungle juice was mine. Guilty as charged. Now, I drink collagen-packed non-alcoholic fruit punch. What progress I've made from being a sugar-ravenous college student to a certified Nutrition Coach that adds collagen to just about everything. And now I get to share all my exciting recipes with YOU!
How To Make Non-Alcoholic Fruit Punch
This non-alcoholic fruit punch recipe is so good, you won't even miss the addition of your spirit of choice. Your base is a combination of fruit juices. I chose white cranberry and pineapple. Next, we add frozen lemonade. You can either buy this pre-made, or simply mix one part lemonade with one part ice. Next, the superstar ingredient! Beauty Juice Superfood Powder. Top it with lemon-lime soda water, and your garnishes of choice. This fruit punch recipe has become a staple in my home all year-round!

Holiday Fruit Punch (Added Health Benefits) 
Before you think there's no way to make a healthy fruit punch, hear me out. The Beauty Juice in this fruit punch recipe adds in 300mg of vitamin C, 120mg of vitamin K, plus 36 different nutrient-dense superfoods. All packed into just 30 calories. 
I don't know about you, but I'm not great at taking multivitamins. That's probably the number one reason I'm such a big fan of Beauty Juice. I get so many various fruits and vegetables, vitamins and minerals, and even brain-powering medicinal mushrooms, all in just one scoop. 
Beauty Juice has four main proprietary blends. The antioxidant blend, the energy blend, the probiotic blend, and the anti-aging blend. Literally everything I could ever ask for! Not only does it help supplement your vitamin intake, but it adds gut-healthy pre and probiotics, brain-healthy adaptogens, and anti-aging superfoods!
The bromelain in the pineapple juice, and the additional vitamin C from the white cranberry juice make this recipe the vitamin-packed drink you didn't know you needed! Plus, it tastes so, so good you'll have everyone you share it with skeptical about the health benefits. Keep this checklist in mind, and you'll be able to fire off all of the amazing health benefits of this holiday fruit punch recipe:
Antioxidants
Vitamin C
Vitamin K
B vitamins
Adaptogens
Probiotics
Superfoods
Superberries
& more!
Never feel guilty for drinking fruit punch again! I like to make this for parties, afternoon pick-me-ups, and as an on-the-go caffeine replacement. Give it a try and tag @skinnyfit if you make it!


Mentioned In This Post
Beauty Juice Red Superfood Powder
Beauty Juice is a delicious adaptogenic, anti-inflammatory superfood blend containing all of your essential daily nutrients in one simple, açai-flavored scoop!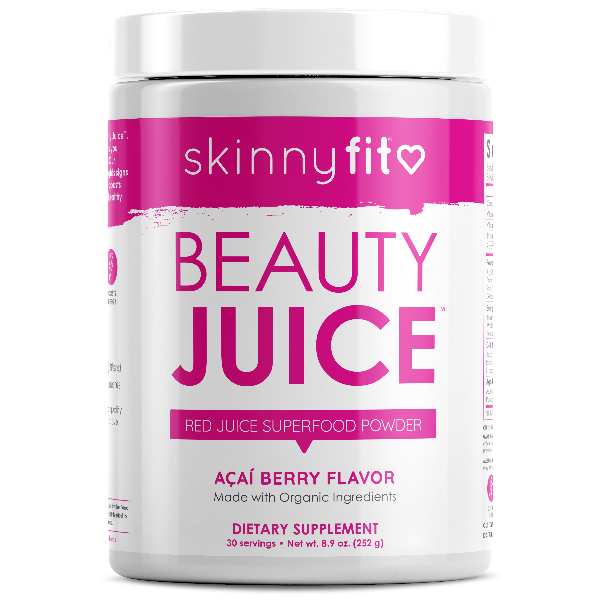 Holiday Fruit Punch Recipe
Looking for a crowd-pleasing holiday fruit punch (without the 'punch'?) This non-alcoholic drink recipe is perfect for groups wanting a 'dry' event for the holidays!
Prep Time: 10 minutes
Cook Time: 0 minutes
Total Time: 10 minutes
Serving Size: 6-8servings
Ingredients
1 (64 oz) container white cranberry juice
1 (14 oz) container pineapple juice
1 cup frozen lemonade
¼ cup Beauty Juice Superfood Powder
1 can lemon-lime soda water
Lime slices
Fresh cranberries
Rosemary for garnish
Ice
Steps
Squeeze the container of frozen lemonade into a large drink dispenser or punch bowl.
In a separate bowl, mix together the cranberry juice, pineapple juice, and Beauty Juice powder and blend with the SkinnyFit Mini Mixer until the Beauty Juice is fully mixed.
Add the juice mixture to the pitcher and top with soda water and fruit slices. Gently stir to combine. 
Serve over ice and garnish with slices of lime, fresh cranberries, and rosemary.