Jump To Recipe
For the longest time, I didn't think pre workout for women was a thing. I felt like only men took it, or even enjoyed it. Plus, I only ever saw articles or ads for the best pre workout for dudes. But with more and more women realizing how important strength training is, pre-workout is becoming a more popular option for us ladies. Honestly, men are lucky that we're catching the bug because we're demanding healthier options. Spoiler: the healthiest pre workout is by one of your favorite brands and I'm going to teach you how to turn it into a gummy today!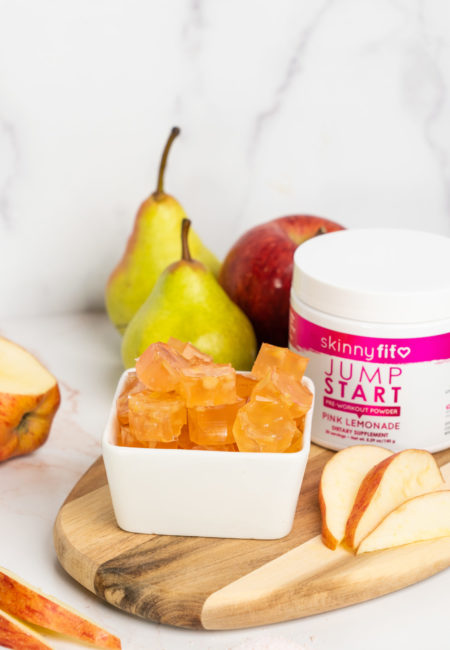 Benefits Of A Pre-Workout
Pre-workouts often get brushed off as an "amp" supplement. They're notorious for making people hyper, jittery, and sometimes, ridiculous. That's not their true colors though! The healthier, and healthiest pre workout supplements do so much more than that. Here are just three amazing benefits of pre workout for women:
Motivation 
We aren't always motivated everyday. What the best pre-workout supplements help with is giving you a boost of energy to mimic excitement and motivation. So on a day when you know  you should get moving, but you're just not feeling it, pre-workout is a great option.
Travel-friendly
Most pre-workout supplements come in powder form, so they're super easy to take on the go. And these little gummies are even smaller than your typical pre-workout powder container. This means you can stash them in your work bag and go straight to the gym from there, or even bring some with you on vacation!
Improves endurance
Similar to its motivating effects, pre-workout helps you push yourself to new limits. If you feel like you've been plateauing at the gym, a pre-workout could be just what you need to power through harder and longer. New PR's here you come!
How To Make Pre-Workout Gummies
To make pre-workout even more exciting, let's make it into gummies! The best pre-workout is one that you look forward to taking, and these couldn't be more perfect. These gummies are made with Jump Start, SkinnyFit's very first made-for-women pre workout. To make them, start by lining a baking dish with plastic wrap. Then, chop up your fruit. I recommend a pear and an apple. Combine your gelatin and water, and let sit for at least five minutes. This will help create the jelly-like consistency you want. Next, bring your water to a boil and add your fruit. Let them soak for about three minutes, so they soften. Remove from the heat and let cool. Add the preworkout and lemon zest to the gelatin mixture, stirring to combine. Carefully pour in the cooled fruit mixture, and fold in. Add the remaining water and stir once more. Pour the mixture into your lined baking dish and refrigerate for at least four hours, then cut the gummies into 32 equal pieces.
If you want to get really fancy, you can also pour the mixture into a jell-O mold instead! 
Mentioned In This Post
Jump Start Pre-Workout
This pink lemonade pre-workout is formulated specifically for women to provide all the motivation, focus, and endurance needed to crush your exercise routine—without the crash!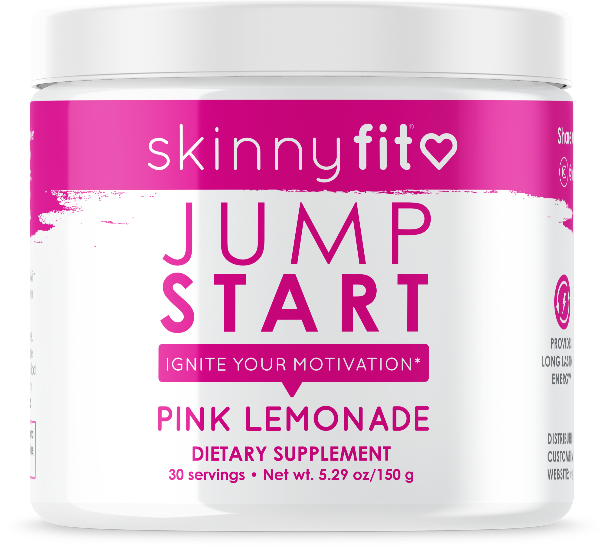 Homemade Pre-workout Gummies
Move aside powdery pre-workout. These delicious gummy pre-workouts are going to be your new best friend.
Prep Time: 10 min
Cook Time: Refrigerated for 4 hours
Total Time:
Serving Size: Dependent on/if mold chosen
Ingredients
Plastic wrap
¼ cup pear finely chopped
¼ cup red apple finely chopped
1 cup water, divided
2 tbsp plain gelatin
1 tsp grated lemon zest
2 scoops SkinnyFit Jump Start
Steps
Line a baking dish with plastic wrap; set aside
Finely chop pear and apple
Bring ½ cup water to a boil in a small saucepan over medium-high heat
Add pear and apple; gently boil for 3 minutes. Remove from heat and let cool
Add pre-workout, lemon peel, and gelatin mixture; stir to combine. Carefully pour in cooled fruit mixture and mix. Add remaining water and stir to combine
Pour mixture into a dish, cover with plastic wrap
Refrigerate for 4 hours and enjoy!