Jump To Recipe
It's not always easy to come up with healthy breakfast ideas that don't involve eggs, or turning on the stove. If you want my secret to breakfast, though, it's that there's no such thing as breakfast foods! Food is food, and breakfast just means it's the meal that breaks your fast. Crazy, right!?
In other words, I'm a big fan of eating whatever you want, whenever you want. Which is why I'm excited to share today's recipe. It's one of my favorite healthy snacks recipes, which I just so happen to love having for breakfast! It's also in my top five favorite healthy snacks on the go.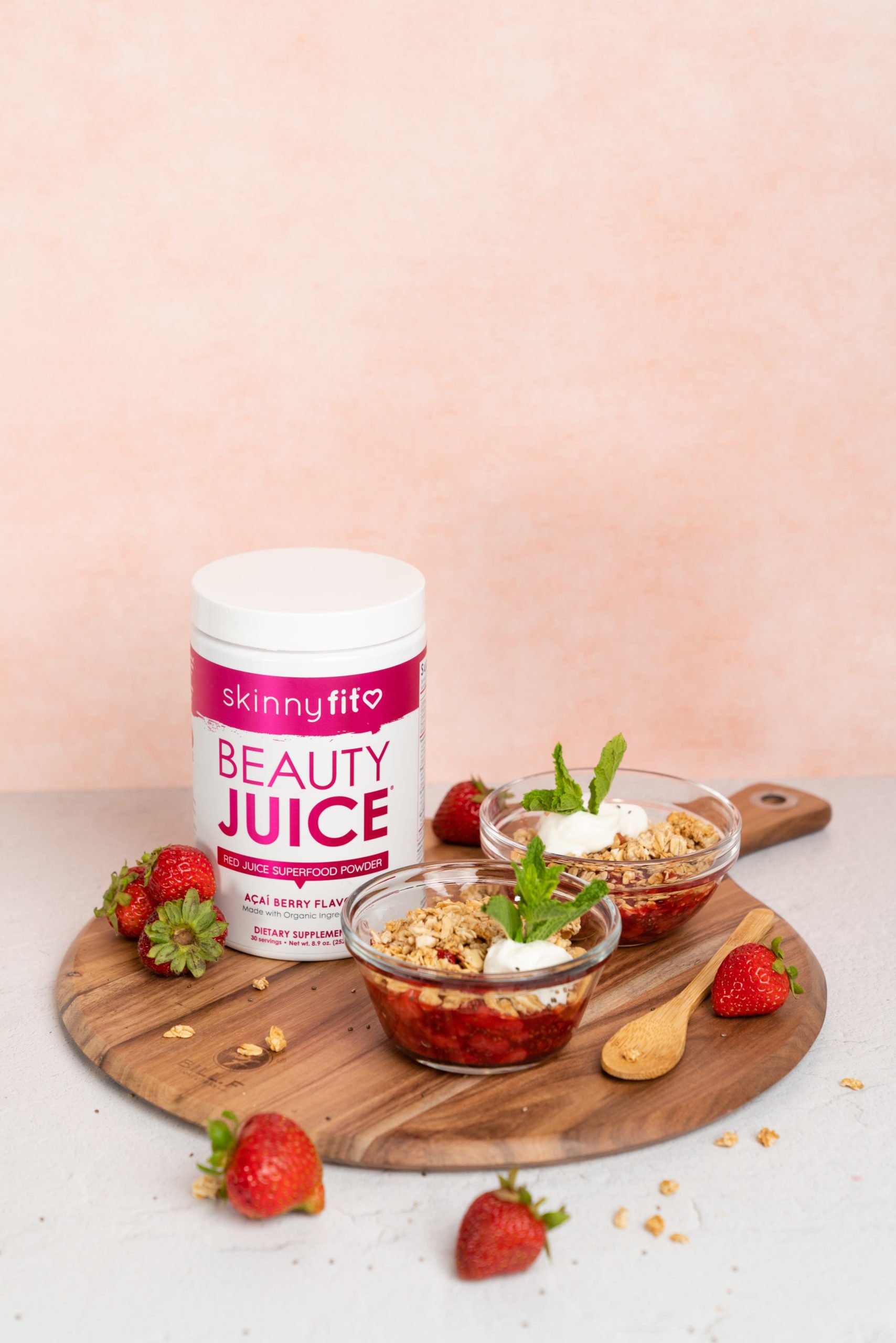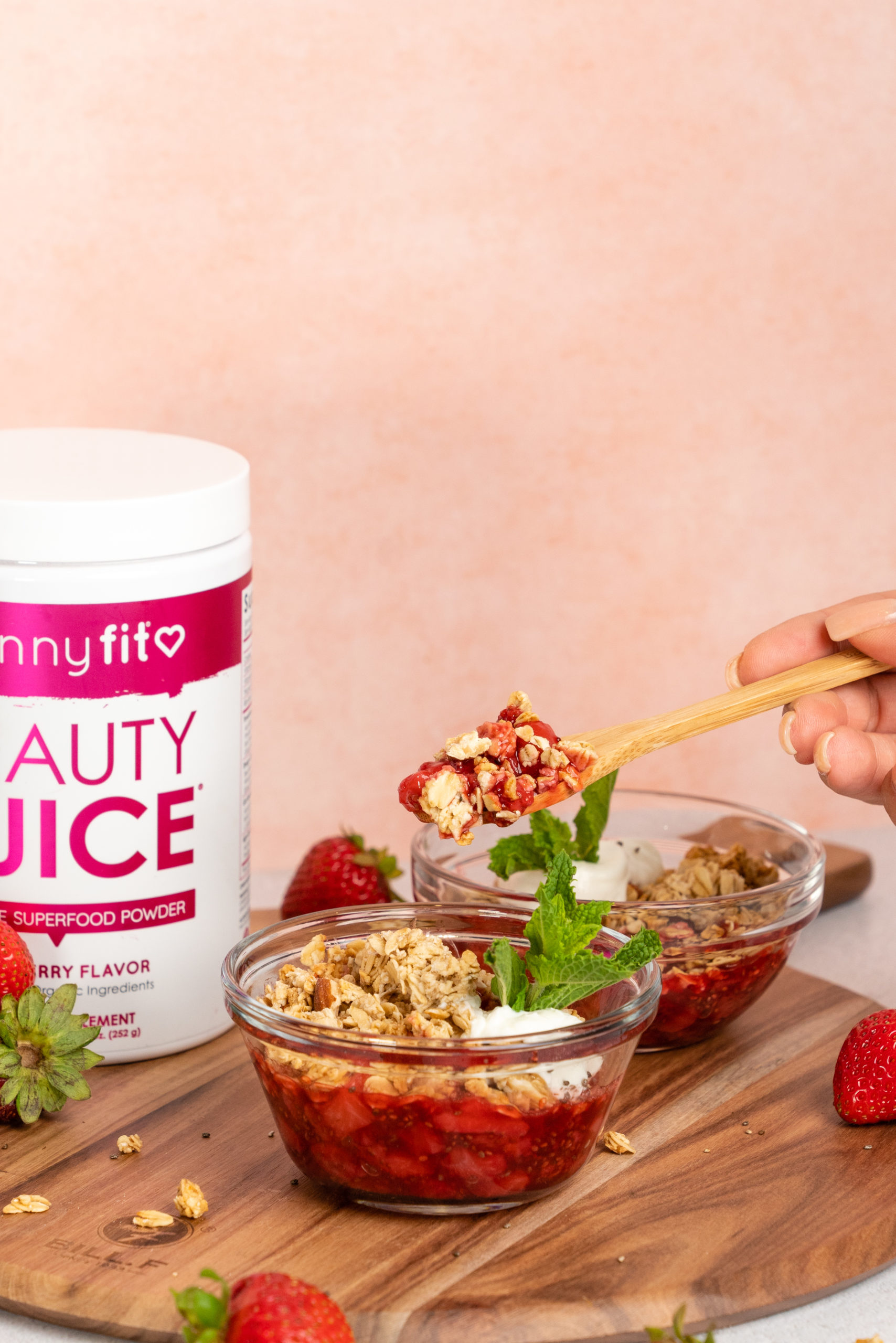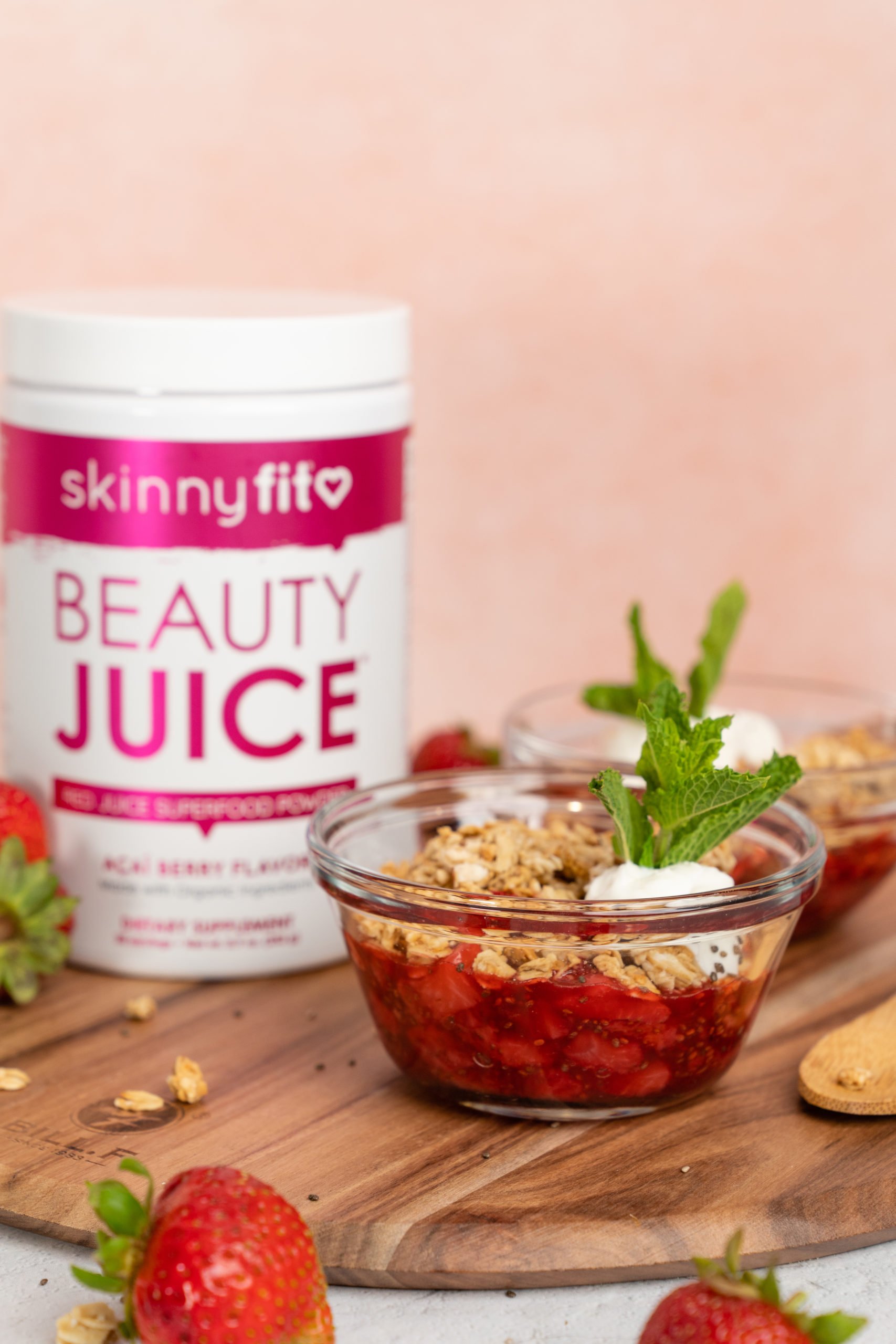 What is No Bake Strawberry Crumble?
A no bake strawberry crumble is like a healthy deconstructed strawberry pie. The base is made with cooked strawberries, chia seeds, and a hint of sweetness. Then, it's topped with granola to create a crust-like finish. It's so delicious, so easy to make, and is a perfect option for healthy snacks on the go.
No Bake Strawberry Crumble Benefits
I get it, not all healthy snacks recipes are actually healthy. Some contain too much sugar, others provide zero nutritional value, and almost all of them take too long to prepare. Not this no bake strawberry crumble! This recipe contains very little sugar, and it's all natural from maple syrup! Plus, it includes an incredible source of vitamins and minerals – Beauty Juice! This is why it's one of my favorite healthy breakfast ideas. Beauty Juice contains four unique blends, from energy-improving ingredients to pre- and probiotics! It's a gut-healthy, focus-improving superfood blend that you can easily add to recipes like this one! You can also add Beauty Juice to smoothies, yogurt bowls, and more. It's easily one of my favorite ingredients to add to any healthy breakfast ideas. Give it a try and let me know what you think!
Mentioned In This Post
Beauty Juice Red Superfood Powder
Beauty Juice is a delicious adaptogenic, anti-inflammatory superfood blend containing all of your essential daily nutrients in one simple, açai-flavored scoop!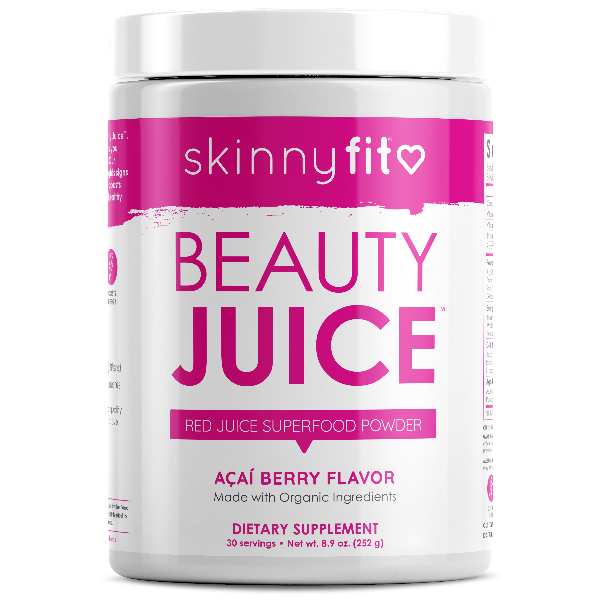 No-Bake Strawberry Crumble
A delicious, healthy breakfast option made with a gut-healthy, probiotic-rich superfood blend.
Prep Time: 10 min
Cook Time: 15 min
Total Time: 25 min
Serving Size: 2 bowls
Ingredients
12 large strawberries, medium diced
1 ½ tbsp water
1 tbsp chia seeds
1 tbsp maple syrup
½ cup granola of choice
1 scoop Beauty Juice
Optional toppings: Yogurt, fresh mint, blueberries
Steps
Add strawberries and water to a small saucepan over medium-low heat. Allow mixture to come to a boil and soften, stirring often, about 8-10 minutes. 
Remove from heat and pour into a glass bowl. Add chia seeds, maple syrup, and Beauty Juice. Stir to combine.
Allow to sit at room temperature for 10-15 minutes
Divide into 2 bowls. Top with granola, and/or toppings of your choice