Jump To Recipe
Keto diet aficionados, today's recipe is just for you. In the realm of keto recipes, flavor meets health-consciousness, and what's a better health-conscious meal than putting a spin on classic nachos? This recipe takes the classic nacho experience and gives it a keto-friendly twist by swapping out traditional tortilla chips for crispy roasted cauliflower. Don't you worry, the mouth-watering taste and texture are definitely still there. This yummy snack isn't just about staying faithful to a keto lifestyle, but it's also packed with essential nutrients! It's pretty simple to make, and the creamy chipotle sauce (with a sneaky secret collagen ingredient) is almost too good to be true. That's right, you can have your nachos and enjoy them too (guilt-free!).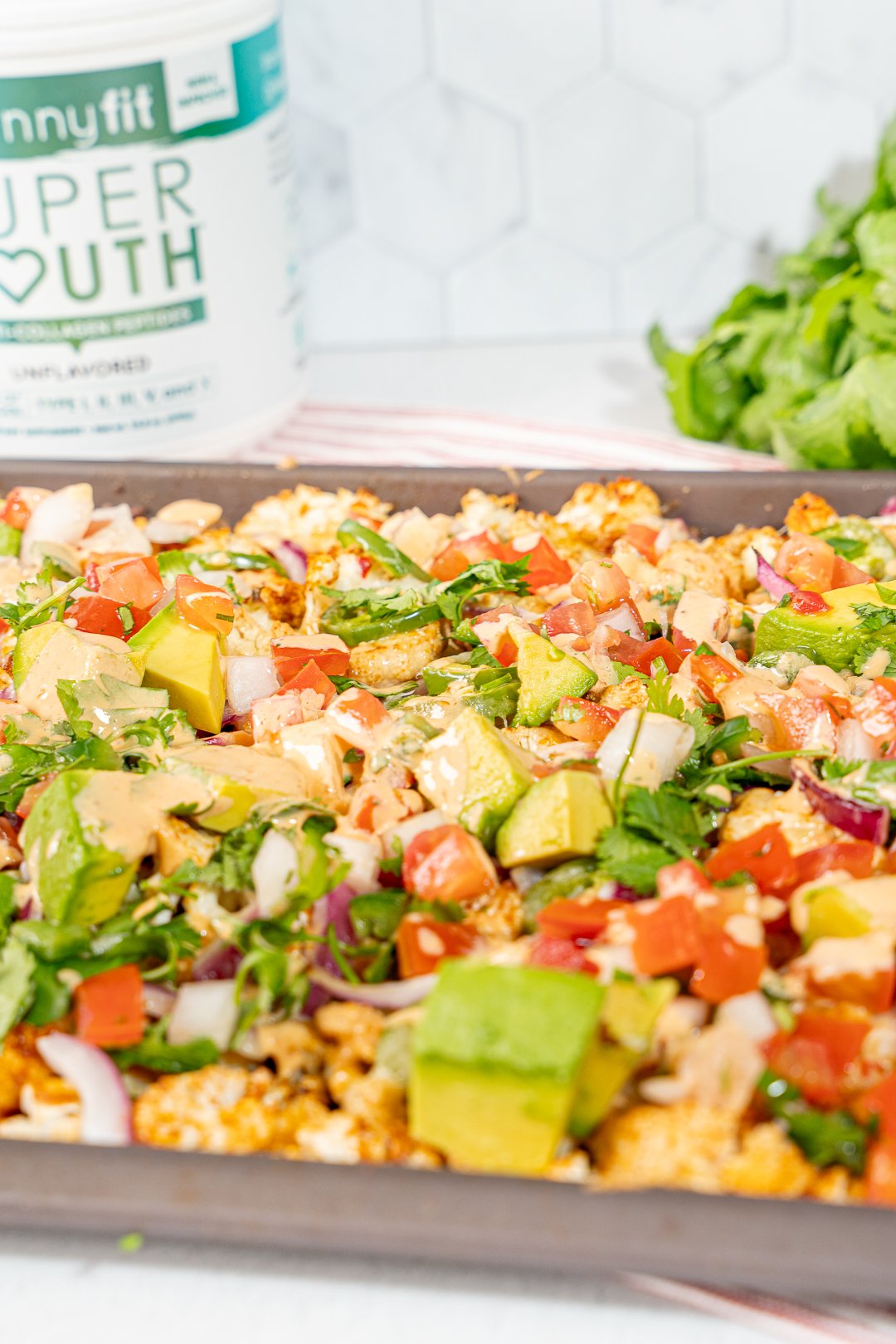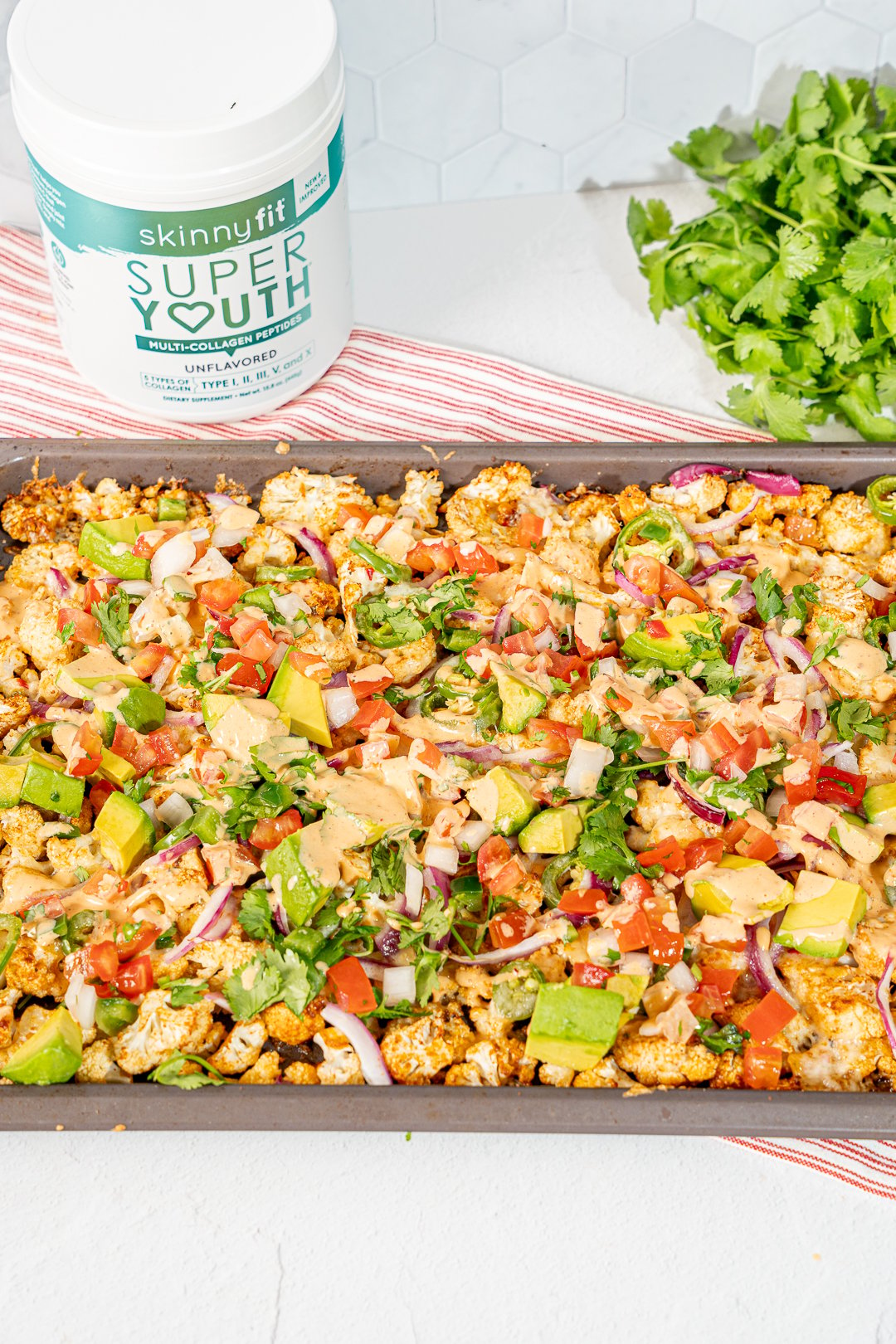 Nachos Made Healthy
First things first, let's dive into the health benefits of the key ingredients you'll need, which you might already have stocked in your fridge!
Cauliflower – The star of the show! Cauliflower is a versatile cruciferous vegetable that's low in both carbs and calories. It's an excellent source of vitamins C and K, providing antioxidants that support immune function and bone health. In addition, it contains compounds like glucosinolates that have anti-inflammatory properties!
Cheese – Let's face it, nachos would be incomplete and straight up unappetizing without the creamy cheese topping. It not only adds a savory (and necessary) element to the nachos, but it also delivers a powerful dose of calcium and protein. Calcium is crucial for maintaining strong bones and teeth, while protein is essential for muscle repair and overall satiety! 
Avocado (optional) – Creamy avocado slices contribute heart-healthy fats that are essential for proper cellular function and can help reduce bad cholesterol levels. They're also rich in potassium, which supports healthy blood pressure and electrolyte balance!
Spices – If you're like me, you love to go a little overboard with the spices. The seasoning in this recipe not only enhances the flavor but also offers a handful of potential health benefits!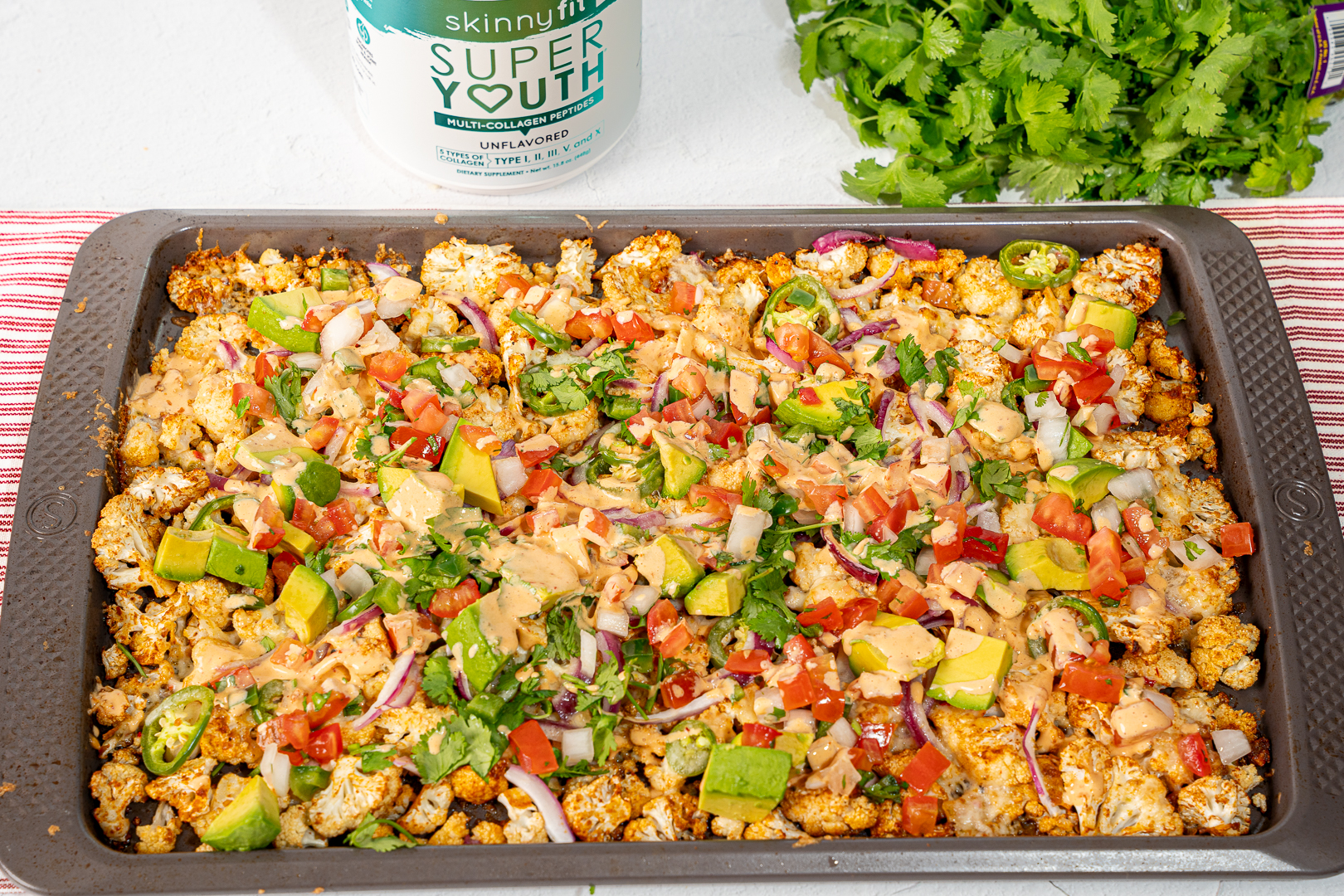 The Keto Advantage
Going for a keto alternative can be appealing due to its distinctive approach of prioritizing low-carb, high-fat foods. By significantly reducing carbohydrate intake and encouraging the consumption of healthy fats, this diet prompts the body to enter a state of ketosis, where it utilizes fat for energy instead of carbs. This means that weight loss becomes more attainable as the body burns fat, and energy levels are steadier due to the absence of blood sugar spikes. With this specific recipe, conventional high-carb tortilla chips are replaced with nutrient-rich cauliflower, offering the satisfying crunch and flavor of traditional nachos while seamlessly aligning with the keto lifestyle! 
The Simple Recipe
These deliciously cheesy cauliflower nachos are healthy, gluten free, vegetarian, AND easy to make! The best keto-licious part? They have only 9 carbs per serving! The cauliflower nachos portion itself only requires a handful of ingredients: cauliflower, olive oil, taco seasoning, red onions, jalapenos, and cheese! 
When it comes to the creamy chipotle sauce, make sure to pack in the flavor. Starting with 1 scoop of Unflavored Super Youth, combine the rest of the ingredients together: sour cream, lime juice, garlic, chipotle pepper in adobo sauce, honey, and salt. I could eat this combination with a spoon! 
If you're feeling extra fancy, feel free to throw on some additional toppings, such as pico de gallo, avocado, or fresh cilantro! 
Mentioned In This Post
SkinnyFit Unflavored Collagen
Look and feel younger with Super Youth Multi-Collagen Peptides! This versatile collagen powder includes 5 collagen types from 4 natural sources to restore youthfulness from the inside out.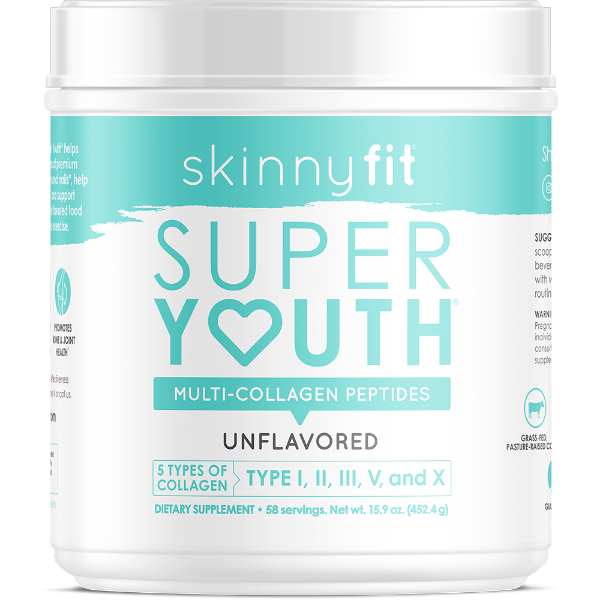 Keto Cauliflower Nachos
Prep Time: 10 mins
Cook Time: 25 mins
Total Time: 35 mins
Serving Size: 6 servings
Ingredients
2 heads cauliflower
¼ cup olive oil
2 tbsp taco seasoning
½ cup red onion, finely sliced
½ cup jalapenos, sliced
8 oz cabot pepper jack cheese, grated into app 3 cups
Optional toppings: pico de gallo, diced avocado, chopped fresh cilantro
Creamy chipotle sauce: 1 scoop Unflavored Super Youth, 1/2 cup sour cream, 3 tbsp lime juice, 1 clove crushed garlic, 1 chipotle pepper in adobo sauce, 1 tsp adobo sauce, 1 tbsp honey, 1 pinch salt
Steps
Instructions:
Preheat oven to 400 degrees F.
Slice the stems off of both heads of cauliflower, then slice the heads of cauliflower in half through the middle.
Place the cauliflower head halves, flat side down on a cutting board and cut into ¼ inch slices.
The cauliflower slices will naturally break into "chips" once sliced. If there are any larger pieces left, slice them in half.
Place the cauliflower chips on a large baking sheet and toss with the olive oil and taco seasoning.
Place in the oven for 15 minutes.
Remove from the oven and top with the onions, jalapenos, and pepper jack cheese.
Place back into the oven for 10 minutes.
Remove from the oven and top with the optional toppings of your choice.
Creamy Chipotle Sauce:
Add all the ingredients to a blender. Blend until smooth and creamy.
Drizzle over nachos or serve in an additional dipping bowl!