Jump To Recipe
Over time, your body can accumulate environmental toxins that, when left untreated, can have adverse effects on your health—which is why detoxing is essential for flushing your body of the toxin buildup. Kombucha has been used for thousands of years as a natural remedy for toxin removal, which is why we created this sparkling kombucha detox to help accelerate the detoxification process.
This kombucha detox tea is perfect to jump-start your spring season because it's swirling with the most incredible flavors! It's satisfyingly sweet and tantalizingly tart thanks to a fresh and balanced blend of luscious peach flavor, tangy blood orange, and mouth-puckering lime. The final punch of fizzy and invigorating kombucha makes this detox recipe one you'll want to make time and time again! 
(Not to mention it's incredible for improving digestion and boosting weight loss!) #SCORE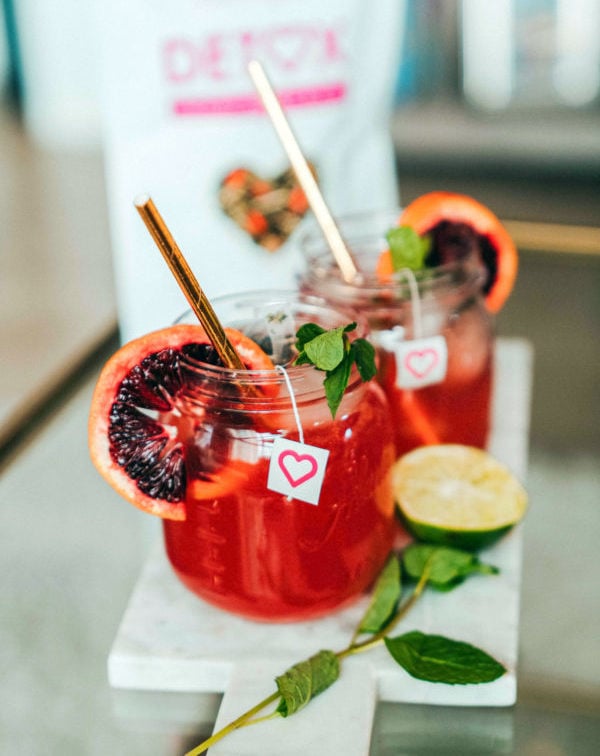 What Is A Kombucha Detox?
Kombucha is a fermented and effervescent sweet tea made with healthy, gut-friendly bacteria and yeast.
Believe it or not, kombucha has been used for thousands of years as a natural remedy for many common ailments and illnesses—from treating metabolic conditions, high blood pressure, diabetes, and even cancer. It's loaded with all sorts of health benefits but is especially great for removing toxins and healing your digestive system!
In order for kombucha to possess its healing properties, it needs to ferment with a SCOBY (a symbiotic colony of bacteria and yeast) for 7-12 days. This is what turns the sugar from the original mixture into probiotics and ultimately, kombucha!
Probiotics are live microorganisms, or healthy gut bacteria, intended to restore the gut flora. They work with prebiotic fiber to fight off the bad bacteria that can cause gastrointestinal issues.
Health Benefits of Kombucha Detoxification
These are some common health benefits of kombucha detox tea:
Improves digestion
Removes toxins
Boosts immunity
Kills harmful gut bacteria
Helps to treat leaky gut syndrome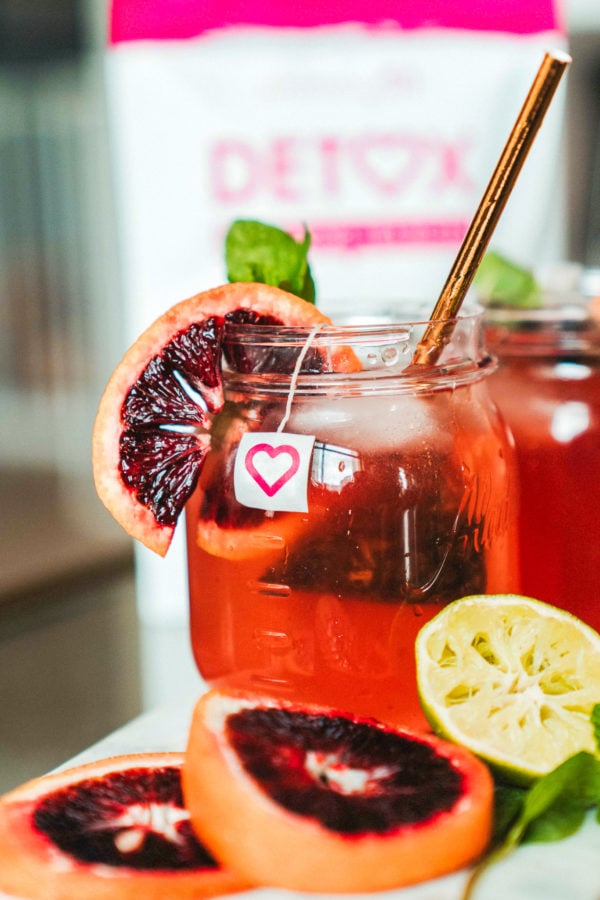 How To Make Kombucha Detox Tea
We know that kombucha contains a ton of gut-friendly properties and is great for our overall health, but not everyone is a fan of the kombucha taste. I mean, don't get wrong, kombucha companies nowadays can make them taste amazing! Unfortunately, that could mean that your healthy kombucha is suddenly packed with added sugar. 😬
But, not this kombucha detox! This recipe combines the gut-healing benefits of an original kombucha with the powerful detoxifying and fat-burning properties of SkinnyFit Detox to make for a naturally sweet and refreshing beverage—just in time for spring! 🍊
Did I mention it only takes ten minutes to make? It's actually THAT easy…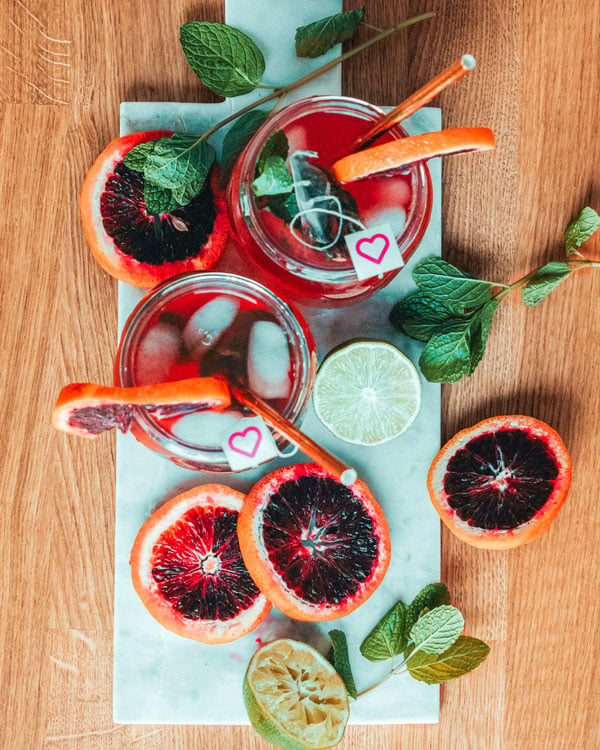 Sparkling Blood-Orange Kombucha Detox Tea Recipe
Prep Time: 5 minutes
Cook Time: 5 minutes
Total Time: 10 minutes
Serving Size: 1 Detox
Ingredients
8 oz. SkinnyFit Detox, brewed and chilled
1 cup of pre-made kombucha (we used a traditional flavor)
Juice from 1 blood orange (fresh)
Juice from ½ lime (fresh)
Ice
Mint (optional)
Steps
Add SkinnyFit Detox, blood orange juice, lime juice, and kombucha into a glass filled with ice.
Garnish with orange slices and mint, enjoy!