Jump To Recipe
Calling all pizza lovers! Craving a cheesy slice of pizza, but don't want to feel guilty about it? We've all been there – which is why I'm so excited to share my favorite healthy pizza recipe with you today. Introducing: Low-Calorie Summer Squash & Feta Pizza! Sounds scrumptious, right? Well we're just getting started. If you can imagine a pizza crust that's the perfect combo of light and crispy, but also feels like you're biting into a cloud, that's what this pizza is like, but even better. With a medley of fresh and vibrant summer flavors, this recipe will keep you feeling full and energized, and most importantly, not weighed down. Whether I'm making this pizza for a laid back weekend with friends or a quick weeknight dinner, this pizza is my absolute go-to, and it's bound to be yours too! I can't wait for you to give it a try!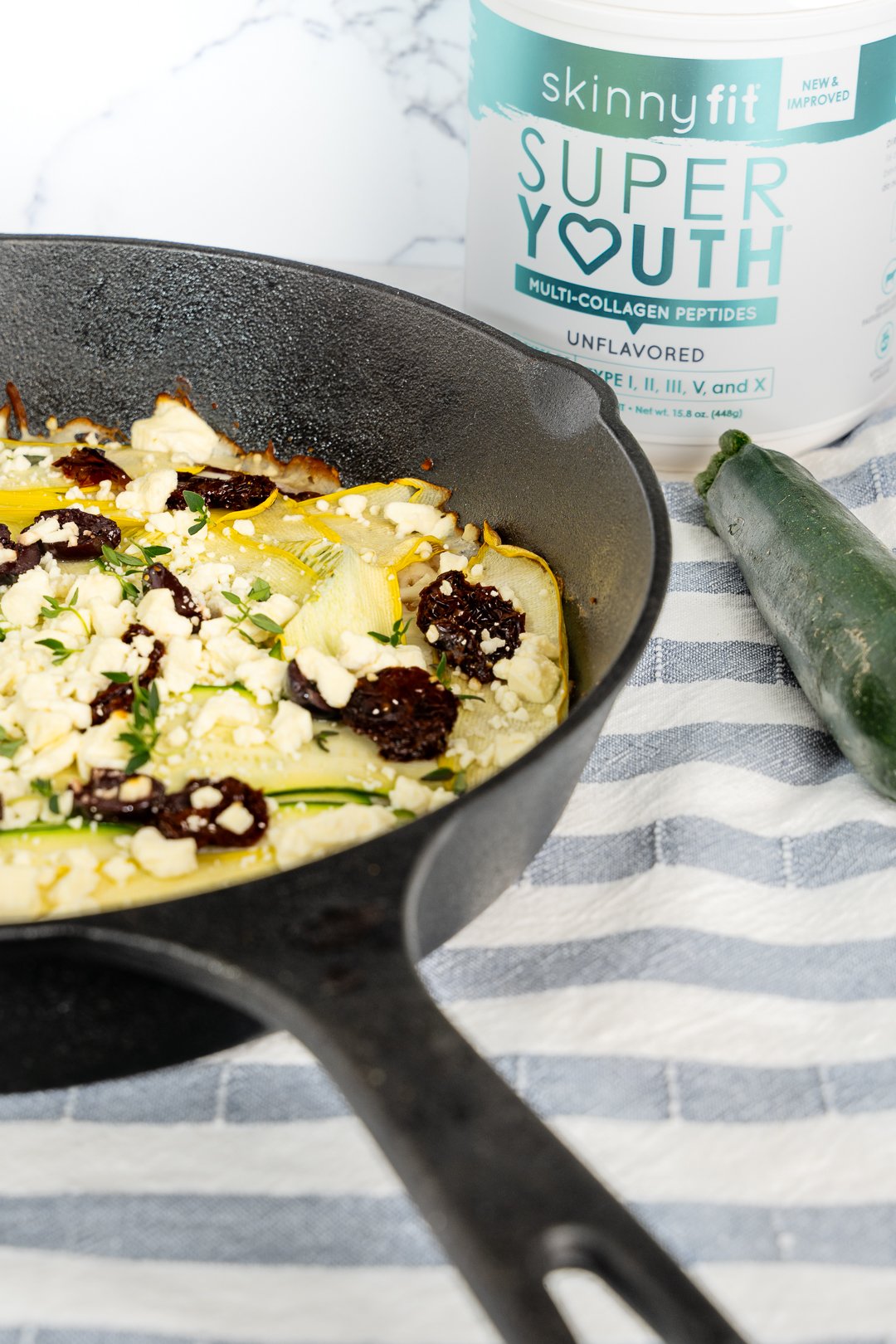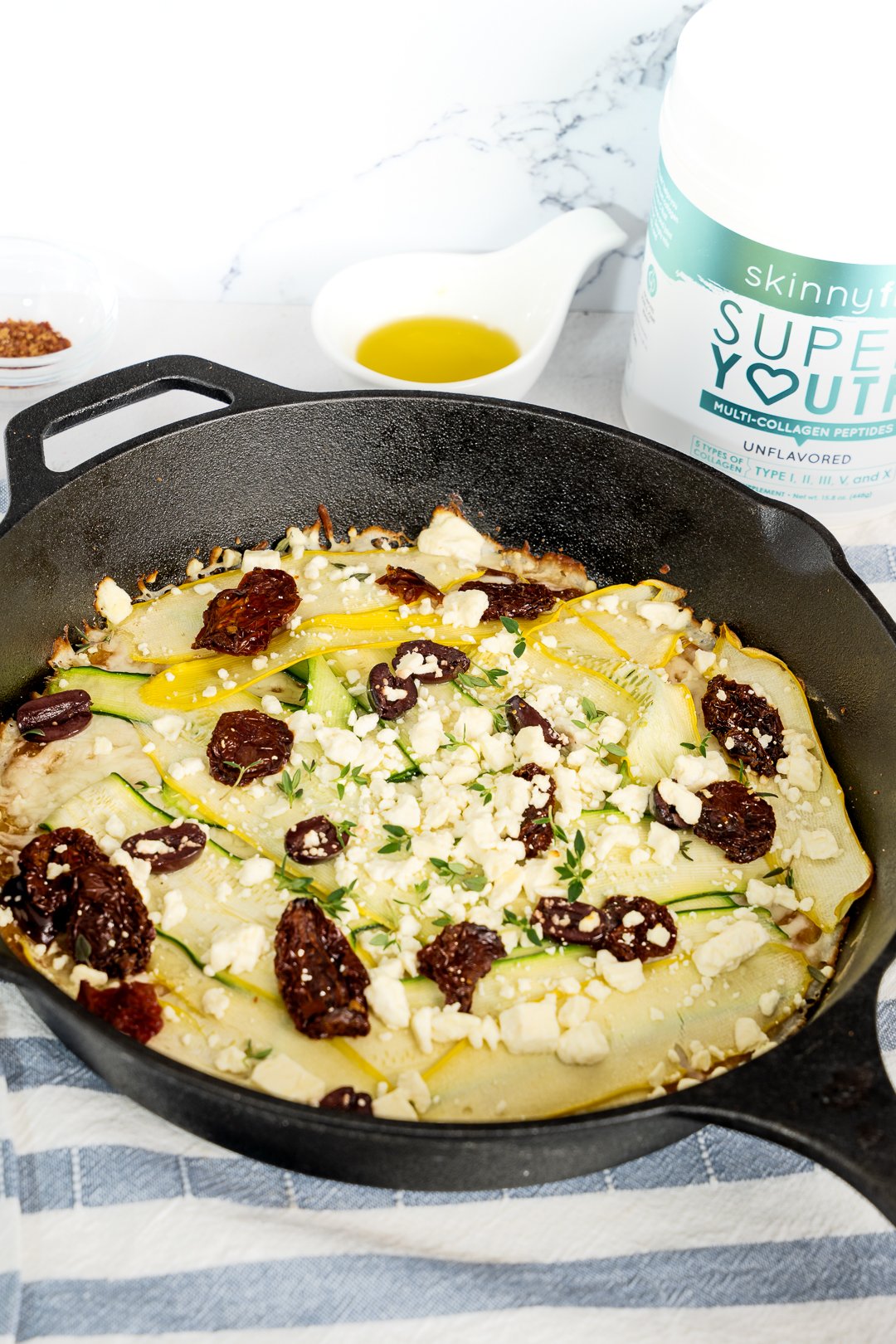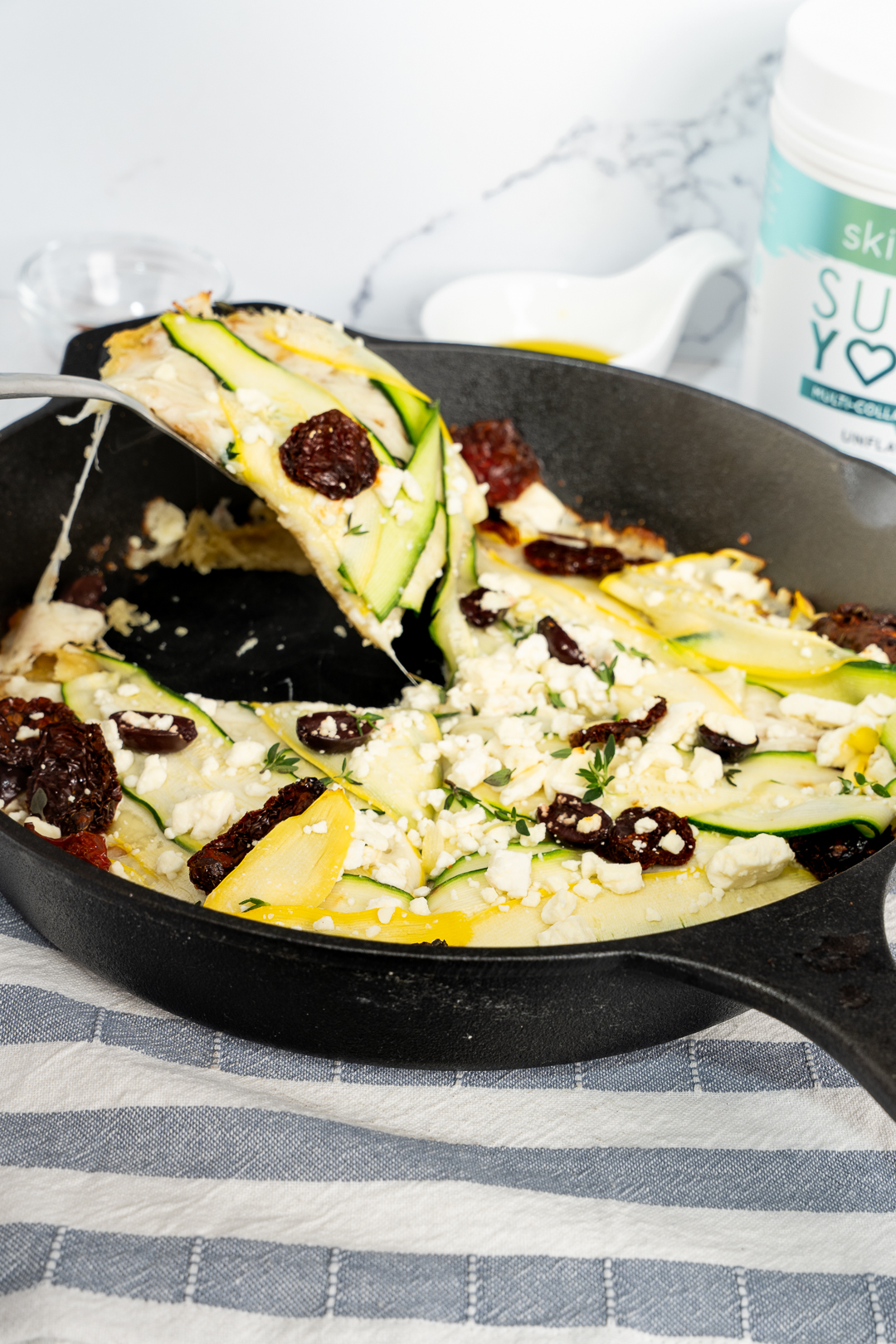 Why Choose a Low-Calorie Pizza Recipe?
Opting for a low-calorie pizza recipe is a game-changer that allows you to indulge in a classic comfort food while keeping your health and wellness in check. While regular pizzas are mouthwatering, they almost always come with a lot of calories (and excess grease!) that leave us feeling overall sluggish and regretful. Anyone else have to unbutton their pants after one too many slices? Going for a low-calorie option doesn't have to compromise taste or satisfaction – in fact, there are so many tasty alternatives! This recipe allows you to savor every bite guilt-free, while knowing that you're providing your body with wholesome and nutritious ingredients that it craves. Let's say goodbye to the calorie overload and hello to a pizza experience that supports a healthier, happier you!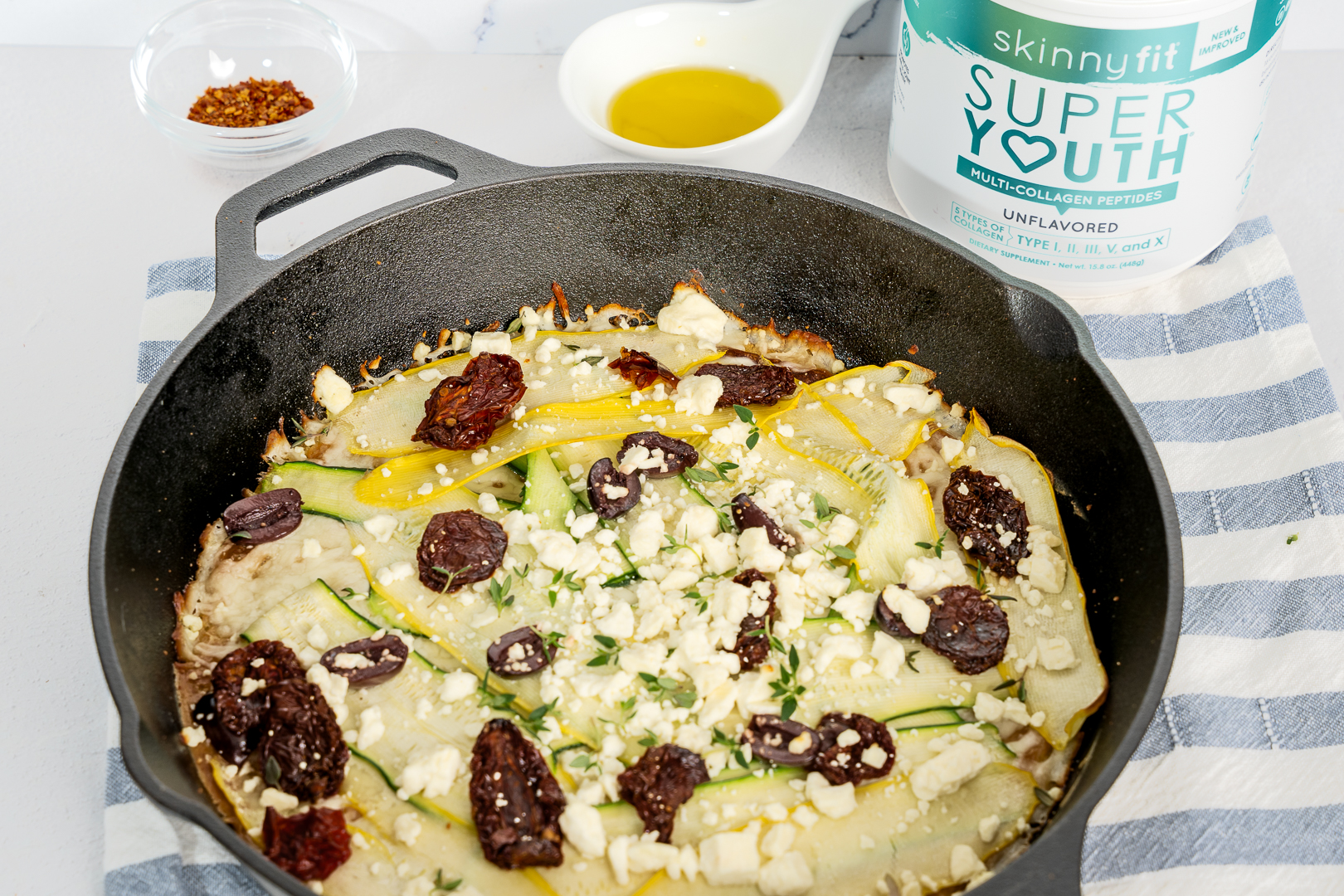 Health Benefits of Summer Squash & Feta Pizza
The questions, what about this pizza isn't healthy? With a variety of ingredients that provide countless benefits, it's difficult to narrow this down to just a few. First things first, let's start with the star of the show: summer squash! Packed with essential vitamins and minerals like vitamin C, which helps the immune system and promotes healthy skin, as well as potassium, which helps regulate blood pressure and support heart health, this veggie brings a powerhouse of nutrients to the recipe. With every bite of squash, you'll be getting a healthy dose of fiber, which aids in digestion and promotes a healthy gut. 
What would this recipe be without the feta? I personally love feta, so I admit, I go a little overboard with this creamy ingredient. Not only does it add a tangy burst of flavor to the pizza, but it also adds a handful of muscle-supporting nutrients. Because it's a high-quality protein, feta helps you feel fuller, longer, and is also a great option for those seeking to maintain or build lean muscle mass. In addition, feta cheese is a rich source of calcium, which supports overall skeletal health!
Finally, the star secret ingredient: Unflavored Super Youth. By just adding 1 scoop of this versatile collagen to the mix, you'll be giving your body an extra boost of skin-loving goodness. Because it so seamlessly mixes into the pizza dough, with each bite of this delectable pizza, you'll be nourishing your skin from the inside out. Say hello to a happy gut and a radiant and youthful complexion! 
Mentioned In This Post
SkinnyFit Unflavored Collagen
Look and feel younger with Super Youth Multi-Collagen Peptides! This versatile collagen powder includes 5 collagen types from 4 natural sources to restore youthfulness from the inside out.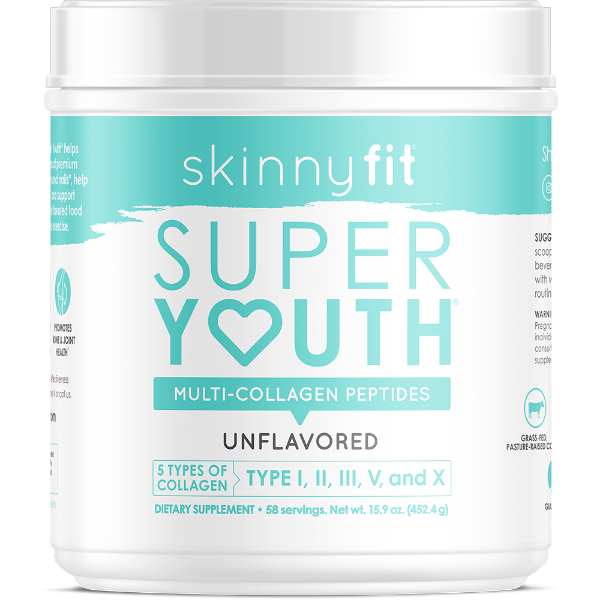 Low-Calorie Summer Squash & Feta Pizza
Prep Time: 1 hour and 5 minutes
Cook Time: 20 minutes
Total Time: 1 hour and 25 minutes
Serving Size: 1 pizza
Ingredients
1 scoop Unflavored SY
½ cup chickpea flour
1 cup water
¼ cup olive oil
1 garlic clove
¼ tsp salt
Pizza toppings: ½ cup shredded mozzarella, ¼ cup crumbled feta cheese, 1 small zucchini, small yellow squash, 5 pitted kalamata olives, small handful sundried tomatoes, 1 small sprig fresh thyme
Steps
In a bowl, whisk together the chickpea flour, SY, water, 2 tbsp olive oil, garlic and salt. Let the mixture rest at room temperature for 1 hour.
Turn on the broiler with a rack positioned 8 inches from heat. Place a 10-inch ovenproof skillet in the oven to preheat.
Once the skillet is hot, remove from the oven. Pour 1 tbsp olive oil and swirl the pan around so the oil is evenly distributed. Pour in the chickpea batter and return the skillet to the broiler. Cook for 5-8 minutes, until the socca is set and the edges are browning and pulling away from the pan sides. Remove from the oven, turn off broiler, and turn oven to 425 degrees F.