Jump To Recipe
When I tell you I was the brattiest pb&j eater when I was growing up, I mean it. I had to have the perfect 1:2 ratio of peanut butter to jelly, it had to be cut with a heart-shaped cookie cutter, and it had to be smashed. Yes, smashed. If my parents forgot this step I would literally open the ziplock bag it was packed in a little to let the air out and sit on it. While I definitely don't eat like this as an adult, I am pretty strict about my pb&j smoothie recipe.
I swear you've never had a peanut butter and jelly smoothie like this one before. It's sweet, nutty, smooth, and you won't ever get tired of it.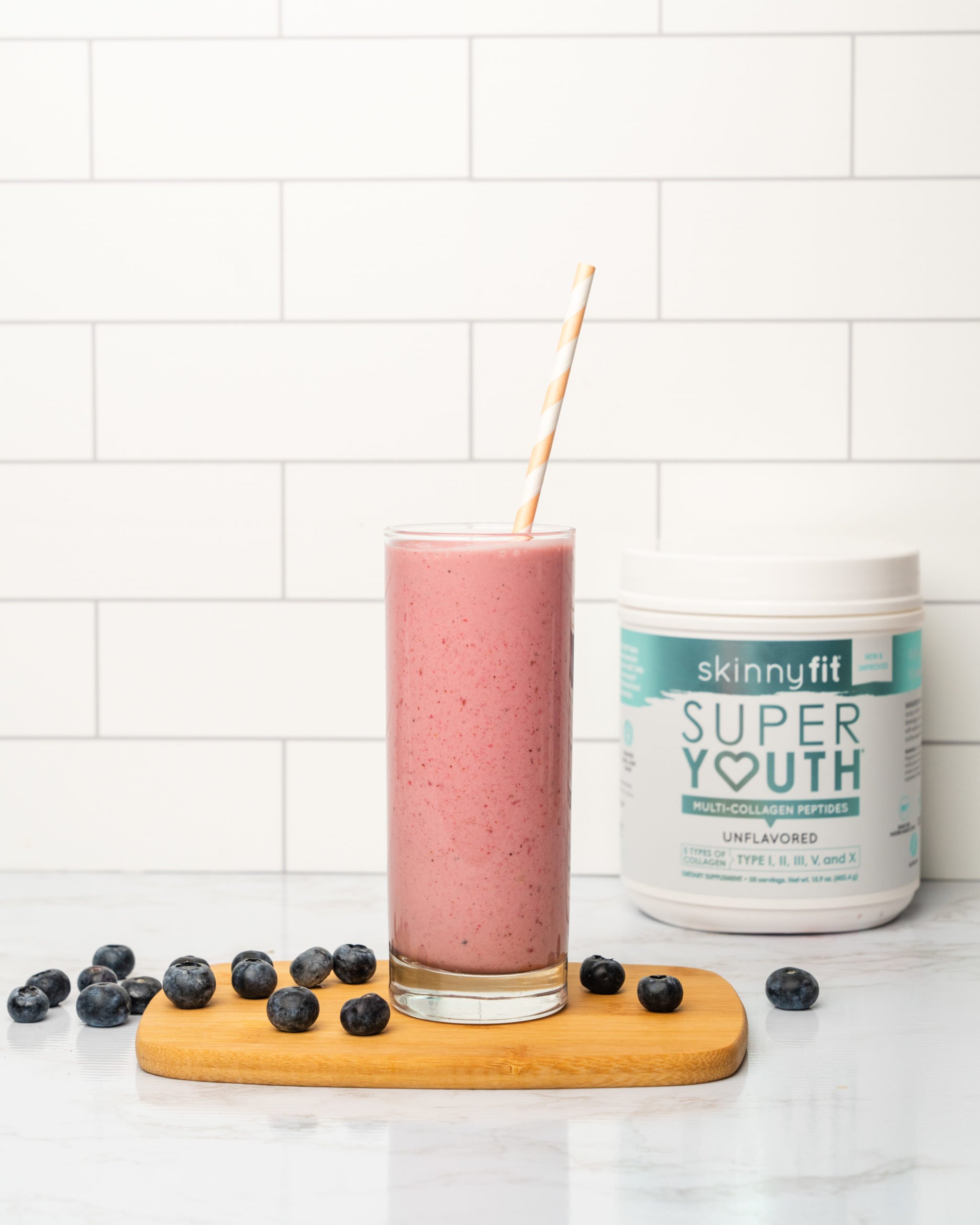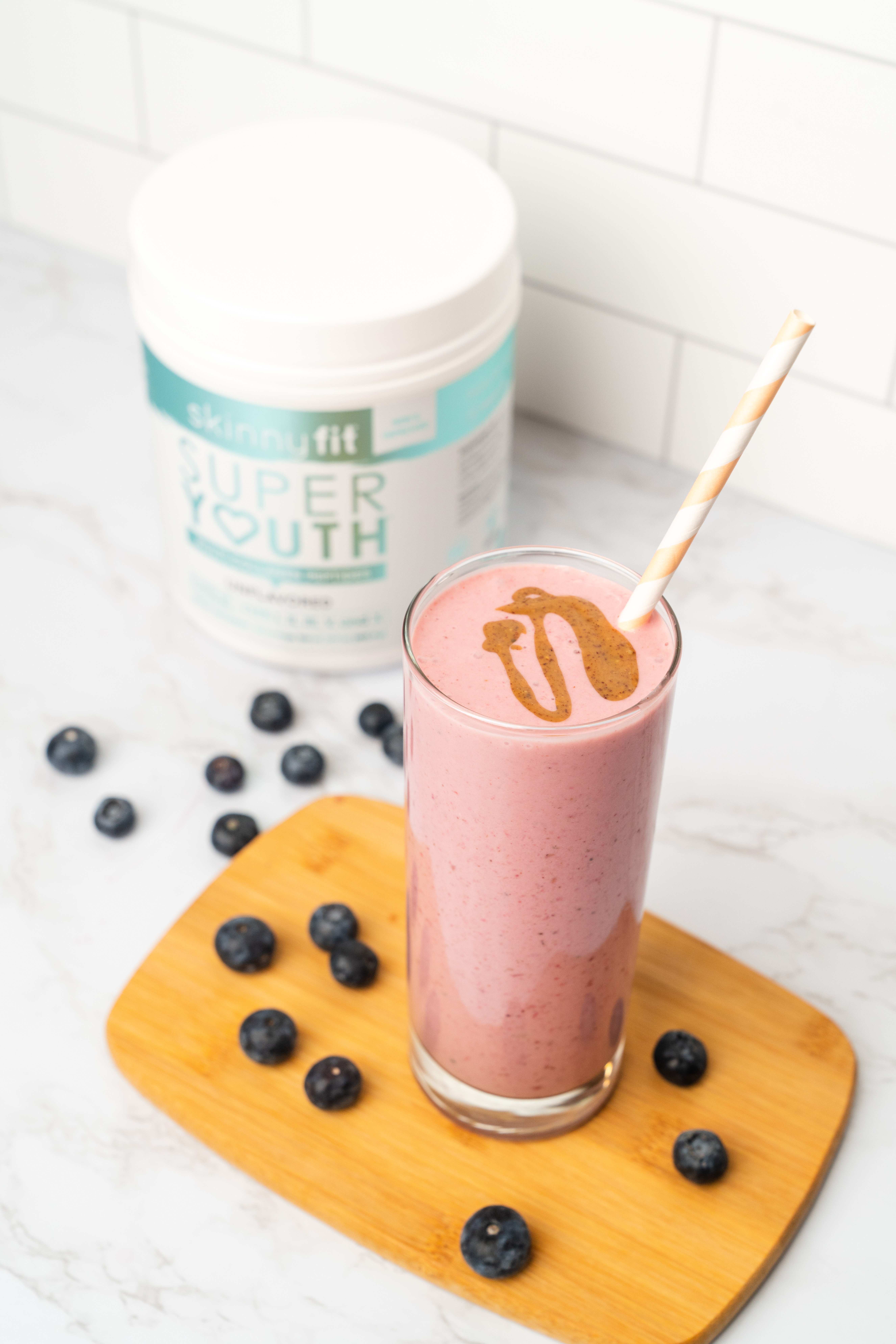 What Is A PB&J Smoothie?
A peanut butter and jelly smoothie is a smoothie with a similar flavor profile as a pb&j. It has berries, peanut butter, and other ingredients that support the texture and benefits of the peanut butter and jelly-like ingredients. Put simply, this pb&j smoothie recipe is like a magical, delicious, liquid version of your favorite childhood pb&j.
How To Make A PB&J Smoothie
This pb&j smoothie recipe is as simple as it gets. First, gather your ingredients. You'll need one large banana, half of a cup of frozen strawberries, half of a cup of frozen raspberries, one cup of coconut milk, one scoop of my favorite collagen powder (Super Youth, unflavored), half of a tablespoon of coconut sugar, and two heaping tablespoons of peanut butter. Ice is optional, depending on how thick you like your smoothies. Add everything to a high-speed blender, and mix until smooth. Serve and enjoy immediately. If you want to add a little spice, sprinkle some cinnamon on top, or add some cacao nibs for texture.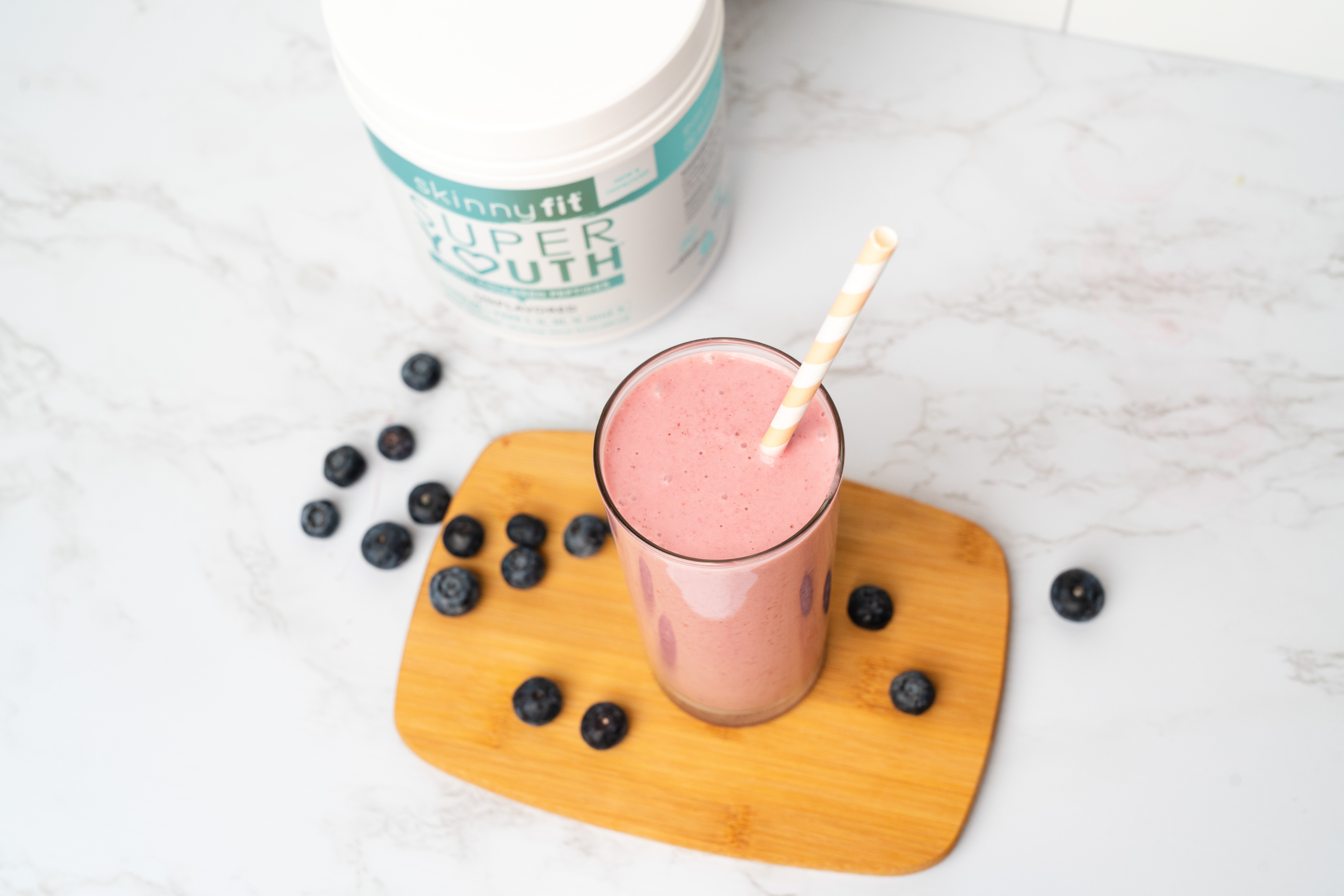 Benefits of A PB&J Smoothie 
This pb&j smoothie is so filling, nourishing, and of course, tasty. The real fruits, pure coconut milk, and anti-aging collagen in this smoothie make it a great addition to your day, especially if you have weight loss and protein goals to hit!
The banana in this smoothie is mainly for texture, but it also adds a great amount of potassium. The strawberries and raspberries are packed with antioxidants that help to reduce oxidative stress on the body, and can even support healthy, clear skin. The liquid used in this smoothie recipe is coconut milk. Full of healthy fats and low in calories, coconut milk is a great alternative to heavier nut milks. Try to make sure the coconut milk you use just contains a few ingredients–water, coconut milk, and maybe sea salt or cinnamon for flavor. Peanut butter is also a good source of healthy fat, and contains vitamin E. The superstar ingredient in this smoothie actually goes completely unnoticed. Super Youth collagen! Collagen is an amazing way to add protein to your diet, help reduce the signs of aging, and even help improve bone and joint health. When paired together, all of these ingredients make for a tasty, healthy smoothie!
Peanut Butter & Jelly Smoothie
A delicious, healthy snack for any time of day!
Prep Time: 0 min
Cook Time: 0 min
Total Time: 5 min
Serving Size: 1 smoothie
Ingredients
1 Banana, large
½ cup frozen strawberries
½ cup frozen raspberries
1 cup Coconut milk
1 scoop Super Youth collagen, unflavored
½ tbsp coconut sugar
2 tbsp peanut butter
Steps
Add all ingredients to a blender and mix until smooth. Serve cold.