Jump To Recipe
If you're someone that can eat peanut butter by the spoonful, you're going to LOVE this epic peanut butter dip. It's the perfect afternoon snack, healthy dessert, and even kids love it! Especially if you're struggling to eat fruit, this is the perfect healthy apple dip to satisfy your sweet tooth, and get a serving of fruit in!
Chocolate Peanut Butter Apple Dip
So what exactly is a healthy apple dip? It's a yogurt-based dip that you dunk apples in! This one is even better than most, because it's made with peanut butter and chocolate. Think of edible cookie dough meets your favorite creamy Greek yogurt. It's so tasty, you'd never know it was healthy. But keep in mind, not all peanut butter dip recipes are created equal! This healthy apple dip in particular is made with great tasting and good-for-you ingredients.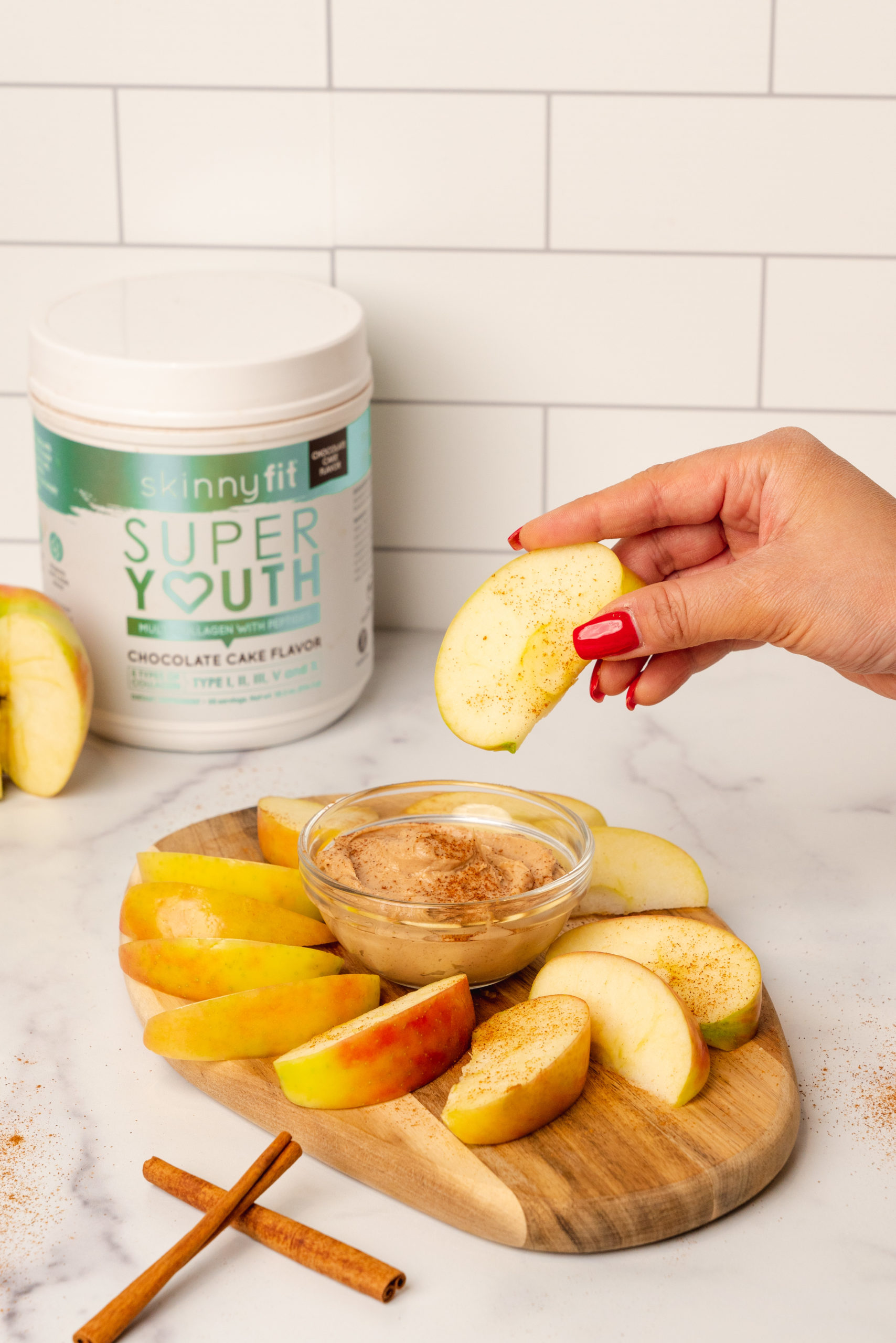 Is Peanut Butter Dip A Healthy Snack?
Eating peanut butter alone can quickly turn into eating half a jar without realizing it. (Tell me I'm not the only one!) This healthy dip not only prevents that, but also is a great source of protein with the added Greek yogurt and Super Youth collagen. I love this recipe for how quickly it comes together, and how portable it is!! All you have to do for this peanut butter dip is combine all of the ingredients, and slice an apple! So easy to take on the go as a pre- or post-gym snack, midday treat, or on-the-road munchie. Another reason I love this healthy apple dip is because you get your chocolate fix without the sugar! Super Youth Chocolate Cake collagen is the perfect addition to this recipe for the epic flavor, but also the benefits! Collagen is an essential protein that our skin, hair, and nails thrive on. Plus, it contains 7 grams of protein! This is one sweet treat you won't feel guilty about.
Chocolate Peanut Butter Apple Dip
Delicious, healthy peanut butter apple dip for easy snack time!
Prep Time: 5 min
Cook Time: 0 min
Total Time: 5 min
Serving Size:
Ingredients
2 scoops of fat-free, plain Greek Yogurt
2 scoops of peanut butter
1 scoop of Super Youth Chocolate
1 tbsp honey
A sprinkle of cinnamon
Sliced apples
Steps
Combine all ingredients except the apples into a small bowl, mix thoroughly.
Slice apples and sprinkle with cinnamon.
Enjoy!