Jump To Recipe
If your favorite season isn't fall, I don't think I understand you one bit! The warmth of the season is just so cozy and exciting. No matter where in the world you live, something in the air shifts around fall time. And I'm not talking about the temperature or the foliage! There's a fresh new energy that comes out, and it feels like the world just lets out a nice big sigh.
One of my favorite things about fall (besides everything!) is the healthy fall recipes that start to emerge. From warm spices to seasonal veggies, I just love all things autumn. Which is why today I'm sharing the best quinoa stuffed squash recipe. Bonus: it's extra healthy!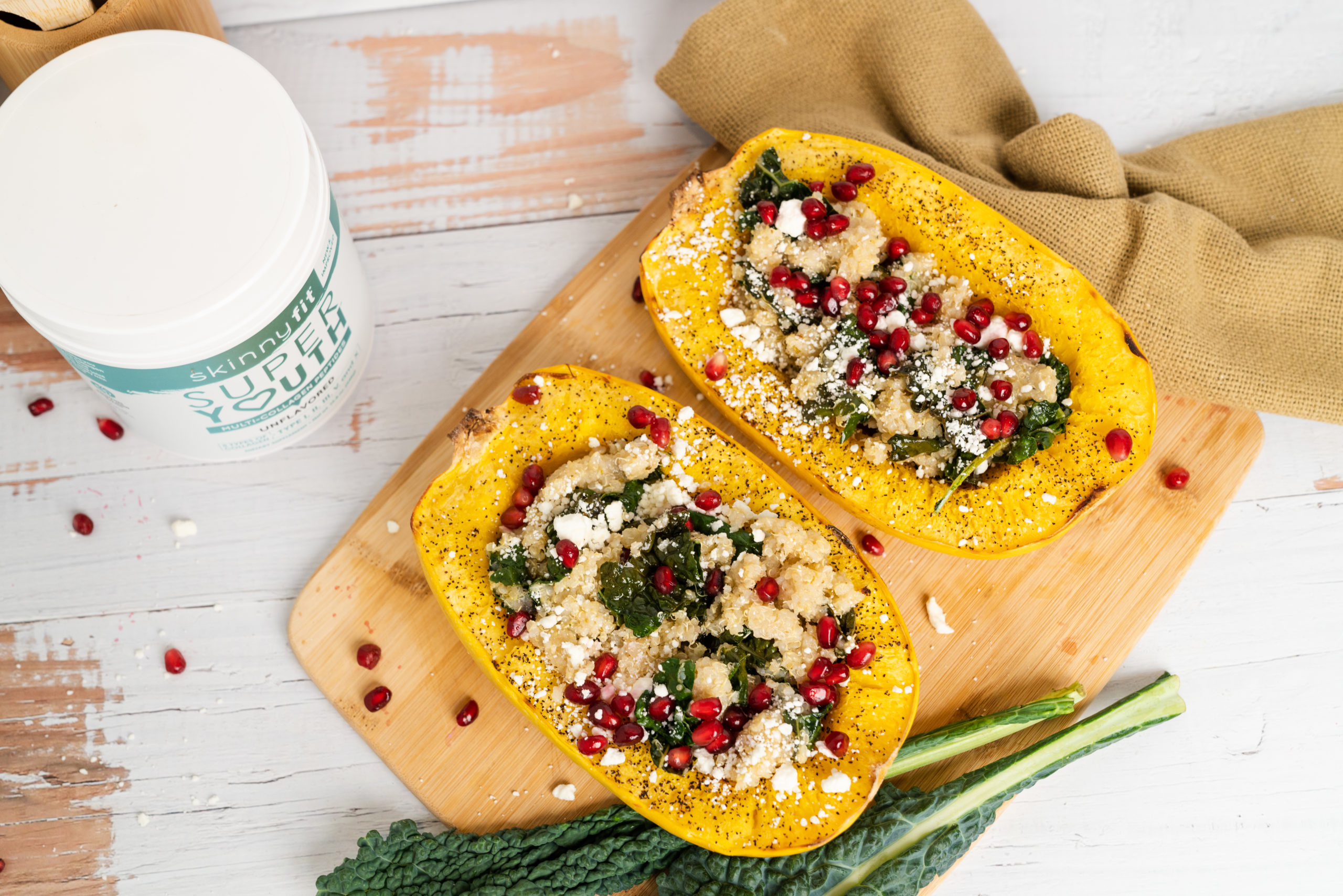 Nutritional Benefits of Quinoa Stuffed Squash
The benefits of this quinoa stuffed squash are endless. Not only is every single ingredient good for you, but it's made with mostly seasonal ingredients to ensure freshness. Spaghetti squash is a great alternative for high-carb ingredients like wheat spaghetti or potatoes, and contains essential nutrients like vitamins A, B, and C. Quinoa is another great alternative to high-carb grains, such as orzo and couscous. Plus, it's a good source of protein that's vegan and vegetarian-friendly. Pomegranate seeds, which in my opinion are the best addition to any healthy fall recipes, are a wonderful addition to this dish. The bright, delicious seeds are full of antioxidants and also vitamin C. Win-win!
The last key ingredient I'll highlight, and it's a good one, is Super Youth collagen. I love this ingredient because you can add it to virtually anything. Sauces, dressings, smoothies, yogurt, the list goes on. In this recipe, I snuck it into the red wine vinaigrette dressing. It goes completely unnoticed, yet packs a punch of benefits. Collagen is what makes our skin elastic, but our body's stop producing as much collagen as we age. Supplement with a good, hydrolyzed source of collagen (like Super Youth) can help replenish our natural collagen production, helping us age more gracefully. I don't know about you, but to me that's the best benefit of all!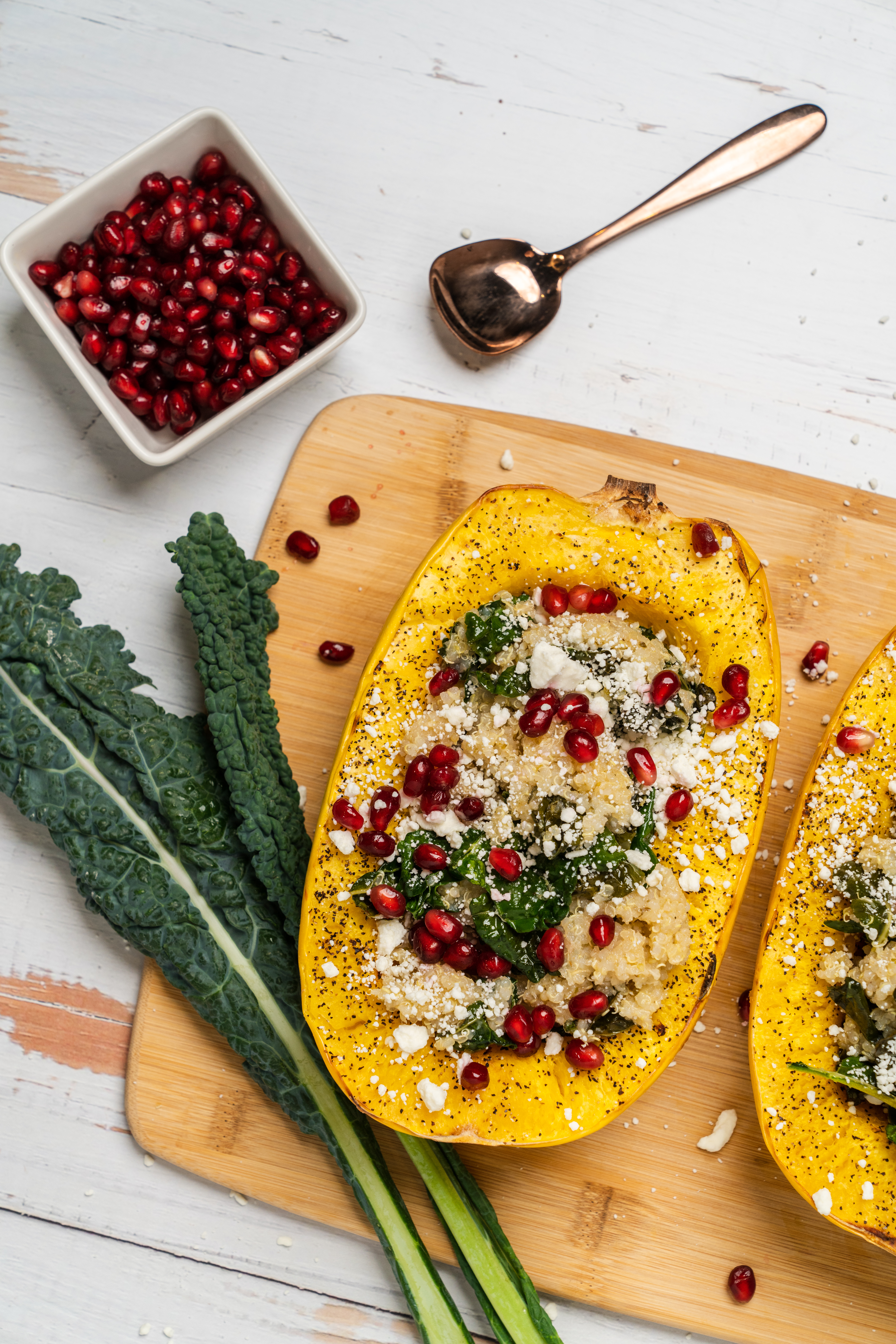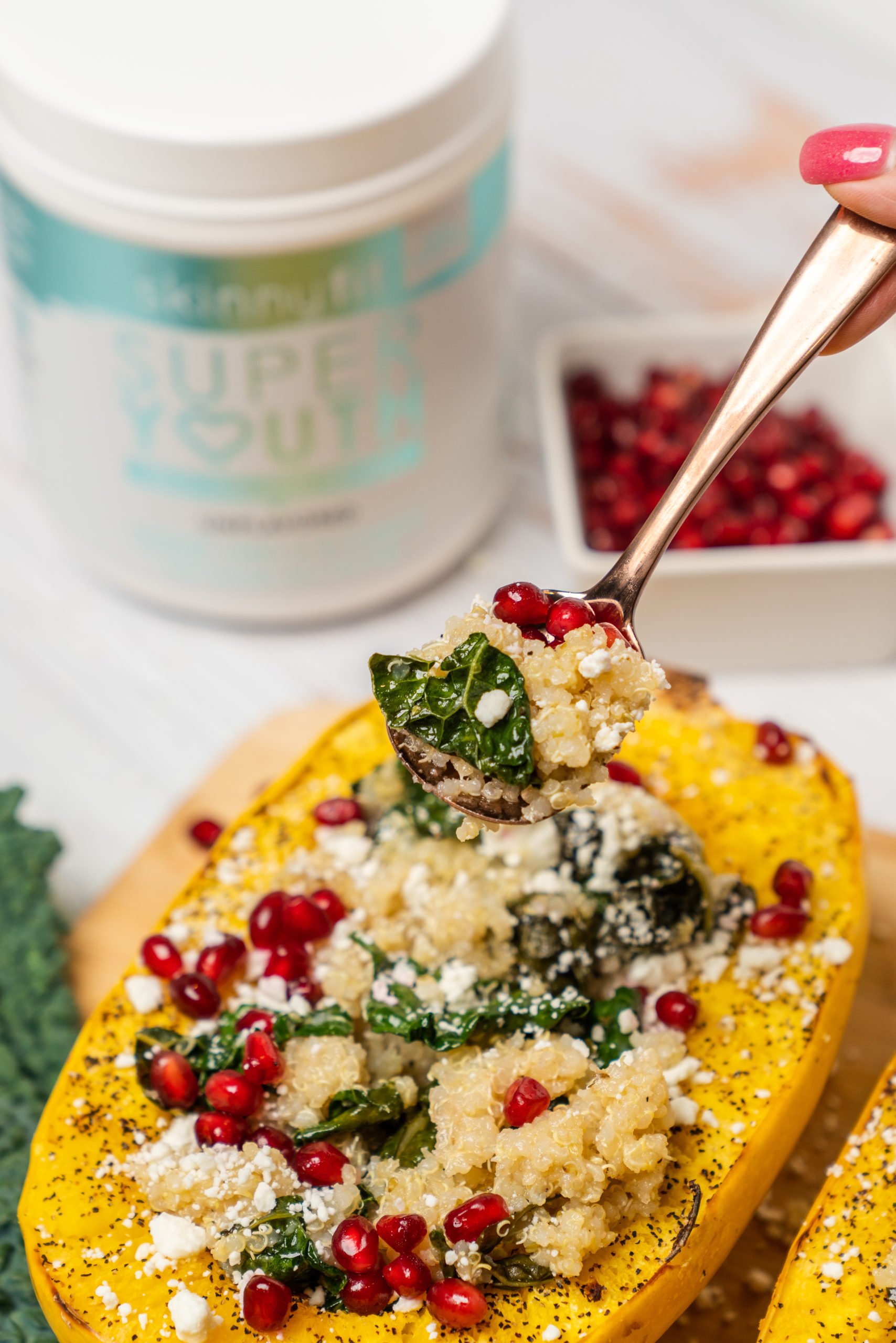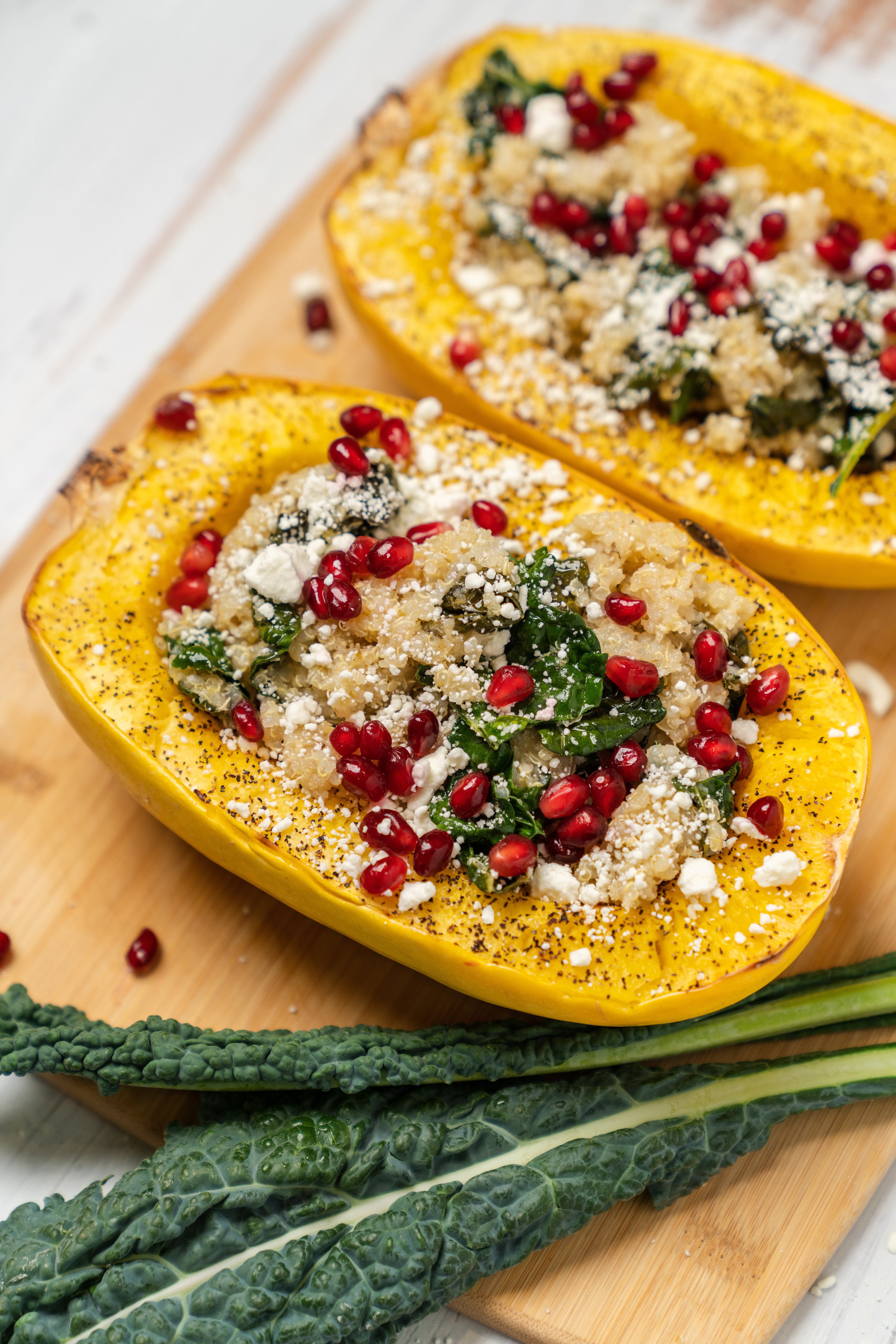 Mentioned In This Post
SkinnyFit Unflavored Collagen
Look and feel younger with Super Youth Multi-Collagen Peptides! This versatile collagen powder includes 5 collagen types from 4 natural sources to restore youthfulness from the inside out.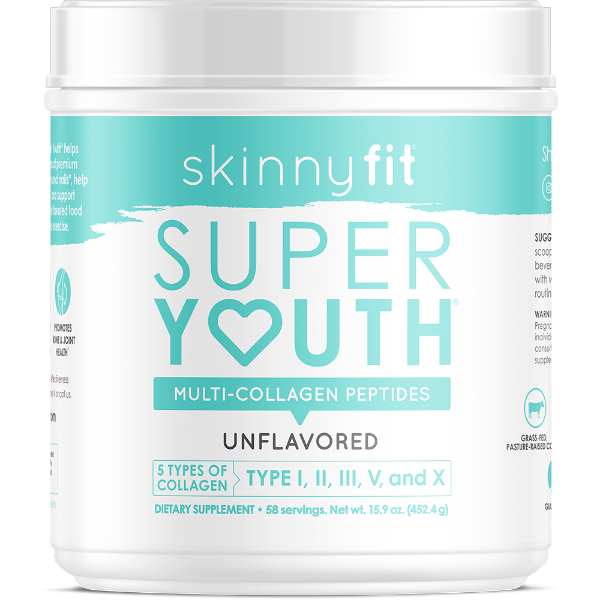 Nutritious Fall Quinoa Stuffed Squash w/ Kale
This quinoa stuffed squash is so delicious. I love that it comes together quite easily, but looks like a very decadent dish. It's perfect for showing off at dinner parties, family gatherings, or even to keep in your back pocket for a friendsgiving side dish! I promise you're going to love it.
Prep Time: 15 minutes
Cook Time: 40 minutes
Total Time: 55 minutes
Serving Size: 4
Ingredients
1 Spaghetti squash
1 tablespoon olive oil
Salt + pepper
⅔ cup quinoa, dry
1 ⅓ cup water (to cook quinoa)
4 large kale leaves, torn into small pieces
½ cup goat cheese
¼ cup pomegranate arils
¼ cup olive oil
2.5 tablespoons red wine vinegar
¼ teaspoon honey
½ teaspoon dijon mustard
½ teaspoon oregano, dried
½ teaspoon garlic powder
1 scoop Unflavored Super Youth
Salt + pepper to taste
Steps
Preheat oven to 400 degrees and line a baking sheet with parchment paper.
Slice squash in half lengthwise and remove seeds with a spoon. 
Place squash face-up on the baking sheet. Brush insides with a little olive oil, salt, and pepper, then place in oven for 20-25 minutes.
Meanwhile, place dry quinoa in a large pot with water. Bring to a boil, then reduce heat, cover, and allow to simmer for about 15 minutes.
While everything cooks, make the dressing by whisking all dressing ingredients together in a bowl. Set aside.
When quinoa is cooked and still hot, fold in the kale and mix with the dressing. Stir then cover the pot for a few minutes to let the kale wilt.
Remove squash from oven and spoon quinoa-kale mixture into the squash halves. 
Top with goat cheese, then place squash back in the oven for another 7-10 minutes.
Remove squash from oven again and top with pomegranate. Enjoy!