Jump To Recipe
Happy Fall, y'all! I'm sitting here cozied up with relaxing music and a warm cup of tea as I write, and it's definitely a vibe. I don't know about you, but fall is by far my favorite time of year – I love everything from the fashion and food to the wholesome activities…and of course, the most important part, HALLOWEEN! But, let's go back to the food part, which is pretty important too. If there's one thing I love the most about fall food, it's how comforting it is, like a big warm hug that fills you right up, no matter how savory or sweet. Soup? Sign me up. Cinnamon rolls? I'll be going for thirds. That brings me to today's recipe! I'm thrilled to share the secrets to a dish that holds a special place in my heart – the Savory Squash & Sweet Fruit Crumble. It's not just a favorite, but a cherished memory-maker in my own kitchen. 
It's not just about the ingredients; it's about creating moments that bring loved ones closer, connecting through conversations that warm the soul, and cooking dishes that transport us back to our fondest memories. 
Some of you might be thinking, "Squash in a dessert? Really?" And to that I say, absolutely! This dish combines the earthy, comforting flavors of savory squash with the sweetness of fruit, and it's like a warm, cozy hug for your taste buds. But, as with all of SkinnyFit recipes, there's more than meets the eye – I've added a lil touch of magic with Unflavored Super Youth, the secret ingredient that makes it even better.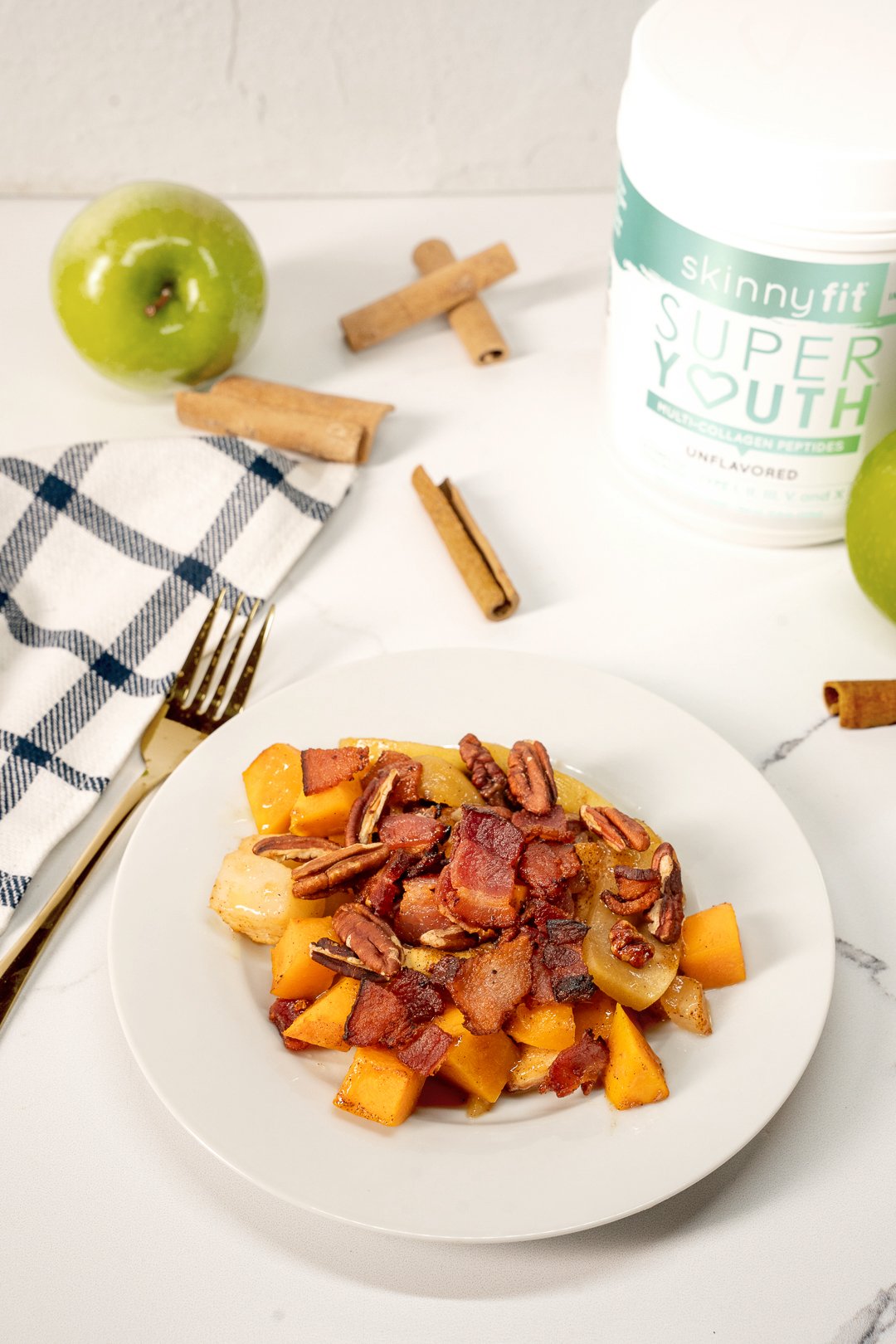 The Health Benefits of Savory Squash & Collagen
Squash: Let's talk about squash first. To me, it's the embodiment of the fall season – its vibrant hues and earthy flavor capture the essence of autumn. Beyond its visual appeal, squash is a nutritional powerhouse. Loaded with vitamins A and C, fiber, and essential minerals, it's like nature's way of saying, "Here's a gift for your health." Squash supports our immune system and nourishes our skin, making it the perfect, tasty addition to this recipe!
Unflavored Collagen: Now, onto our secret ingredient, unflavored collagen. It's a skin-boosting superhero that works behind the scenes, supporting our skin's natural glow, keeping our joints flexible, and promoting gut health. It's like a touch of self-care in each bite!
The Perfect Holiday Treat
As the holiday season approaches, our hearts (and stomachs) yearn for dishes that transport us to those cozy, cherished moments with family and friends. This recipe is precisely that – a wholesome dessert that feels just like a warm hug from my Nana. 
What Makes it So Special?
Warm and Comforting: Imagine the aroma of roasted squash mingling with sweet, juicy fruits, all tucked beneath a nutty, crumbly crust. It's like a cozy blanket for your senses!
Versatile for Any Celebration: Whether it's Thanksgiving, Christmas, or any festive gathering, this dish plays well with others. It can be a delightful side dish or a show-stopping dessert that complements any holiday spread!
Nourishment for the Soul: While it satisfies your cravings for delicious holiday flavors, it's also a gift to your body. As I said before, it's packed with vitamins, minerals, and collagen to boost your skin's radiance, support joint flexibility, and keep your gut in tip-top shape. Can it get better than that?
This Savory Squash and Sweet Fruit Crumble is more than just a recipe; it's a celebration of wholesome ingredients that elevate your health and wellness during the most magical time of the year! I hope you love it just as much as I do!
Mentioned In This Post
SkinnyFit Unflavored Collagen
Look and feel younger with Super Youth Multi-Collagen Peptides! This versatile collagen powder includes 5 collagen types from 4 natural sources to restore youthfulness from the inside out.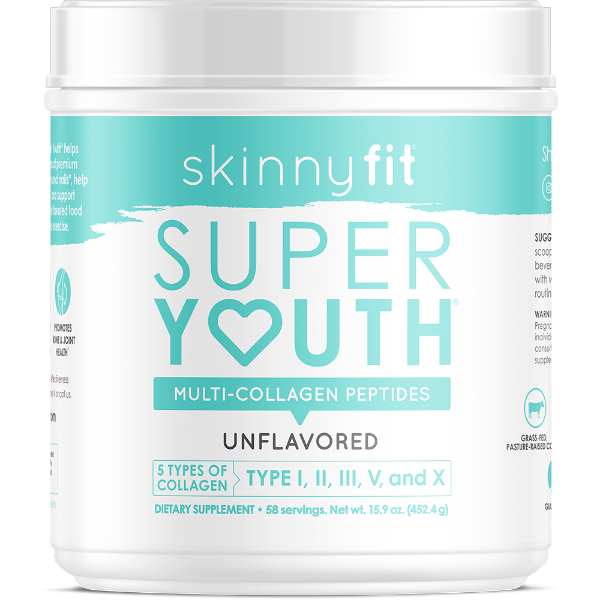 Savory Squash & Sweet Fruit Crumble
Prep Time: 25 min
Cook Time: 45 min
Total Time:
Serving Size: 12 servings
Ingredients
6 thick-sliced bacon strips, cut into 1/2-inch pieces
1-1/4 pounds cubed peeled butternut squash (1-inch cubes)
3 medium Granny Smith apples, peeled and cut into wedges (about 4 cups)
2 medium pears, peeled and cut into 1-inch cubes
1/2 cup packed brown sugar
1 tablespoon all-purpose flour
1 teaspoon salt
1 scoop Unflavored Super Youth
1/2 teaspoon ground cinnamon
1/4 cup cold butter
1/2 cup chopped pecans, toasted
Steps
Preheat oven to 350º. In a large skillet, cook bacon over medium heat until almost crisp, stirring occasionally. Drain on paper towels.
Combine squash, apples and pears in an ungreased 13×9-in. baking dish. In a small bowl, mix Unflavored Super Youth, brown sugar, flour, salt, and cinnamon. Cut in butter until mixture resembles coarse crumbs. 
Bake until squash and fruit are tender, 45-50 minutes.
Sprinkle pecans and bacon over squash mixture.