Jump To Recipe
Celebrate St. Patrick's Day while still SHAMROCKIN' your diet! This easy and healthy shamrock shake recipe is only 100 calories!
I'm 100% Irish when March hits, and I'm 1,000% Irish when McDonald's releases their limited-time-only shamrock shake. But as delicious as this minty green dream is, my diet would give it a one-star rating. Loaded with sugar and extra calories, my skinny jeans turn a warranted frown this time of year. 
That's why I've created this healthy version shamrock shake recipe, so you can still feel the luck of the Irish AND keep your diet goals on track. 
What Is A Shamrock Shake?
The dictionary definition of a shamrock shake is as follows: A seasonal green mint-flavored milkshake dessert sold at certain McDonald's restaurants during March to celebrate St. Patrick's Day.
The REAL definition of a shamrock shake? A glorious, creamy, ice cream concoction created by leprechauns to put a pot of gold in your mouth.
If you've never experienced a shamrock shake before, you're in for a real treat (literally). But no need to hit the drive-through for this one. Here's how to make a shamrock shake right at home, so you can get your green on this St. Patty's Day while SHAMROCKIN ☘️ that diet of yours!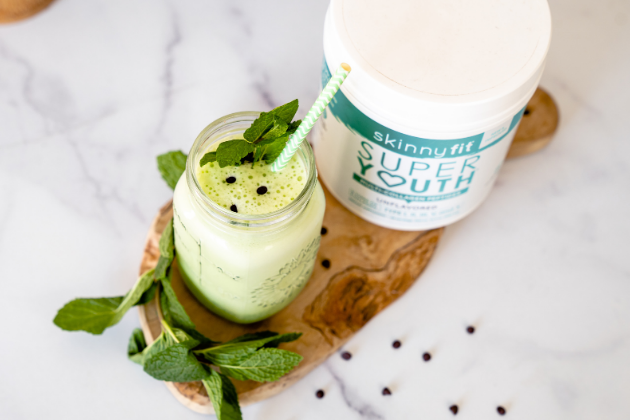 How To Make A Shamrock Shake Healthier
Now, I'm not saying don't ever get another shamrock from McDonald's again, after all, they only come around once a year. But if you're in the mood for something sweet and delicious, but also want to stick with your health goals, here are a few ways on how to make a shamrock shake healthy style, so you can enjoy it more than just once!
1. Add some greens
No, not the food coloring McDonald's uses. 😂 We're talkin' lean, mean, healthy greens! Adding spinach to this shamrock shake recipe is an easy way to get your nutrients in, and when combined with the other ingredients in this recipe, you won't taste it at all.
2. REAL mint extract
Besides getting your breath on point, peppermint has been shown to help ease digestive issues. [1] Add a little or add a lot, it's totally up to you and your preferences. 
3. Collagen. collagen. collagen.
Okay, this last tip McDonald's simply can't compete with. What better way to get your daily dose of youth-activating collagen in than by adding it to a delicious shamrock shake?! I'm sure by now you already know about the amazing benefits collagen can provide, but just in case, here's a few:
Smoother skin 
Reduced wrinkles
Healthy, agile bones & joints
Longer, stronger hair & nails
High in protein to support weight loss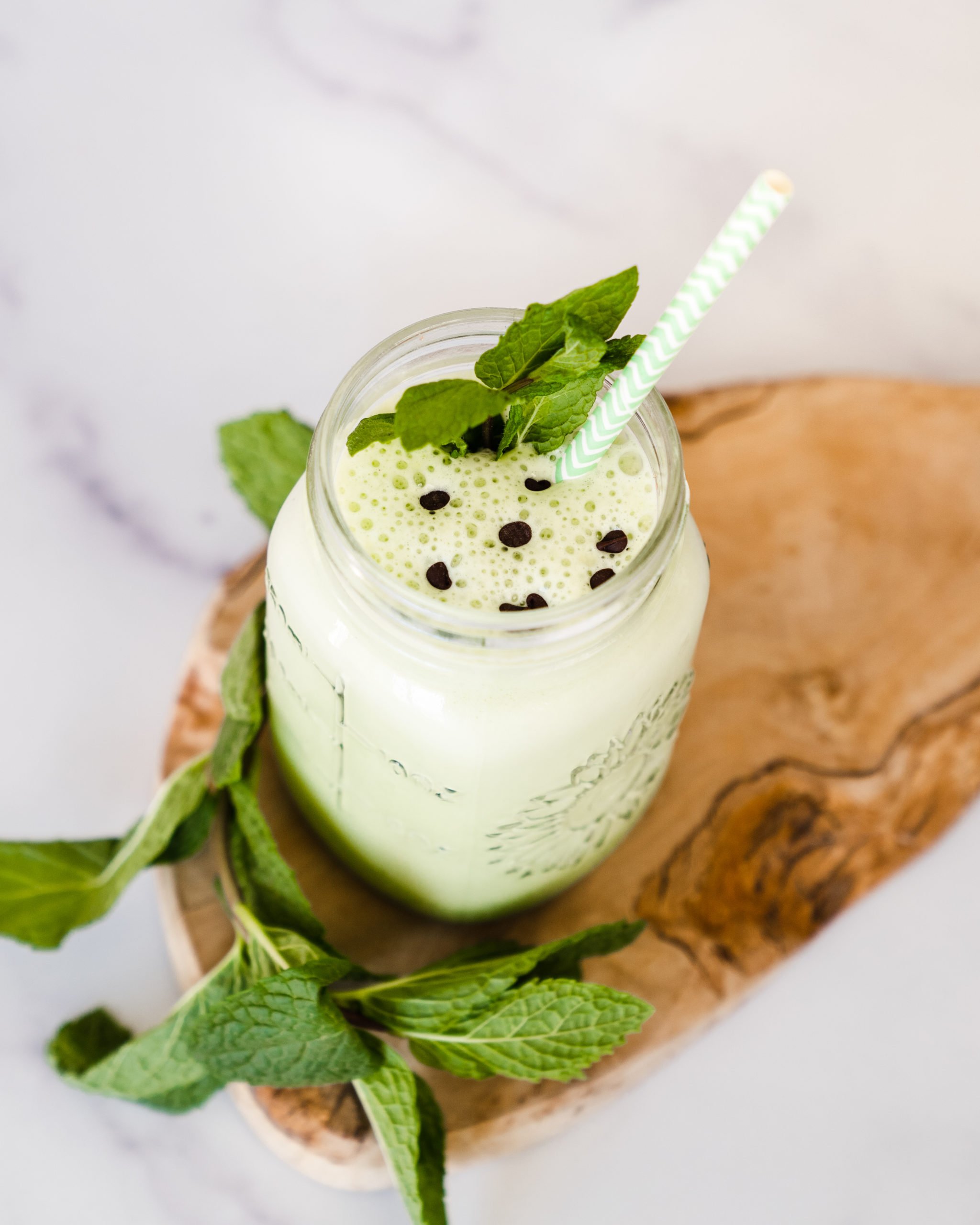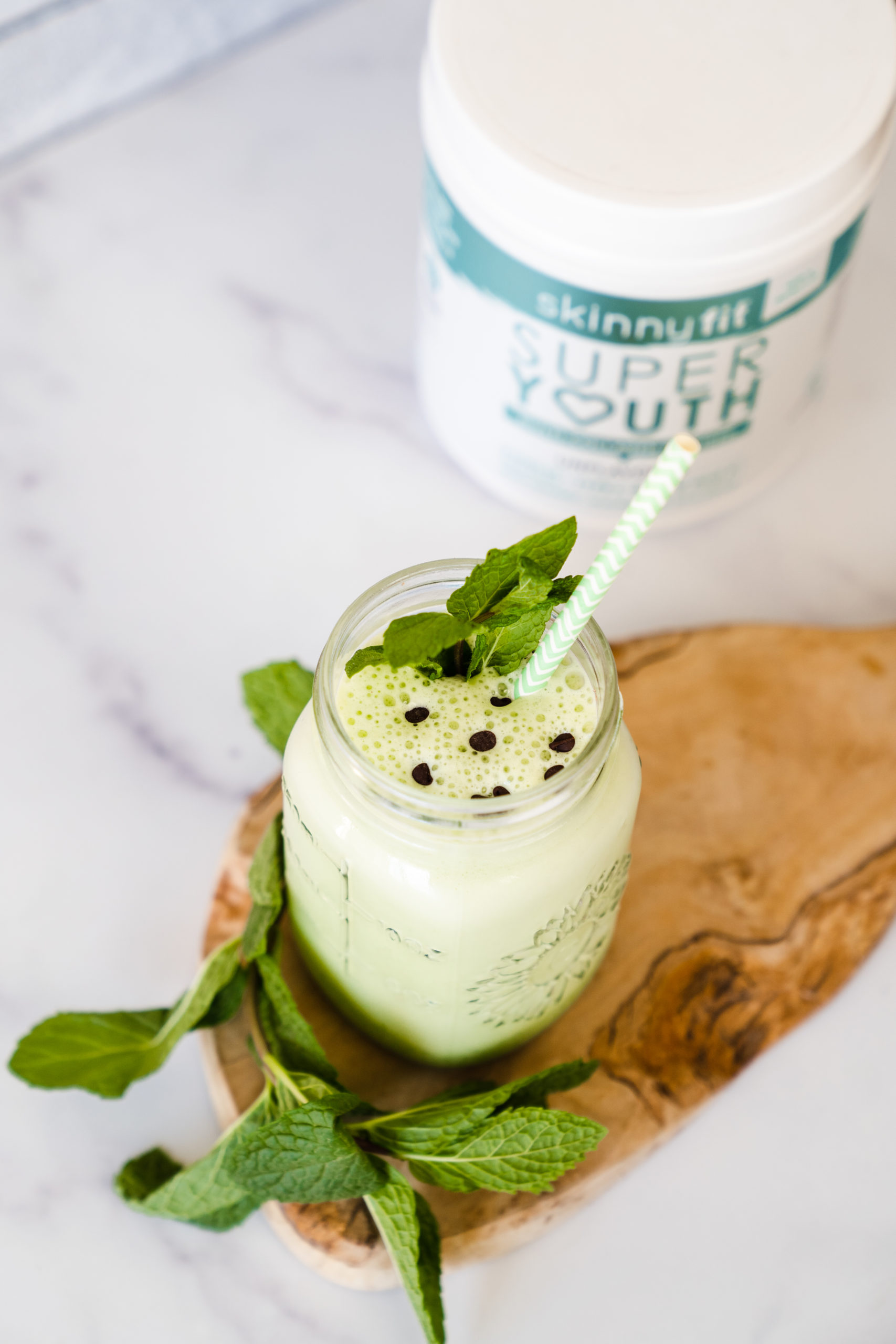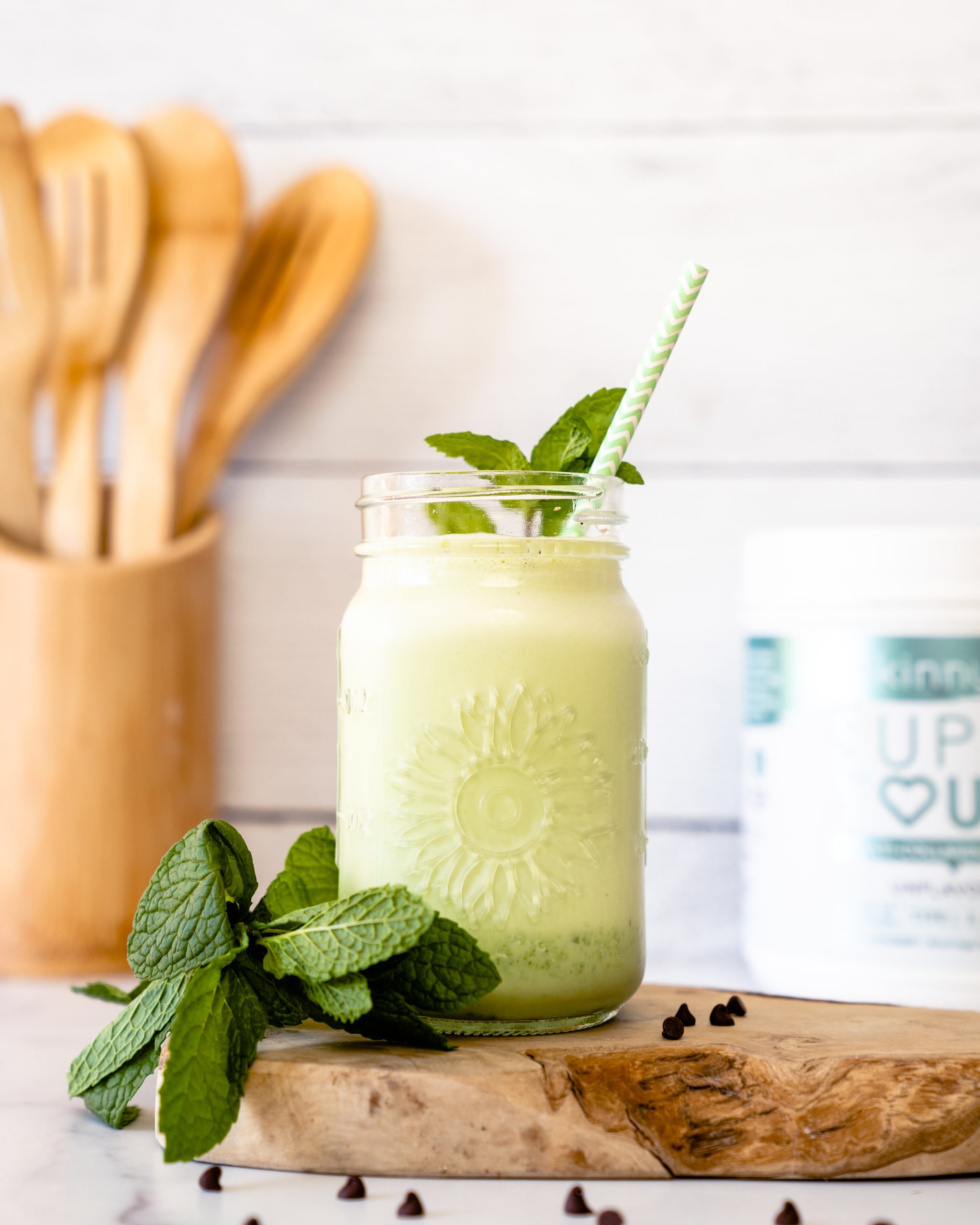 Different Ways To Enjoy A Shamrock Shake
Okay, yes, this shamrock shake recipe is meant to be healthy, and it is! But if your cravings are strong and you need to throw an extra guilty pleasure somethin' something' in the mix, you totally can! 
No judgment here, sometimes there's simply no telling when those cravings will hit. And to be honest, anything additional you add to your homemade shamrock shake, will probably still be healthier than the McDonald's one.
Here are a few ways to "spruce" up your shamrock shake for some extra YUM!
Add vodka. Adding in some alcohol to this shamrock shake recipe is a fun treat every party guest will love. Vodka and rum seem to be the best choices flavor-wise, but feel free to experiment. 😉
Add chocolate. Your sweet tooth will love an addition of cacao nibs or chocolate chips either blended in or sprinkled on top for a picture-perfect snack.
Add whip cream. One of my favorite toppings, adding whipped cream will make this already delicious shake even more creamy, even more dreamy!
No matter how you choose to make your shamrock shake, you'll be feelin' as lucky as a four-leaf clover each time you take a sip! Enjoy!
Healthy Shamrock Shake
A healthy at-home shamrock shake that'll give your tastebuds some luck of the Irish!
Prep Time: 5 min
Cook Time: 0 min
Total Time: 5 min
Serving Size: 1 smoothie
Ingredients
1 ½ cups baby spinach
1 scoop Super Youth Collagen, Unflavored
1 cup milk of choice
¼ cup vanilla Greek yogurt
¼ tsp mint extract
1 tsp vanilla extract
Ice
Optional: cacao nibs or chocolate chips as topping
Steps
Combine all ingredients in a blender and mix until smooth.
Pour into a glass and enjoy!
Total Calories: 100 calories
Carbs: 5g
Fats: 3g
Protein: 15g
Sugar: 2g
Fiber: 2g