Jump To Recipe
If you're anything like me, you know that starting the day with a delicious and nutritious breakfast sets the tone for a positive and productive day ahead. My go-to healthy breakfast is hands down this parfait recipe, and I'm so excited to share it with all of you! First let's set the scene. Imagine a creamy and dreamy blend of Greek yogurt, layered with decadent dark chocolate, and topped with a burst of colorful berries, or other delicious toppings of your dreams. This breakfast dish not only satisfies my chocolate cravings but also works wonders for my skin, thanks to the addition of Chocolate Super Youth! Another plus is that this recipe is so quick and easy to make, so it's a perfect option for busy mornings. As someone who's always trying to embrace a healthy lifestyle, this parfait has become my number one for a reason. I can't wait for you to give it a try and enjoy the taste and beauty this recipe has to offer!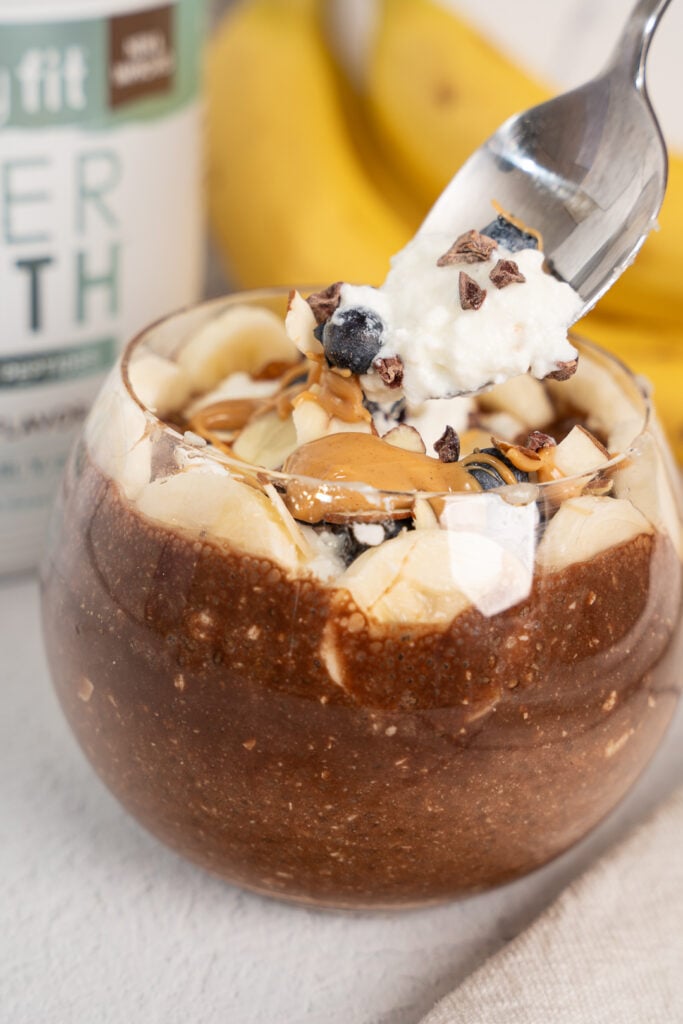 Chocolate Made Healthy
Yes, you can have your chocolate and enjoy it, too! This breakfast parfait is all of the chocolatey goodness you could ever want, without all the guilt…plus, it's like a beauty elixir in a jar! First off, let's start with Chocolate Super Youth – this little powerhouse is a game-changer for your hair, skin, and nails! It not only helps boost collagen production, giving your skin a well-deserved revitalized glow, but it also satisfies those chocolate cravings. Next, let's talk about the other star of the show – cacao powder! Not only does it add to that irresistible chocolatey flavor, but it's also bursting with antioxidants that fight off free radicals, keeping our skin youthful and glowing. And finally, chia seeds! Rich in omega-3 fatty acids, they promote healthy skin and reduce inflammation. By just adding a small scoop of chia seeds to your favorite recipes, you're taking the benefits to the next level. When it comes to fruit toppings, run wild! Plus, they're not just for looks – they're loaded with vitamins, minerals, and fiber that keep your skin happy and nourished. This parfait is truly a treat for your taste buds and a boost for your skin, hair, and nails – what's not to love?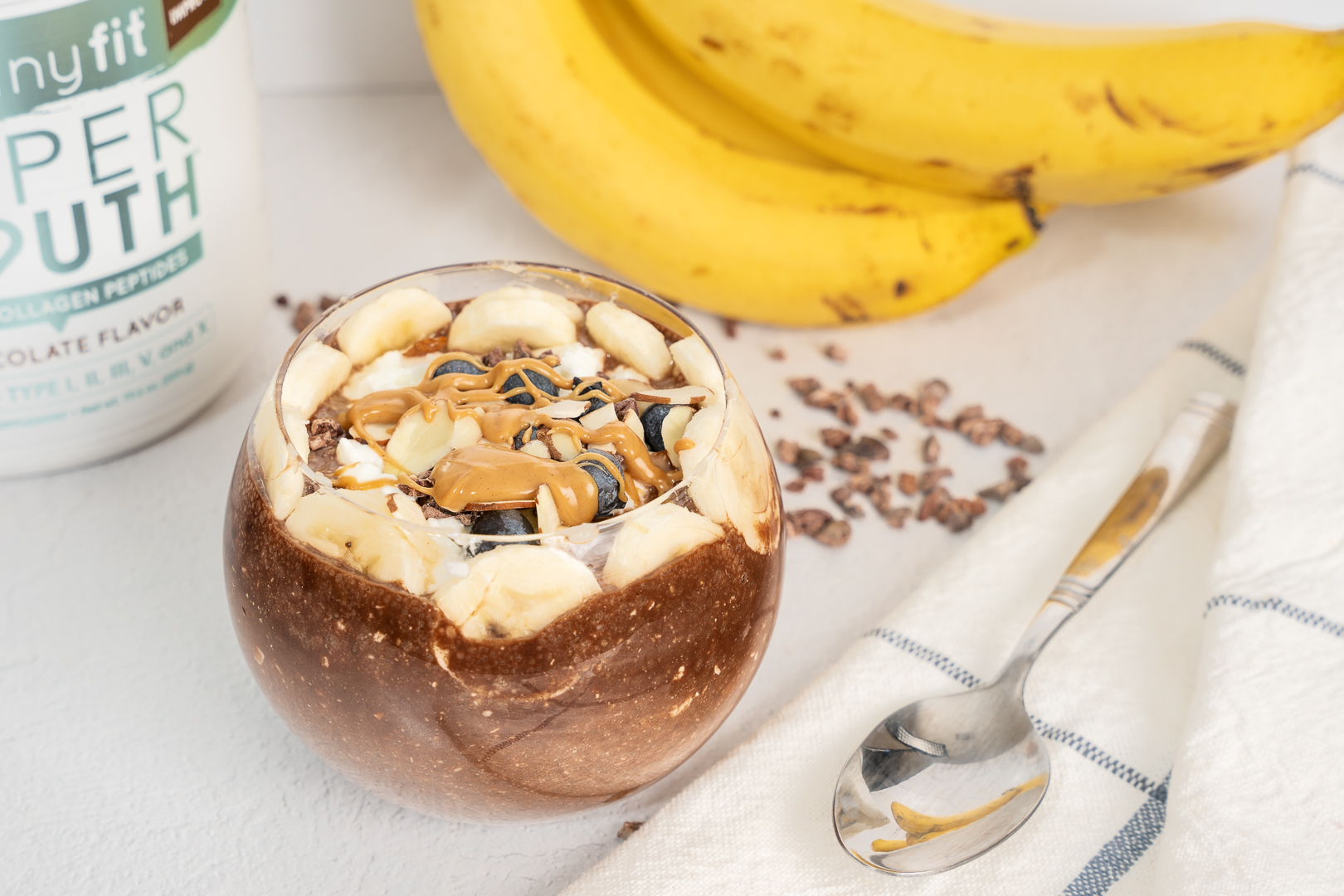 Mentioned In This Post
SkinnyFit Chocolate Collagen
Look and feel younger with Super Youth Chocolate collagen! This scrumptious collagen powder includes 5 collagen types from 4 natural sources to restore youthfulness from the inside out.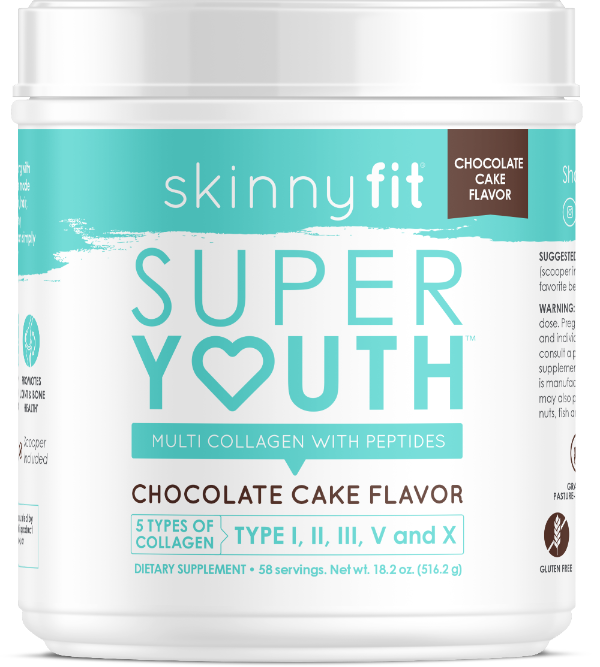 Skin-Boosting Breakfast Parfait
Prep Time: 5 minutes
Cook Time: n/a
Total Time: 10 minutes
Serving Size: 1 serving
Ingredients
1 scoop Chocolate SY
1 tbsp of cacao powder
2 tsp chia seeds
175ml plant milk (¾ cup)
2 tbsp maple syrup (or any other sweetener you prefer)
1 tsp vanilla
¼ cup plain yogurt
Top with additional yogurt, banana, blueberries, peanut butter, almonds & cacao nibs
Steps
Add all the ingredients into a jar and mix well.
Mix again after 10 minutes to avoid any big clumps.
Leave it in the fridge overnight (or at least 3-4 hours).
Top with additional yogurt, banana, blueberries, peanut butter, almonds & cacao nibs.