Jump To Recipe
Anyone else feel like your at-home mojito recipe fails to replicate the deliciously refreshing, resort-style mojito you're craving? SAME! And it doesn't help that my favorite type of mojito is a non-traditional strawberry pineapple mojito. What can I say, I'm not a traditional type of gal!
I searched high and low for the best mojito recipe for years before nearly throwing in the towel. I tried all different kinds of mint, mint extract, frozen fruit, fresh fruit, premade mojito mixes, seriously, I tried everything.
For a while my sister convinced me that the only reason I love resort mojitos so much better than my own is because I don't have to make them myself. She's not entirely wrong… 🤣
Committed to not only to prove her wrong, but also to have mojitos at the snap of a finger, I set forth to create the ULTIMATE at-home mojito recipe. I perfected a strawberry pineapple mojito, because like I said, they are my fav. 😎 🍓 🍍
What Do You Need To Make A Mojito?

Making a mojito is fairly simple with the right tools and ingredients. Looking back, I'm ashamed to even say how many years I spent making the mistake of trusting a mojito recipe made in a blender. Big no, no to say the least. While a blender mojito recipe was in no way shape or form a mojito, no pineapple mojito goes to waste in my kitchen! So I did indeed drink them all, but they do not compare to this authentic strawberry pineapple mojito recipe I'm about to share with you today.
Finally, I learned that the trick to the best mojito recipe is to muddle your fruits with sugar and lime. So the tools you'll need for this delicious pineapple mojito recipe are a cocktail shaker, a muddler (or the back of a wooden spoon will do!), and a tall mojito glass. Obviously you can drink your mojito out of anything you'd like, but we're going for the full poolside pineapple mojito vibe!
And of course, the best mojito recipe calls for the best ingredients. For this strawberry pineapple mojito recipe you'll need one lime, 2 strawberries, mint leaves, sugar, pineapple juice (fresh or canned), light rum, club soda, and my personal secret ingredient: Detox.
The reason I put Detox in this mojito recipe is because it enhances the flavors in the drink, adds a metabolism-boosting kick, and helps me from getting sleepy, boozy eyes. (Anyone else guilty of day drinking droopy eyes?!) Detox is chock full of energizing and slimming superfoods, so for me it's a no-brainer when it comes to adding it to my cocktail recipes. It truly is what makes this strawberry pineapple mojito recipe the best mojito recipe.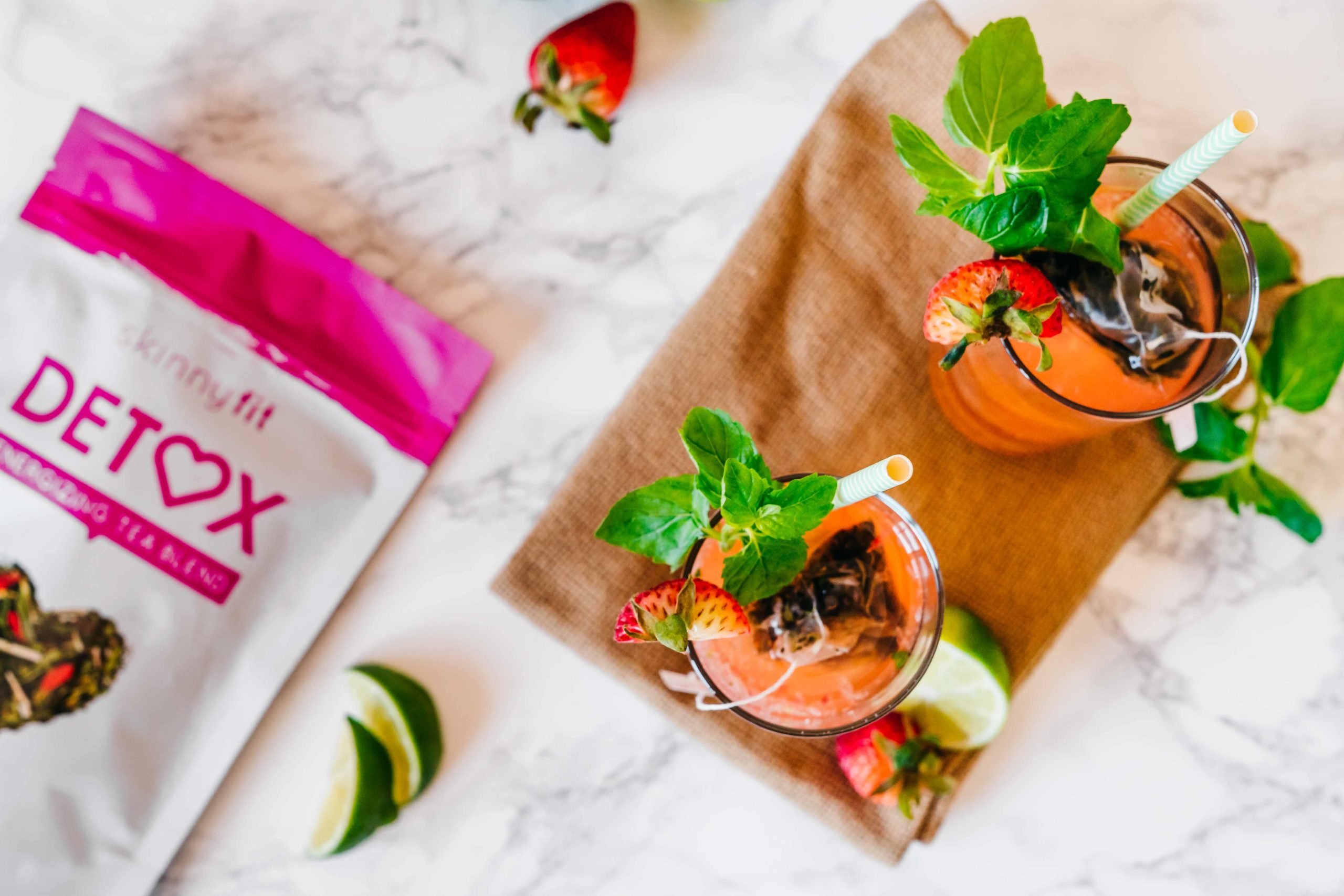 How To Make A Pineapple Mojito

This mojito recipe is so easy, and once you make one, you won't ever have to look at the recipe again. And I assure you, you're gonna make more than one.
First, start by making your Detox tea. Add a tea bag to ½ cup of warm water, then place it in the freezer. This will simultaneously steep the tea and cool the water before adding it into our glass, because no one likes a warm mojito!
Next, cut up one lime into wedges and then add them into your cocktail shaker. (If you don't have a cocktail shaker, any large jar with a lid will do!) Add two washed and sliced strawberries, 1 tbsp of mint leaves, and 1 tbsp sugar on top of the limes. Take your muddler, or the back of a wooden spoon, and press your ingredients into the bottom and sides of the shaker until they look somewhat incorporated.
Then, add your liquid. Pour your pineapple juice, rum, and Detox over your muddled mixture, cover with your cocktail shaker lid, and then give it a good shake! Pro tip: throwing on some hip-shaking music will give you the ultimate resort experience!
Fill your mojito glass with ice and then pour your mixture over the ice. Top with club soda, give it a good stir, and then you've got yourself the very best mojito recipe!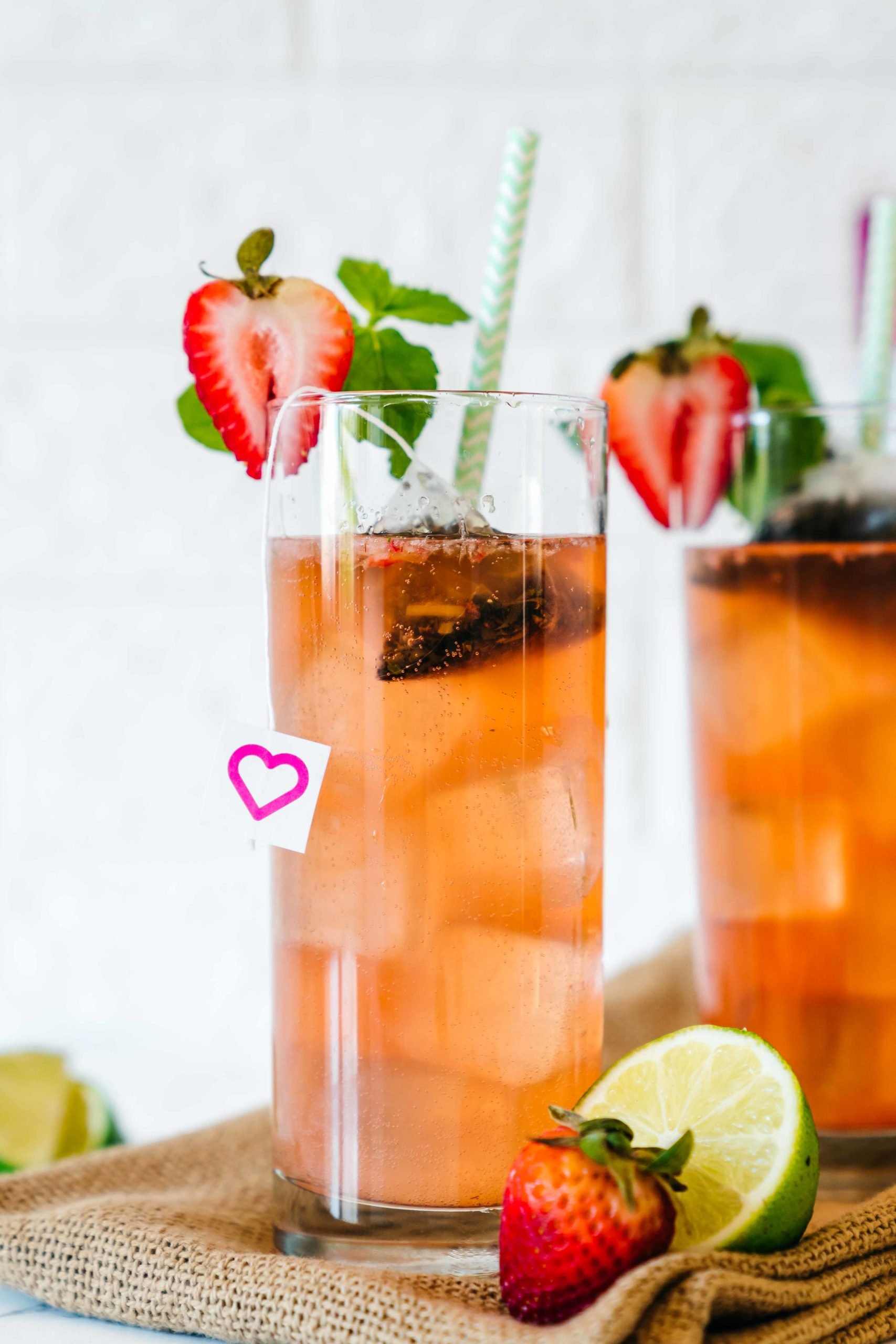 The Best Strawberry Pineapple Mojito
Finally, a recipe for the BEST strawberry pineapple mojito that you can make at home in just ten minutes! Bring it poolside for full-on resort-style enjoyment!
Prep Time: 5 minutes
Cook Time: 5 minutes
Total Time: 10 minutes
Serving Size: 1 mojito
Ingredients
1 lime, cut into wedges
2 strawberries, sliced
1 tbsp mint leaves
1 tbsp sugar
¼ cup pineapple juice
¼ cup light rum
½ cup Detox tea, brewed and chilled
½ cup club soda
Steps
Add your lime wedges, sliced strawberries, mint, and sugar in a cocktail shaker and muddle.
Stir in pineapple juice, rum, and Detox, cover, and shake. Pour into a tall glass filled with ice and top with club soda.
Garnish with remaining lime wedges, if desired, and voila! You have yourself a perfect strawberry pineapple mojito!