Jump To Recipe
Attention! Your attention, please! These Thai lettuce wraps are going to make you look like a 5-star chef! (So I strongly recommend not telling anyone all you used was your crockpot!)
Seriously. I know I have a tendency to hurl around lots of analogies in my blogs—a little effort to keep you entertained while staying informed—but this time it's no hyperbole. 
Thai chicken lettuce wraps have become a healthy, crunchy, and crave-worthy Asian-Fusion favorite among foodies from coast to coast. And with good reason—heavy carbs and empty calories are almost non-existent, but flavor is off the charts!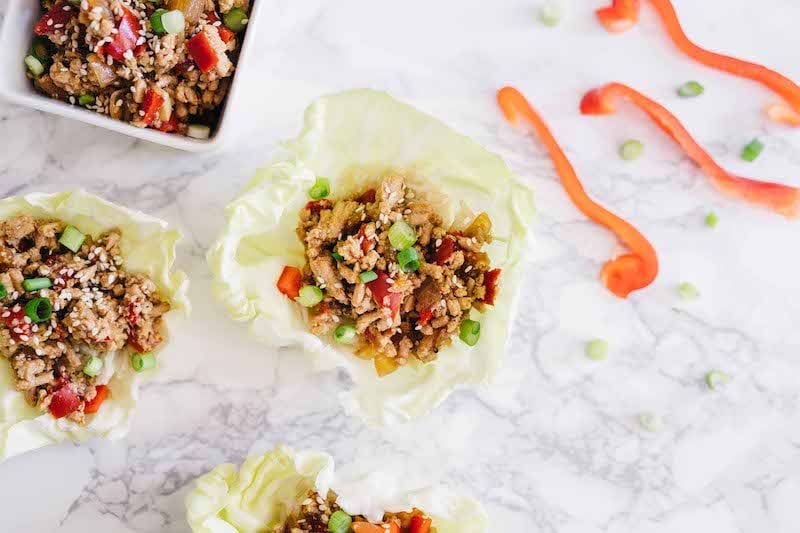 Why You Should Cook Thai Lettuce Wraps (like, now!) 

Bold, sweet, tangy, savory and spicy all at once. If you've ever had Thai lettuce wraps from places like PF Chang's or your favorite Thai takeout spot, then you definitely know what I'm talking about. They always come with a bit of a kick and a side of salivation. 
But there's absolutely no reason to save them for dining out on the town! You can whip up protein-packed Thai chicken lettuce wraps with hardly any effort, using just the recipe's ingredients and your trust crockpot. 
While you can cook them however you would like, this recipe calls for a crockpot because I find that crockpot lettuce wraps soak up, instead of sizzle out, the juices and flavors of each ingredient without having to add lots of heavy, high-caloric oils that you'd normally use when pan frying. Also, with crockpot lettuce wraps, it's way easier to retain the moisture in the chicken and keep it from drying out. Yours truly is the all-time master of drying out chicken, hence why I've chosen to step up my slow cooker game.
I also find that lettuce wraps allow your senses to really hone in on the wildly tasty ingredients they're made of, especially when using a relatively mild lettuce. Romaine offers excellent crunch-per-nutrient value, but for this recipe, I've chosen to use iceberg lettuce because I find no other leafy green holds together bite after delicious bite; also, iceberg lettuce is a great choice for keeping this dish low calorie.
Which reminds me—these crockpot lettuce wraps are actually super healthy for you.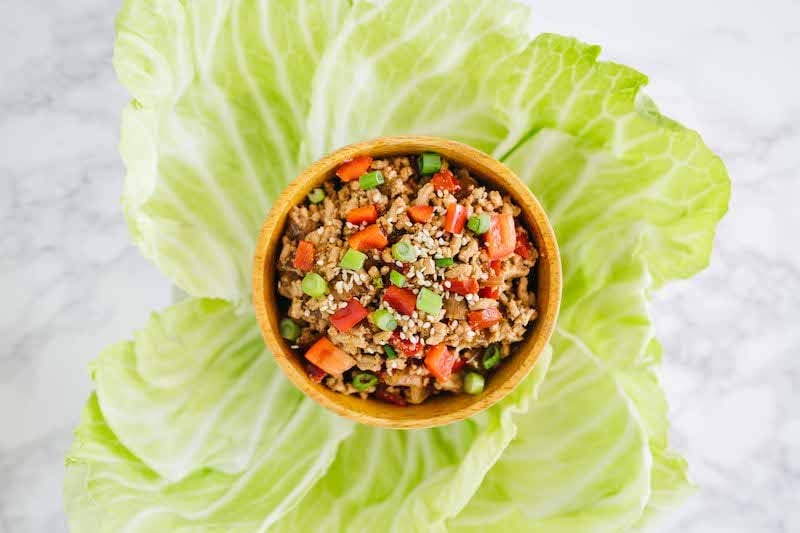 What Makes Crockpot Lettuce Wraps Healthy?

So many of the ingredients in these Thai chicken lettuce wraps are healthy. 
Our main ingredient, chicken, is of course a lean meat that's packed with protein. Ginger is a powerhouse of nutrients, with anti-inflammatory and antioxidant properties to boot. [1] Scallions provide more than just flavor, but they also provide cancer-fighting support. [2] 
But other ingredients amp up the health benefits of these Thai lettuce wraps.
Iceberg lettuce gets a bad—and erroneous—rap for being full of "empty" calories. But in fact it's great for helping people manage, even lose weight. That's because iceberg lettuce has a high water content (that's where the whole "empty" thing comes from), but they're also very high in fiber, which helps digestion and is well known to prevent obesity, and is inversely associated with body fat. [3]
Red bell peppers are an incredibly nutrient-packed vegetable. Red bell peppers—like their yellow and orange counterparts—are loaded with vitamin C and vitamin A, both of which are commonly known to help support your immune system. But red bell peppers also contain lycopene, a carotenoid that helps fight free radicals and is shown to lower the risk of cancer. [4]
Collagen peptides, which you'll have a hard time finding in other Thai lettuce wraps, play an integral role in supporting our joint health, as well as our hair, skin, nails, and digestion. Collagen is the most abundant protein in our bodies and is the main component of our connective tissue. The thing is, our collagen production begins to radically reduce by the time we hit our mid-20s and early 30s. [5] This causes us to show signs of aging, such as wrinkles, thinning hair, and aching joints.
This recipe calls for SkinnyFit's Super Youth Unflavored collagen for a couple reasons. Firstly, it contains five different types of collagen that work harmoniously together to slow down the signs of again and keep our collagen supply up as we age. It's also remarkably untraceable when mixed into foods. No chalky taste, no clumps… nothing but youth-restoring benefits!
Oil is… "Wait—you said oil isn't part of this recipe?!" Exactly! Oil isn't an ingredient. But that's the point. These crockpot lettuce wraps don't call for oil, which further helps to keep their calorie count down and maintain their healthful nature of Thai chicken lettuce wraps.
Chestnuts differ from other nuts in that they are actually really quite low in fat, especially compared to walnuts, almonds, and other popular nuts. Instead, they have quite a bit of carbohydrates. But don't let that scare you off—the carbs in chestnuts are complex, meaning they take longer to digest, giving you more sustained energy after your meal. [6]
And that could be important. Because I don't know if you noticed, but one of the amino acids chestnuts produce when they're cooked is L-Arginine, an amino acid found widely in male sexual performance pills. So.. uh… yeah. Maybe give this recipe a go when it's just you and the hubby. [7]
Bon Appetit!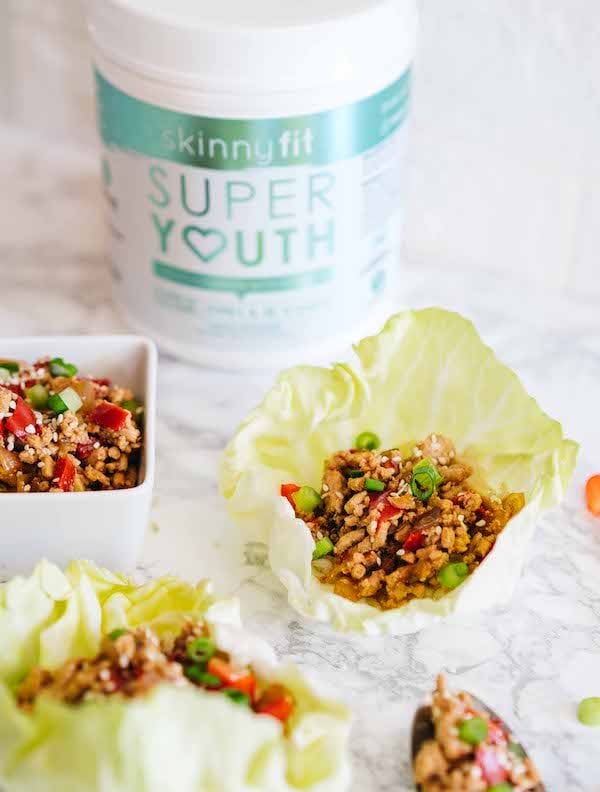 Crockpot Thai Lettuce Wraps Recipe
Light and delicious—these thai lettuce wraps turn your dinner into a 5-star restaurant experience. And all you need are ingredients and your crockpot! Easy as that!
Prep Time: 15 minutes
Cook Time: 2 hours
Total Time: 2 hours 15 minutes
Serving Size: 4-5 lettuce cups
Ingredients
1 pound ground chicken
1 red bell pepper, cored and finely chopped
½ yellow onion, finely chopped
2 garlic cloves, minced
½ cup hoisin sauce
2 tbsp soy sauce
½ tsp freshly ground ginger
¼ tsp salt
⅛ tsp pepper
4 oz. sliced water chestnuts, finely chopped
1 scoop of Super Youth Unflavored collagen
1 cup cooked rice (any rice will do)
3 scallions, thinly sliced
1 head Bibb, romaine or iceberg lettuce, rinsed and pat dry
Sriracha hot sauce, for drizzling (optional)
Steps
In a separate bowl, combine hoisin sauce, soy sauce, and Super Youth Unflavored.
Microwave ground chicken in a medium bowl, stirring occasionally, until chicken is no longer pink, 3-5 minutes. Drain off liquid and transfer mixture to slow cooker.
Crumble chicken with a wooden spoon and stir in bell pepper, onion, garlic, hoisin sauce, soy sauce, ginger, 1/4 teaspoon salt, and 1/8 teaspoon black pepper. Cover and cook on low until chicken is tender, 1 1/2 to 2 hours.
Stir in water chestnuts, rice and scallions. Let sit until heated through, about 5 minutes. Serve with lettuce leaves and Sriracha hot sauce, if desired.
Enjoy!