Jump To Recipe
It could just be a southern thing, but I think I've made every potato salad recipe under the sun. Some are too chunky, some are too thin, some lack flavor, and almost all of them leave me feeling bloated and stuffed. Not a single recipe I've found on the internet comes close to my aunt's famous potato salad recipe. It's light and fluffy, well-seasoned and just hits the spot. While it's easily my favorite version of potato salad, it's not the healthiest. I'd never say that to her face, though, so let's keep that between us.
Today I'm here to prove that even the best potato salad recipe can be healthified. For the perfect summer BBQ appetizer, keep reading to find out how I turned a heavy potato salad recipe into the most delicious, healthy version around.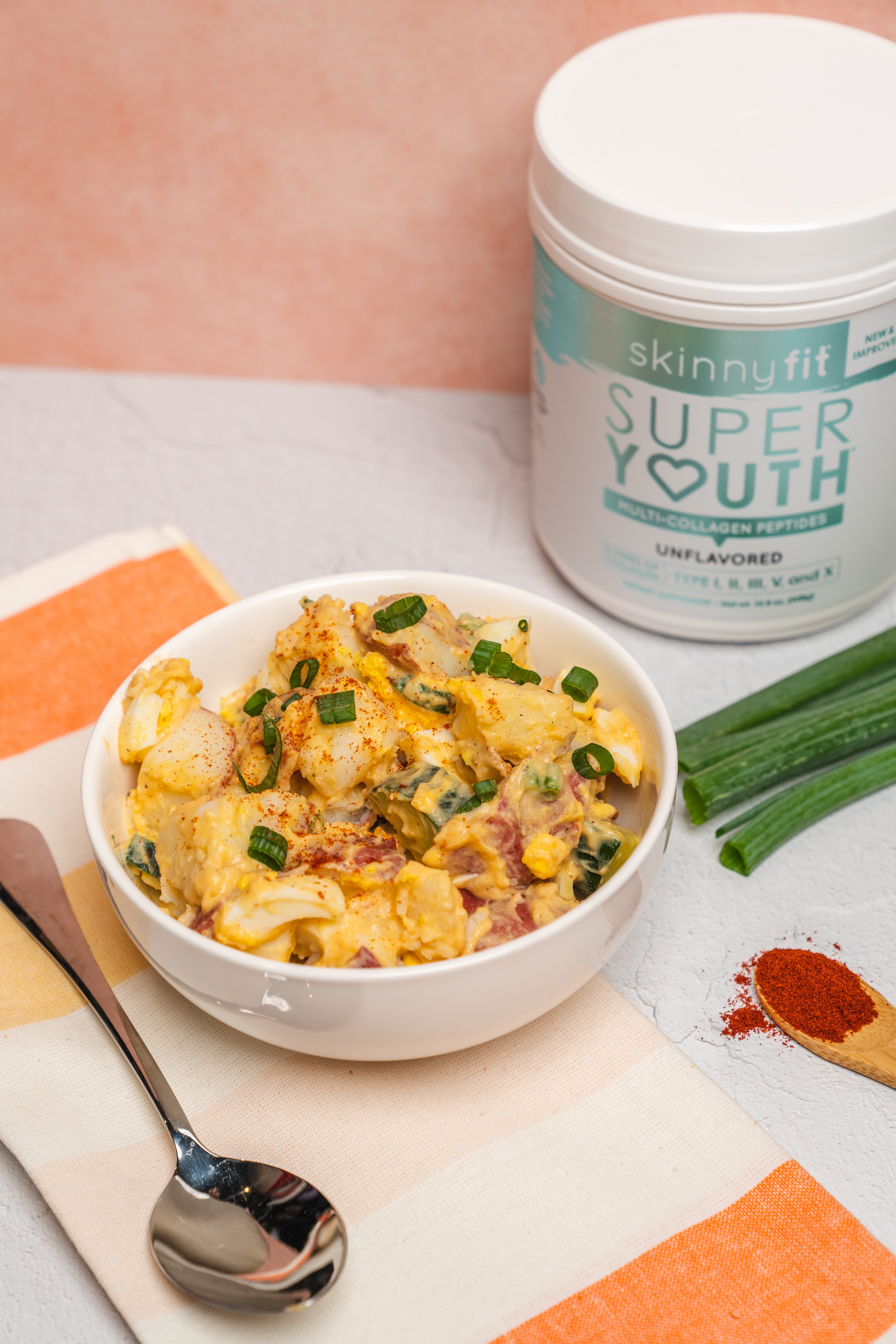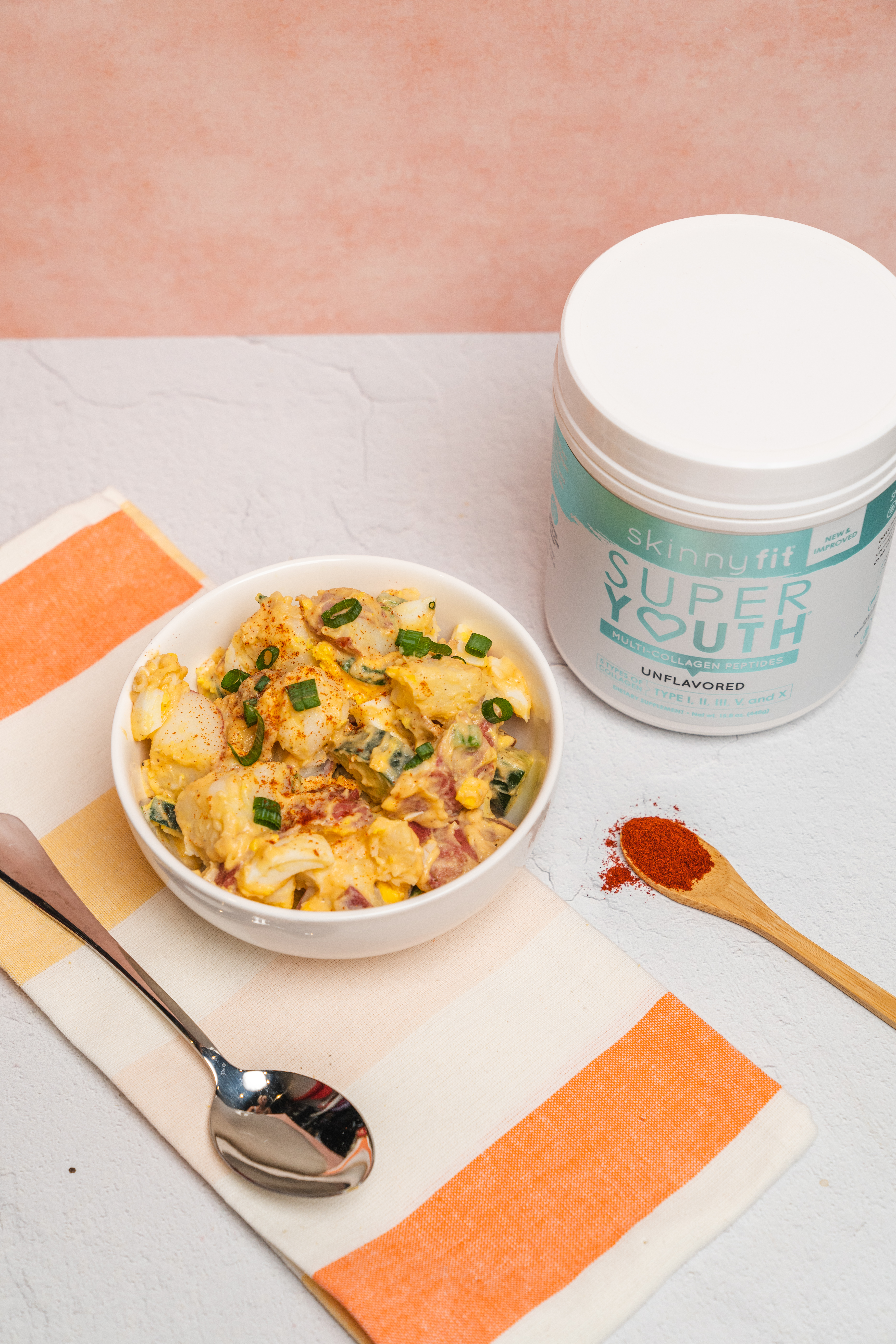 How To Make Potato Salad Healthy
I won't lie, it wasn't easy to perfect this recipe. The one thing I knew was going to stay the same was including my go to collagen–Unflavored Super Youth. Potato salad recipes aren't inherently healthy, so when I set out to make a better-for-you version, I knew it would take a few tries.
This turned out to be the best potato salad recipe, ever. It's super light, contains all the nostalgic flavors of a traditional potato salad, and has my tried and true secret ingredient. The collagen in this recipe adds additional protein, anti-aging benefits, beauty benefits, and more. It's so easy to add into the recipe because you don't taste it at all! It's the #1 thing that makes this recipe healthy.
If you bring this potato salad to your next summer get together, I promise it's going to be a hit!
Mentioned In This Post
SkinnyFit Unflavored Collagen
Look and feel younger with Super Youth Multi-Collagen Peptides! This versatile collagen powder includes 5 collagen types from 4 natural sources to restore youthfulness from the inside out.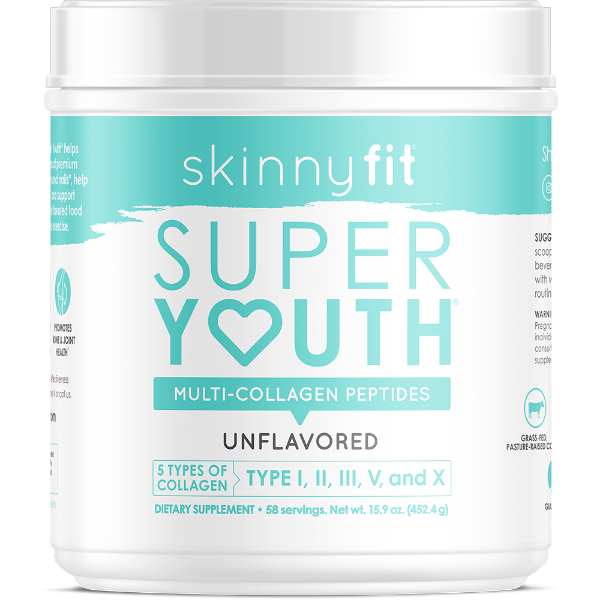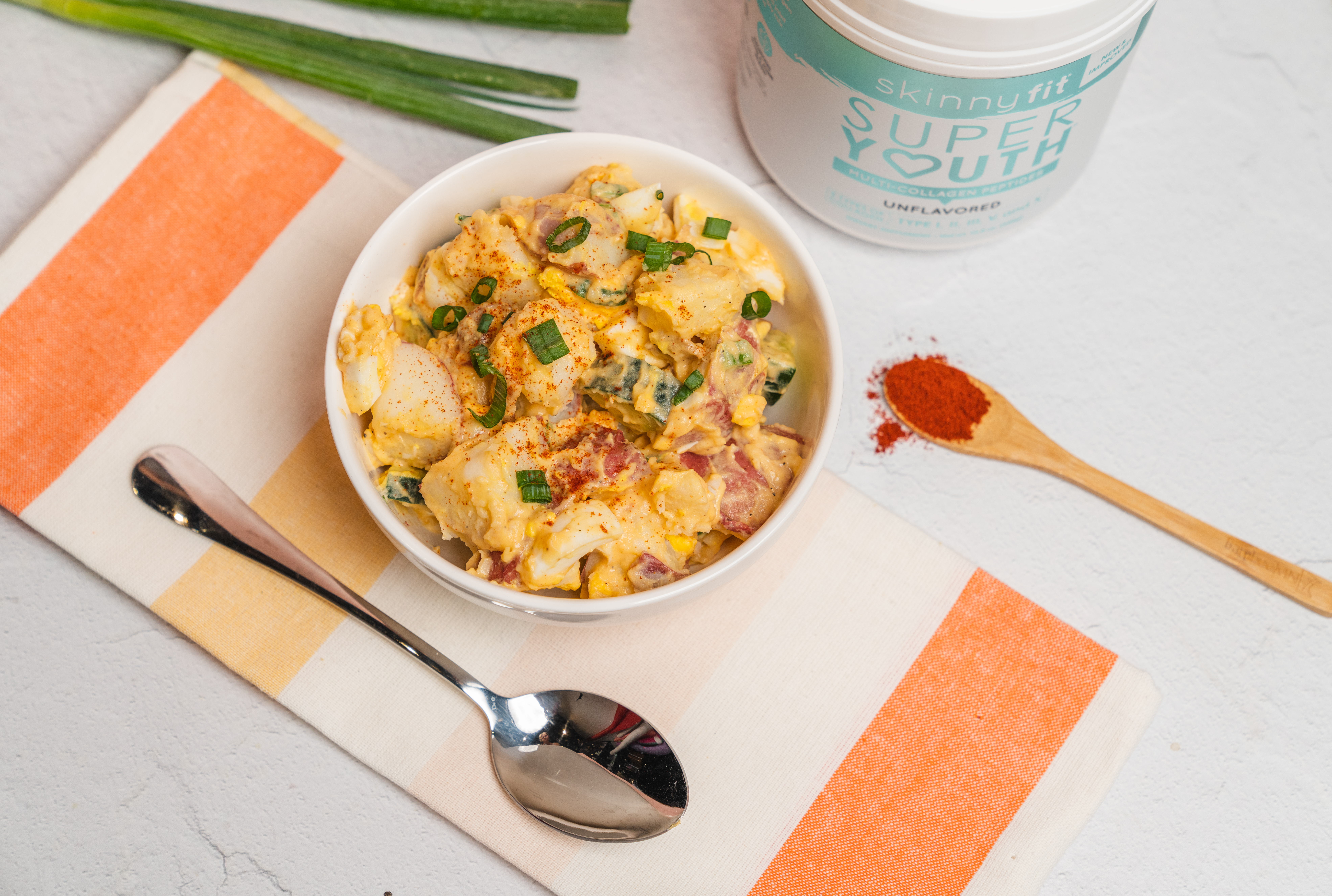 The Best Healthy Potato Salad
Add this light, fluffy, flavorful and HEALTHY potato salad to your summer recipe list and prepare to be amazed. It's so delicious, you'll never know it's good for you.
Prep Time: 15 min
Cook Time: 15 min
Total Time: 30 min
Serving Size:
Ingredients
3 lbs red potatoes, washed and cut into bite size pieces
6 eggs
6 pieces of cooked bacon, broken into pieces (optional)
1 long cucumber, chopped
1 cup chopped green onion
Dressing Ingredients:
1 cup mayo
2 tbsp dijon mustard
1 tbsp apple cider vinegar
1 tsp sea salt
½ tsp paprika
½ tsp ground black pepper
1 scoop Unflavored Super Youth
Steps
Fill ¾ of a large pot with water and boil
Add potatoes and egg to pot
Turn down heat to medium and boil the potatoes and eggs for about 15 minutes, or until potatoes are soft
While the potatoes and egg are cooking, add cucumber, onion, and bacon into a medium bowl
Make the dressing in a separate bowl by mixing all the ingredients until smooth
Once cooked, remove potatoes and eggs from the pot and place them in a bowl of cold water
Rinse the potatoes
Remove the eggs from the cold water, peel and chop them, then add them to salad bowl
Dry the potatoes and add to salad bowl
Pour the dressing over the salad and mix all the ingredients until everything is coated with the dressing