Jump To Recipe
The boiling surface of the sun. 🥵  That's how hot it felt in my hometown just a few days ago; and it's not even officially summer yet. Needless to say, we're in for at least five months of blistering heat waves, overworked air conditioners, and resourceful seven-year-olds selling street-side lemonade for $2 a pop. Though I still buy lukewarm cups of concentrate from those precocious little salespeople-in-training, most days, I turn to my blender for some frozen lemonade goodness.
Frozen lemonade, AKA lemonade slushie, is my favorite summer-time drink that doesn't give me a buzz. Okay, okay, I'm kidding. Mostly. 
That delicious mix of sweet, tart, fruity, and refreshing never ceases to quench my thirst and put a smile on my face. My favorite thing about frozen lemonade is you can make it in a heartbeat with just a blender and a few ingredients of your choice. You can even make it healthy!
With that said, I'd love to share with you my go-to frozen lemonade recipe, plus a few tasty alternatives you might want to try out the next time the thermometer starts topping out the double digits.
What Is Frozen Lemonade?

Slush, slushie, slushee, slushy, slush puppy, frozen lemonade, ICEE, and slurpee. The various nomenclature of "frozen sugar ice" (what my parents dismissively called it) varies from region to region, country to country. Indeed, some names are branded (ICEE, for instance). Others are hotly debated (like the semantical difference between "lemonade slushie" and "lemonade slurpee"). Either way, they're all some variation of uncarbonated frozen juice and sugar, swirled together in a hypnotizing display in machines across North America. Usually at gas stations. 
But, assuming you're not in high school and fresh off your driver's permit, you really have no need to get your slush on at a 7-Eleven. You also don't need a special, super-expensive carbon dioxide-supplied slushie machine either. As I mentioned, a blender can give you a lemonade slushie with perfect consistency. And you're in charge of the ingredients that go into them. Which means you're also in charge of the flavors!
Speaking of frozen lemonade flavors…
Favorite Frozen Lemonade Flavors 

Frozen lemonade is an excellent go-to, not just for anyone sweating out a summer heatwave, but also for most parents looking for a fun way to spoil their kids (or reward them for hitting their lemonade stand quotas ). And that's just another reason why this homemade frozen lemonade recipe is such a knockout—you can decide how much sugar to infuse the icy treat with. 
I personally don't like using a lot of added sugar in my frozen lemonade recipe. This keeps my frozen lemonade healthy, but also allows all the natural flavors of my lemonade slushie to shine like the noon-day sun. 
Your blender, your frozen lemonade recipe, right? Here are some epic ingredients that I can't recommend enough.
Super Youth Tropical Punch
Collagen may not be the "ah ha" ingredient you'd expect to find in a frozen lemonade recipe. But let me try to change… er, rather… blow your mind. 
SkinnyFit's Super Youth Tropical Punch collagen is loaded with benefits on top of benefits, but only about 30 calories per scoop. To start, the Tropical Punch flavor is DELICIOUS, and saves you from adding lots of sugar and fruit to find the flavor you're looking for. 
Super Youth also comes with 5 types of premium collagen that help your body feel younger and healthier on the inside, while looking younger and healthier on the outside. (For reference, almost all other collagen powders on the market contain just one type of collagen.) Let's take collagen types I, II, and III, for example. These are essential for strengthening and revitalizing hair, skin, and nails, as well as teeth, bones, and our organs' connective tissue. 
Blackberry Mint
Arguably one of the most fun flavor combos for a zingy frozen lemonade recipe. Blackberry and mint work perfectly with the taste of lemonade and I feel like their taste is heightened when chilled. But it's also a great source of nutrients. 
Blackberries, for instance, are loaded with vitamin K—to the tune of roughly 1/3 your recommended daily intake (RDI). [1] They also contain brain-food antioxidants that help reduce brain inflammation and can help preserve memory and improve brain health. [2]
Mint, too, is healthy. It's a good source of vitamin A, which gives you night vision. (Oay, not super heroic night vision, but it helps you see better in low-light environments.) [3] Mint has even been shown to help with indigestion. [4]
Super Youth Peach Mango
Okay, back to collagen for a second. Peach Mango is one of the most popular flavors Super Youth makes. That juicy mango and peach flavor truly contrasts AND compliments the zesty citrus of this frozen lemonade. And, a more subtle reason why I often add it to my frozen lemonade recipe is for texture. The collagen powder brings a subtle smoothness that typical lemonade slushies lack. It sort of thickens it, but without any hint of chalky, powdery texture.
And then there's the other two collagen types: Type II and Type X. Type II collagen strengthens and supports our joints. Numerous clinical studies have found it great for helping with osteoarthritis and rheumatoid arthritis, as well as joint pain in general.
[5 ,6] But you don't need joint pain to benefit from collagen. It's also been shown to be effective at maintaining healthy joint function and flexibility in healthy individuals. [7]
Pineapple
Why do tropical tastes go so well with lemonade slushies? Pineapple is one of my favorite fruits in general, and it just so happens to also be a fruit that our bodies love as much as our taste buds do.
For instance, it's extremely rich in manganese (76% RDI) and vitamin C (131% RDI). So it's loaded with immunity-boosting properties. What's more, pineapple's secret defense weapon is bromelain, which helps modulate our immune responses. [8]
Bromelain is also a powerful anti-inflammatory and antithrombotic, which means it aids our bodies in reducing dangerous inflammation, as well as provides anti-blood clot support. [9] Bromelain from pineapples has also been shown to reduce inflammation after strenuous activity. [10]
No wonder pineapples are such a "thing" on Instagram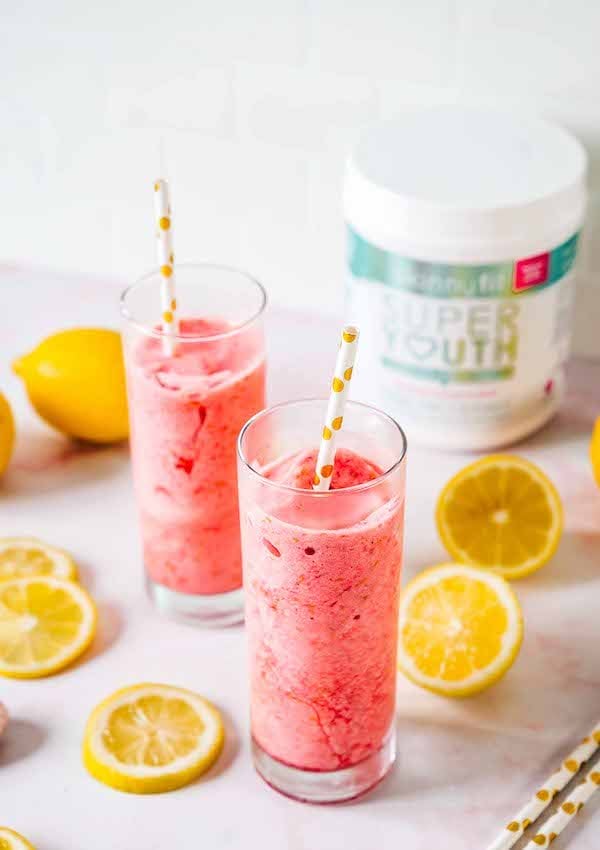 How To Make Frozen Lemonade

There's honestly not much to this lemonade slushie from a cooking standpoint. You want to blend all the ingredients together until the mixture is perfectly frothy for your liking. 
There are a couple tips you should keep in mind though.
Don't over-blend. You want your slushie to have a, well… slushie consistency. Over-blending can lead to watery texture. It can also actually heat up your slushie, particularly if you have a powerful blender.
Put the ice cubes in last. This will make it easier for your blender to reduce the ingredients. You want your lemon juice to go in first to help your blender blades liquify the ice and collagen powders easily and smoothly. 
If you're trying to reduce sugar intake with sugar substitutes, be sure to follow the portion recommendations so you don't get your lemonade slushie overly or underly sweet.
Tropical Frozen Lemonade Recipe
Nothing says Hello Summer like frozen lemonade (lemonade slushie). Beat the heat with this scrumptious slushie recipe that will keep you refreshed during the heat waves ahead! Perfect for any poolside!
Prep Time: 5 minutes
Cook Time: 5 minutes
Total Time: 10 minutes
Serving Size: 2 Slushies
Ingredients
2 cup fresh raspberries frozen
1 scoop of Super Youth Tropical Punch
½ cup fresh lemon juice
1/8 cup sugar
2 cup ice cubes
Steps
Put all ingredients in a blender and blend until frothy! Serve cold.