Jump To Recipe
Anyone else have an Instagram algorithm that's very obviously geared towards delicious recipes? I can't seem to escape them while aimlessly scrolling throughout the day, but hey, I'm not mad about it! I recently stumbled upon the viral sensation that's watermelon fries with yogurt dip. Watermelon fries? That's not exactly something you hear of everyday. I was intrigued to say the least! The vibrant colors and the promise of a refreshing yet satisfying snack were too tempting to resist. So, I immediately gave it a shot, and let me tell you – it's now one of my top go-to snacks, whether I'm hanging out alone or sharing it with family and friends! It's healthy, extremely easy to make, aesthetically pleasing, and mouth-wateringly delicious! The next time you're looking to make a quick and easy sweet snack that isn't exactly mainstream, I hope you give this one a try!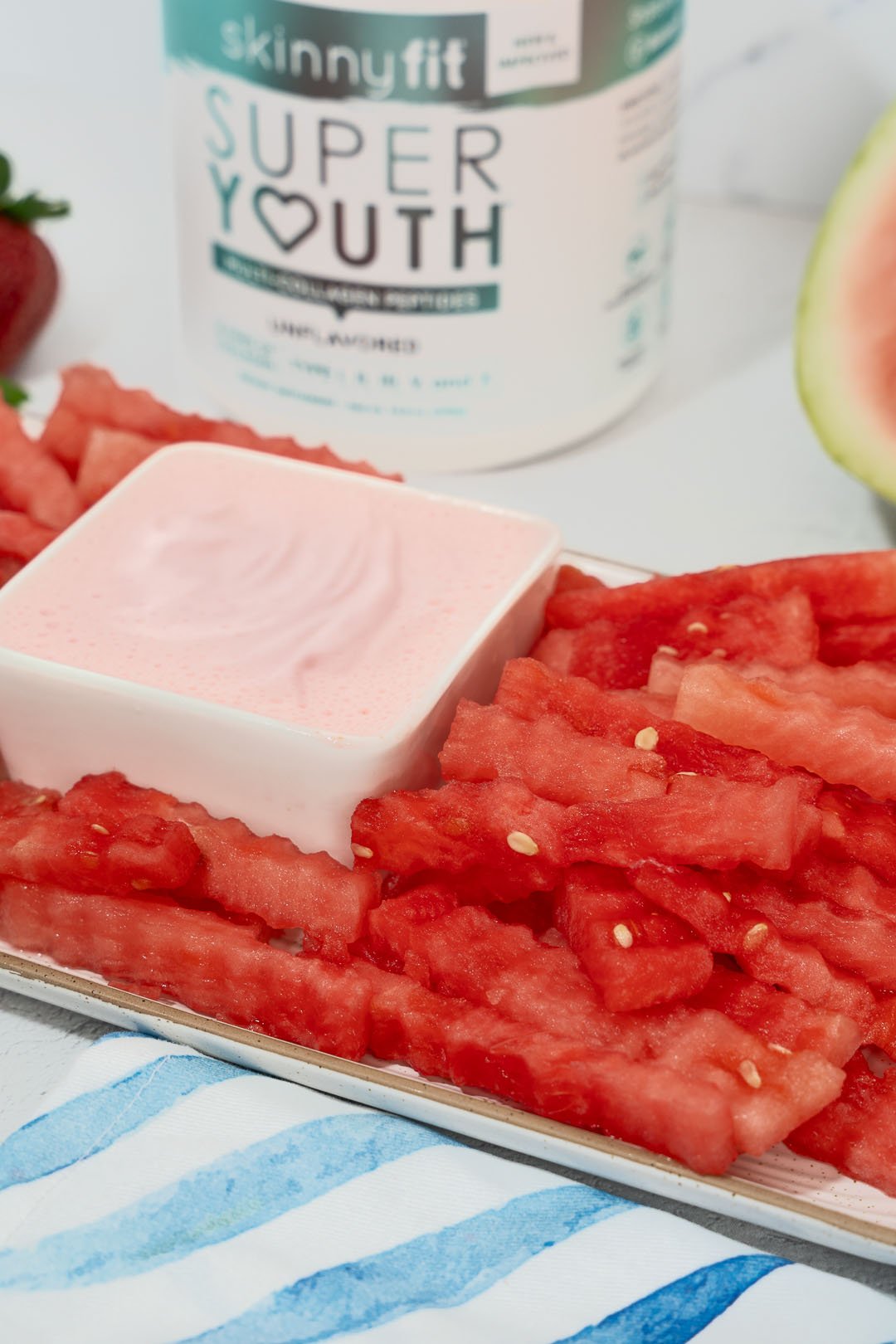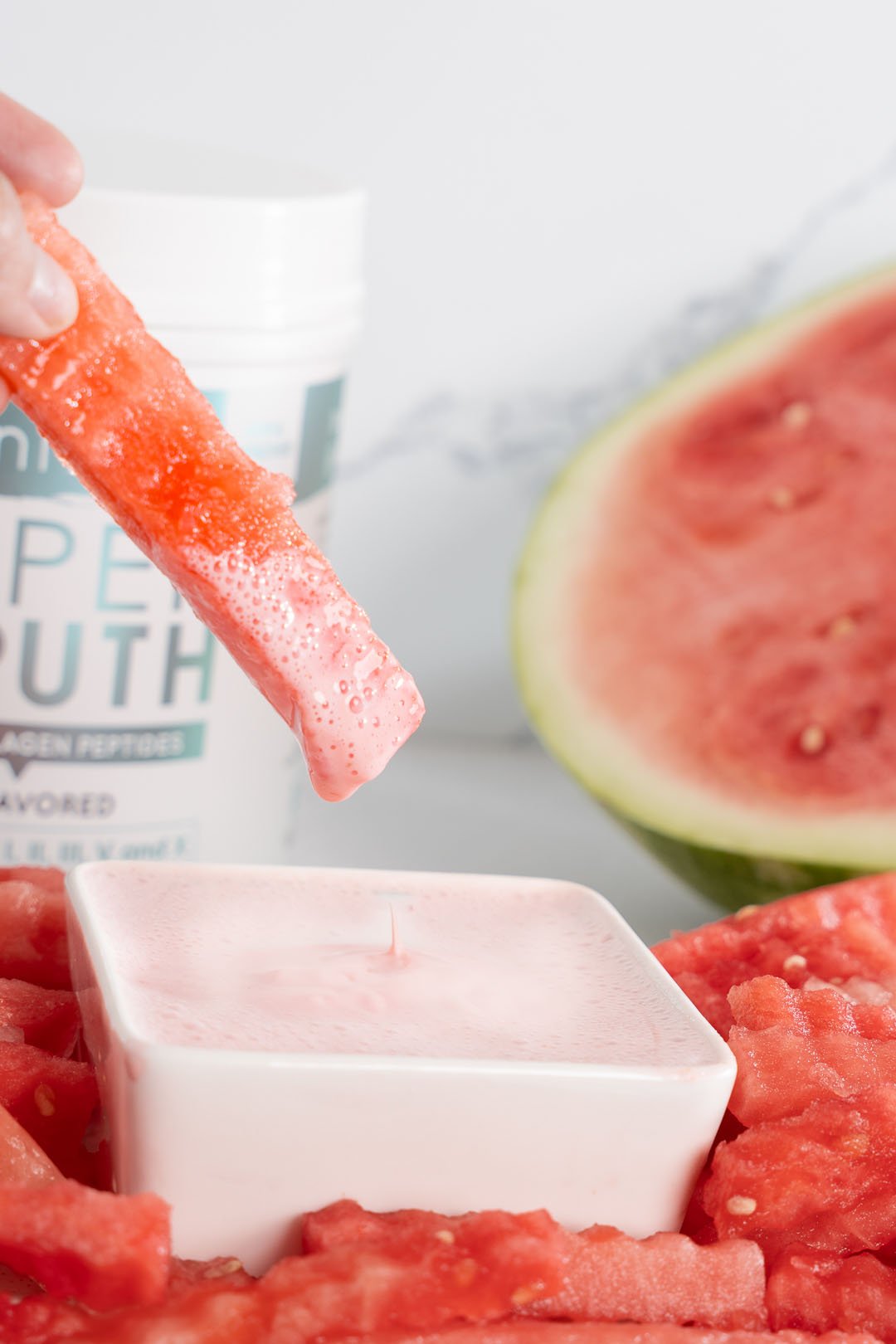 A Delightful Twist on Snacking 🍉
Watermelon fries paired with a creamy yogurt dip – a culinary revelation that's as delightful as it is nutritious! Imagine the natural sweetness and juiciness of watermelon, transformed into crispy, fry-shaped bites that provide a refreshing twist to your snack game. All you really need is a crinkle cut fry cutter to shape the watermelon, enhancing the visual appeal and making them easy to grab and dip! 
Watermelon, beyond its irresistibly juicy nature, boasts a rich content of hydration-boosting water and essential vitamins like A and C, along with antioxidants like lycopene. Watermelon is also a great source of fiber, as it aids digestion and supports a healthy gut! 
Yogurt Dip Made Even Healthier
Pairing these yummy watermelon fries with a creamy, collagen-packed yogurt dip not only enhances the flavor experience but also provides a protein-rich element that can keep you satiated for longer periods. Plus, with the addition of Super Youth, you're getting an extra youthful boost that'll keep your skin hydrated, smooth, and radiant! Yogurt contributes for gut health, calcium for bone strength, and an additional dose of protein. The result? A snack that's not only a treat for your taste buds but also a nutritious choice that satisfies cravings and supports your well-being. 
All of that being said, whether you're looking for a family-friendly snack option or a solo indulgence, these watermelon fries truly redefine the art of guilt-free snacking (with a refreshing and fun twist!).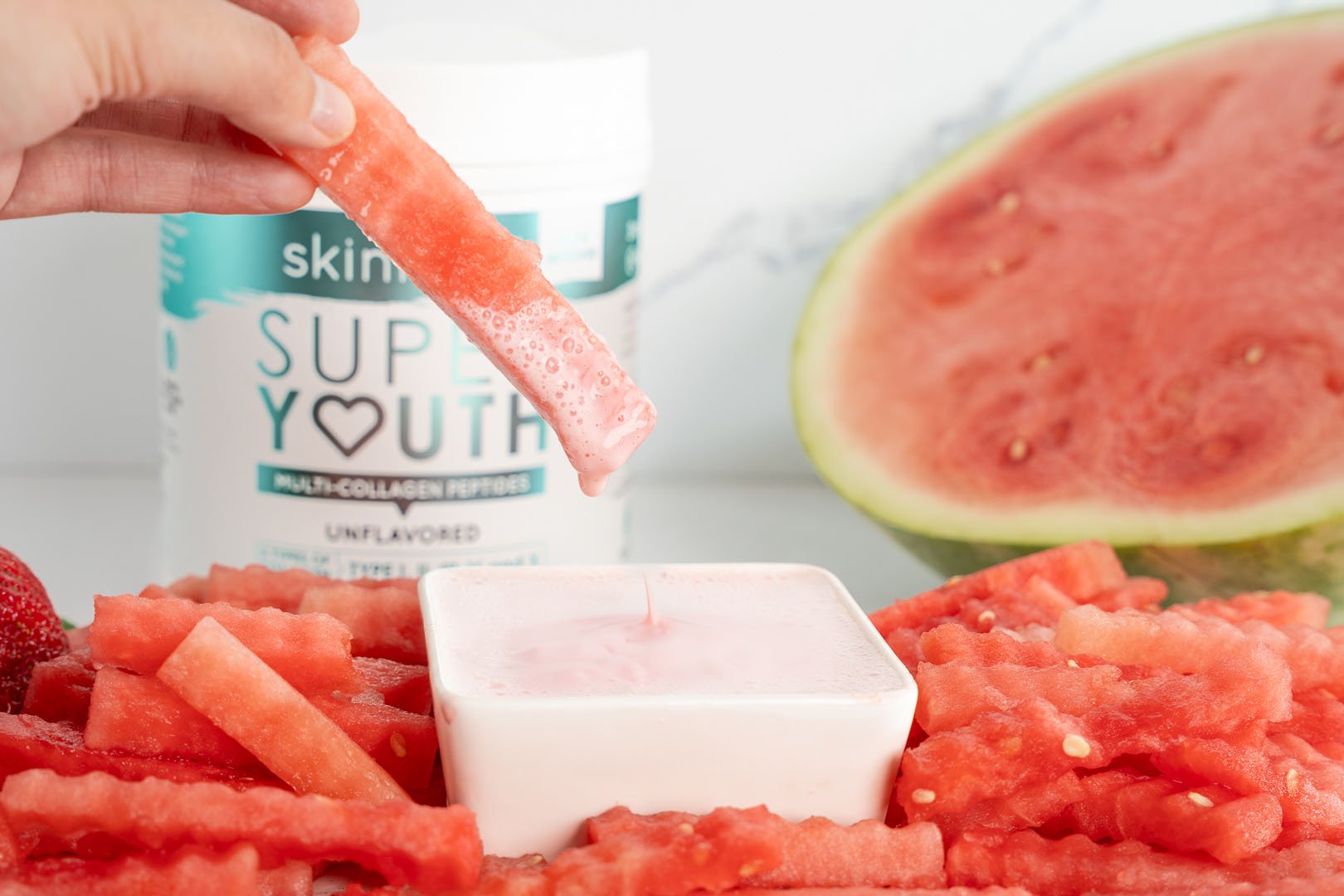 Mentioned In This Post
SkinnyFit Unflavored Collagen
Look and feel younger with Super Youth Multi-Collagen Peptides! This versatile collagen powder includes 5 collagen types from 4 natural sources to restore youthfulness from the inside out.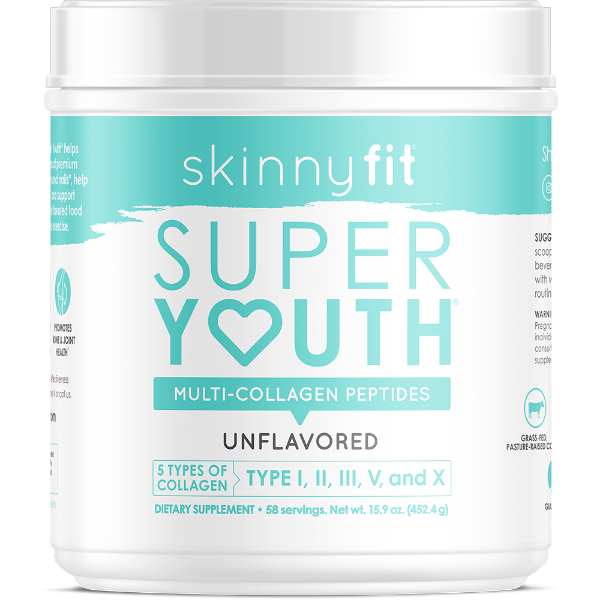 Watermelon Fries W/ Yogurt Dip
Prep Time: 5 mins
Cook Time: n/a
Total Time: 5 mins
Serving Size: 1 serving
Ingredients
1 scoop Unflavored SY
1 watermelon
Plain Greek yogurt
3-4 strawberries
1 tbsp honey
Garnish platter with extra strawberries & basil
Steps
For the strawberry dip, blend together ½ cup of plain yogurt, 1 scoop Unflavored SY, and 3-4 strawberries and a little honey or sweetener of your choice to taste.
Use a crinkle cutter to cut the watermelon into fry shapes. If you don't have a crinkle cutter, slice the watermelon into thin sticks.
Refrigerate and serve cold. Garnish with extra strawberries and basil for a refreshing, summer treat!