Jump To Recipe
Until way too recently, I thought sorbet was just the haughty term for sherbet, a word my aunt Karen would drop after dinner when she felt the need to sound fancy, or French. Turns out, I was (mostly) wrong. Sorbet and sherbet are different—sherbet uses dairy, whereas sorbet is made dairy-free with fresh fruit and ice. But it is a French word (pronounced, "sor-bay"), and it is kind of fancy (it's often used as a palate cleanser, and frequently made with wine). Relax, I'm not fancy enough to waste wine like that. But I'm DEFINITELY into this refreshing watermelon sorbet, a simple recipe that's both nutritious and refreshing. 
With summer in full swing, this is the perfect dessert for any backyard shindig or picnic in the park. Few desserts are so incredibly delicious yet so incredibly easy to make—no ice cream maker needed, just your trusty blender, some fresh fruit, and our secret skin-revitalizing ingredient.
Looking for a healthy, rejuvenating sorbet recipe, loaded nutrients that help your skin shine like the summer sun? Keep reading!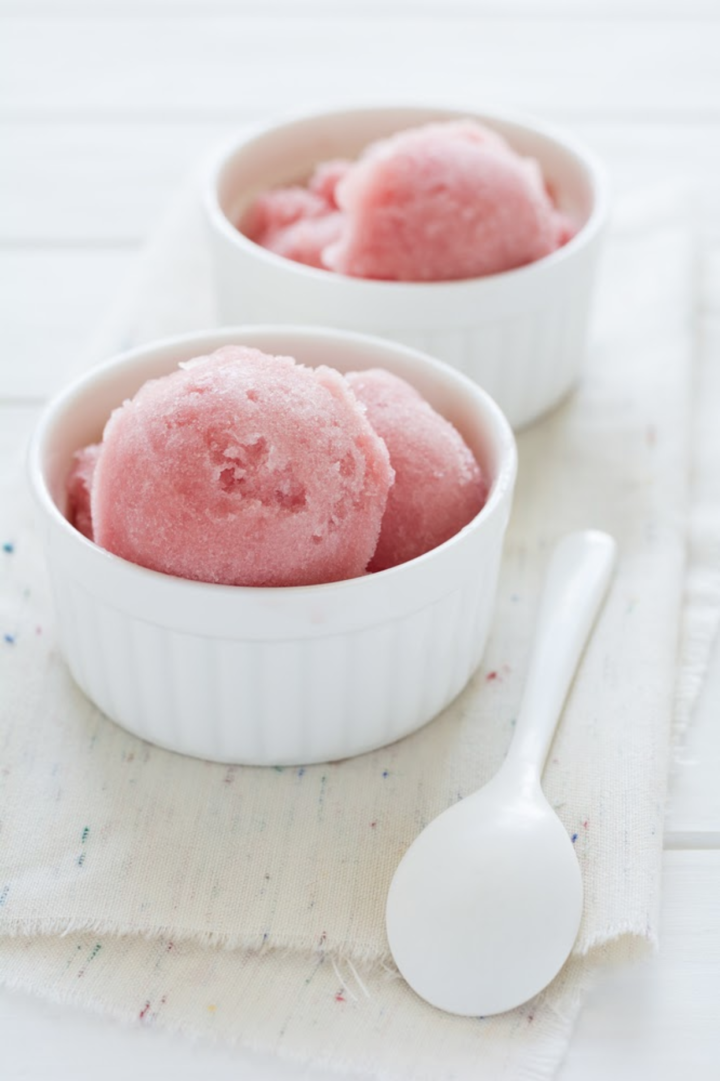 Watermelon Benefits
Besides the taste, the best thing about this watermelon sorbet recipe is just how healthy it is for you! As a rule of thumb, the fewer the ingredients, the healthier a food is. And with only five ingredients (one of those, maple syrup, being totally optional), this sorbet recipe is loaded with immune-boosting, age-defying benefits. 
All-natural ingredients. Don't worry about long ingredient lists or unhealthy additives, all five ingredients in this watermelon sorbet recipe are natural. Fresh fruits are important sources of fiber, as well as vital nutrients (like potassium and vitamin C) as well as phytochemicals (like polyphenols and carotenoids) that keep your body in prime condition. [1] And remember, you can make this sorbet recipe healthier by opting out of maple syrup (which, though natural, is high in sugar). 
Helps you stay hydrated. Watermelon, as the name suggests, is predominantly water. Ninety-two percent, as a matter of fact. [2] This also means it can help you stay fuller longer, and stave off temptations to overeat.
Helps restore collagen levels! By adding a scoop of Super Youth collagen peptides, this sorbet recipe provides your body with age-defying nourishment to help your body look and feel years younger. Collagen, the most abundant protein in our bodies, is responsible for a wide array of protective functions, such as strengthening bones and joints (in everyone from athletes to arthritis patients), helping hair stay lush and full, maintaining skin elasticity and shine, and much more! [3, 4, 5, 6] How can collagen possibly have so many benefits? Because there are so many types of collagen, each with unique functions. Of all 16 collagen types, Super Youth contains five of the most useful—a step up from most collagen supplements that provide one or two at best. More collagen, more youthful benefits!
Ample vitamin C! Watermelon and lime are both very high in vitamin C, one of the most important nutrients for our bodies. Vitamin C works wonders as an immune booster and is a precursor to collagen production, so… Double skin-glow points! 🙌 [7, 8] 
Dairy-free. I admit, the dairy-free benefit isn't special to my watermelon sorbet recipe. Sorbet in general avoids dairy as an ingredient. And that's okay. You'll please those people who do omit if from their diets, and also avoid the upset stomach diary sometimes caused when eating common party and BBQ foods.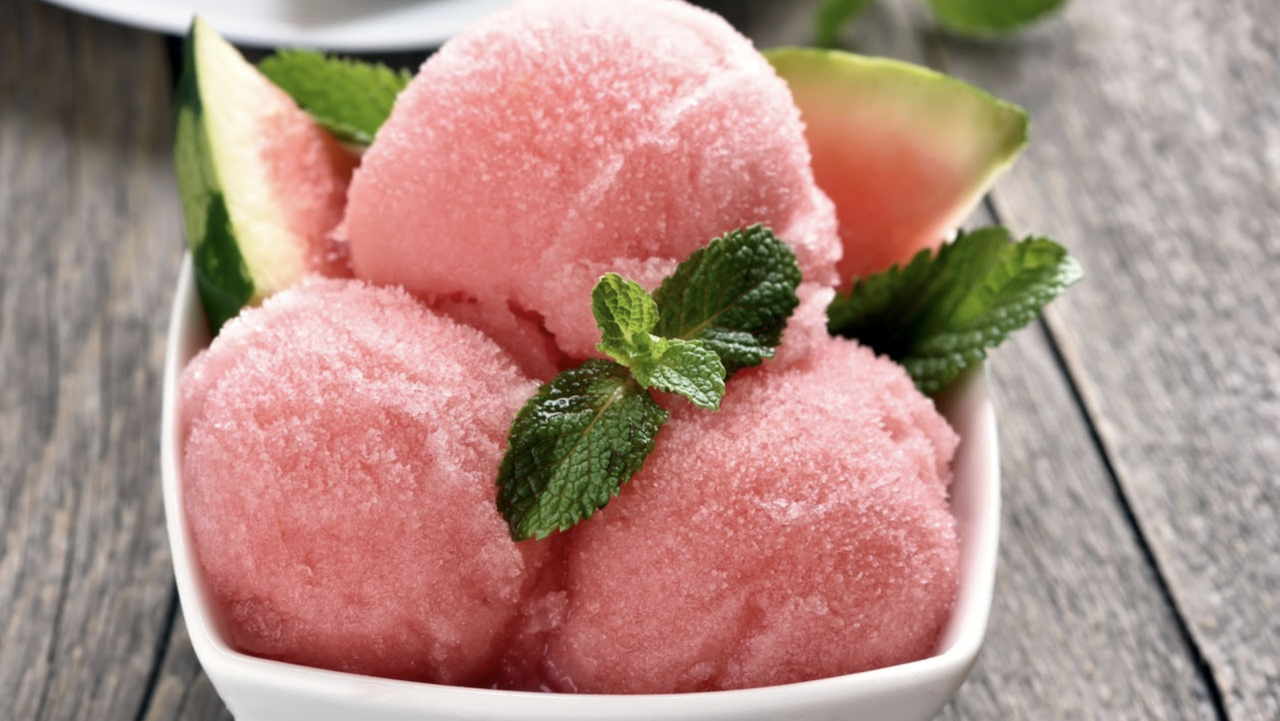 How To Make Healthy Sorbet 
This watermelon sorbet recipe requires very little investment in time or effort. Just a reminder that you want to use fresh, seedless watermelon chunks. You can buy watermelons without seeds at most groceries this time of year.
Add the fruit, Super Youth collagen, and juice from half of a ripe lime (for a slight, zesty pop) to your blender. Blend on high until smooth—no chunks. 
Transfer your smoothified sorbet-to-be into a freezer-safe pan and find a safe place in the freezer for it to sit at least 3-4 hours. Since I typically make watermelon sorbet for parties or backyard barbecues, I'll typically prep and freeze the night before. But if you're serving up a sorbet dessert, freezing them by mid morning should be fine. 
Remove your sorbet from the freezer and let thaw for a few minutes before digging in!
Tips & Toppings
Much like fro-yo and soft serve ice cream, this sorbet recipe leaves a lot of room for toppings and add-ins. Here are some of my favorite:
Get sauced! By making sauce, that is. One of my favorites is a warm wild blackberry sauce, which makes a delightful sorbet topping and is just as easy to make. Just stir together fresh blackberries (halved), sugar, orange zest, and ground ginger over medium heat for five minutes. (This works for other berries, like raspberries, too.) 
Top with mint for a complementary contrast. Watermelon sorbet just begs for fresh mint garnish. Likewise, you can also make a mint syrup, similar to above, by bringing sugar, water, and mint tied in a cheesecloth bag to a boil, and stirring until the sugar dissolves. Serve it chilled atop your sorbet. 
Try other yummy Super Youth flavors. Call me a purist, but I personally love that unflavored Super Youth collagen dissolved undetectably into the watermelon sorbet. But feel free to get funky with it. Try adding Super Youth Peach Mango for a sweet and creamy taste, or Tropical Punch for a bonanza of berry in each bite. 
Thanks to the simplicity of this watermelon sorbet recipe, there's a nearly endless variety of additions just waiting for you to enjoy! So have fun and get creative! Remember, there's no mistakes—just more sorbet!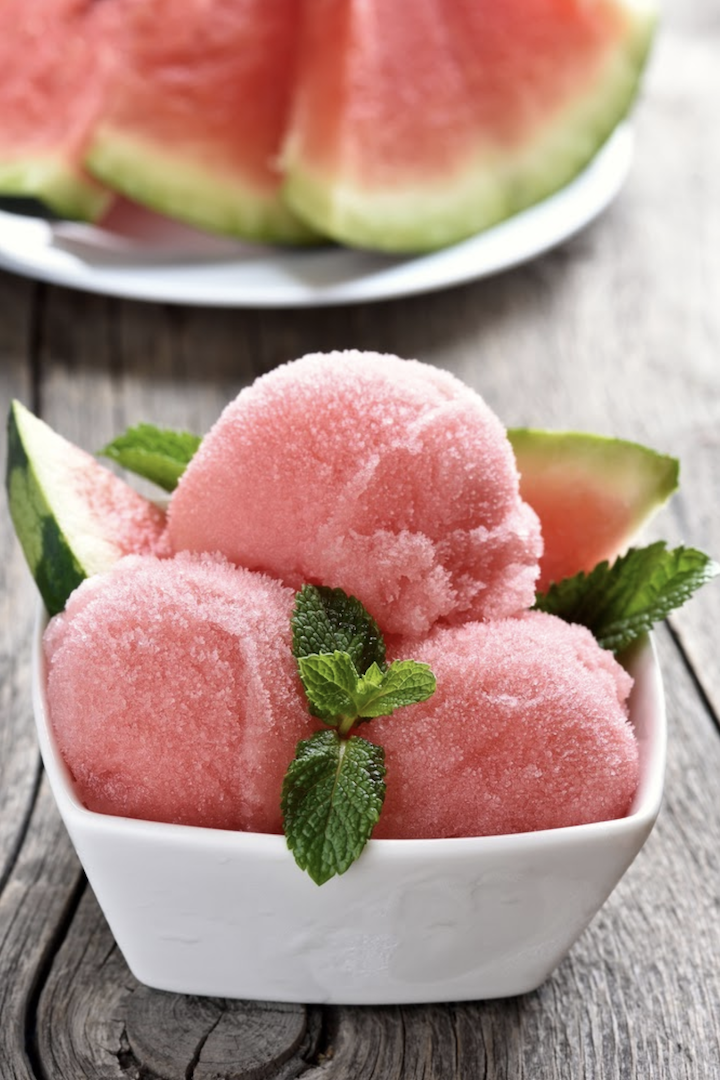 Watermelon Sorbet
Quick, easy, addictingly delicious—this 5-ingredient fresh watermelon sorbet recipe is a refreshing way to beat the summer heat, revitalize your youthful skin, and satisfy your sweet tooth, totally guilt-free!
Prep Time: 5 minutes
Cook Time: 0 minutes
Total Time: 5 minutes
Serving Size: 6 servings
Ingredients
6 cups watermelon, cubed and frozen
1 ½ cups banana, sliced and frozen
½ a lime, juiced
2 scoops Super Youth unflavored
1 tbsp maple syrup, optional
Steps
In a high power blender, add frozen watermelon, banana, Super Youth collagen, and lime juice. Blend until smooth and no chunks remain.
Transfer the mixture to a freezer safe loaf pan for 3-4 hours or overnight. 
Allow the sorbet to thaw for a few minutes before serving.
Total Calories: 98 calories
Carbs: 22g
Fats: < 1g
Protein: 3.6g
Sugar: 16g (natural)
Fiber: 1.6g