Jump To top
Netflix has truly been one of my best friends throughout quarantine. And sure, I could pick up a new hobby, or do double time at the gym, and some days I do do those things. But other days I just want to curl up on the couch with my pup, Milton, and watch some good ol' tube for hours upon hours on end. Then, enter Postmates. 😂
It's okay to have those days. You know the ones, when you're feeling not-so-motivated, and some takeout and a new show are just what you need for a good relaxation session. 
Here are seven of my favorite binge-worthy shows to watch when you're having one of those days, too! If you haven't seen these yet, you're going to want to block out your calendar for the next few weeks, because these are some of the best of the best that you won't be able to turn off once you start!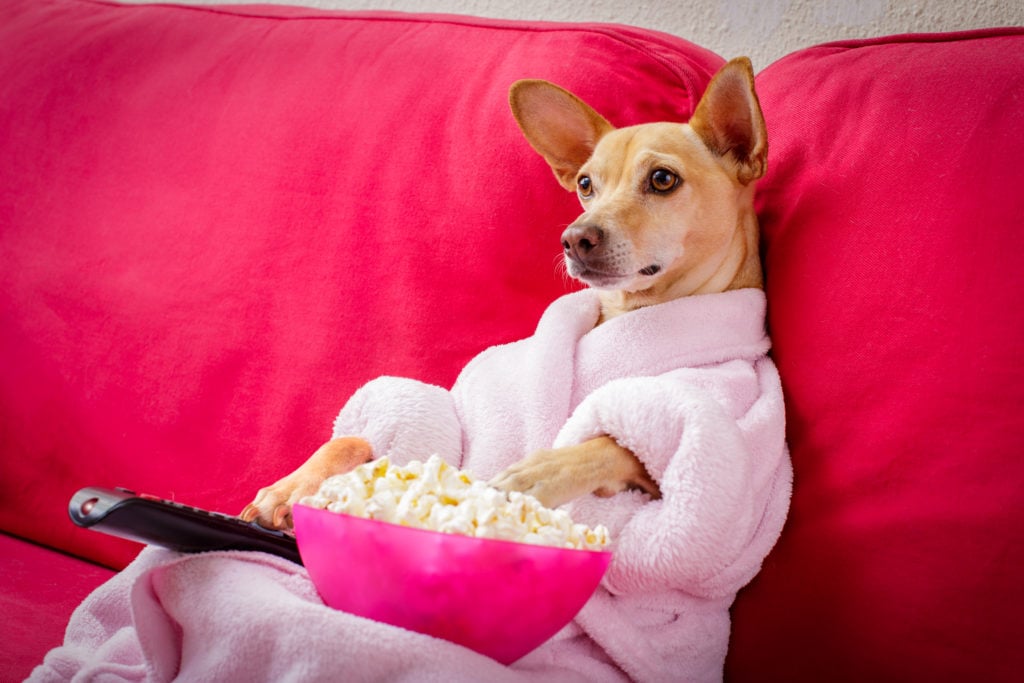 1. Dead To Me
I wasn't sure what to expect with this one, but Christina Applegate and Linda Cardellini give outstanding performances in this half mystery, half comedy, about murder, heartbreak, and forgiveness on Netflix. These two ladies meet in a grief support group, and come to discover some surprising connections to one of their husband's murder. You'll feel all the emotions in this show with jaw dropping surprises around every corner! 
2. Instant Hotel
This competition show on Netflix is a fun, easy-going series where teams compete against each other as they turn their own homes into hotels. Each team goes and stays at all the other teams "instant hotel", and rates them based on looks, comfort, value for money, and location. Professional designers come in at the end to make the final decision on who has the best instant hotel. You don't have to love design to get into this one, competitors get catty, and silly arguments break out that will make you laugh and keep you wanting more!

3. Schitt's Creek
I have so much to say about this show, because it is truly one of my favorites. Available on Netflix, the characters of this comedy are so hilarious, so smart and witty, and so intriguingly bizarre that you fall in love with them probably 100 times over. A rich family loses everything and are forced to relocate to the small town of Schitt's Creek where they must adapt to their new life—with no money. Watch them try and rebuild in a run-down motel as outrageous, barrel-of-laughs situations arise. 
4. The Haunting of Bly Manor
If you loved the Haunting of Hill House, then you won't want to miss this. The creator is back for another psychological thriller which seems to be loosely based on the works of Henry Jame's, The Turn of the Screw. Coming to Netflix on October 9th, the trailer for this one is filled with ghosts, haunted children, and dark thrills at every corner. I don't know about you, but fall has me in the mood for some new spooks!
5. Good Girls
Let's lighten things up a bit with Good Girls. This Netflix comedy features a famously funny cast of three suburban moms who decide they're sick of playing it safe and getting nothing in return. They make the decision to enter the world of money laundering, and as you can guess, get into some trouble while doing so. You might be saying, "how could something like this possibly be a comedy?" But the directors of this one do an incredible job of infusing hilarious, witty characters with a dramatic story line for laughs and twists at each turn.

6. Kitchen Nightmares
I never watched Kitchen Nightmares when it first came out, but quarantine has me trying all sorts of new things. I'm sure glad I stumbled upon this one because I can see why it was so popular back in the day! World famous chef Gordon Ramsay goes around to failing restaurants, and helps the owners transform them into a place people actually want to eat at. Warning: you'll see some pretty gnarly kitchen situations that might make you question your favorite restaurant.🤢Regardless, you'll love watching the drama that ensues when Ramsay's filter comes off and he gives it to them straight! Kitchen Nightmares is available for free with Amazon Prime.
7. Waco
Originally from the Paramount Network, Waco is now available to watch on Netflix. This show tells the real life story of the Branch Davidians cult in Waco, Texas, and their standoff with law enforcement in 1993. This one goes from weird to terrifying as the show portrays the overreaction by the US government that leads to tragic deaths, including children. This powerful miniseries is a story you don't want to miss. 
Welp, here's your new to-do list for the next few weeks, you're welcome. 🤣And hey, if you don't like any of these, there will always be The Office, available to watch on Netflix for the 100'th time over! Ha!