Jump To top
If you dread taking vitamins everyday, and would much rather have a delicious gummy vitamin like the ones you used to take as a kid, then you're in for a real treat. Literally.
SkinnyFit just launched their latest (and possibly greatest!) product, Skinny Gummies. I have tried just about every gummy vitamin on the market, and this is one of the best. So many vitamins contain filler ingredients like gums and artificial ingredients. Skinny Gummies, on the other hand, are packed with everything your body wants and needs. Plus, it tastes great!  
What Are Skinny Gummies?
Skinny Gummies are SkinnyFit's latest product release. They're apple cider vinegar gummies, also known as ACV gummies, that are delicious and nutritious! These daily gummy vitamins are seriously my new favorite health hack. Because of their great taste, they're so easy to remember to take. 
Skinny Gummies are your new best friend when it comes to getting in your ACV. They pack in all the benefits of apple cider vinegar gummies, without the harsh taste. Whatever your health goals or weight loss goals are, these ACV gummies are going to be a huge help!

Health Benefits Of ACV Gummies
What makes these apple cider vinegar gummies so great is exactly that. These ACV gummies contain a special type of apple cider vinegar that contains "the mother". This type of apple cider vinegar helps support immune function, hair & nail health, healthy weight loss, and more! You can learn all about the health benefits of it in this blog, here. Essentially, it's an extra vitamin and mineral-packed version of generic apple cider vinegar. 
These ACV gummies also contain vitamin B12 and beetroot juice powder to support weight management, help reduce appetite, and promote glowing skin. In addition to weight loss, they also aid in digestive support. This means, it can help support your goal of a flat tummy, as well as reduce stomach aches and bloating!
Paired with a regular exercise routine, Skinny Gummies also help aid in fat burn. So, if you feel like you're doing all the "right things" in the gym, but could use a boost, it's time to make these ACV gummies your new gym buddy!
Supports weight management & weight loss
Helps reduce cravings 
Supports digestion
Promotes glowing skin 
Skinny Gummies Ingredients
The main ingredient in these ACV gummies, and most prized, is of course, apple cider vinegar. Other powerful ingredients include pomegranate fruit juice powder, beet root powder, purple carrot concentrate, natural apple flavor, and more! Some highlighted vitamins and minerals include vitamin B6, folate, iodine, and B12.
It's also vegan, gluten-free, and non-GMO.
Skinny Gummies Serving Size
One serving of Skinny Gummies is two gummies. Adults can take 2 gummies daily. As always, consult your doctor before taking any new supplements, especially if you are currently taking other medication, are pregnant or breastfeeding, or undergoing any other disorder or disease.
When To Take Skinny Gummies
The great thing about Skinny Gummies is you can take them any time of day! No more struggling of forgetting to take a supplement in the morning, with food, or before bed. You can enjoy these anytime, or when you feel cravings coming on. For me, they're great in the mid-afternoon when I start to get sluggish and think about sugar. Listen to your body, or take them on your own routine!
Remember that Skinny Gummies are best when paired with a regular exercise routine and sensible diet. If you need some healthy recipe ideas or workout routines, our blog is full of information and tools to help you live your healthiest, happiest life!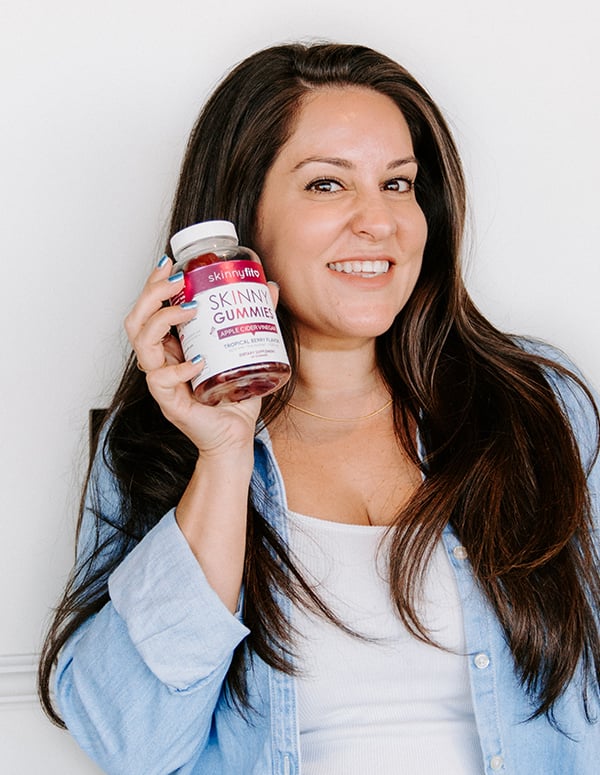 Mentioned In This Post
Skinny Gummies
If you're looking for a quick and delicious way to get the incredible benefits of apple cider vinegar, you'll love Skinny Gummies! These tropical berry ACV gummies help you burn fat and get glowing skin!