Jump To top
This is going to sound crazy, but you need to hear it: did you know that caffeine is the most commonly used drug in the world? That's right, caffeine is categorized as a central nervous system stimulant. While loved in many forms, such as coffee and matcha, caffeine side effects can be problematic for many people. I'm not going to convince you to give up your favorite morning drink, but I will be presenting some alternatives for your second or third cup of the day.
Today I'm sharing helpful tips and information about caffeine, its side effects, and some delicious swaps for days or times you just need a break.
What's Considered 'Too Much' Caffeine?
Most people have physically felt their caffeine limit – it can also be easy to spot on someone else, too. Shaking, diverting eyes, and sweating are a few noticeable symptoms. According to the FDA, the recommended limit of caffeine per day is about 400 milligrams in healthy adults. [1] That's about four or five cups of coffee per day. 
It's important to keep in mind that everyone metabolizes caffeine differently. Some people can handle five cups, and others can't stand five sips. Learning how your body uniquely responds to caffeine and knowing your own limits is important. It's also helpful to know what the caffeine content of different drinks and food are. 
The average amount of caffeine in coffee is 95 mg. For tea, there's about 47 mg – keep in mind that this varies greatly by tea type. Soda contains about 40 mg per 12 oz, and energy drinks contain around 85 mg per cup. Dark chocolate contains about 24 mg per ounce, and milk chocolate contains about 6 mg. [2] As you can see, there are so many ways to hit the recommended amount of caffeine per day through various foods and drinks. 
The Negative Side Effects Of Caffeine 
While instant bursts of energy are a caffeine benefit to many people, there are also caffeine side effects people don't love so much. As mentioned, caffeine in coffee is close to 100 mg per serving. Without closely monitoring your intake, it's very easy to go overboard. Two servings in the morning and two in the afternoon already puts you close to 400 mg for the day. That can be a recipe for disaster when repeated every weekday. 
The most common caffeine side effects are jitters, a racing heart, lack of clarity, anxiety, poor appetite, irregular bowel movements, and more. For me, overdoing caffeine can feel like I have a million tasks in front of me, but no clear way to tackle them. It's like a brain and body overload.  It's true that not everyone experiences caffeine the same way, but there are studies that show the long-term effects of caffeine. These include irregular sleeping patterns and raised internal temperature – both of which can lead to other health issues down the road. [3] 
All in all, it's important to listen to your own body and know what you can handle. Remember, this can change depending on the day, where you are in your menstrual cycle, the type of stress present in your life, and more.
Alternatives For Healthy, Natural Energy
There are times when a warm cup of coffee is all I want. Other times, I just want a boost of energy without a crash or jitters. Luckily, I have a handy list of coffee alternatives for whenever I need a break from caffeine:
Dandelion Coffee
Dandelion-based coffee alternatives are great because they have a similar aromatic, grounded flavor to espresso and coffee. Dandelion coffee won't give you the same jolt of energy that caffeine does, but it's easily one of my favorite replacements for an afternoon cup of joe.
Skinny Greens
You may have heard this before, but greens powders are a great alternative for caffeine. Skinny Greens is my favorite one because it contains a small amount of matcha for a clean, smooth energy boost. Alongside 34 superfoods, it's easily the best-for-you option. Plus, it comes in two amazing flavors – Mango Splash and Green Apple.
Herbal Teas
Herbal teas are a delicious way to help clear the mind, get focused, and not worry about crashing from caffeine. There are so many different types of herbal tea, you'll never get sick of rotating through them to replace your caffeine habit. My favorites are nettle and hibiscus. 
Adaptogenic Elixirs
Things like adaptogenic mushrooms and superfood lattes, like turmeric, are some of the most popular ways to replace caffeine. In my experience, they do an incredible job of helping stimulate the brain, calm the body, and focus the mind. Some of them can be pretty earthy, so I like to add honey or maple syrup to sweeten them up.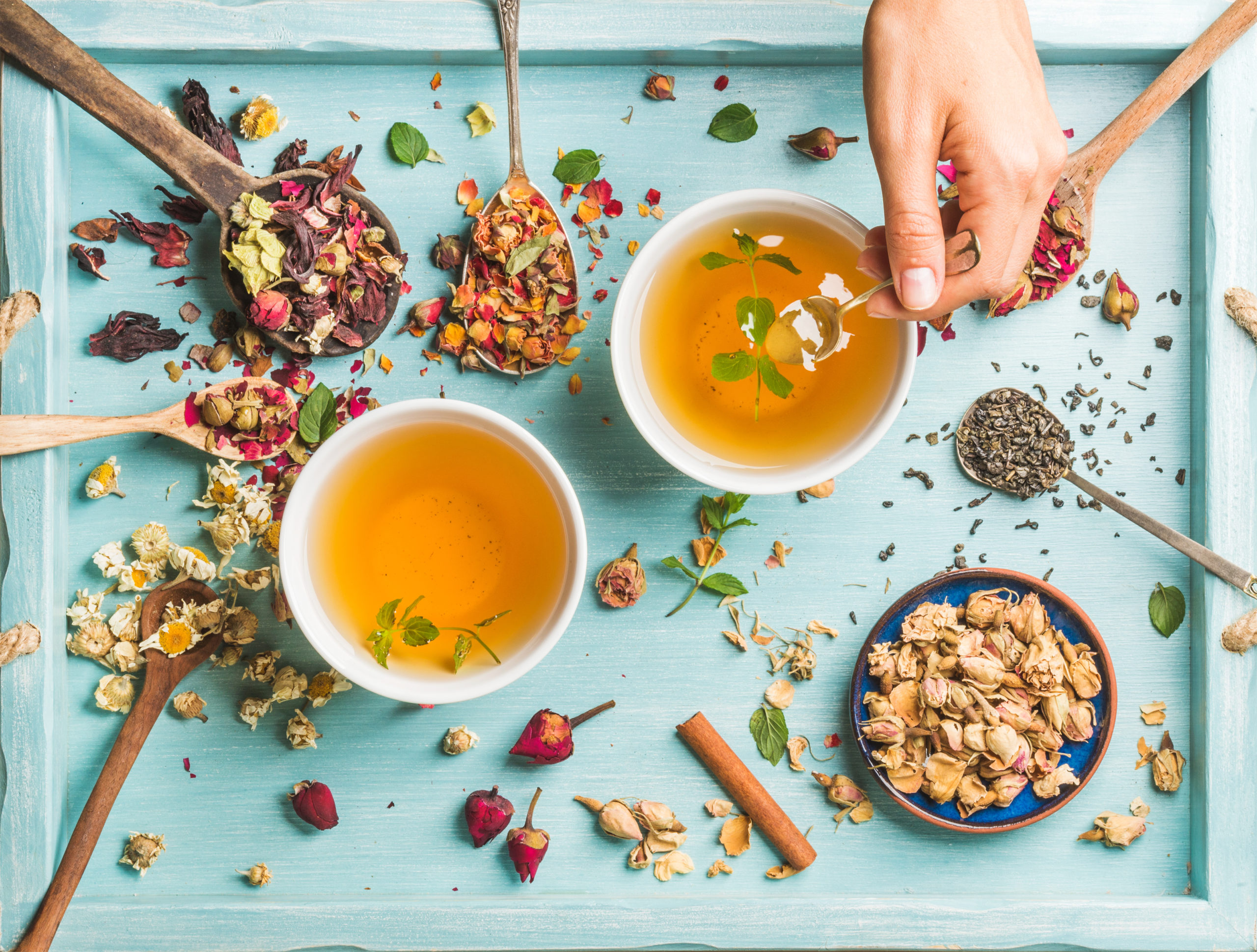 Mentioned In This Post
Skinny Greens Green Superfood Powder
Juicing made easy! Skinny Greens has 34 essential superfoods, stress-relieving adaptogens, & pre and probiotics for all of the daily nutrients your body craves.