Jump To top
What is Fit IV?
Our most anticipated product of all time has finally launched, and the team is ready to answer any and all of your questions.
Introducing: Fit IV by SkinnyFit! For starters, this product is unlike anything we've ever made. Did you know that up to 75% of Americans may suffer from dehydration? Fit IV by SkinnyFit was formulated to be the solution: the fuel our bodies need to stay hydrated, fit, and a healthy weight. One of the best parts? Hydration is easier than ever with this product, because with convenient, on-the-go packets, you're able to fit them discreetly anywhere life takes you. What makes this formula so powerful, you might be asking yourself? Designed to supercharge your metabolism, burn calories, and melt away body fat like never before, clinically-studied ingredient InnoSlim® is paired with a dynamic fusion of vital vitamins and electrolytes, creating a revolutionary wellness breakthrough for weight loss and hydration! This powerhouse of ingredients provides the ultimate tool to reinvigorate, replenish, and redefine your physique! 
Now, let's take a closer look at these ingredients and break them down.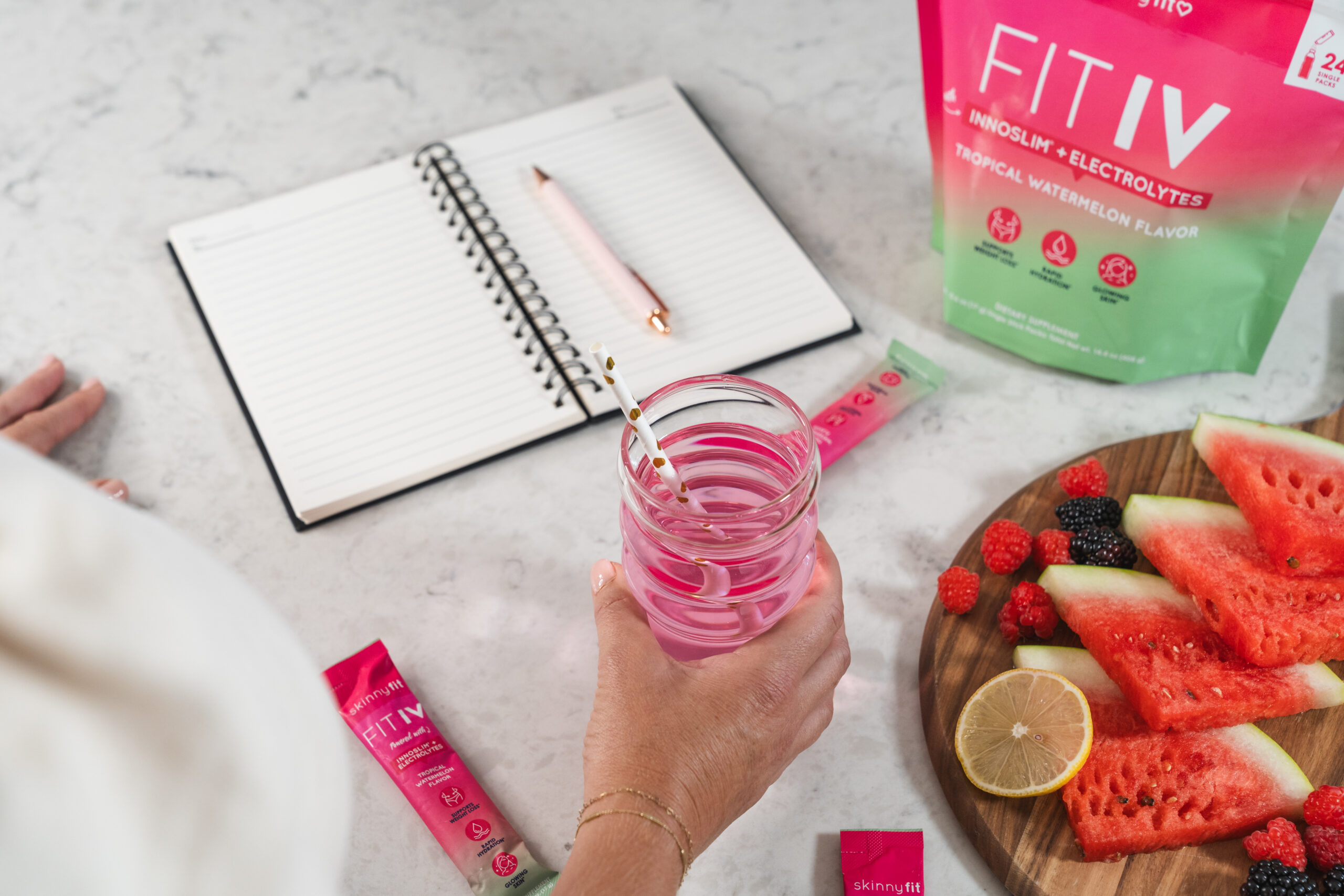 Formula Breakdown
Innoslim®
InnoSlim® is a proprietary blend of natural ingredients derived from Chinese herbs, which have been used for centuries in traditional medicine for their various health and weight loss benefits! 100% natural and stimulant-free, InnoSlim® works by enhancing the protein hormone responsible for breaking down fatty acids and ensures fewer calories are absorbed during meals–all while nurturing a robust metabolism. As this ingredient is an essential part of the Fit IV formula, it provides accelerated fat burn, weight management, and decreased calorie absorption. 
Electrolytes
Electrolytes are a group of essential minerals that aid in cell function. They are crucial for maintaining hydration, muscle function, and overall bodily equilibrium.
Vitamin B3
Vitamin B3 can help lower cholesterol and boost brain function, and supports a healthy metabolism by aiding in the breakdown of fats, proteins, and carbohydrates.
Vitamin B5
Vitamin B5 is essential for converting food into energy and supporting metabolism. It also plays a key role in maintaining healthy skin and promoting wound healing. 
Vitamin B6
Vitamin B6 offers vital support for brain function and the nervous system, and plays an important role in metabolizing proteins and carbohydrates, which contributes to overall energy production in the body. 
Vitamin B12
Vitamin B12 is an essential nutrient that's vital for the function of the central nervous system, and helps break down the food you eat and turn it into energy so you can fight fatigue and brain fog. 
Vitamin C
Vitamin C boosts your well-being and overall health by promoting a strong immune system, stimulating collagen production, brightening complexion, and supporting healthy aging.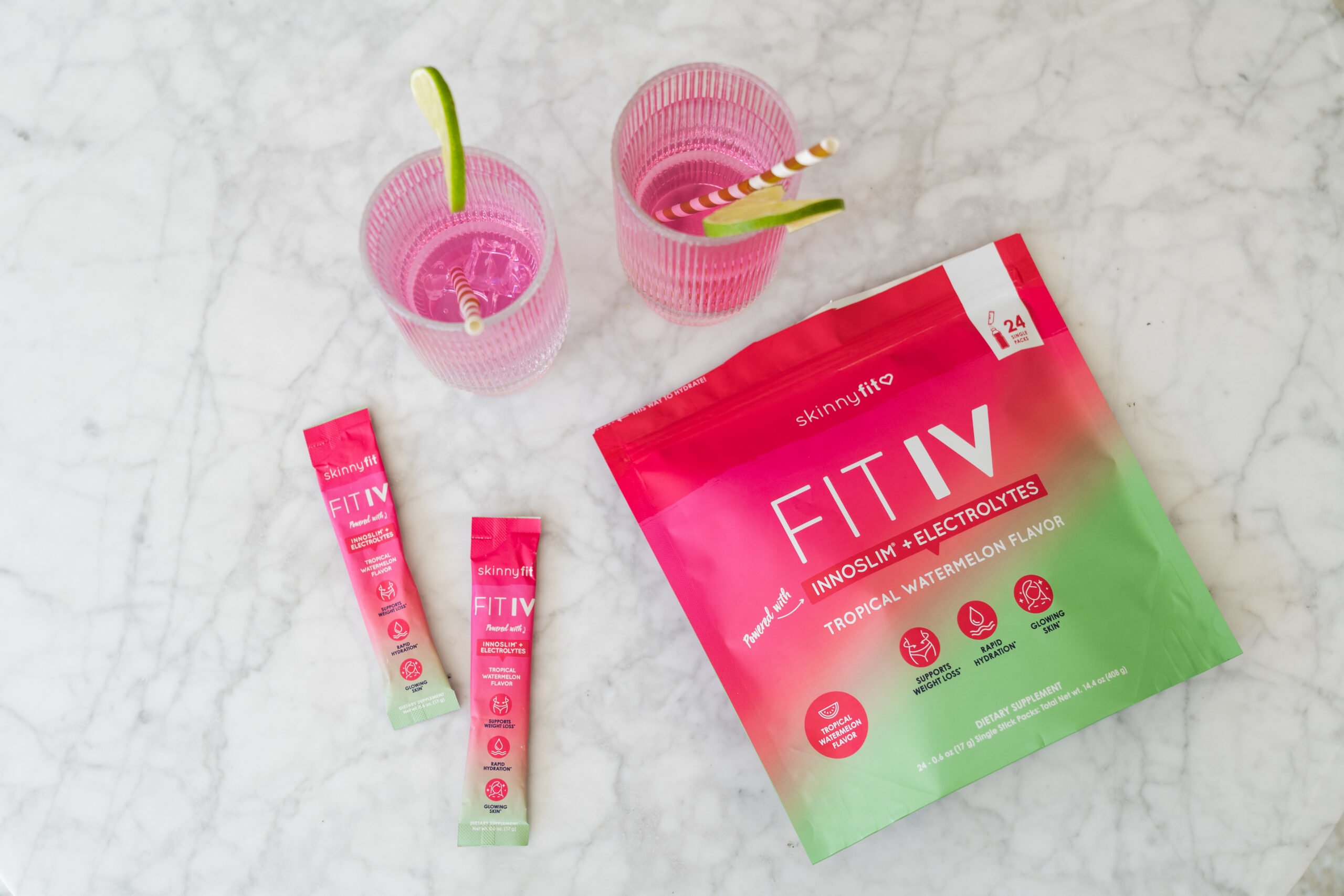 Health Benefits of Powerful Ingredients Together in One Formula
Faster Hydration
Loaded with powerful electrolytes, Fit IV hydrates your body faster and more effectively than with just water alone! Not only does this keep your body's fluid balance in check, but it also helps combat exhaustion caused by dehydration and gives you a natural boost of energy to function more efficiently throughout the day!
Accelerated Fat Burn
Clinically-studied and plant-derived InnoSlim® can reduce body fat, increase calorie burn, aid in healthier body composition, and lead to more energy as well as an overall healthier metabolic function. 
Healthy Aging
Hydrated skin is happy skin, right? As Fit IV brings hydration to the next level, it can reduce signs of aging and give your complexion a brighter, more radiant and youthful appearance!
How To Use Fit IV
1 Stick Daily
Add 1 stick to 16 oz of water or more and mix thoroughly.
Day or Night
Fit IV by SkinnyFit can be enjoyed anytime throughout the day for rapid hydration and boosted metabolism.
Diet & Exercise
For your best results, use Fit IV in conjunction with a sensible diet and exercise program.
Answering Your Questions
Who is Fit IV for?
This innovative product is perfect for anyone looking to supercharge their hydration routine while simultaneously supporting calorie burning! Whether you're an avid fitness enthusiast striving for peak performance, on a health journey to shed extra pounds, or simply someone who values staying well-hydrated for overall well-being, Fit IV is your ideal companion!
What does Fit IV taste like?
Fit IV is bursting with delicious tropical watermelon flavor!
Why do I need hydration & electrolytes?
60% of our bodies are composed of water, and yet 75% of Americans may suffer from chronic dehydration. Hydration is necessary so the body can digest and absorb essential vitamins and nutrients. Dehydration can also make you look older, so the more hydrated you are, the more youthful your skin looks. 
What are the benefits of Fit IV?
Fit IV is made with powerful electrolytes and vitamins such as vitamin C and vitamin B12, and clinically-studied weight loss ingredient, Innoslim to help you lose weight, hydrate, and feel your very best! 
Is Fit IV gluten-free, vegan-friendly, or non-GMO?
Yes, yes & yes!
Mentioned In This Post
Fit IV by SkinnyFit
Fit IV by SkinnyFit is the fuel your body needs to lose weight and hydrate! Clinically-studied ingredient InnoSlim® helps manage weight and reduce body fat, while vitamins and electrolytes provide rapid hydration to keep your youthful glow while you reach your goals.