Jump To top
Cooking with seasonal foods is not only healthier, but eco-friendly! Find out how!
Tis' the season for fresh apricots! But wait, is it? In today's modern world, it's easy to get any fruit or vegetable at any time—whether it's in season or not. What we tend to forget is that oftentimes, the foods we are consuming have been transported for miles, days, and in some cases, weeks. How far did those brussels sprouts you're using to cook dinner had to travel before it hit your grocery store shelves? 
Knowing what's in season when it comes to your produce is not only healthier and more affordable, but can also taste better than non-seasonal produce. . Do you know what vegetables are in season right now? Do you know what fruit is in season? In this blog, I'll break down what's in season, and why eating produce in season is better for your health, your wallet, and the environment. 

Benefits Of Using Seasonal Produce 
Let's start off by talking about what seasonal food is. Seasonal food is produce that is purchased and consumed at or around the time of harvest. Because the produce is eaten around the time it was harvested, it tends to be fresher, more nutritious, and tastes better. You and your diet will feel better after eating produce in season. Here are just a few of the benefits you can expect when you go the extra mile for your health by switching to seasonal fruits and veggies.
It's healthier—When foods are grown out of season, their natural growing rhythms are thrown off. Because these fruits and vegetables aren't able to grow year-round, they need ripening agents in order to harvest. Ripening agents include chemicals, gases, and excess heat. Certain produce is even coated with an edible film to help protect it. These types of processes allow food to be produced in mass quantities, and protect it from bacteria and rot when transporting them. Food consumed in season is more nutritionally dense, and doesn't run the risk of losing its freshness during transportation. [1]
It costs less—When a food is in season there's an abundance of it. This means it's usually available at a lower price point. If you buy an Asian pear out of season, for example, and you might get stuck footing the bill for the long car ride that pear had to take in order to get to you.
It tastes better—When food that isn't in season is mass-produced, the goal is quantity, not quality. Increasing shelf life with chemicals can affect the flavor of these foods. What's in season tastes better because they are full of their natural nutrients and bursting with fresh flavor. 
Environmentally friendly—Eating what's in season can help save the environment by reducing the long trips needed to transport the produce, by way of truck, plane, or boat. Produce in season helps lower fuel emissions and is more environmentally friendly.
Supports local farming—Agriculture is an enormous industry and is considered the backbone of our economy. However, when you buy your produce locally, like at the farmer's market or a Mom and Pop market, for example, you're stimulating your local economy and supporting your community.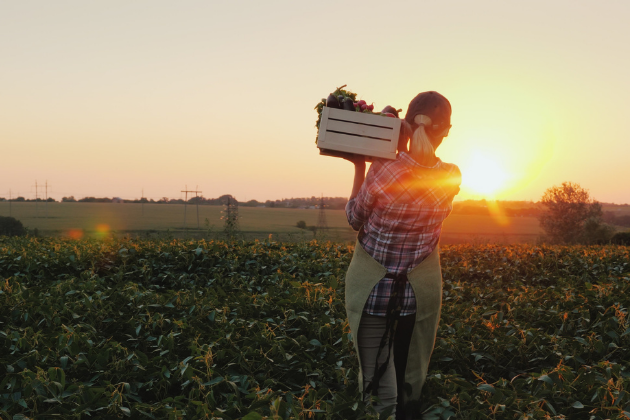 What Vegetables Are In Season?
Okay, now that you're ready to make the move to eating produce in season, let's talk about what vegetables are in season. Please keep in mind that when wondering what vegetables are in season, where you live makes a difference. What's in season for California may not be the same as Oklahoma. 
This list of what vegetables are in season is a good general place to start. 
1. Summer vegetables
Beets
Bell peppers
Butter lettuce
Chayote squash
Corn
Crookneck squash
Eggplant
French beans
Garlic
Grape tomatoes
Green beans
Edamame
Jalapeno peppers
Lima beans
Manoa lettuce
Ong choy spinach
Peas
Radish
Sugar snap peas
Summer squash
Tomatillo
Tomato
Yellow potatoes
Zucchini
2. Fall Vegetables
Acorn squash
Broccoli
Brussels sprouts
Butter lettuce
Buttercup squash
Butternut squash
Cauliflower
Chinese long beans
Daikon radish
Garlic
Ginger
Jalapeno peppers
Jerusalem artichoke
Mushrooms
Ong choy spinach
Sweet potatoes
Swiss chard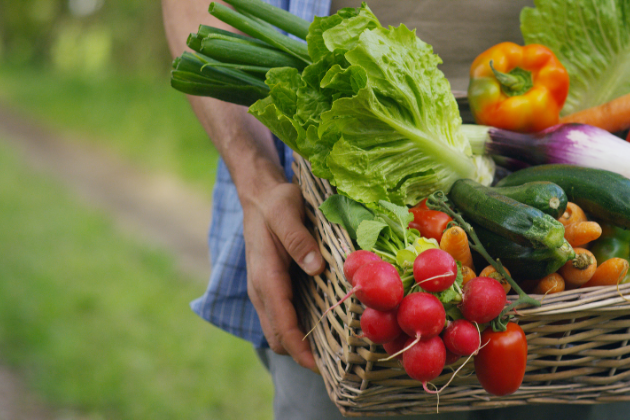 Winter vegetables
Brussels sprouts
Buttercup squash
Collard greens
Delicata squash
Kale
Leeks
Sweet potatoes
Turnips
Spring vegetables
Artichoke
Asparagus
Butter lettuce
Cactus
Chayote squash
Collard greens
Corn
Fava beans
Fennel
Green beans
Manoa lettuce
Morel mushrooms
Mustard greens
Peas
Red leaf lettuce
Snow peas
Spinach
Swiss chard
Vidalia onions
White asparagus
What Fruit Is In Season?
Now let's move on to what fruit is in season. Same reminder here when thinking about what fruit is in season, it may vary by location. 
This list of what fruit is in season is a good general place to start. 
1. Summer fruits
Apricots
Asian pears
Black currant
Blackberries
Blueberries
Boysenberries
Breadfruit
Cantelope
Casaba melon
Champagne grapes
Cherries
Crenshaw melon
Cucumber
Durian
Elderberries
Grapefruit
Grapes
Honeydew melon
Jackfruit
Key limes
Loganberries
Loquat 
Lychee
Mulberries
Nectarine
Passion fruit
Peach
Persian melon
Plum
Raspberries
Strawberries
Watermelon
2. Fall fruits
Asian pear
Barbados cherries
Cactus pear
Crab apples
Cranberries
Date plum
Grapes
Guava
Huckleberry
Key limes
Passion fruit
Pears
Pineapple
Pomegranate
Sugar apple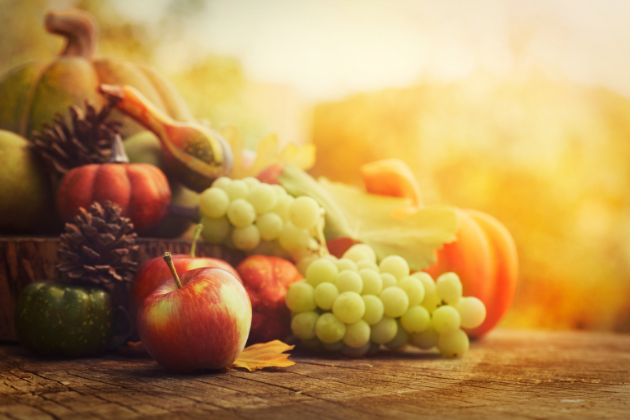 Winter fruits
Cactus pear
Clementines
Date plums
Dates
Grapefruit 
Kiwi
Mandarin oranges
Oranges
Passion fruit
Pears
Pomegranate
Red banana
Tangerines
Spring fruits
Apricots
Barbados cherries
Bitter melon
Honeydew melon
Jackfruit
Lychee 
Mango
Orange
Pineapple
Strawberries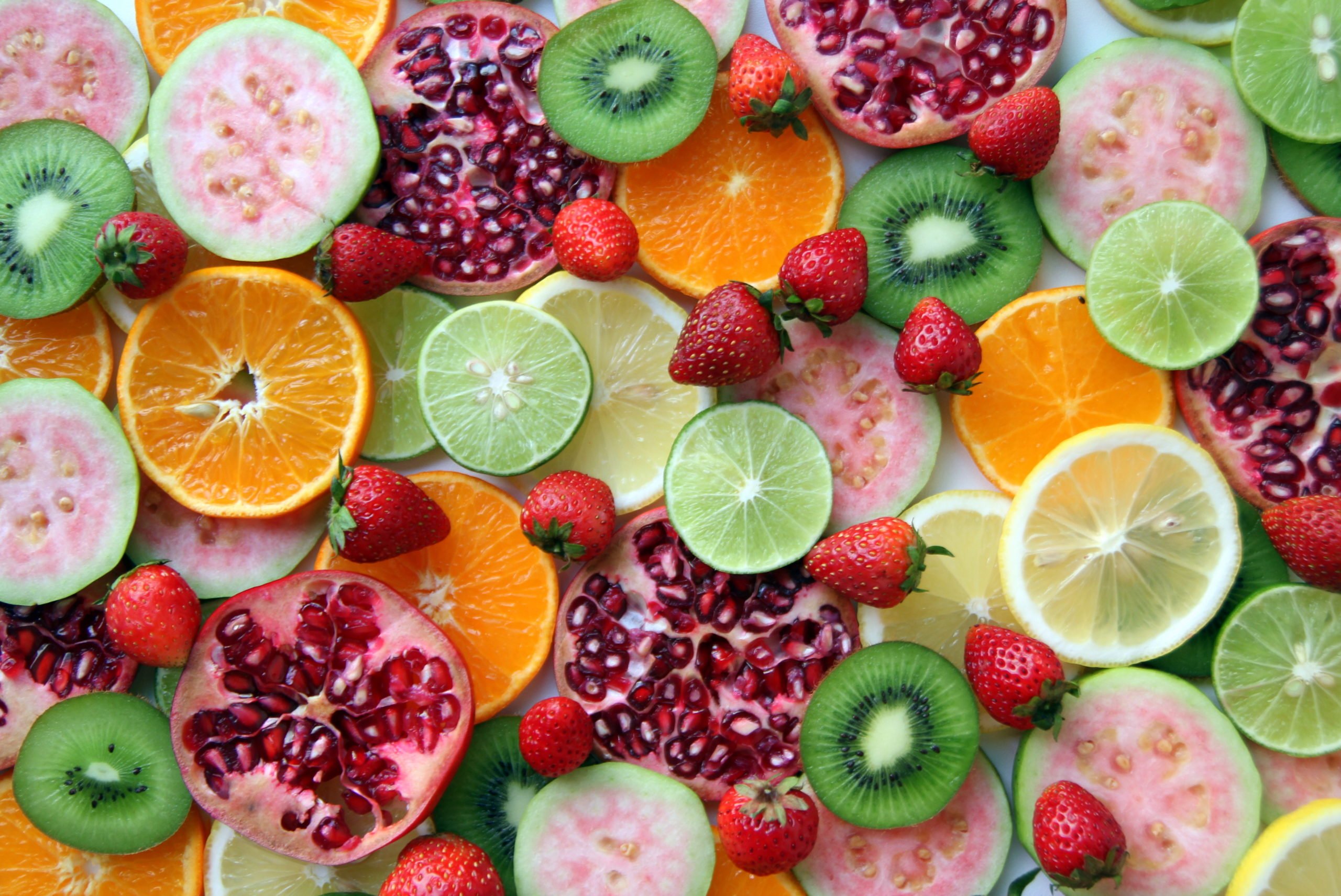 Farm-to-store means fresh! Maybe you've been thinking about making the move to in-season produce for a while now, or maybe this is your first thought about it. No matter the case, eating fruits and vegetables that are in season taste better, are fresher, contain more nutrients, and will cost you less. 
However, if you struggle with eating enough fruits and vegetables in general and eating produce in season just adds another hurdle, adding one scoop of a green superfood powder, like Skinny Greens, to your diet every day will provide vitamins and minerals from 34 different superfoods. 
Eating what's in season is also an excellent way to help support your local farmers, and who knows, maybe even one day put the kibosh on mass-produced fruits and veggies. I don't know about you, but I would be perfectly fine without all those chemicals on my food. 🙋‍♀️ You'll feel better when you serve your family fresh produce, and your taste buds will undoubtedly detect the difference! 
Mentioned In This Post
Skinny Greens Green Superfood Powder
Juicing made easy! Skinny Greens has 34 essential superfoods, stress-relieving adaptogens, & pre and probiotics for all of the daily nutrients your body craves.