Jump To Recipe
This healthy cilantro lime dressing is the perfect topper for any of your favorite foods! It's gluten-free, vegan, paleo, and only takes 5-ingredients and 5-minutes to make!
If you're like us, you're absolutely obsessed with cilantro lime dressing. You know, that delicious, creamy, irresistible green stuff that you see all over Pinterest and all the foodie Instagram accounts you follow? Yeah, that stuff—and from what we learned about cilantro lime dressing is that it practically goes with anything.
So, good news! We've got an amazing creamy cilantro lime dressing recipe for you that is seriously so easy to make you probably won't believe it.
It's perfect to leave in your fridge to easily spruce up bland vegetables or add a little something extra to your superfood salad. You're going to love this delicious cilantro lime dressing recipe not only because it's easy and well, delicious, but because it's packed with protein and skin-loving ingredients!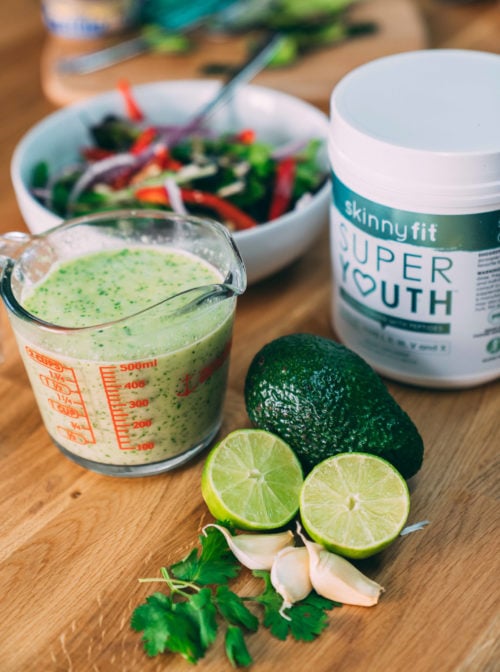 Benefits For Making This Creamy Cilantro Lime Dressing Recipe
It's only 5 ingredients—with all the flavor that this recipe is packing, it's hard to believe that this creamy cilantro lime dressing is made with only 5 ingredients. The only trick to getting this recipe just right is using ripe avocados. That is the key to getting that thick and creamy consistency that you need.
It fits into your diet—would you believe me if I told you this recipe is paleo-friendly, gluten-free and vegan? We understand how frustrating it can be to be on a diet and feel like you can't enjoy flavorful foods. It's tough to find a scrumptious and creamy paleo dressing recipe these days! But this cilantro lime dressing recipe takes care of all that and more!
It only takes 5 minutes to make—if you've never used your food processor to make dressings or salsa before, you're missing out! This is a great recipe to have in your back pocket because of how convenient it is to make when you're on a time crunch. It's simple and delicious ingredients make it quick and easy to whip up, and all you need is that underutilized kitchen utensil to make some seriously mouthwatering magic.
It's versatile—this cilantro lime dressing is so versatile, you'll want to put it on literally everything! You'll even eat all your veggies (and then some) because this dressing will have you dippin' and dunkin' for more. 🙂 Try this paleo dressing recipe as a marinade, dip, or sauce and add it to your favorite pasta salad, and of course, pour all over your leafy greens.
It's packed with health benefits—avocados, olive oil, cilantro… oh my! But there is one secret ingredient in this healthy dressing that can actually help you gain a healthier complexion.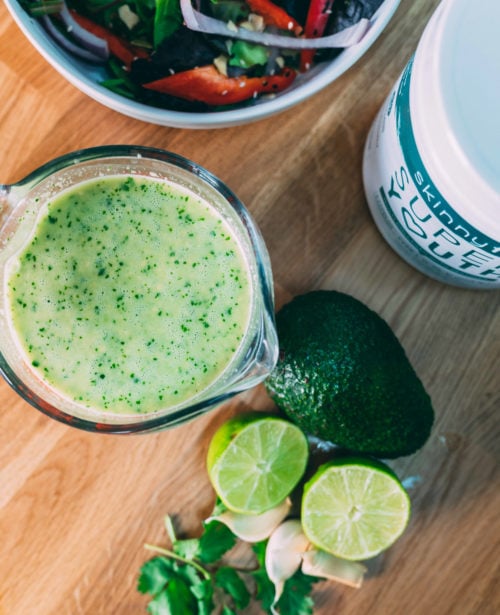 A Healthier Cilantro Lime Dressing
Creamy cilantro lime dressing is becoming more and more popular, and we're sure you've been seeing it added to the menu of all your favorite restaurants – fast food included!
But do you know what's actually in it? Because many of these recipes are mass produced, not-so-good-for-you-ingredients are often added. This means excess amounts of saturated fat and sodium, none of which we want in our diets.
Because our cilantro lime dressing is made with real and fresh ingredients, you skip all of that unwanted fat and get only the healthy fat from avocados. Not to mention, this recipe is a third of the calories you'll find in store-bought cilantro lime dressings, score!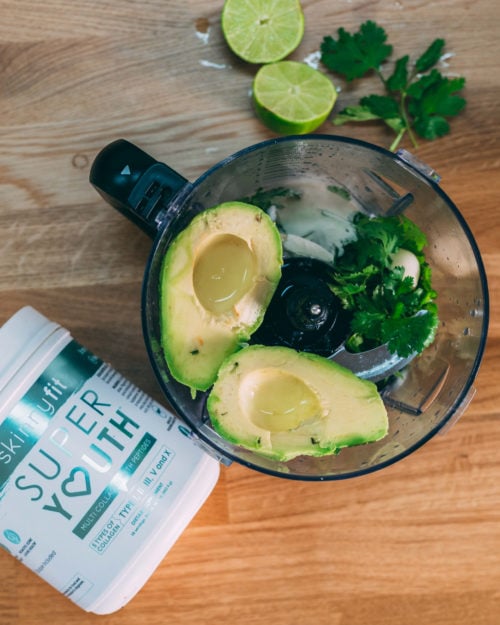 Paleo Dressing Recipe For Fat Burning
Even if you're not on a paleo diet, this recipe will still provide you some major health benefits.
We're often told that if you want to lose weight you should skip the high-fat foods. However, unsaturated fats like avocados can actually speed up your metabolism, helping you to burn fat faster. With this recipe, you are actually burning fat with fat – whoa! How's that for an oxymoron?
This recipe contains a secret ingredient that not only makes the dressing even creamier but boosts the health benefits even more—SkinnyFit Super Youth. Super Youth is a multi-collagen peptide that helps to build lean muscle and works hand-in-hand with the avocados to help you reduce the unwanted, bad fats you probably have consumed from other foods.
This homemade, all-natural, no-processed dressing is sure to be your new fave, for more reasons than one… or five! But don't forget to include SkinnyFit Super Youth to make this recipe the ultimate fat burning, muscle making machine!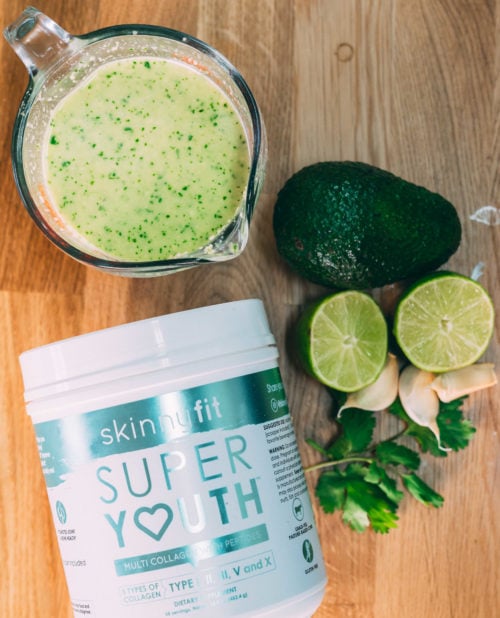 Creamy Cilantro Lime Dressing Recipe
This healthy cilantro lime dressing is the perfect topper for any of your favorite foods! It's gluten-free, vegan, paleo, and only takes 5-ingredients and 5-minutes to make!
Prep Time: 5 minutes
Cook Time: -
Total Time: 5 minutes
Serving Size: 1 batch
Ingredients
1 ripe avocado, large
1/2 cup cilantro
1/4 cup olive oil
1 large garlic clove
1 lime, juiced
1 scoop Super Youth
Salt and pepper to taste
Steps
In a blender or food processor combine all the ingredients and blend until smooth. Store in fridge for 5-7 days.