How To Make The Best Gut-Healing Cinnamon Coconut Latte (In 10 Minutes!)
Written by: SkinnyFit - Apr. 16, 2019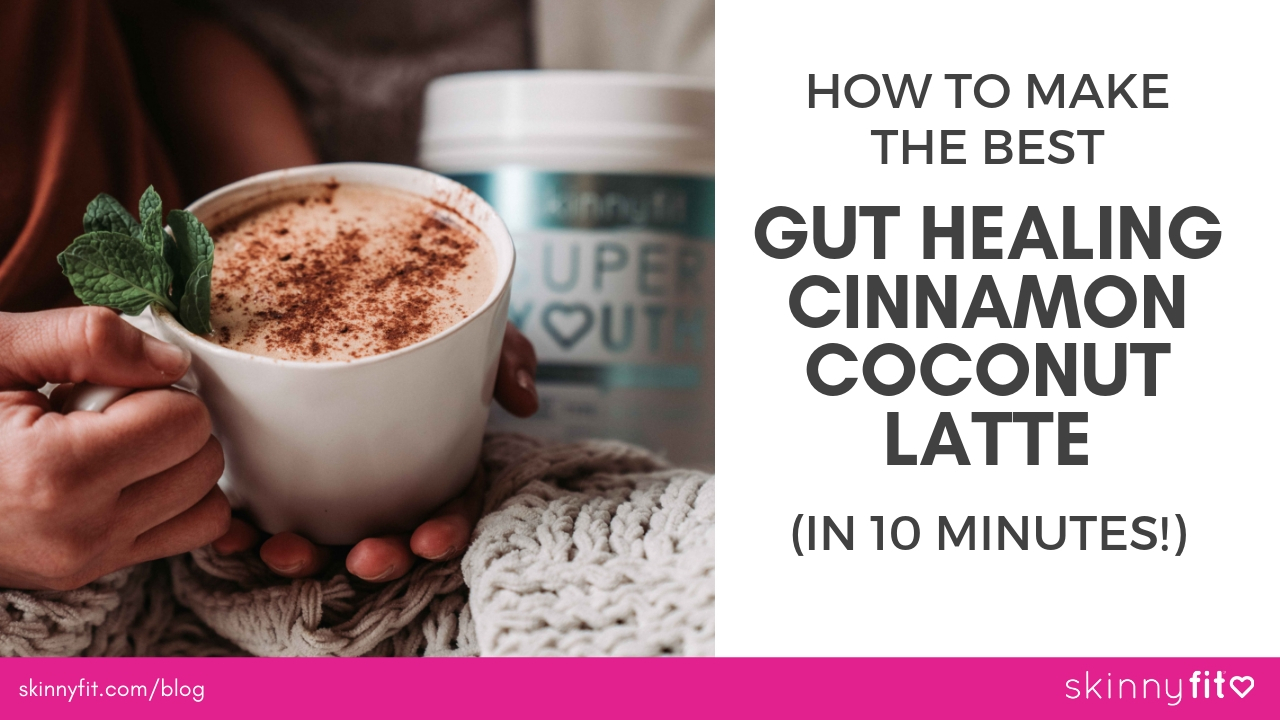 There's something so intoxicating about the combination of cinnamon and coconut. And when this perfect pair is mixed together to create a dairy-free AND keto-friendly cinnamon coconut latte, well, you may just think it can't get any better…
But what if we told you that this delicious cinnamon coconut latte could actually help heal your gut…😱
The Best Healthy Homemade Latte

Too good to be true? Nope! This recipe is for real, so get ready to have your mind blown and your morning routine stirred up!
You'll save some serious cash (and time!) by skipping the Starbucks drive-through every morning and indulging in your very own homemade latte. And if you opt for this cinnamon coconut latte recipe instead, you'll also save on calories, fat, and sugar.
A healthy coconut latte is hard to come by, so you're going to want to keep this recipe bookmarked, taped to your fridge, etc. etc. 
RELATED: How To Detox From Sugar In 5 Simple Steps (+Why You're Addicted!)
A Keto-Friendly Coconut Latte You'll Love!

The Keto diet is one of our favorites because it can help you drop pounds quickly! The downside? It's tough to find recipes that meet strict Keto standards—and your daily coffee addiction isn't exempt.
Often times, the typical coconut latte contains a TON of carbs, but drinking your coffee straight black isn't exactly appealing either. Thankfully, this keto-friendly homemade latte is the perfect in between for flavor and health benefits, and is essentially everything you've been searching for.
YOU MAY ALSO LIKE: How To Make The Best Keto Cauliflower Pizza Crust Recipe! 

A Homemade Latte To Heal Your Gut

Not only will your belly be thankful that this healthy cinnamon coconut latte is dairy-free, but it will also LOVE that your new go-to homemade latte contains extra gut-healing nutrients!
It's hard to believe that a scrumptious cinnamon coconut latte can actually be good for your gut, but we've added our popular SkinnyFit Super Youth Collagen to this recipe so while you sip and savor you're actually IMPROVING your gut at the same time!
Collagen, the most abundant protein in your body, keeps the lining of your gut strong and healthy. It can prevent symptoms of leaky gut, aid in digestion, and even repair the intestinal lining of the stomach! Who knew a simple cup of coffee could do so much?
So, if you're going to be drinking coffee anyway, spice up your morning routine and do more than just sip on your boring ol' cup of joe. Heal your gut and get all of the other amazing benefits of collagen like smooth, youthful skin and vibrant hair and nails. 
Your coffee routine just got a whole lot sweeter…
RELATED: How To Use Collagen For Leaky Gut: Everything You Need To Know (+Treatment Plan)
Gut-Healing Cinnamon Coconut Latte
Ingredients
12 oz. brewed coffee
2 tsp. coconut oil
½ - 1 tsp. grass fed butter
¼ -½ tsp. ground cinnamon
¼ cup unsweetened coconut milk
1/8 tsp vanilla extract
1 scoop SkinnyFit Super Youth
Directions
In a medium saucepan melt the coconut oil, butter, and coconut milk on medium heat.
Pour the mixture directly into a blender and add the brewed coffee and any remaining ingredients.
Blend on high for 10-15 seconds until creamy and frothy.
Pour in coffee mug and enjoy.
Nutrition
Wellness