Jump To Recipe
Unless you've been hiding under a rock for the past year, you've heard of the now infamous frozen rosé recipe. It's been dubbed as the new official drink of summer and it's easy to see why. It's delicious, oh so refreshing, and ridiculously Instagram worthy. 
So, if you're ready to heat up your summer in style, then this frosé recipe is just for you (and your best gal pals, of course!).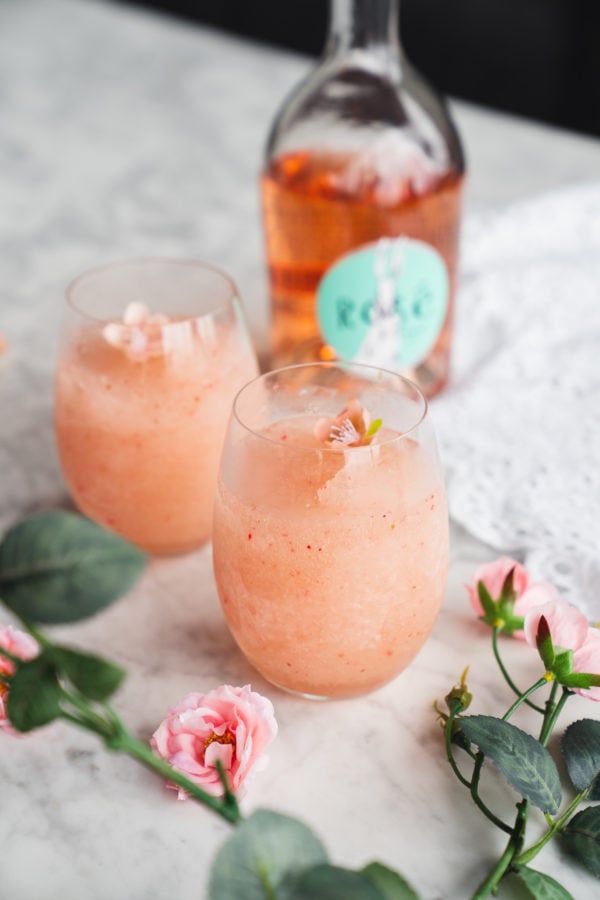 The Best Frosé Recipe For Summer

Vacation vibes are in full force with this cocktail! Even if you're not traveling anywhere this summer, you'll feel like you're in paradise while sippin' your new favorite refreshment poolside. 
But where did the frosé recipe even come from? You have Justin Sievers, the general manager at Bar Primi in New York, to thank for this tall glass of perfection. 
He dumped a bunch of rosé into a slushie machine and BOOM! The frosé was born. Justin, we thank you for your stroke of genius. 🙏 🌈 😋
Once people got wind of this delicious recipe, it spread like wildfire. Pretty soon after, social media sites everywhere were bombarded with adorable pink drinks cheersing and clinking together every single weekend. 
The frosé combines two summer essentials—rosé and slushies, so it's easy to see why it has taken summer by storm. 
To make things even sweeter, we added a secret fat-fighting ingredient to make this the absolute best frosé recipe you've ever taken a sip of!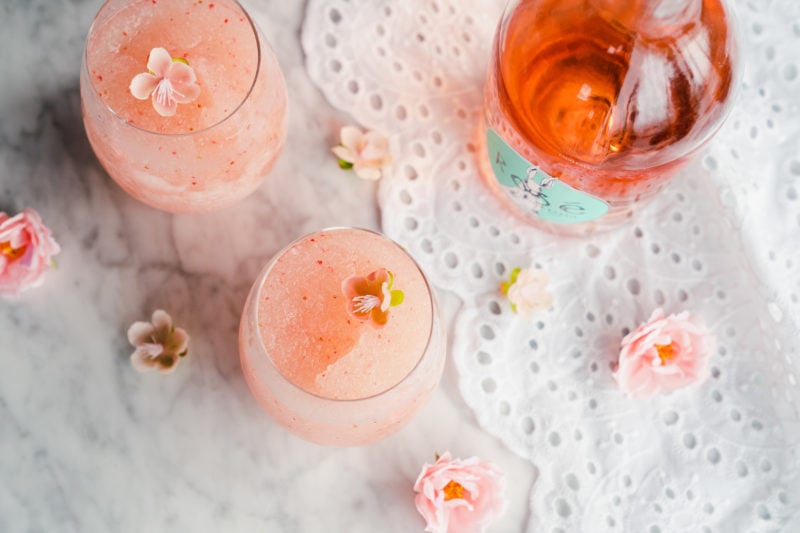 How To Make This Refreshing Frosé Recipe At Home

This frozen rosé recipe combines all of the things that made this cocktail so popular PLUS our secret weapon—SkinnyFit Detox Tea! 
The intoxicating aromas and mouth-watering flavors of SkinnyFit Detox only add to this already delicious frosé recipe, and the benefits that come along with it are far more than just the cherry on top of the cake!
SkinnyFit Detox helps fight annoying belly bloat, releases harmful toxins from the body, and helps to increase energy throughout the day. Stir that into a scrumptious cocktail and you've got a recipe for health success! 
You don't need much to whip up this frozen drink, and if you're anything like us, chances are you already have a bottle of rosé lying around. All you need is 3 simple ingredients and you'll be ready for the most epic summer drink yet!
Hosting a backyard BBQ or poolside hangout? This recipe is super easy to make in large batches, and a pitcher of this stuff is a sure crowd-pleaser. 
Is your mouth watering yet? Thought so! Then you're ready to cool off and unwind with the best frosé recipe to date (sorry, Justin!).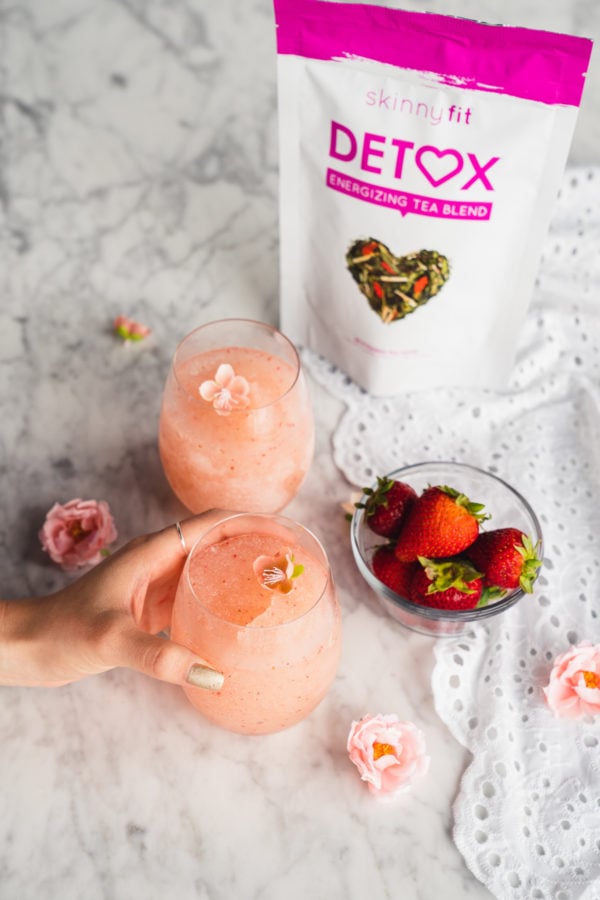 Healthy Frosé Recipe
Looking to really wow your gal pals at your next ladies brunch? Try this delicious (and Insta-worthy) Frosé recipe this summer!
Prep Time: 10 minutes
Cook Time: -
Total Time: 10 minutes
Serving Size: 4 cocktails
Ingredients
1 bottle of rosé (still)
3 cups of Detox, brewed (reserve 1 cup)
2 ice trays (to make 24 Detox ice cubes)
1/2 pint of strawberries
Steps
Brew 3 bags of SkinnyFit Detox (24 oz), set aside 8 oz and cool completely
Pour 16 oz Detox into ice cube trays and let chill overnight or until they are frozen
Blend the rosé, 8 oz of reserve Detox, the frozen Detox ice cubes, and the ½ pint of strawberries in a large blender until frothed
Pour into glasses and top with a strawberry