Jump To top
Gymtimidation (noun): Having gym anxiety, or feeling intimidated or insecure about going to the gym. This newly coined phrase is sweeping the health and fitness world by storm but not in a good way. If you have ever been nervous about going to the gym or felt like you might be judged for some reason or another, well, you are not alone.
As it turns out, a recent study conducted by Sport England–an organization dedicated to helping people take part in physical activity, regardless of age, background or ability–revealed that 75% of women aged 14-40 wanted to exercise more but opted out for fear of being judged [1].
Judgement in the gym can range to include a variety of factors. A study conducted by Fitrated surveyed 1000 people and discovered what exactly people felt judged for at the gym. A whopping 65% of women felt judged for their weight, 58% felt judged for fear of improperly using equipment, and 54% for not looking fit enough [2]. As shocking as these statistics are, they don't end here:
Other reasons women felt judged at the gym
51% – Not looking fit enough
49% – Their choice in clothing
42% – Doing an exercise with bad form
44% – Not being fit enough
37% – Doing an awkward exercise
The list goes on…
Unfortunately, feeling judged is not the only problem. A surprising 34% of the respondents that felt judged admitted to judging someone else at the gym [2] and what most people don't realize is that the reasons we have for judging others are actually forms of "fat shaming". This type of harassment at the gym comes in more ways than just verbal. Fat shaming or body shaming can come in the form of unwelcome comments, judgments (as listed above) and exclusions that can discourage gym-goers to participate in fitness activities, and even attending the gym altogether.
But there is some good news—If you suffer from gym anxiety and want to feel confident when you walk through those gym doors, there are things you can do to! In this blog, I'll be sharing the top four causes of gym anxiety and a few different ways you can overcome them.
Fat Shaming, Negative Body Image, & Gym Anxiety: What's The Connection?
One of the major issues many women face today is the societal pressure to look or be a certain way in order to be "accepted" by our peers. Having a skinny waist with a round and firm butt and thighs, six pack abs, and a thigh gap is just one of the many unrealistic standards many women feel pressured to live up to. What's sad is that most women, even the ones who portray this image on social media, can't even live up to the very standard they are trying to set! With overly posed images and photoshop, it's safe to say that this standard is unattainable. Yet, women continue to stress and fall into negative self talk if they don't look like a life-sized Barbie Doll.
Another problem is that our appearance-driven fitness culture promotes this unrealistic standard every single day– leaving little to no options for the heavier gym-goer to feel comfortable participating in physical activity. After years of working in the fitness industry I have personally witnessed even the most unsuspecting people contributing to the issue. In some cases even fitness professionals such as gym staff and personal trainers can unknowingly body shame overweight individuals in the gym– by assuming that a heavier person's fitness goal is weight loss, assuming every overweight person is a beginner, suggesting they should only be using the elliptical for weight loss, or even selling fitness apparel that isn't size-friendly are all forms of fat shaming.
Additionally, people who deliberately avoid regular workouts are often avoiding the recurrence of a painful past experience–such as being mocked at the gym, having their photo taken by other members, strange looks in the locker room, or even when fitness professionals suggest they make exercise modifications to account for their size during a fitness class.
Even a comment that might seem harmless, like "I've seen you in here a lot, keep up the good work!" can feel condescending to a person that struggles with negative body image. Being body shamed is not only humiliating, but can very easily become a major reason for skipping out on a sweat-sesh and developing a severe case of gym anxiety.
Causes Of Gym Anxiety (+How To Improve Gym Confidence)
In addition to body shaming and fat shaming, we have discovered the reason why women are nervous about going to the gym and that gym anxiety can be broken down into four main categories: The fear of being judged by others, not being sure of what to do, comparing themselves to others, and feeling like you don't belong. We came up with a few simple solutions on how to be more confident at the gym, overcome fat shaming, and finally feel confident in the gym!
1. Feeling Judged
So we've already established that most of why women avoid the gym is because they feel judged somehow. So how exactly can you stop feeling judged? It doesn't seem that easy because you can't really help it if other people judge you, right? Wrong. Feeling judged at the gym is caused by a cognitive distortion. These types of distortions are merely thoughts that don't necessarily reflect reality. These can be positive or negative thoughts, but in this case, the negative thoughts you are focusing on can cause anxiety and depression. Because think about it… how do you know for certain that someone is judging you? Unless you walked right up to them and asked them "are you judging me?" Most often our minds get the best of us and jump to conclusions without knowing the facts. When we assume we know what someone is thinking, and if we assume that what they are thinking is bad or reflects negatively on us, it can be easy for those thoughts to snowball out of control.
Solution: Focus on the task at hand
Another way to stop feeling judged in the gym is to refocus your attention and energy on the task at hand. If you're in the middle of an exercise, focus on developing better mind-muscle connection. With each rep, focus on the exact muscle you should be using to execute that exercise. Focus on maintaining proper form and technique. Focus on yourself when you look in the mirror and don't let your eyes wander. If you have a habit of people watching in the mirrors during your workout you might want to move to an area of the gym that is more private. Most gyms allow members to do their workouts in the group exercise studios as long as there isn't a class in session.
Solution: Ask if the gym is "size-friendly"
Many larger gym goers experience anxiety at the gym out of fear of being too big for the equipment or breaking the equipment. If this is something that is preventing you from going to the gym simply call the gym and ask if their equipment is "size friendly". If it is, it will have, for example, weight limits posted on the machines and a staff with experience working with overweight clients, and there will be just a short distance between the dressing room and the pool. If the front desk has no idea what "size-friendly"

means, look elsewhere.
2. Feeling Uncertain
Have you ever psyched yourself up for a workout and once you finally get there you're like… "okay I made it! Now what?" 🤷🏽‍ Not knowing what to do once you get to the gym can be scary and can definitely cause some gym anxiety. If you show up without a plan chances are you'll end up on a piece of cardio equipment you know you'll be safe on– like the treadmill or elliptical. You can't mess those up, right? But let's say you find yourself in the weight room instead but you still aren't sure what your plan is, so you just follow along what someone else is doing. No harm in that… but then…
"Omg people are staring at me… I don't know what I'm doing… Am I doing this right?"
And before you know it you're back in the safety zone watching Man vs Food in the cardio room. So, here's what to do:
Solution: Come prepared with a workout
If you don't know what to do in the gym, coming prepared with a workout in advance is a great place to start. Thankfully, the internet is filled with amazing fitness professionals that provide great workouts and programs. Take SkinnyFit for example, we have an entire library of workouts to choose from that all come with demonstration videos! Try this effective ab workout you can do with just a towel! If you find a workout that doesn't have any demonstration videos, simply Google the name and you'll be sure to find a tutorial video or infographic showing you proper form and technique!
Solution: Do your research
Before showing up unprepared, you might want to do some research on what kind of fitness classes are available at your gym. Having guidance in a group setting can often ease anxiety and help you get a great workout without having to think too much about it. Most gyms offer their group class schedule on their website, their app, the social media pages, and offer a printed schedule at the front desk.
Solution: Audit group classes
If doing a group class interests you, then auditing a class before you take it might be a good idea. I remember the first time I ever went to a dance fitness class I was dragged in with a friend who swore to me that it was fun and a great workout. Well, once the entire class busted out their best twerk moves I new this class just wasn't for me… I suddenly felt super out of place and awkward and wanted to get out of there immediately.
Solution: Schedule a session with a personal trainer
If a gym has personal trainers on staff, most, if not all of them will offer one or two complimentary training sessions with a personal trainer when you first sign up. If you have questions or frequently get gym anxiety because you aren't sure what to do, take full advantage of this complimentary service! The trainers are there to help. I've been a trainer for many years and it's common for people to feel intimidated to approach a trainer and ask for help. But let me ease your worry and tell you WE LOVE IT! As long as the trainer isn't in the middle of a private or group session you should never feel intimidated to ask for help. It's like, what we do 🤗 And if it's in your budget, purchasing a small personal training package might be a good idea. This gives you an opportunity to spend some one-on-one time with a professional who will design a customized training program fit for your goals.
3. Comparing Yourself To Others
We've allllllll done it. It's completely normal to make social comparisons, but making them can be a very negative experience. If you're constantly focusing on comparing yourself and coming up short relative to other people it's likely to weigh on you and make you feel uncomfortable. There are a few ways to navigate this….
Solution: Use it as an opportunity to grow
Many times when you make upward comparisons you will find yourself in a cycle of negative self talk, leading to a negative body image and gym anxiety. But making upward comparisons don't have to be negative. If you do, see it as an opportunity to grow instead of an opportunity to highlight your flaws. Leaving yourself a gap of wiggle room to set goals will challenge and motivate you and give you something to work for.
Solution: Avoid comparisons altogether
This one is probably easier said than done but the more importance you give things (positive or negative) the more you pay attention to it. So if you are constantly comparing yourself to others in a negative way you are allowing that negative thought to control your mindset. So, if you can, try to avoid it at all costs. Remember, when it comes to living a healthy lifestyle you are only in competition with yourself, no one else.

4. Feeling Like You Don't Belong
Sometimes feeling like an outsider can cause major gym anxiety and burst your confidence bubble. Oftentimes, big gyms might feel dominated by "regulars" that might make you feel inferior for taking too long on a piece of equipment. And what makes it worse is that it's very common for gym regulars to clique up with each other regulars– making you feel like an outcast. Here's what you can do:
Solution: Find a gym buddy
You know what they say, there are strength in numbers! If you feel out of place at the gym, or like an outsider, find a gym buddy! I always feel more confident when I see a friendly face at the gym… so next time you're looking for a good workout, call up a friend who could also benefit from a gym buddy. You can push and challenge one another and help hold each other accountable. Try this partners workout to help make your workout more fun!
Solution: Consider a different setting
Not all gyms are created equal and it's true that many gyms have a "type" of membership base. But large health clubs might not be the answer for many people initially. An alternative would be to try a smaller gym setting like a boutique studio or a studio that offers specialized classes in one area of fitness. Spin studios, Orange Theory, F-45, and CrossFit are all examples of smaller niche fitness settings that can help provide a more intimate and comfortable atmosphere for someone just starting out.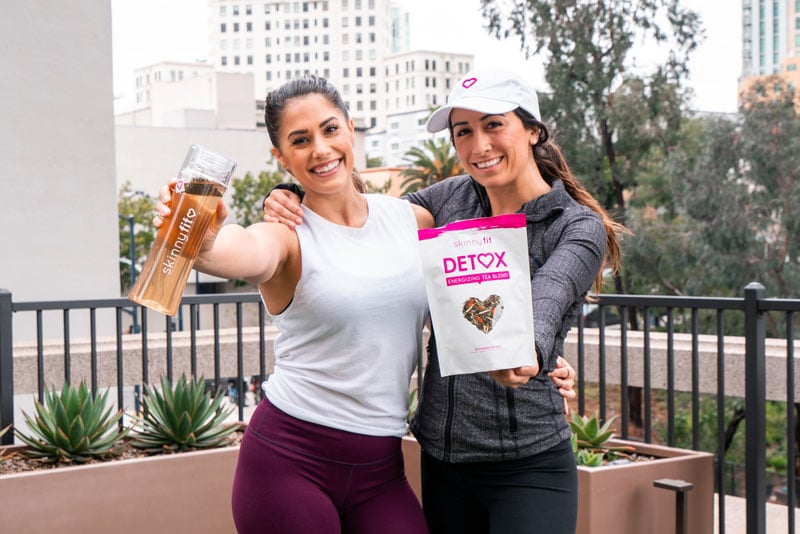 The Bottom Line: Take Care Of Yourself
Whether you're at the gym or not, taking pride in your health can help build confidence to overcome any anxiety you might feel at the gym or negative thoughts about yourself. Establishing a self-care routine outside of exercise is a great first step. ZzzTox fights stress induced weight gain, helps promote deeper sleep, and relaxes your mind and body. 
When it comes to health and wellness, SkinnyFit is here to help you look and feel positively radiant from the inside out. We believe that self-love, body positivity, and confidence is the foundation to a healthy and active lifestyle and hope that our dedication to providing premium, all-natural products will help you get there. At SkinnyFit, we believe that healthy is beautiful, just like you.