Jump To Recipe
Anytime I smell gingerbread, I think about my grandma's house at holiday time. Twinkling lights hanging from the ceiling, cheery music playing in the background, snow nestled on the window sills. The holiday aromas were the best part, though. No one made gingerbread cookies better than my grandma. They were rich and filling, and we always ended up eating a gazillion more than my parents said I was allowed to. Whenever my siblings and I would remake her recipe, it just wasn't the same. Her special, secret grandma ingredient was missing, ya know?
As I've gotten older, I've started to try and recreate my grandma's favorite recipes to fit my family's dietary and health needs. We substitute coconut oil for butter and coconut sugar for refined sugar. Just last year I finally perfected healthy gingerbread cookies with my grandma's OG recipe as inspiration. They're crunchy in all the right places, warm and sweet and spicy in every bite, and they bring you right back to childhood (sans the fattening ingredients!). When you serve up this gingerbread cookies recipe this year, see how many people can tell that they're a healthier version. 😉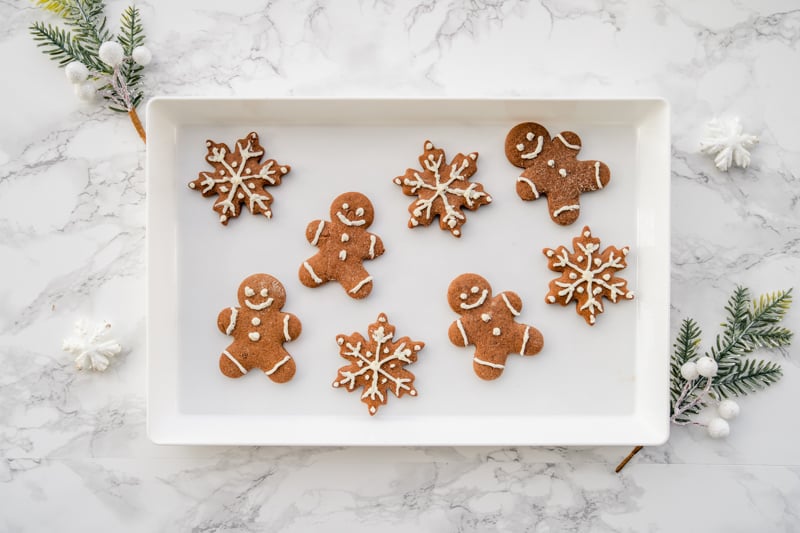 History & Origin The Gingerbread Man 

The gingerbread man is a popular dude around holiday time! Still, I've found that not many people know who he is or where he came from. My grandma loved to share the history of the gingerbread man as we mixed and rolled and baked together. We learned that his origin is accredited to Queen Elizabeth I. She would gift visiting guests (mostly fellow royalty and other dignitaries) with gingerbread men that resemble them. They quickly grew in popularity, and later, when ginger was found to be a warming spice and beneficial in the winter months, they became a holiday staple. Gingerbread cookies vary greatly by each baker and each family. My healthy gingerbread cookies recipe, adapted from my grandma's very own, has quickly become a big hit.
Main Ingredients For Healthy Gingerbread Cookies 
Whole wheat pastry flour—Whole wheat pastry flour is a great alternative to bleached white flour in these healthy gingerbread cookies because you get all the nutrients that whole grains provide. Bleached flour strips away most of those vitamins and minerals. I haven't tested any gluten-free variations of this gingerbread cookies recipe, but if you try, keep in mind that coconut flour will absorb more liquid than almond flour. This may make it more difficult to replicate the density of whole wheat pastry flour.
Molasses—Mmm, warm molasses. The standout flavor in gingerbread cookies! Unlike other liquid sweeteners, molasses will create iconic chewiness that other holiday cookies lack. Its viscosity helps to keep the gingerbread man's shape while keeping the center perfectly soft. 
Collagen powder—This skin-transforming superfood is what puts the health in these healthy gingerbread cookies. Collagen packs a beauty-school punch by reducing cellulite and sun damage and helping to reverse the signs of aging. I put my favorite collagen in just about everything. Seriously. One scoop of my Unflavored Super Youth Multi-Collagen Peptides goes in my morning coffee, in all my big family dinner recipes, desserts, everything!
Spices—Spices make this cookie the warm, cozy hug that you anticipate when biting into a gingerbread man. If you don't know how to make gingerbread cookies, listen up. If you do one thing right, let it be the spices! A mix of ginger, cloves, cinnamon, and black pepper all give these healthy gingerbread cookies their iconic kick. At the beginning of November, I always throw together my very own gingerbread spice mix. I love that it's ready for me whenever I crave this gingerbread cookies recipe, plus I like to toss it in my coffee. ‍♀️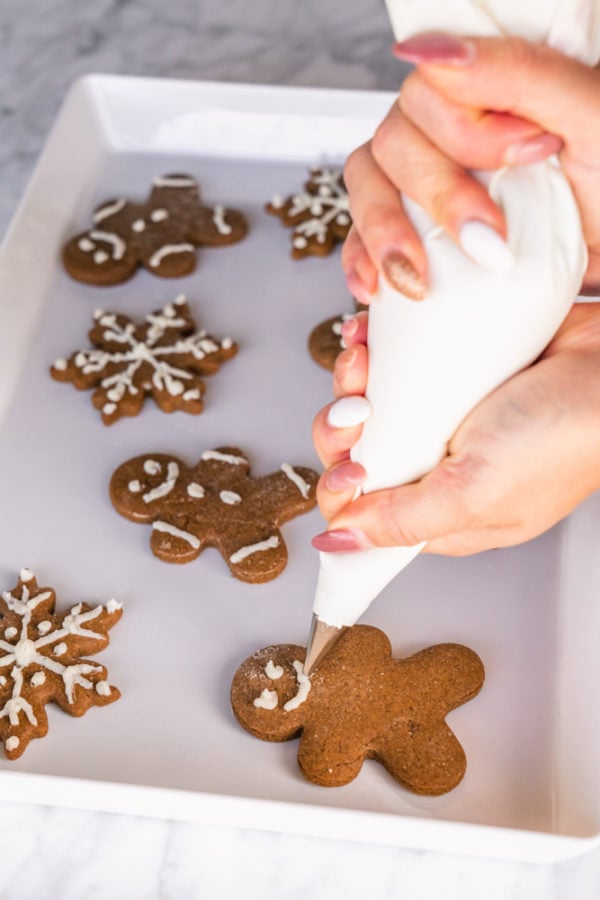 How To Make Gingerbread Cookies

Learning how to make gingerbread cookies is actually pretty simple! A lot of people feel like gingerbread cookies are only gingerbread cookies if they're, well, in the shape of a gingerbread! That's surely the easiest way to spot one, but it's the flavor that makes them so unique! There are two different ways that you can perfect these healthy gingerbread cookies. 
The first step in the lengthy route will require you to roll out your dough into a large sheet, about ¼ inch thick. Then you will use your gingerbread man cutter, or any cookie cutter, to shape the dough until all the dough has been used up. If you're not too concerned about the shape of the cookie, just roll your disc of dough into a roll (think store-bought, premade cookie dough), and then slice and bake!
READ NEXT: How To Make A Healthy Peppermint Hot Chocolate At Home (Only 5-Ingredients!)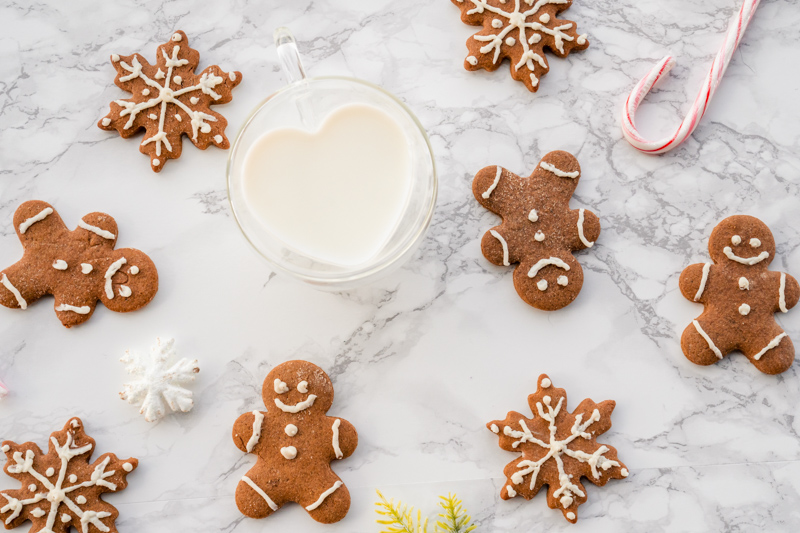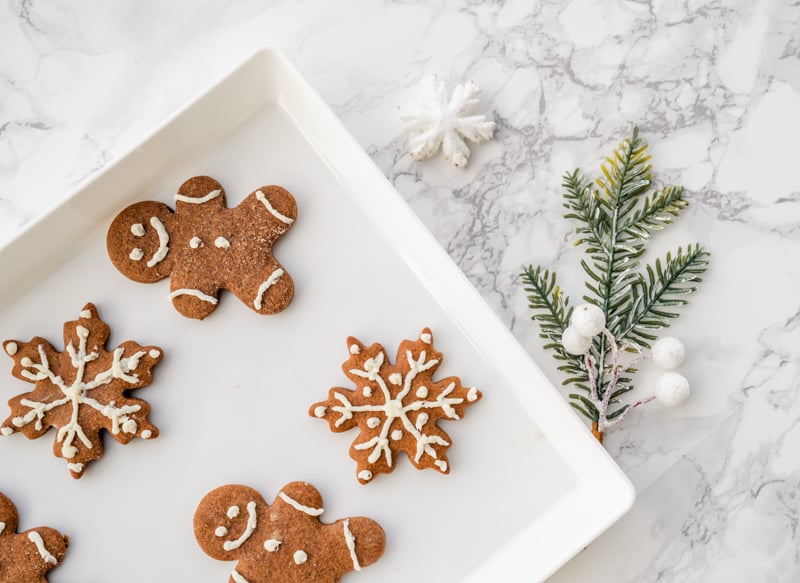 Healthy Gingerbread Cookies Recipe
These healthy gingerbread cookies are soft, chewy, with the perfect amount of sweetness! Now you can enjoy this holiday classic without the guilt!
Prep Time: 30 minutes
Cook Time: 40 minutes
Total Time: 1 hour 10 minutes
Serving Size: 30 cookies
Ingredients
3 cups whole wheat pastry flour, plus more for work surface
2 scoops Super Youth collagen, unflavored
2 tsp ground ginger
2 tsp ground cinnamon
¾ tsp salt
½ tsp ground cloves
½ tsp finely ground black pepper
½ tsp baking soda
¼ tsp baking powder
½ cup melted coconut oil
½ cup unsulphured molasses
½ cup packed coconut sugar
1 large egg
Steps
In a medium mixing bowl, combine the flour, Super Youth collagen, ginger, cinnamon, salt, cloves, pepper, baking soda, and baking powder. Whisk until blended.
In a small mixing bowl, combine coconut oil and molasses and whisk until combined. Add the coconut sugar and whisk until blended. Add the egg and whisk until mixture is thoroughly blended.
Pour the liquid mixture into the dry and mix until combined. Divide the dough in half. Shape each half into a round disc about 1 inch thick and wrap it in plastic wrap. Place both discs in the refrigerator and chill until cold—15-20 minutes.
Preheat oven to 350 degrees. Line two large baking sheets with parchment paper. Lightly flour your working surface and roll out one of your discs out until it's ¼ inch thick.
Use cookie cutters to cut out cookie shapes and place each cookie on a parchment-lined baking sheet, leaving about ½ inch of space around each one. Combine your dough scraps into a ball and roll them out again, repeating until you have used up all of your dough. Repeat with remaining disc. If don't plan on adding frosting or decorating your gingerbread cookies, sprinkle turbinado sugar or coconut sugar onto the cookies before placing them in the oven)
Bake for 8 to 11 minutes. The cookies will continue to cook on the pan so pull them out of the oven a minute earlier than your preference.
Cool completely before decorating with frosting. Enjoy your healthy gingerbread cookies!