Jump To Recipe
Enjoy the warm and cozy fall vibes all year round with these healthy pumpkin muffins! Not only are they packed with fibrous and heart-healthy ingredients, but they are completely gluten-free!
What's cozy, warm and never gets old, year after year? The spicy, sweet smells of fall! Without missing a beat, pumpkin spice everything takes over storefronts, coffee cups and baked treats nationwide. You can't escape it, so you might as well embrace it! Whether you wait all year for those PSL hashtags or you dread their arrival, you will absolutely fall in love with our healthy pumpkin muffins. They are light, fluffy, spicy and sweet, and wait for it…gluten free! Though you'd never, ever know it. They're THAT good. 😎 🍂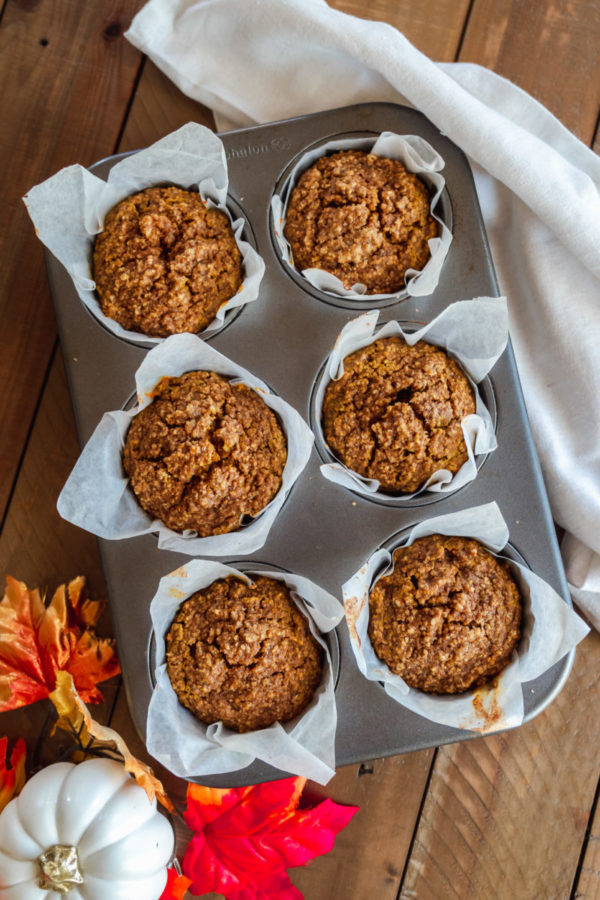 Ingredients For Gluten-Free Pumpkin Spice Muffins

It's one thing to bake healthy things, like these delicious pumpkin spice muffins, it's another thing to be able to actually explain to your friends and family what exactly makes them so healthy. To help, here's a breakdown of each standout ingredient, and what makes them so beneficial.
Oats

We put the oat in pumpkin oatmeal muffins. Literally. We ground them up into a flour and created the healthiest, most delicious pumpkin spice muffins you could ever imagine. Oats are a great source of fiber, specifically the powerhouse fiber beta-glucan. This particular fiber has been shown to help lower total cholesterol, as well as blood sugar and insulin levels. If that's not reason enough to make this gluten-free pumpkin muffins recipe, we don't know what is. [1,2]
Super Youth collagen

SkinnyFit Super Youth collagen adds a punch of protein that your usual, bakery muffins seriously lack. We packed in 14 grams of protein to this recipe, giving your muffins a healthy boost that you won't even notice! The unflavored collagen is best for baking because it's completely flavorless. Add it to just about anything (except water!) and you'll get more protein, without tasting it. Check out all the delicious and simple ways you can add unflavored Super Youth to your daily routine with these collagen recipes!   
Pumpkin puree

Pumpkin is not just a delicious fall flavor. It's high in heart-healthy Vitamins A & C, which help to fight oxidative damage, boost immunity, and support strong skin. These are key for fall months as the season begins to change, bringing drier weather and seasonal allergies. These pumpkin oatmeal muffins are a delicious and healthy way to include pumpkin into your diet. [3]
Maple syrup

Maple syrup is all-natural tree sap that offers the classic, rich aroma of fall. Though sugary, it is a much better alternative to artificial sweeteners. It also falls lower on the glycemic index than sucrose (cane sugar), maltodextrin, caramel, and molasses – which are all common sweeteners in pastries. Maple syrup also contains over 23 antioxidants and healthy doses of manganese and zinc! [4]
Coconut oil
Coconut oil is made up of MCT (medium-chain triglycerides), whereas most oils are made up of long-chain triglycerides. Unlike long-chain triglycerides, MCT goes directly to the liver and immediately helps to create energy. Not a coconut fan? Don't worry! You don't even taste it. No matter how you look at it, this gluten-free pumpkin muffins recipe is a must-try! [5]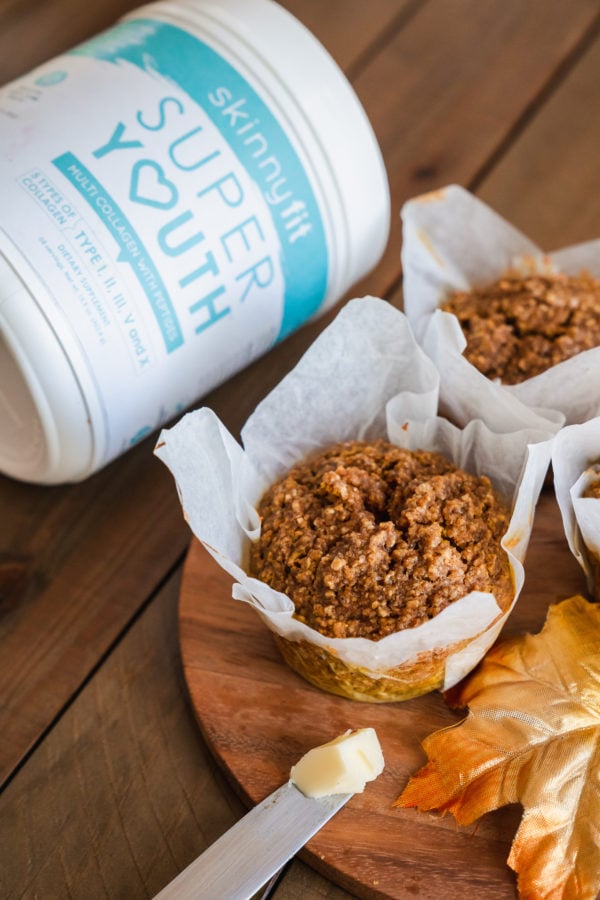 How To Make Healthy Pumpkin Muffins

Don't let the name fool you, these healthy pumpkin muffins are SO easy to make. They are beyond tasty, too, so you'll be making them again and again until your friends and family refuse any more pumpkin-flavored anything! ‍🙅‍♀ 😂
A simple way to make these pumpkin spice muffins even more festive is to use fall or Halloween muffin tin liners. If omitting the liners completely, make sure to thoroughly grease your muffin tin with a neutral oil cooking spray or butter. To make the muffins, start with the oat flour. It's quick! Just add oats to a high-speed blender or food processor for about a minute and, voila, you have oat flour! Add in the rest of your dry ingredients and give it a good whisk.
One of the most important parts of making muffins, and most baked goods, is to keep the wet and dry ingredients separate until they are to be combined. In other words, don't add the dry ingredients in, one-by-one. Mix all of the dry ingredients, then all of the wet ingredients, then combine! Once you're ready to combine, use a folding technique to incorporate the dry ingredients. View our tips on folding below. Over-mixing will result in dense, unpleasant muffins.
YOU MAY ALSO LIKE: How To Make Healthy Breakfast Blueberry Lemon Poppyseed Muffins!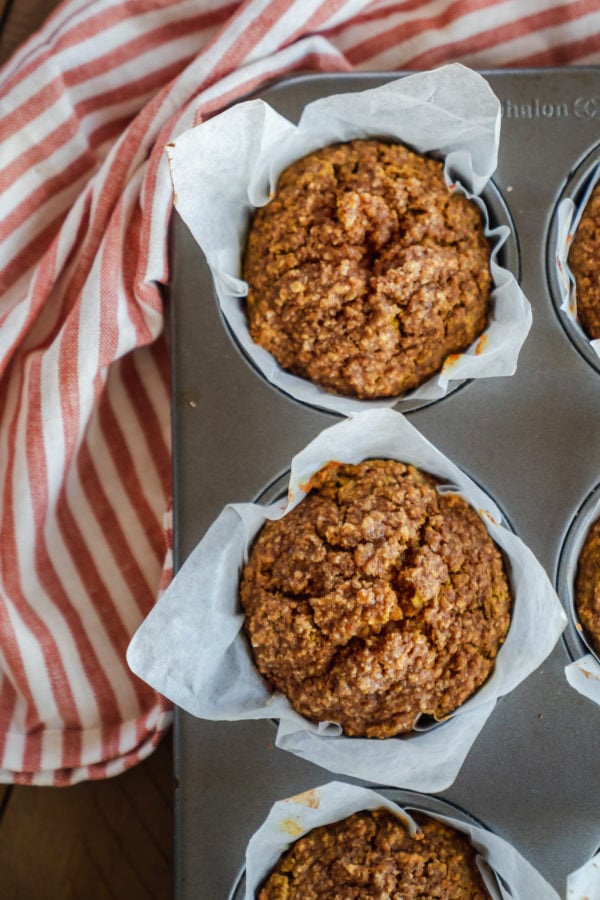 Tips for Making Super Moist Pumpkin Oatmeal Muffins
Rule of thumb when buying pumpkin puree (or any puree) – make sure it only has one ingredient. In this case, pumpkin! Avoid additives like cane sugar, gums, preservatives, thickeners, etc. It's usually safe to assume pumpkin puree will be 100% pumpkin, as opposed to pumpkin pie filling, but always check the label before buying! 
If you've dabbled in baking at all, you've read it a million times – mix the wet and dry ingredients separately, then fold them together. This is a VERY important step! If you overmix the wet and dry ingredients, you'll end up with hard, not moist muffins. If you're not sure how to fold ingredients, let us give you a crash course. Sprinkle the dry ingredients over the wet in one even layer, and, with a large spatula, begin to make large scoops. Slide the spatula along the side of the bowl to the bottom, then make large scooping motions to combine the ingredients. Try to do this fewer than 10 times, so make them count!
Make sure to keep an eye on them while baking! Every oven is different, and you don't want to end up with overcooked healthy pumpkin muffins. Pro tip: Set your timer for the lowest time recommendation and check on them until a center-poked toothpick comes out clean.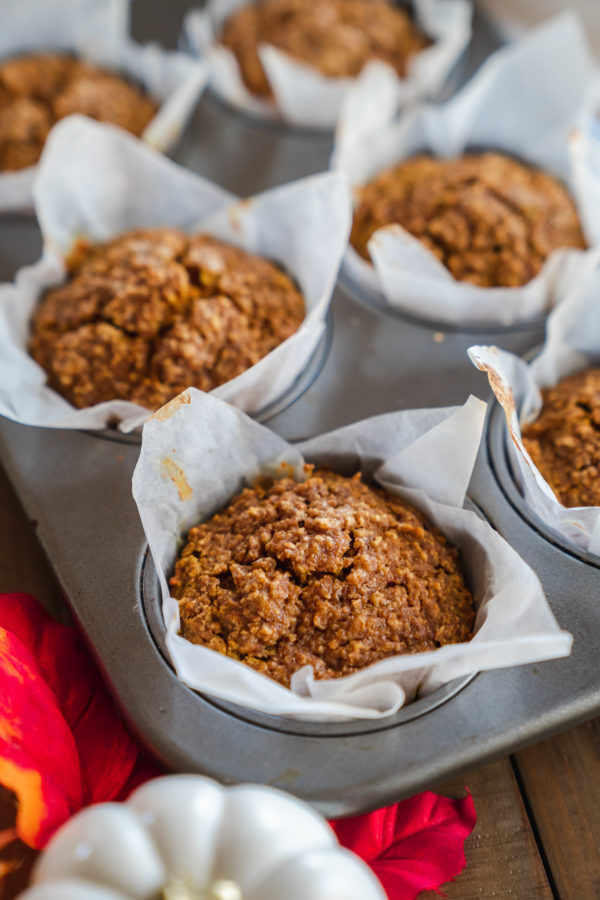 Healthy Pumpkin Muffins Recipe
Enjoy the warm and cozy fall vibes all year round with these healthy pumpkin muffins! Not only are they packed with fibrous and heart-healthy ingredients, but they are completely gluten-free!
Prep Time: 15 minutes
Cook Time: 15 minutes
Total Time: 30 minutes
Serving Size: 12 small
Ingredients
3 cups old-fashioned oats*
1 Tbsp pumpkin pie spice
1 ½ tsp baking soda
¾ tsp fine sea salt
2 eggs
2 scoops Super Youth collagen, unflavored
1 cup unsweetened almond milk
1 cup pumpkin puree
½ cup maple syrup
3 Tbsp melted coconut oil (or any mild-flavored oil)
1 tsp vanilla extract
Optional mix-ins: Raisins or walnuts
Optional toppings: Turbinado sugar for sprinkling
Steps
Preheat oven to 375°F. Line a 12-cup muffin pan (or a 6-cup large muffin pan) with parchment or cupcake liners, or lightly grease with cooking spray. Set aside.
Puree oats in a blender or food processor until they reach a flour-like consistency. Add in the pumpkin pie spice, baking soda, Super Youth Collagen, and sea salt, and pulse until mixture is evenly combined. Set aside.
In a separate large mixing bowl, whisk together eggs, almond milk, pumpkin puree, maple syrup, coconut oil and vanilla extract until evenly combined. Fold the dry ingredients in with the wet ingredient mixture, and stir until mixture is just combined.
Portion the ingredients into prepared baking cups. Sprinkle the tops with sugar if you'd like.
If you're using a 12-muffin tin, bake for 15-18 minutes. If you're using a 6-cup large muffin pan, bake for 25-28 minute or until a toothpick inserted in the center of the muffins comes out clean. Remove from the oven and place the pan on a cooling rack for 5 minutes.
Serve warm or let the muffins cool to room temperature, then store in a sealed container for up to 3 days, or freeze for up to 3 months.