Jump To Recipe
Learn how to make a meal replacement shake that will not only help you lose weight but will give you vibrant, glowing skin in the process! This is the best collagen smoothie recipe for fast results!
Attention health and beauty fanatics! I'm about to share with you a shockingly simple and delicious recipe that will not only accelerate your weight loss goals but will give you vibrant, glowing skin in the process! A healthy meal replacement shake is most notably known for its weight loss benefits—but with the right ingredients, you can actually achieve skin so smooth and beautiful people will think you're 10 years younger!
This collagen shake recipe will save you time, calories, and some extra cash that you'd most likely be spending on skincare products! You can learn how to make a meal replacement shake with the beauty benefits of collagen in just 6 simple steps…

How To Make A Meal Replacement Shake
Learning how to make a meal replacement shake is super simple and only takes just a few ingredients! Of course, you can switch out the ingredients with others if you'd like but we already created a delicious recipe that you can drink every single day and never get sick of! So here is a step by step guide to creating the best healthy meal replacement shake!
1. Select your base liquid
The first thing you will need to do is decide on what liquid to use as the base of your collagen shake. I have been making meal replacement shakes for nearly ten years and have learned that the texture and consistency of your liquid can make a huge difference in how the shake turns out. I've tried it with almost everything and my personal recommendation would be to use a non-dairy milk, like almond milk, especially if you're looking for a lower calorie, healthier option. I've also found that using water can make the shake, well, watery. The mouthfeel of a meal replacement shake is essential if you want to rely on it as an entire meal so do yourself a favor and go with almond milk or any other non-dairy milk!

2. Choose your protein aource
Adding a protein supplement to your shake is really going to add substance to your shake. Protein is known to keep you feeling fuller for longer, curbs cravings, and replenishes your muscles with essential amino acids that boost recovery! For this recipe, we used SkinnyFit Super Youth which is actually a multi-collagen peptide blend!

Super Youth is odorless and flavorless which is perfect for a meal replacement shake recipe because it allows you to get creative with the rest of your ingredients! I can't tell you how many times I've used a unique flavored protein powder that just tasted awful with the rest of the ingredients I used. WARNING: Chocolate does NOT go with everything (lol).
3. Add healthy macronutrients
Macronutrients are the foods we eat that provide us with the most energy (ie: carbohydrates, fats, and proteins). Protein and carbohydrates provide 4 calories per gram (4kcal/g) and fats provide 9 calories per gram (9kcal/g). For your macronutrient additions to your collagen shake, we recommend using a nut butter! Nut butter is 9kcal/g and is an excellent source omega-3s and healthy fats!
4. Add micronutrients
Similar to macronutrients, micronutrients are foods that we eat but they provide little energy relative to macronutrients. Micronutrients are known to provide an incredible amount of vitamins and minerals and are typically much lower in calories. Fruits, vegetables, and seeds are all healthy examples of micronutrients and are a simple and nutritious addition to a healthy meal replacement shake.
5. Spices, herbs, and extracts
If you want to take your collagen shake to the next level then I suggest adding in some flavorful spices, herbs, and extracts! Spices like cinnamon and turmeric, aromatic herbs like coriander, basil, or parsley, or natural extracts like vanilla or almond can really add a lot of additional flavor to your smoothie!
6. Blend
Now that your collagen smoothie is assembled, the only thing left to do is add ice and blend! If you were going to add any fruits to your smoothie I recommend using frozen fruit in lieu of ice. It gives the smoothie a thicker consistency and more flavor! Make sure to blend your smoothie for at least 20-30 seconds to make sure everything is broken down so your shake is lump-free!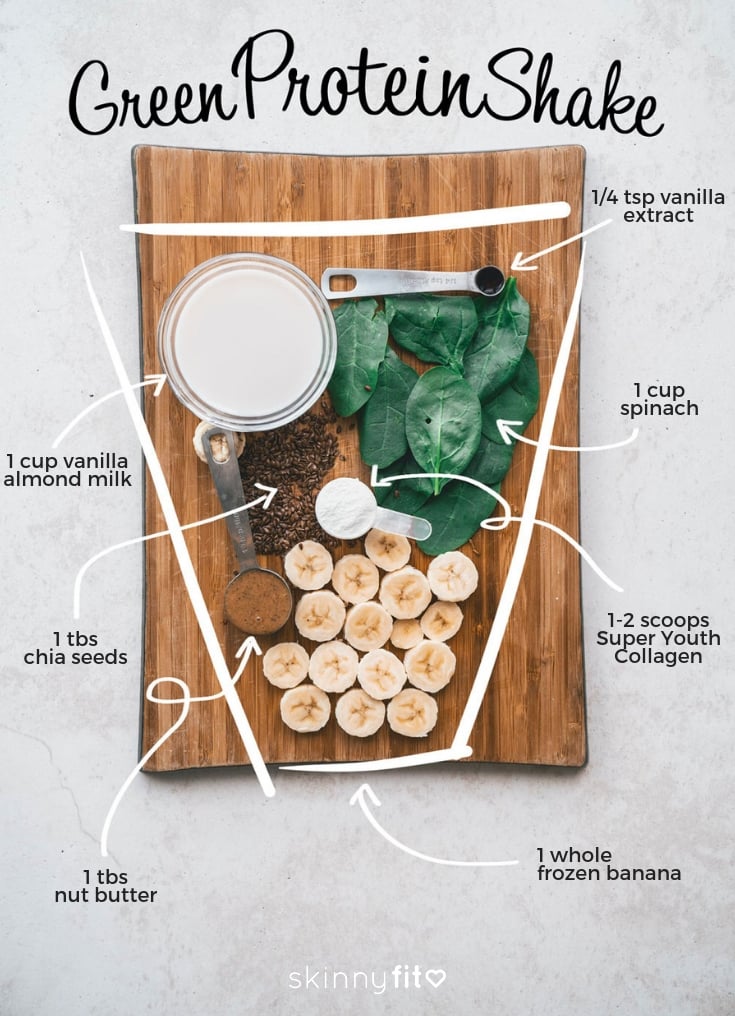 Health Benefits In A Collagen Shake
Because Super Youth is the main ingredient responsible for the amazing beauty benefits in this recipe, it's definitely an ingredient you won't want to leave out! Collagen is the most abundant protein in our bodies and as we age, our collagen storage begins to decline… and we can't make more of it!
Think of collagen as the glue and holds our bodies together—like the connective tissues of our vital organs, joints, ligaments, and tendons, to our hair, nails and the dermis layer of our skin. Collagen supports everything and once it begins to deplete you experience dry and sagging skin, wrinkles, stretch marks, cellulite, dry and brittle hair, and nails, joint pain, and digestive issues.
Taking 2 scoops of collagen each day can restore your collagen supply and essentially reverse the signs of aging! Leaving with you with smooth, vibrant, wrinkle-free skin! SkinnyFit Super Youth is the highest quality collagen peptide powder on the market and it provides 5 different types of collagen from 3 different sources! To read more about Super Youth and the health and beauty benefits of taking collagen click this link, right here.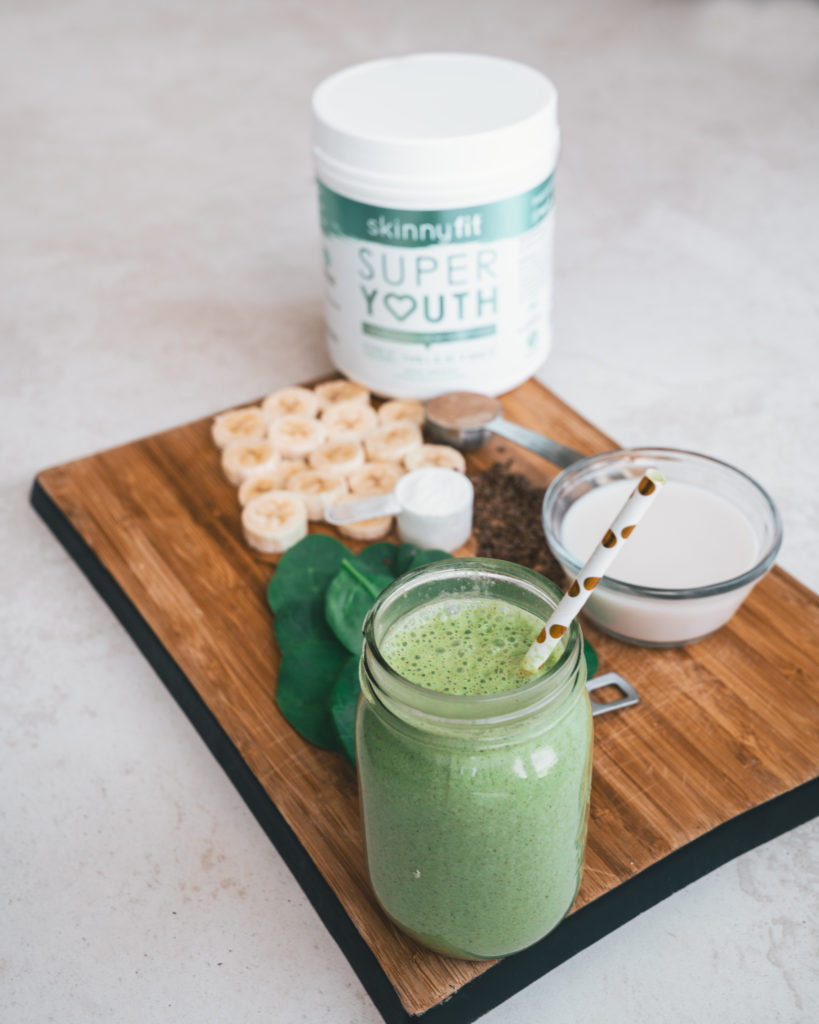 How To Make A Meal Replacement Shake For Glowing Skin
Learn how to make a meal replacement shake that will not only help you lose weight but will give you vibrant, glowing skin in the process! This is the best collagen smoothie recipe for fast results!
Prep Time: 5 minutes
Cook Time: -
Total Time: 5 minutes
Serving Size: 1 Shake
Ingredients
1 cup Almond Milk (or non-dairy milk)
2 scoops Super Youth Collagen
1 cup spinach
1 frozen banana
1 tbs nut butter
1 tbs flaxseed (ground or whole)
1/2 tbs vanilla extract
1 tsp cinnamon
ice (optional)
Steps
Add all ingredients into a powerful blender and blend until smooth
Total Calories: 315
Carbs: 31g
Fats: 13g
Protein: 23g
Sugar:
Fiber: 13g