Jump To Recipe
If you love pumpkin pie and whipped cream you'll love this delicious and simple light pumpkin pie parfait recipe! Same great taste but with half the calories!
I can't think of a better way to continue celebrating the holidays than eating all the leftover food. I mean, seriously, think about it… leftovers sometimes taste better than the original holiday meal because it's your last opportunity to hold onto the simple pleasure of vegging out on the couch, day drinking with a hefty pour of your favorite wine, and getting a free pass to an all-you-can-eat buffet.
But unfortunately, the leftover tradition has some consequences. As fantastic as it feels in the moment, allowing yourself to indulge in an extra day of binge eating can do some serious damage to your health, waistline and can open the floodgates to a series of excuses that can prevent you from reaching any weight loss goals.
I'm pleased to report that a solution to this predicament has been found—it's a lighter version of a holiday favorite, a traditional pumpkin pie. We created this light pumpkin pie parfait that satisfies cravings without sacrificing all the calories.
How To Make A Light Pumpkin Pie Parfait
For this recipe, you'll need SkinnyFit Super Youth. SkinnyFit Super Youth is a multi-collagen peptide powder that can be added to any hot or cold food or beverage! The reason this is so essential is that it not only adds a ton of healthy protein to your dessert, it helps slow the signs of aging! It's basically essential for any recipe nowadays since it has virtually no taste whatsoever but just tastes like whatever you're mixing it with! If you want to alleviate joint pain, smooths some wrinkles, tighten sagging skin, grow longer and thicker hair and nails, Super Youth is a must have for all your cooking and baking ventures.
This delicious and simple light pumpkin parfait tastes just like regular pumpkin pie and whipped cream, but with half the calories! All the ingredients are healthy, nutritious, and will get rid of any guilt that comes with eating real pumpkin pie!
Simply make the pumpkin filling, layer it with a Super Youth infused greek yogurt, and top with your favorite pie toppings! We used pecans and maple syrup!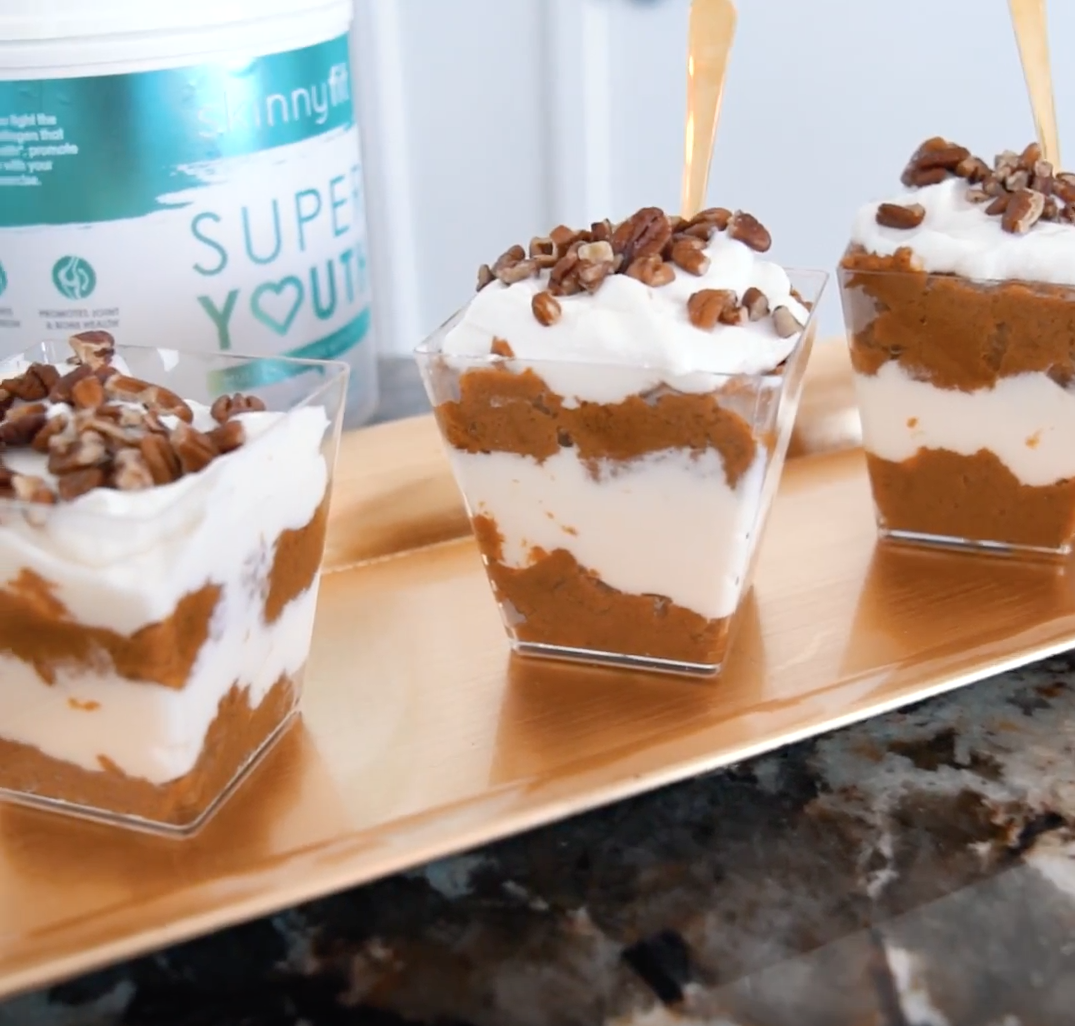 Light Pumpkin Pie Parfait Recipe
If you love pumpkin pie and whipped cream you'll love this delicious and simple light pumpkin pie parfait recipe! Same great taste but with half the calories!
Prep Time: 15 minutes
Cook Time: 30 minutes
Total Time: 45 minutes
Serving Size: 4 parfaits
Ingredients
1 can (14 oz) pumpkin puree
2 eggs
1 tablespoon lemon juice
¼ cup almond milk
¼ cup pure maple syrup
1 ½ tablespoons pumpkin pie spice
½ teaspoon salt
2 cups non-fat Greek Yogurt (Vanilla)
2 scoops Super Youth
Pecans (for toppings)
Steps
Preheat the oven to 350 degrees.
In a large bowl, combine the pumpkin puree, eggs, lemon juice, milk, maple syrup, pumpkin pie spice, and salt. Stir until thoroughly combined. Pour the mixture into a baking dish. Bake for 30 minutes. When baking is complete, let the mixture cool for at least 10 minutes.
While pumpkin mixture is baking, add Super Youth to the greek yogurt and mix until blended.
To assemble the parfaits, layer ¼ cup of the pumpkin mixture into the bottom of a small glass or jar. Then, layer ¼ cup of the Super Youth yogurt over the pumpkin mixture. Repeat with another layer each of pumpkin mixture and yogurt.
Top each parfait with pumpkin spice pecan granola, a drizzle of maple syrup, and extra nuts if desired.
Total Calories: 197
Carbs: 34.2g
Fats: 2.7g
Protein: 14g
Sugar: -
Fiber: 3g