Jump To Recipe
If you love piña coladas but hate all the excess calories and sugar then you will love this healthy piña colada smoothie recipe!
Who doesn't love themselves a good piña colada? The smell of coconuts, pineapples, and rum swirling together can send anyone into a coma of relaxation—and wishing they were on a beach somewhere, am I right?! Although delicious, piña coladas are known to be high in calories, high in fat, and high in sugar—and that, in and of itself, can be a huge deterrence from enjoying one from time to time.
A healthy piña colada smoothie, on the other hand, can give you those same island vibes but without all the excess calories and guilt! So, here is a quick and easy recipe for a healthy piña colada with collagen!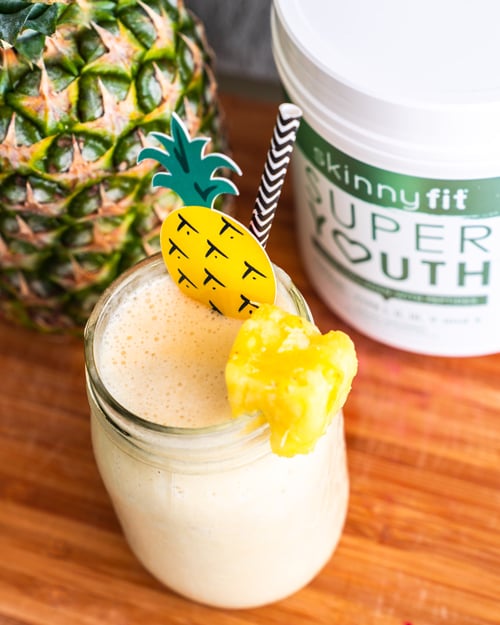 How To Make A Healthy Piña Colada
The quickest way to save calories with a piña colada is to ditch the alcohol. I know, I know… but alcohol by itself is actually 7 calories per gram! And what's worse is that it has ZERO nutritional value whatsoever—in other words, you are drinking empty calories. So if you are on a weight loss program, empty calories are basically your worst enemy.
The next thing you can do to lower the calories is to reexamine the coconut milk and opt of a lighter version. A traditional piña colada recipe uses coconut cream—and one cup of unsweetened coconut cream is a whopping 560 calories! Holy mackerel! But swapping out the coconut cream for a light coconut milk can save you hundreds of calories (and a sugar crash!) One cup of unsweetened coconut milk provides only 80 calories per cup! What a difference! 😱
Now, as you may or may not have heard, fruit juices are hidden calorie culprits— as they are packed with sugar! To make this healthy piña colada smoothie, we replace the pineapple juice that is used in a traditional piña colada with fresh pineapple chunks! And if I'm being perfectly honest, I think the fresh pineapple brings out more flavor and even creates more natural texture to the smoothie than if we were to use pineapple juice.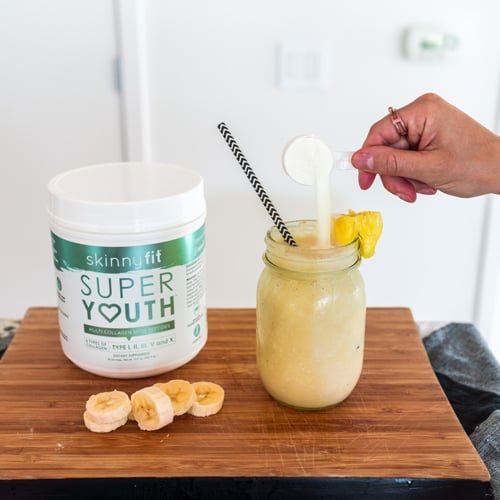 A Piña Colada With Collagen?
I know what you may be thinking… collagen? Well, if you have never tried collagen before, let me tell you— girrrrrrrrrl… you're missing out! Collagen is the newest, viral beauty trend that will never go out of style. Why? Because collagen is actually made naturally in your body and is what's responsible for keeping your skin looking young, your hair and nails lookin' fresh, and even helps ease joint pain and leaky gut!
As we age we begin to lose our body's natural collagen storage—and we can't make more! This is when the signs of aging typically kick in: wrinkles, loose and sagging skin, stretch marks, cellulite, joint pain, digestive issues, the list goes on. But taking a high-quality collagen supplement like SkinnyFit Super Youth replenishes your body of its natural collagen storage and reverses the signs of aging! Helloooooooo, this sounds like a no-brainer!
And because Super Youth contains 7g of protein per serving and has virtually no taste or smell, its perfect to add into your smoothies! Can you say jackpot? 🙌🏽
It's time to cut calories, reverse the signs of aging, and feel healthier with this healthy piña colada smoothie recipe!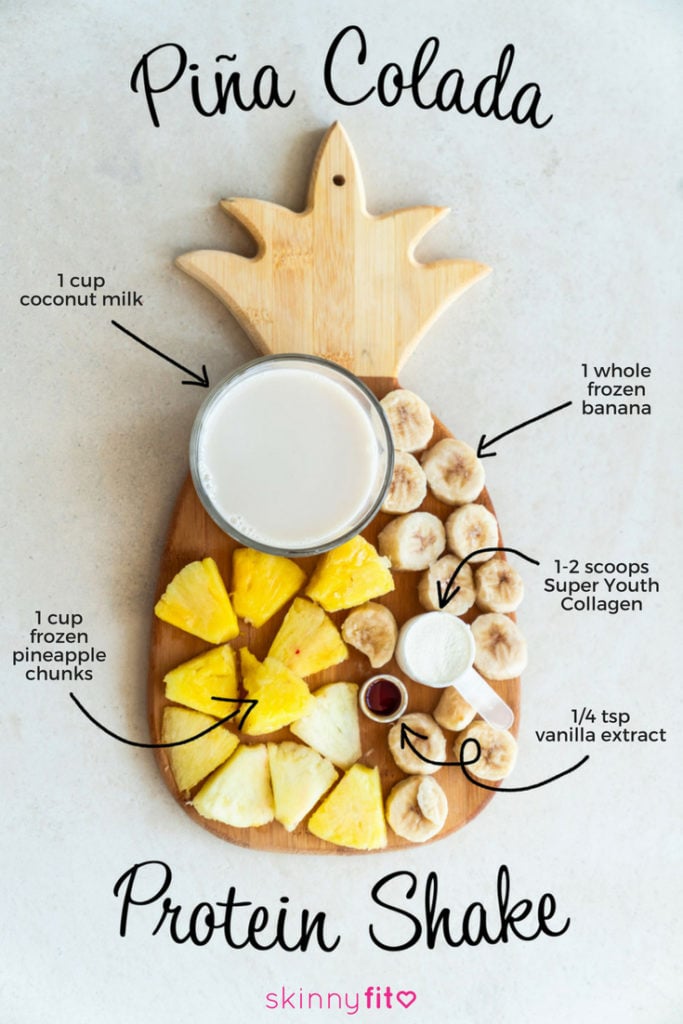 Healthy Piña Colada Smoothie Recipe
If you love piña coladas but hate all the excess calories and sugar then you will love this healthy piña colada smoothie recipe!
Prep Time: 5 minutes
Cook Time: -
Total Time: 5 minutes
Serving Size: 1 Smoothie
Ingredients
1 frozen banana (sliced)
2 cups frozen or fresh pineapple chunks
1 cup vanilla coconut milk (light)
1 tbs vanilla extract
1-2 scoops Super Youth Collagen
Steps
Pour frozen bananas, pineapple chunks, coconut milk, vanilla extract, and Super Youth into a powerful blender and blend until smooth. Enjoy!