Jump To Recipe
If you have a habit of skipping breakfast in the morning because you simply don't have time to eat, this protein overnight oats recipe is perfect for you!
Rise and shine people! If you're in desperate need of a super delicious, nutrient-packed breakfast that will put a halt to your rushed and chaotic mornings, well, look no further. This high protein overnight oats recipe will not only save you time, calories, and energy, but will actually have you looking and feeling better than ever!
The Most Nutritious High-Protein Breakfast
Rushing through your mornings often means less opportunity to eat a healthy, balanced breakfast. Sure, you can grab a granola bar on your way out the door, but highly processed breakfast foods, like bars, for example, are loaded with sugar, saturated fat, and aren't very nutritious at all!
You might even be thinking that you're doing yourself a favor by skipping breakfast altogether—well, I hate to break it to you, but, you're not. ‍♀️ Research studies indicate that skipping breakfast actually leads you to consume more calories throughout the day, and those who skip breakfast regularly are 4.5 times more likely to be at risk of diabetes [1].
So, moral of the story is that eating breakfast is actually super important to maintaining good health and a healthy weight. But if you're one of those people that can't find the time to make breakfast a priority and wonder what your options are—don't worry, I got'chu.
Protein Overnight Oats For Busy Mornings
Protein overnight oats are a great solution for anyone who struggles from the hustle and bustle of a busy morning. Why? Because it's a heart-healthy, fibrous breakfast option that only takes 5-minutes and just 5-ingredients to make! Mix all the ingredients in a mason jar or bowl and leave it in the fridge to chillax overnight, and that's it!
It's a perfect grab-and-go breakfast that's low-calorie and high in protein! The protein boost in this recipe actually comes from a blend of five different types of collagen peptides from three different sources, that are all conveniently found in SkinnyFit Super Youth.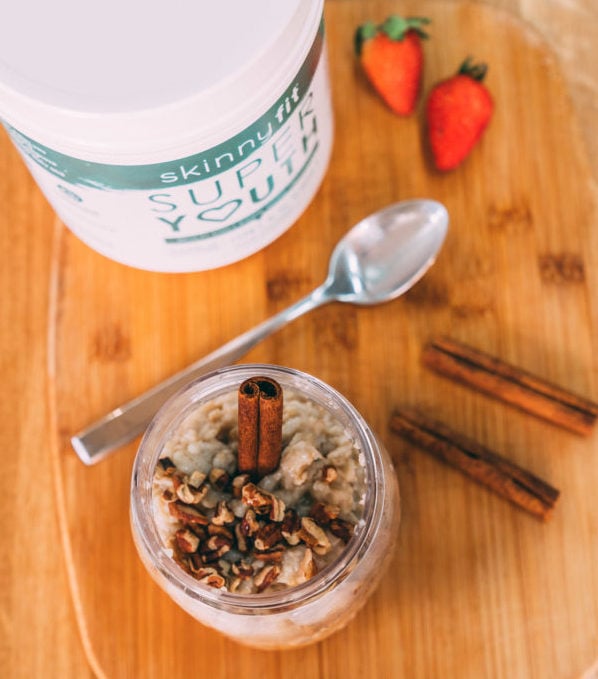 How To Boost Protein Overnight Oats With Collagen
Collagen is the most abundant protein found in the body, and as we age, our collagen storage begins to decline—causing the physical signs of aging (wrinkles, brittle hair, nails, and joints, digestive issues, sagging skin, etc.) Unfortunately, once we begin to lose collagen, we can't reproduce it, making the fight against aging more difficult as we get older.
But taking a collagen supplement, like SkinnyFit Super Youth, daily, replenishes your body of its natural collagen storage allowing you to look and feel years younger.
Collagen is full of protein and is a quick and easy way to ensure you're giving your body the nutrients it needs to develop lean muscle, feel strong, and fight off craving in between meals.
The Super Youth we added to this high protein overnight oats recipe is actually odorless and flavorless so you can't taste it all! It just tastes like the oatmeal breakfast!
An Overnight Oats Recipe Everyone Will Love
This recipe is delicious you can have it every single day and never get bored of it. What makes this overnight protein oats recipe so versatile is the flavor—it's neutral enough to add a variety of toppings but tasty enough to eat without any toppings at all.
We recommend adding different combinations of fruits, nuts, and spices to this overnight protein oats recipe so you can try a different flavor every day! And if you have picky eaters in your house, you can easily make a large batch recipe and let the kiddos add their own toppings!
Here's how you can make the best protein overnight oats recipe in just 5 minutes! But don't forget to add your Super Youth!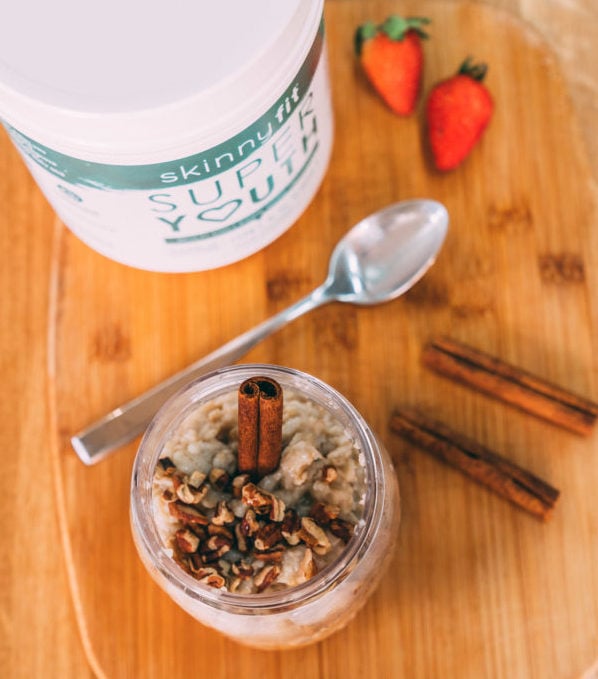 High Protein Overnight Oats Recipe
If you have a habit of skipping breakfast in the morning because you simply don't have time to eat, this protein overnight oats recipe is perfect for you!
Prep Time: 5 minutes
Cook Time: Overnight
Total Time: 5 minutes
Serving Size: 1 serving
Ingredients
½ cup rolled oats
1 scoop SkinnyFit Super Youth
¼ tsp vanilla
½ cup almond milk
¼ tsp cinnamon
¾ Tbsp pure maple syrup
nuts & berries for topping (optional)
Steps
Mix together oats and the Super Youth in a mason jar or bowl.
Add the vanilla, almond milk, cinnamon, and maple syrup and stir to mix well.
Refrigerate for at least 2 hours or overnight.
Serve with additional cinnamon, maple syrup and top with nuts and berries if desired.