Jump To Recipe
It doesn't have to be Valentine's day or a bad breakup to enjoy a box of truffles. Better yet, let's change the truffle narrative, shall we? 
Truffles for getting all four kids to school on time and avoiding coffee spills all day. Truffles for Mondays, because Mondays. Or my personal favorite, truffles just because! 
That's better.  😊
With fall in full force—and let's be honest, a few unused cans of pumpkin puree sitting around—it was time to create a festive fall truffle. PUMPKIN TRUFFLES. Pumpkin spice truffles, to be exact. They are decadent and rich, yet subtle with a hint of spice. They're perfect for a last-minute gift, a healthy option for movie night, or an easy, grab-and-go dessert.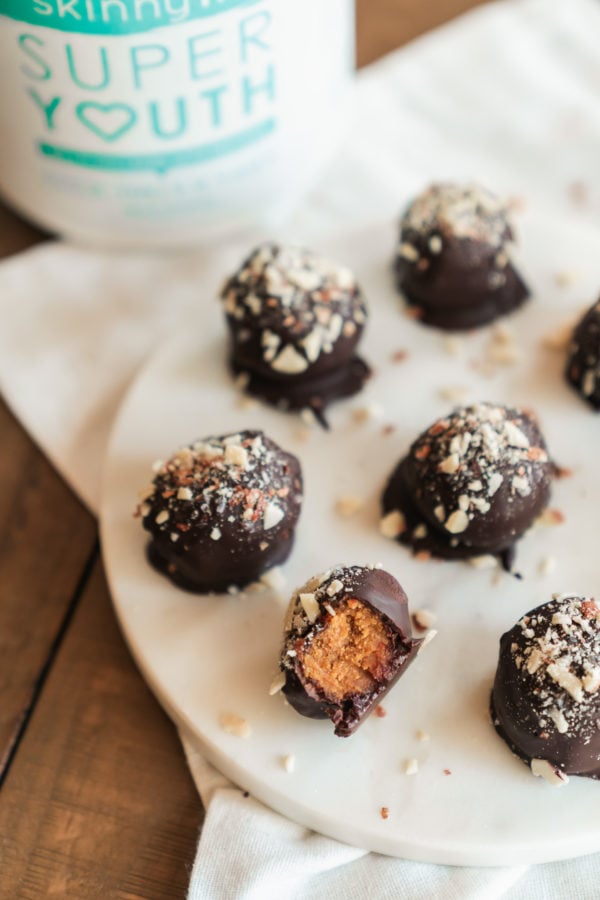 What Are Dessert Truffles?

Dessert truffles are simply bite-sized chocolate confections. They range from white to dark chocolate and have limitless filling options. They can be dusted in cocoa, rolled in coconut shreds, sprinkled with chopped nuts—the options are truly endless. Dessert truffles are so easy to spruce up or simplify. For fall, I love this pumpkin truffle recipe for so many reasons. For one, they are so easy to make. Secondly, they're much healthier than the traditional truffles made of heavy cream and sugar galore.
So what ingredients are in these heavenly pumpkin truffles that I speak of? Here's a breakdown of some superstar ingredients!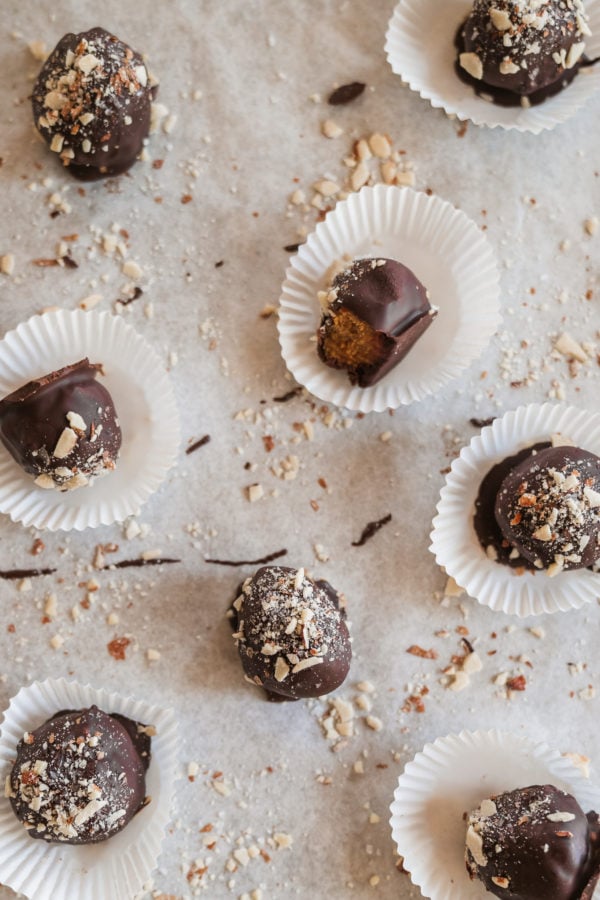 Ingredients In Pumpkin Truffles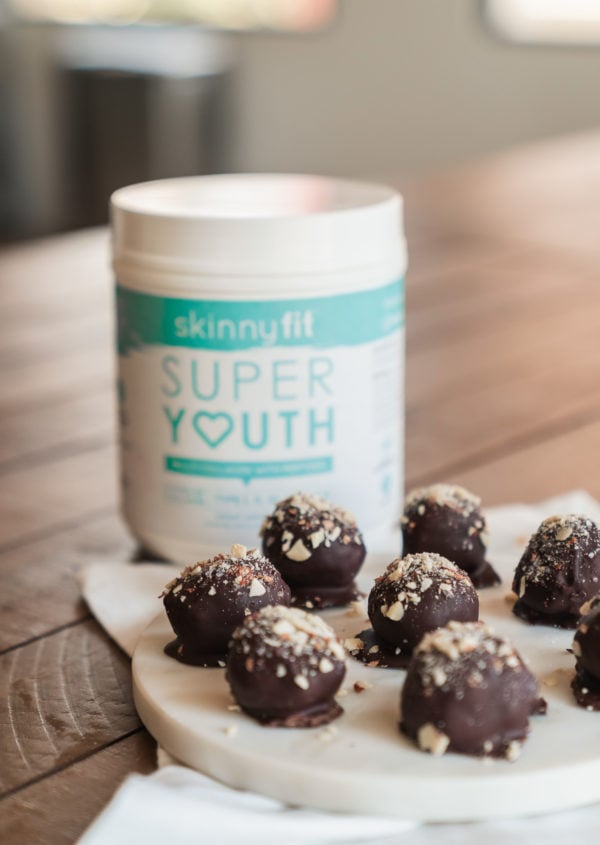 Are Pumpkin Spice Truffles Healthy?

Not all pumpkin spice truffles are created equally. These particular pumpkin truffles are not only healthier than most others, they are also soooo much more delicious! (In our humble opinion). We've all had a friend's so-called healthy treats and immediately wanted to spit them out. These are nothing like that. We kept all the delicious pumpkin, chocolatey flavors without sacrificing taste. To healthify these pumpkin truffles, we swapped fatty butter and shortening for heart-healthy almond butter, and subbed refined sugar options for low glycemic index maple syrup. To thicken up the filling, we used coconut flour instead of bleached white flour and coconut butter instead of heavy cream. Simple swaps like these are so easy to make a favorite treat, a healthy treat! I hope you love this healthy pumpkin spice truffle recipe as much as I do!
Nutrition Facts:

Despite their delicious and rich flavor, these little pumpkin truffles are actually healthy! Here's the nutritional information for one (1) dark chocolate pumpkin truffle.
Total calories: 77 calories
Protein: 2g
Fat: 7g
Carbs: 4g
Fiber: 2g
Sugar (natural): 1.4g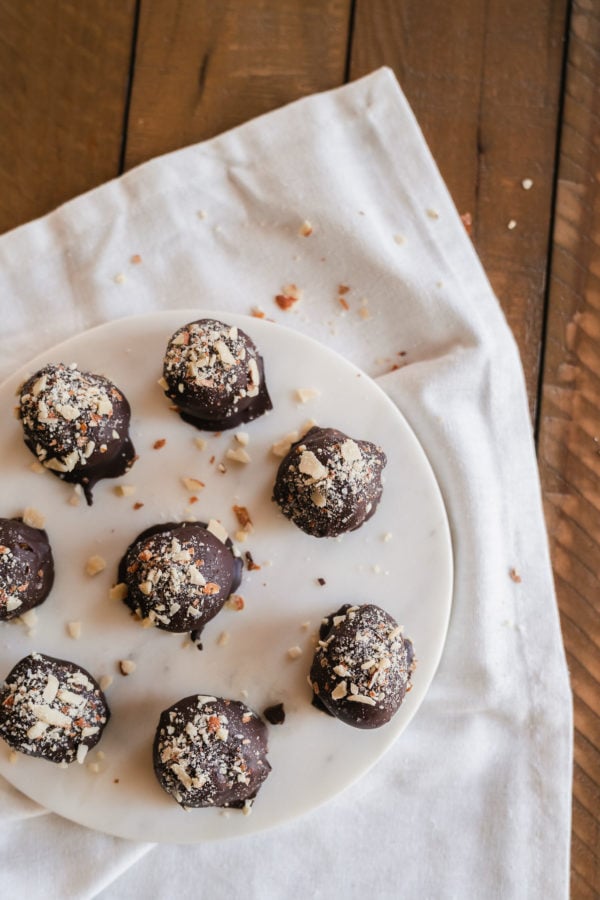 Dark Chocolate Pumpkin Truffles Recipe
These dark chocolate pumpkin truffles are the perfect sweet treat to enjoy on a cozy fall evening! This healthy, no-bake dessert will satisfy your sweet tooth (without the guilt!)
Prep Time: 15 minutes
Cook Time: 5 minutes
Total Time: 20 min + 30 min to chill
Serving Size: 12 small truffles
Ingredients
¼ cup almond butter
¼ cup pumpkin puree
1 scoop Super Youth collagen, unflavored
¼ cup coconut butter, melted
2 tsp maple syrup
¾ tsp pumpkin pie spice
Pinch of sea salt (if almond butter is unsalted)
1 tbsp coconut flour
6 oz. dark chocolate chips (~1 cup)
1/4 tsp coconut oil
1 scoop Super Youth Chocolate Cake collagen (for the chocolate lover who wants an extra boost of collagen)
Chopped or sliced almonds and coarse sea salt for garnish
Steps
Place almond butter, pumpkin puree, Super Youth unflavored, coconut butter, maple syrup, and pumpkin pie spice into a food processor and process until smooth, stopping to scrape down sides as needed.
Stop processor and add coconut flour. Process until a soft dough forms. If dough is too sticky, add 1-2 tsp of additional coconut flour.
Roll dough between your palms to form 12 equal-sized balls. Place on a plate in the fridge and allow to chill for at least 30 minutes.
When ready to dip, place chocolate chips and coconut oil into a glass bowl set over a pan of simmering water. Stir occasionally until the chocolate is completely melted and smooth. For an added boost of collagen, add Super Youth Chocolate Cake to the chocolate mixture and mix completely.
Using a fork or wooden skewer, carefully dip truffles one at a time into the melted chocolate, rolling and dunking until evenly coated on all sides.
Place the chocolate-dipped truffles onto a cookie sheet lined with parchment paper and sprinkle with chopped almonds, salt, and additional pumpkin pie spice before the chocolate hardens.
Transfer the baking sheet to the fridge until chocolate hardens.
Store truffles in a covered container in the fridge for up to 2 weeks, but, I don't think they'll last that long 😉
Total Calories: 77 calories
Carbs: 4g
Fats: 7g
Protein: 2g
Sugar: 1.4g (natural)
Fiber: 2g