Jump To Recipe
These 5-ingredient sugar cookies are so easy to make, they'll quickly become your go-to holiday cookie recipe and are just as delicious year-round!
If you're anything like me, you know how hard cravings can hit. They show up quickly and I'm pretty ravenous until I satisfy myself with whatever it is I want—usually something sweet. Which is why I always make sure to have fast, and easy recipes on hand. I used to spend hours browsing through easy sugar cookie recipe posts, only to end up with a mediocre batch of cookies. Now, I use my trusty 5 ingredient sugar cookies recipe. They're the perfect holiday cookies for feeling satisfied, getting in the holiday spirit, and sneaking in some of my favorite collagen!

Easy Sugar Cookies Recipe 
Let's keep the secret ingredient for these 5 ingredient sugar cookies between us, okay? It's the reason these holiday cookies are so high on my easy sugar cookie recipe list. It's easy to find, affordable, and delicious. Are you ready?
It's boxed cake mix.
Hold your gasp! I know, I know, but please don't knock it until you try it. If these don't become one of your favorite holiday cookies, take it up with Betty Crocker, but I promise you you're going to love them. Hear me out—most of the 5 ingredient sugar cookies I've made ended up falling apart, lacking flavor, or both. This secret ingredient allows us to pack more than five ingredients into, well, five! So, even though this easy sugar cookie recipe truly is a 5 ingredient sugar cookies recipe, it packs in the flavor of a 10+ ingredient, 10 step recipe!
Healthy Holiday Cookies Everyone Will Love 
While I can't lie and say the secret ingredient in these holiday cookies is all that healthy, what I can promise is that we're sneaking in some beautifying collagen. One of my favorite uncles once told me, "If you're going to be bad, just be bad!" after hearing me complain that my vegan, gluten-free cookies didn't hit the spot. So, I've taken his advice while also staying true to my health goals. You can still indulge in delicious holiday cookies, but that doesn't mean we can't add in a bit of anti-aging protein!
I'd argue that Super Youth collagen is the second most important ingredient in these 5 ingredient sugar cookies. It adds 14 grams of protein in, and provides beautifying benefits like skin hydration, joint and bone health, hair and nail strength, and more. If I can get all that in a cookie by adding just one ingredient, I'm in!
Take my word for it and make these holiday cookies for your next party, girl's night, or family baking night. They're fast, easy, and sooo good!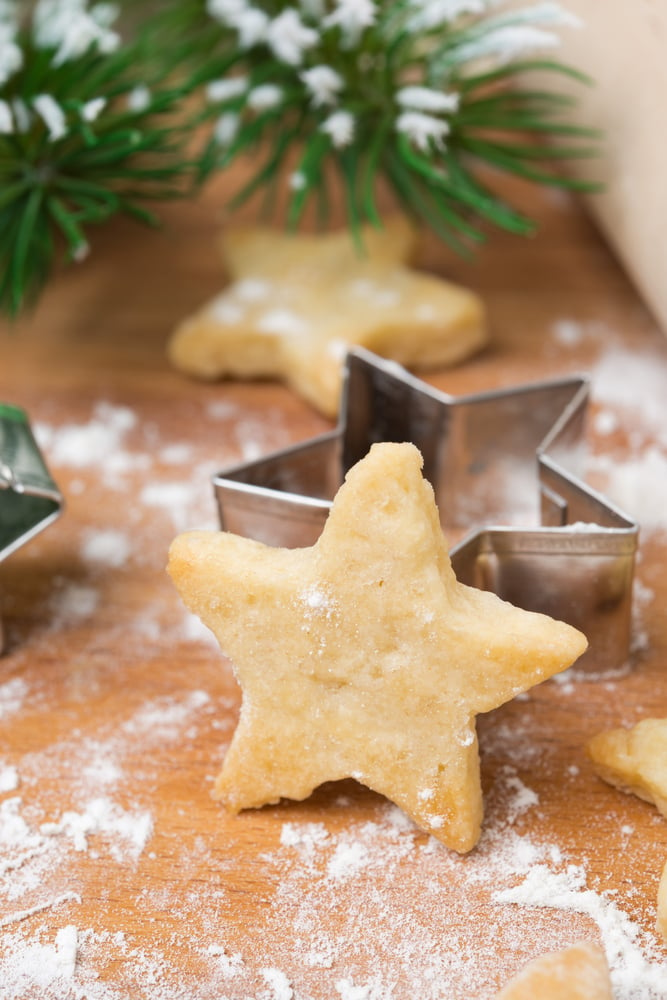 Healthy 5-Ingredient Sugar Cookies For The Holidays
These 5-ingredient sugar cookies are so easy to make, they'll quickly become your go-to holiday cookie recipe and are just as delicious year-round!
Prep Time: 5 minutes
Cook Time: 10 minutes
Total Time: 5 minutes
Serving Size: 28 cookies
Ingredients
1 box Super Moist French Vanilla Cake Mix
2 eggs
½ cup vegetable oil
⅓ cup sugar
2 scoops Super Youth collagen, Unflavored
Steps
Add the cake mix, eggs, oil, and collagen to a large bowl and mix until well combined and you have a dough. Place the dough in the refrigerator and chill for 1 hour. 
Add a sheet of parchment paper to a baking sheet and set aside. 
Preheat your oven to 350 degrees. When the dough is done chilling, roll out the dough with a rolling pin that's dusted with flour until the dough is about ¼ inch thick. Sprinkle your surface with a little bit of flour beforehand to prevent the dough from sticking to the surface.
Using your favorite holiday cookie cutters, press the cutters firmly into the dough and transfer the shapes to the cookie sheet and sprinkle with sugar. Repeat step 3 with any remaining dough until all of the dough has been used. 
Bake for 8-10 minutes or until the edges are golden. Allow the cookies to rest on the baking sheet before transferring them to a wire rack.
Add frosting and decorate to your liking, if you desire, and enjoy!