Jump To Recipe
It's not easy to admit this, but I don't love the taste of protein shakes. I'm a huge fitness fanatic, clean eating advocate and protein pusher, but it's so hard for me to choke down chalky protein powders, no matter how many ingredients I try to cover it up with. It took me years to surrender to my preferences, but I finally have come to terms with the fact that protein powder is not entirely superior to whole food protein sources. I've since made sooo many healthy smoothie recipes with plenty of protein, and zero chalk taste. 
Today I'll be sharing my favorite Summer Berry Smoothie that uses amazing sources of protein. It's so tasty, I guarantee you'll be drinking it all summer long!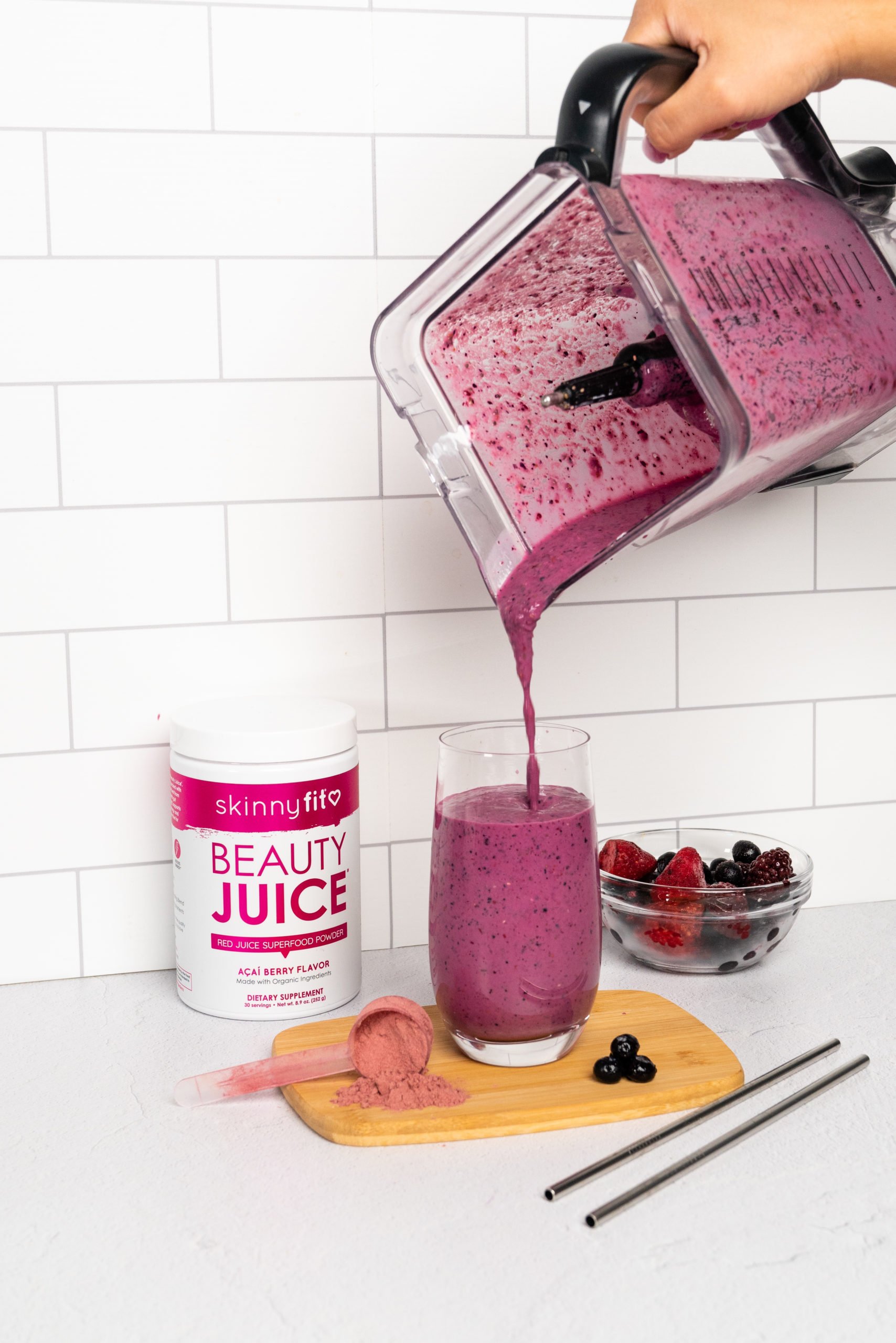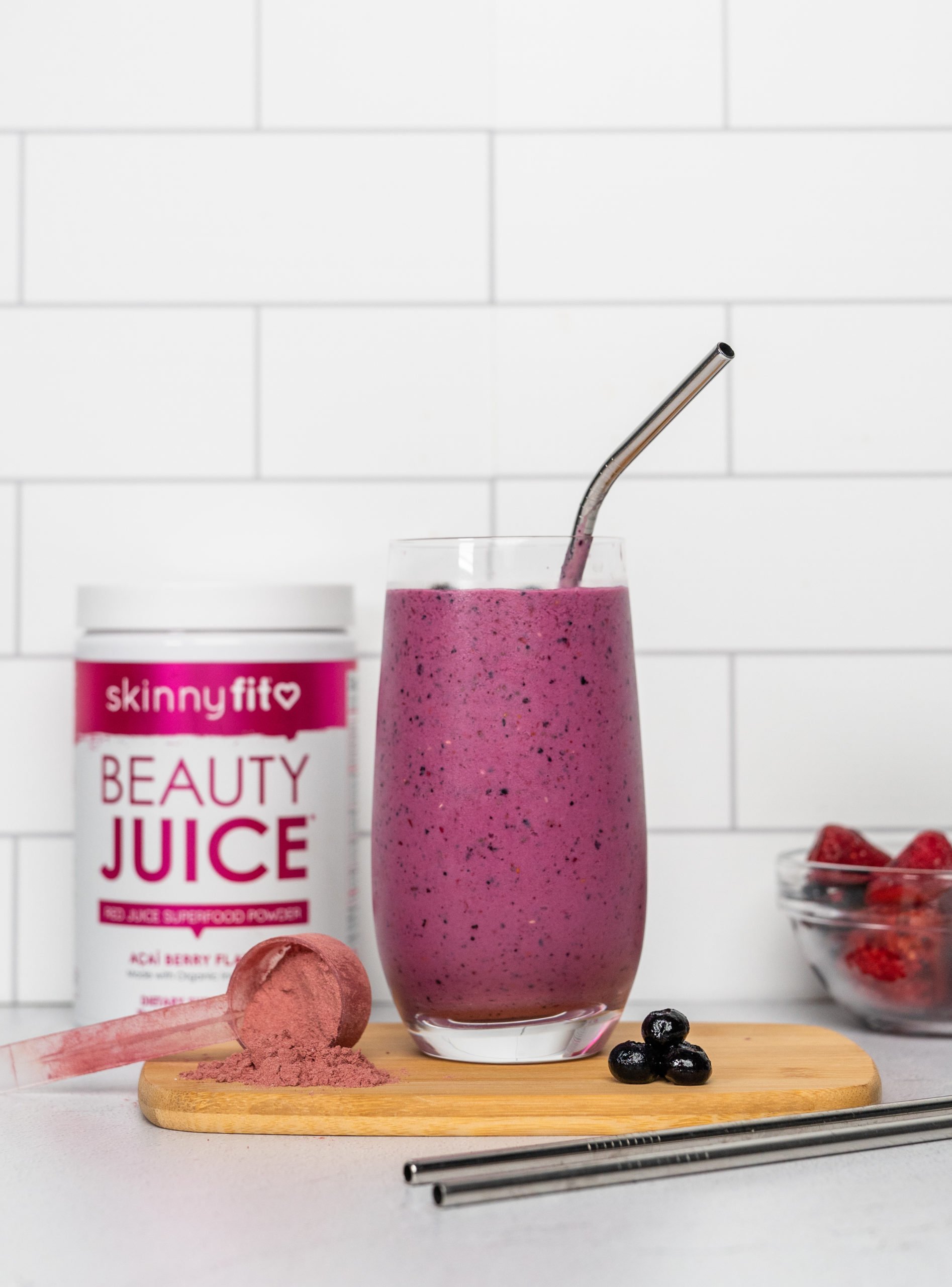 Health Benefits of Summer Berry Smoothie 
There are tons of healthy smoothie recipes that call for high-sugar ingredients. While they taste great, and certainly include some healthy ingredients, I define healthy a little differently. In my eyes, all healthy smoothie recipes should include: 
Protein
A fat source
A hefty amount of antioxidants 
All of which are included in this Summer Berry Smoothie!
The protein in this smoothie is powered by Greek yogurt and chia seeds. Greek yogurt is not only a great source of animal protein, but it's also packed with healthy pre- and probiotics. One cup of Greek yogurt contains around 10 grams of protein, and chia seeds contain around 3 grams of protein per tablespoon.
Healthy fat can be found in the Greek yogurt and almond milk in this recipe. Protip: always opt for full fat yogurts. Fats are essential nutrients that our body thrives off of, especially our hormones! 
Last but certainly not least, anti-aging antioxidants! This smoothie is packed with skin healthy ingredients like blueberries, strawberries, vanilla, and the real star–Beauty Juice! Beauty Juice has an entire blend of powerful antioxidants to keep your mood and energy up, and help reduce the rate of aging. Antioxidants help keep our skin moisturized, free radicals at bay, reduce bloating, and so much more!
I know you're going to love this recipe for your mind, body and skin!
Energizing Summer Berry Smoothie
Enjoy this delicious Summer Berry Smoothie that has anti-aging ingredients and tons of protein from natural sources!
Prep Time: 5 min
Cook Time: 0 min
Total Time: 5 min
Serving Size: 1 smoothie
Ingredients
1 cup plain Greek yogurt
1 cup frozen blueberries & strawberries
1 tbsp chia seeds
½ cup ice
0.5 tsp vanilla extract
1 scoop Beauty Juice
½ cup almond milk
Steps
In a blender, combine yogurt, berries, vanilla extract, chia seeds, Beauty Juice, and ice.
Blend until smooth.
Enjoy!