Jump To Recipe
Skip the overpriced smoothie shop and opt instead for this healthier, body-loving acai smoothie to help keep your weight loss goals on track.
While losing weight is an exhilarating feeling, the process comes with a few challenges. For starters, if you want to lose weight, you must put your body in a calorie deficit (eating fewer calories). At first, this can make you feel like you're low on energy. And once you add daily exercise to the mix, chances are you'll feel pretty exhausted. This delicious acai smoothie recipe is the perfect snack to add to your daily routine if you want to lose weight (and keep your energy levels up!) 
I've created my fair share of smoothies, but never has one packed so many body-beneficial ingredients until now. Why? How? Because I've included not one, but two secret ingredients that will elevate a traditional acai blueberry smoothie into one that will provide more benefits that I'm sure you'll appreciate.
And by making this energizing acai smoothie at home, you'll save some moolah while skipping out on excess sugar and calories smoothie shops tend to add. Let's get blending, shall we?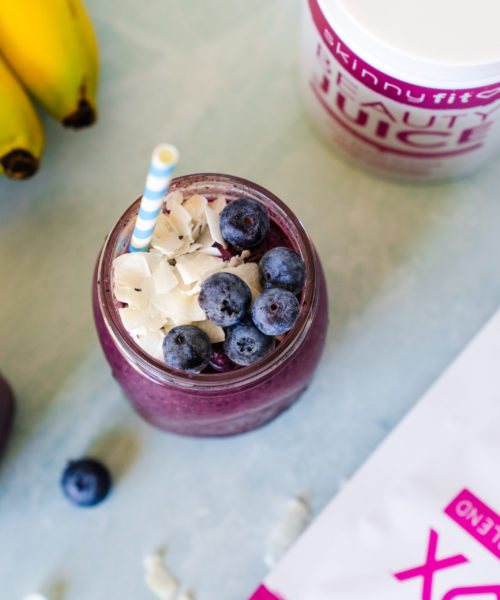 Acai Smoothie Health Benefits
This tiny (but mighty) superfood has risen in popularity not just for its incredible health benefits, but for becoming the star ingredient in the Pinterest-worthy acai bowl, that I'm sure you've seen on the menu of your favorite trendy cafe. Here are some awesome benefits you can expect from this acai smoothie recipe.
High in antioxidants—This acai blueberry smoothie is loaded with antioxidants, which help protect your cells from the damaging effects of free radicals. 
Nutrient-dense—Unlike most fruits, acai is high in fat and low in sugar. They also contain vitamin A and calcium.
Improves brain health—The plant compounds found in acai berries could potentially help protect your brain from damage as you age, [1]  and antioxidants can help reduce inflammation and improve memory. 
But wait, there's even more AWESOME in this acai smoothie recipe…
Other Health Benefits Of This Blueberry Acai Smoothie
This acai smoothie doesn't stop there! Here are some of the other awesome ingredients your mind, body, and taste buds will thank you for!
Blueberries—Blueberries are packed with nutrients like fiber, vitamin C, vitamin K, and manganese. And just like acai berries, blueberries also have a TON of antioxidants. In fact, blueberries have some of the highest amounts of antioxidant levels within the fruit family. This is an acai blueberry smoothie for the books! [2]
Bananas—Bananas contain important nutrients like potassium, vitamin B6, vitamin C, magnesium, fiber, and protein. Bananas may also help improve digestion due to their fiber content. 
Detox tea—SkinnyFit Detox is one of the secret ingredients I mentioned earlier. It contains 13 powerful metabolism-boosting superfoods that help achieve a healthy weight, reduce bloating, and release harmful toxins that can build up over time. The perfect addition to this acai smoothie recipe!
Beauty Juice—SkinnyFit's Beauty Juice is a red juice superfood powder that not only tastes delicious, but contains 36 mood-boosting adaptogens, gut renewing pre-and probiotics, as well as anti-aging and anti-inflammatory ingredients. Can the acai smoothie at your local cafe do that? I don't think so.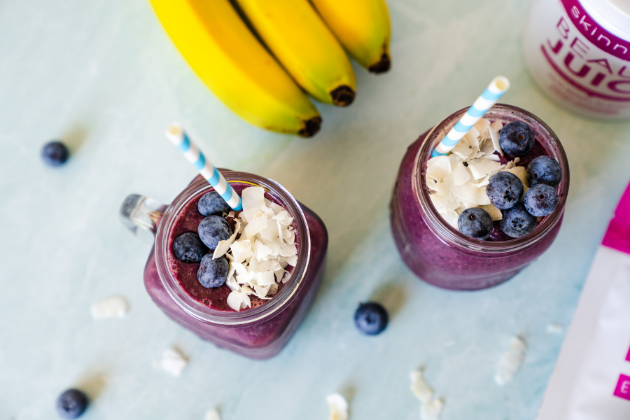 How To Make An Acai Smoothie
Making an acai blueberry smoothie is easy! Because fresh acai berries have a short shelf life and are only available where they're grown, they are exported here and sold either frozen or as a dried powder or pressed juice. Take a quick trip to the frozen fruit section at your local grocery store and you'll find a simple, ready-to-make frozen acai smoothie pack. 
To make this acai smoothie recipe even easier, you can pre-make your Detox tea so it's ready when you are. Brew your Detox tea the night before and let sit in the fridge overnight. Then, wake up and get to blendin'! 
Yes, it's that simple—Add dates to your acai blueberry smoothie for extra sweetness, or add some coconut flakes on top for some extra YUM! No matter how you prepare this acai smoothie recipe, your packing in important nutrients that you can easily take with you on-the-go.
Mentioned In This Post
Beauty Juice Red Superfood Powder
Beauty Juice is a delicious adaptogenic, anti-inflammatory superfood blend containing all of your essential daily nutrients in one simple, açai-flavored scoop!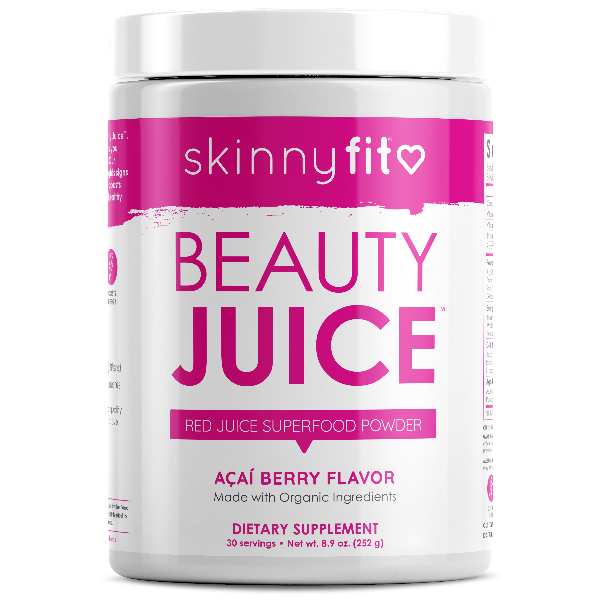 Blueberry Acai Smoothie
Get to your fitness goals faster with this energizing blueberry acai smoothie
Prep Time: 5 min
Cook Time: 0 min
Total Time: 5 min
Serving Size: 2 smoothies
Ingredients
1/2 cup non dairy milk
2/3 cup brewed Detox tea
1 frozen acai smoothie pack
1 cup wild blueberries, frozen
1 frozen banana
2 scoops Beauty Juice Superfood Powder
¼ cup walnuts
1-2 medjool dates, optional for sweetness
Fresh blueberries & coconut flakes for topping, optional
Steps
Add milk, dates, and nuts to a blender. Blend until smooth.
Add acai, berries, and banana. Add optional ice, Blend until creamy. Enjoy!