Jump To Recipe
Healthy, crispy, and game day approved! You'll love these delicious, low-calorie air fryer chicken wings for easy cooking!
If you're like pretty much everyone, you've recently stocked up on the most popular cooking product of the year, an air fryer. Once I got mine, it was hard to imagine how I cooked without one!
Air fryers are amazing because they quickly cook the delicious foods you love in a healthier, non-greasy way, and the recipe possibilities are endless. When thinking about my next air fryer adventure, I thought about the American classic foods I adore, but that rarely had a healthy version via restaurants. Enter air fryer chicken wings! 
Game day just got a whole lot tastier, and you'll be proud to serve the chicken wings in air fryer version, because you still get the same great crispiness you love, without the trans fat and grease from your favorite wing spot. Plus, you even save some moolah with air fryer chicken wings vs. eating out!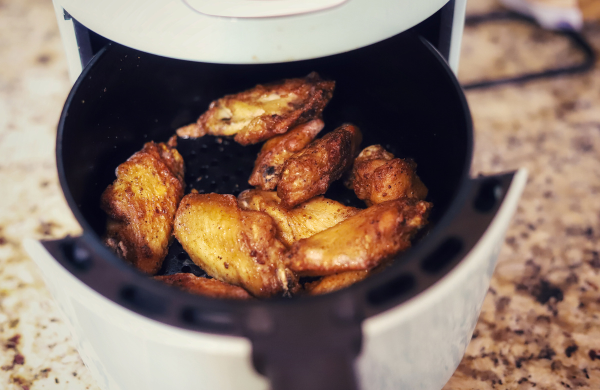 How To Make Air Fryer Chicken Wings
Air fryer buffalo wings are great because they taste better than any restaurant wings I've tried (trust me, I've had my fair share), and are ready in just 25 minutes! 
Coat chicken wings with seasoning
Place in air fryer at 400 degrees, 8 minutes per side
While chicken is cooking, mix buffalo sauce and collagen
When cooked, drizzle buffalo sauce and serve!
See below for full instructions on cooking chicken wings in air fryer. 
What Are Air Fryer Chicken Wings?
Air fryer buffalo wings are chicken wings made in the air fryer. By cooking your wings in the air fryer, you get that delicious, crispy skin, with juicy chicken meat in the middle—no chance of dryness from over cooking.
How long does it take to cook wings in an air fryer?
Mixing your seasoning and lining your air fryer with parchment paper is all it takes to prep your air fryer buffalo wings. After that, simply toss your chicken wings in air fryer for 16 minutes while you prepare the buffalo sauce. 
Making air fryer chicken wings is great for multi tasking on game day because you can just pop em' in and get to cookin' your other side dishes.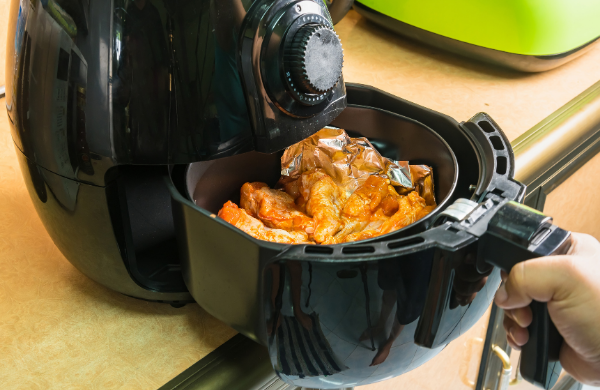 Is Cooking Chicken Wings In Air Fryer Healthier?
The common, traditional way of deep frying chicken wings, while delicious, means loads of fat and oil. Cooking chicken wings in air fryer is a more health-conscious way to enjoy the tasty snack you love. 
Less oil, fewer calories—Air frying vs. frying in oil can cut calories by up 80%, using less oil and grease, and fat.
Less harmful effects—Frying certain foods can create compounds like acrylamide, which is classified as a carcinogen, meaning it may be linked to cancer (1). Air frying your food may help lower the amount of acrylamide content.
Youth-activating ingredients—I've added Super Youth collagen to this recipe, so that while you're enjoying your wings, you're also smoothing out wrinkles and cellulite.
These air fryer chicken wings are a game day, or any day, touchdown. 🙌 They're crispier, faster, and cheaper to make than any wing shop, and you'll no doubt have fans asking for your recipe!
Air Fryer Chicken Wings
Easy, delicious, & oh-so-crispy air fryer chicken wings
Prep Time: 5 min
Cook Time: 15 min
Total Time: 25 min
Serving Size: 4 servings
Ingredients
1 lb chicken wings split into flats and drumettes
1 tbsp olive oil
2 tsp garlic salt
1 tsp lemon pepper
⅓ cup buffalo sauce
1-2 scoops Super Youth unflavored collagen
Ranch or blue cheese dressing (optional, on the side)
Steps
Thoroughly pat dry chicken wings with paper towels and place in a mixing bowl.
Coat in 1 tbsp oil then sprinkle on 2 tsp garlic salt and 1 tsp lemon pepper. Toss to evenly coat with seasoning.
Line the air fryer basket with parchment paper or foil. Place the chicken in the air frying basket, spacing evenly and air fry at 400˚F for 8 minutes per side, or a total of 16 minutes, or until chicken wings are crisp and golden brown on the outside. 
While the chicken is cooking, mix together the buffalo sauce and Super Youth collagen. 
Once the wings are done cooking, place them on a serving platter or bowl and drizzle with the buffalo sauce. Serve with ranch or blue cheese dressing.