Jump To Recipe
If you've never had an Aperol Spritz, you're in for a real treat. The iconic Aperol bottle can be found behind every bar, and gorgeous italian posters everywhere sport attractive men and women holding their very own Aperol Spritz filled glasses.
The first time I had my own spritzer was a few summers ago. Every single person (I kid you, not) at the hotel pool I was crashing had one in hand. After nearly an hour of watching orange glass after glass get poured, I had to ask for a glass of my own. "Your Aperol Spritz ma'am," the bartender said as he handed it to me. With one sip, I was hooked!
Now I associate the warmth coming out from hiding, a.k.a. summer, with the fruity, sparkling delicious flavors of the Aperol Spritz. But when summer dies down and everyone transitions toward drinking mules and warm cider, I still can't help but crave spritzers! Which is how I decided it was time to learn how to make an Aperol Spritz all on my own. Working with some of my own favorite flavors, I created this slimming Aperol Spritz recipe. It still has all of the citrusy and sweet hints of a classic Aperol Spritz, but with my own healthy twist added into it.
Whenever you're in the mood for some summertime vibes, you'll now know how to make an Aperol Spritz, which is kind of the same thing. 😂  I think you're going to love it!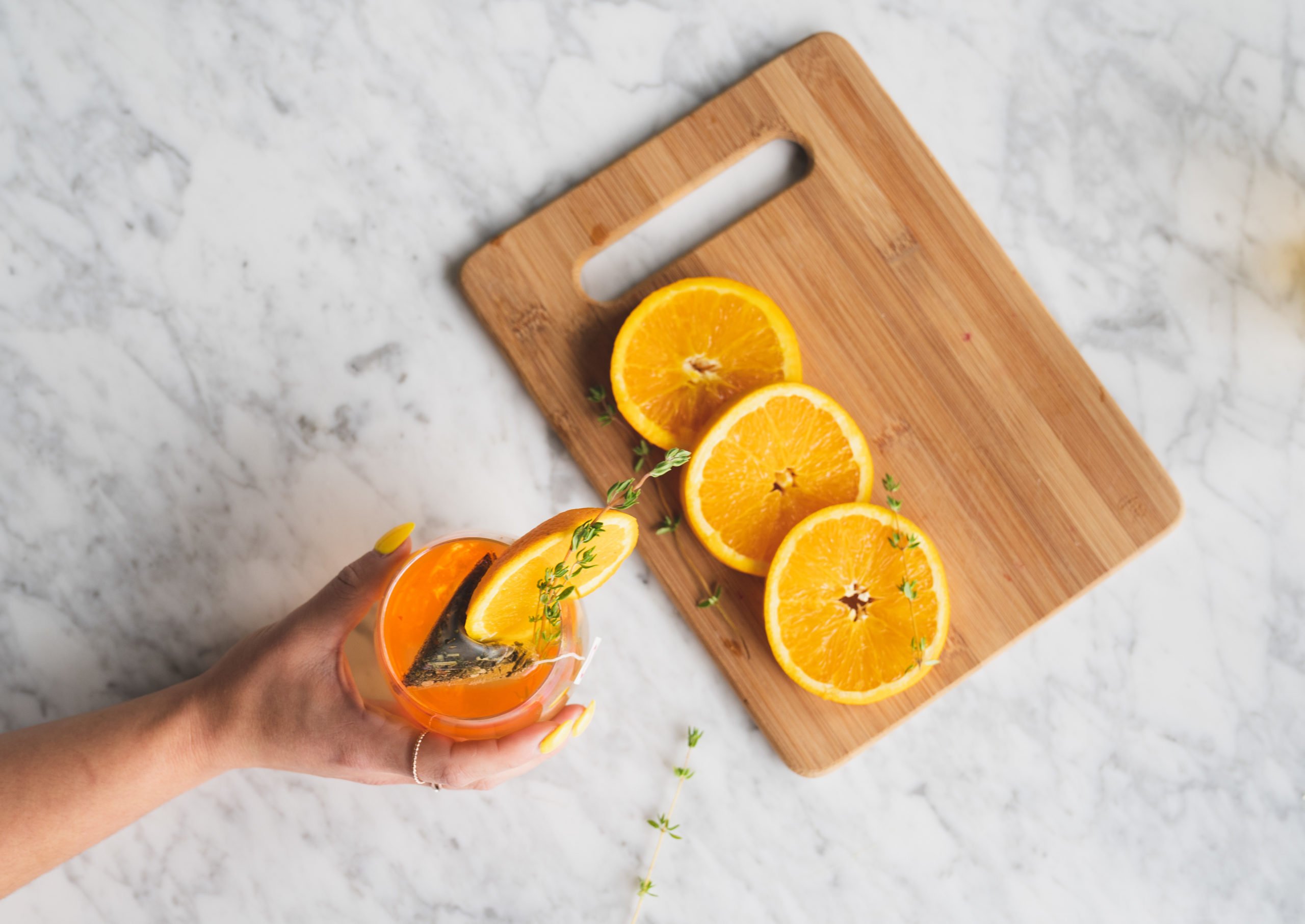 What Is An Aperol Spritz?
Arguably the most photogenic iced summer drink nowadays, Aperol Spritz' actually became a token refreshment in the 1950's. Italian brothers Luigi and Silvio inherited a liquor company from their father, and took several years building the company we now know and love as Aperol. The brand eventually gained wild popularity post-WWI and in the years that followed. [1] Nearly every young socialite around Italy could be caught drinking an Aperol Spritz, and of course, knew how to make an Aperol Spritz of their own! And it wasn't long before the Aperol Spritz recipe made its way around the world to become the fun, bubbly drink everyone wants a sip of.
The legendary Aperol Spritz recipe is actually quite easy. Simply combine Aperol aperitif, your prosecco of choice, and sparkling water or soda water. Here's a bit more about the ingredients themselves:
Aperol Spritz Ingredients
All of these ingredients are what make an Aperol Spritz, well, an Aperol Spritz! With a special ingredient (spoiler: Detox tea) you'll be loving the taste and benefits of this bubbly treat. 
Aperol—One of my favorite things about Aperol is that it's only 11% alcohol, meaning I can drink it all day and still keep my eyes open! The original secret recipe has remained unchanged over time (rightfully so, it's perfect!), and has a uniquely bittersweet taste from an infusion of oranges, herbs, and roots. [2]
Prosecco—Prosecco is an Italian white wine that tends to be on the dry side. With sweet undertones from fruits like pear and green apple, it's a perfectly balanced wine for this Aperol Spritz recipe. 
SkinnyFit Detox—I am known for adding Detox tea to my cocktails. Not only does it keep me from bloating, but it also gives me a great, natural energy boost. It contains 13 metabolism-boosting superfoods in each serving and has a delightful peach flavor that pairs perfectly with the citrus notes of this Aperol Spritz. You're going to LOVE it.
Sparkling water—This one is easy. Just choose your favorite sparkling water! I've used ones with hints of lemon or tangerine before, but a solid unflavored soda water is best in this recipe. The Aperol and Detox do all the work, flavor-wise.  😉
How To Make An Aperol Spritz
Even though the original recipe is perfect as is, you know I have to healthify just about anything and everything I make. So, for this SkinnyFit specialty Aperol Spritz recipe, we're adding Detox! Like I mentioned before, all of my favorite cocktails now have Detox in them. They just add a little feel-good boost, knowing you've got some amazing superfoods and metabolism-boosting ingredients inside.
Start with making a cold brew Detox. You can do this in ice overnight, or you can simply make a hot Detox and then let it chill over ice or in the freezer for 5 minutes. Once you have your chilled Detox ready, just pour all of the ingredients over ice, stir, and enjoy!
Aperol Spritz Recipe
We added a slimming twist to a classic Aperol Spritz for a sparkling superfood flavor bomb! All of the same citrusy flavor, with a healthy benefit you won't believe.
Prep Time: 5 minutes
Cook Time: -
Total Time: 5 minutes
Serving Size: 1 cocktail
Ingredients
3 oz. Prosecco
2 oz. Aperol
1 oz. Sparkling water
1 oz. SkinnyFit Detox
Orange slice, for garnish
Ice
Steps
Fill a glass with ice. Add prosecco, Aperol, Detox, and sparkling water. Stir gently to combine and garnish with an orange slice and Detox bag.