Jump To Recipe
Kickoff the autumn season with these delicious, healthy homemade apple chips! They are the perfect snack to satisfy your sweet tooth without the calories!
Making chips from scratch may sound daunting, but it's actually quite simple. When I first decided I was going to learn how to make apple chips, I wasn't sure what I was getting myself into. Luckily it ended up being a huge success, and one of the easiest recipes ever.
I'm a big fan of homemade anything, especially if it means health-ifying it. Most store bought apple chips are loaded with sugar or inflammatory oils. These delicious homemade baked apple chips are made with just two simple ingredients—apples and cinnamon. I promise, after you teach yourself how to make apple chips just once, you'll never need the recipe again and I guarantee it will become a staple in your kitchen!
What Are Apple Chips?
Apple chips are pretty much exactly what they sound like. Thin layers of sliced apples, baked or fried in chip form. Some apple chips are thicker and tend to have a softer texture, and thinner apple chips tend to be crispier and more, well, chip-like! The baked apple chips recipe I'm sharing today is going to be thin and crispy. They're so delicious, you're going to love them.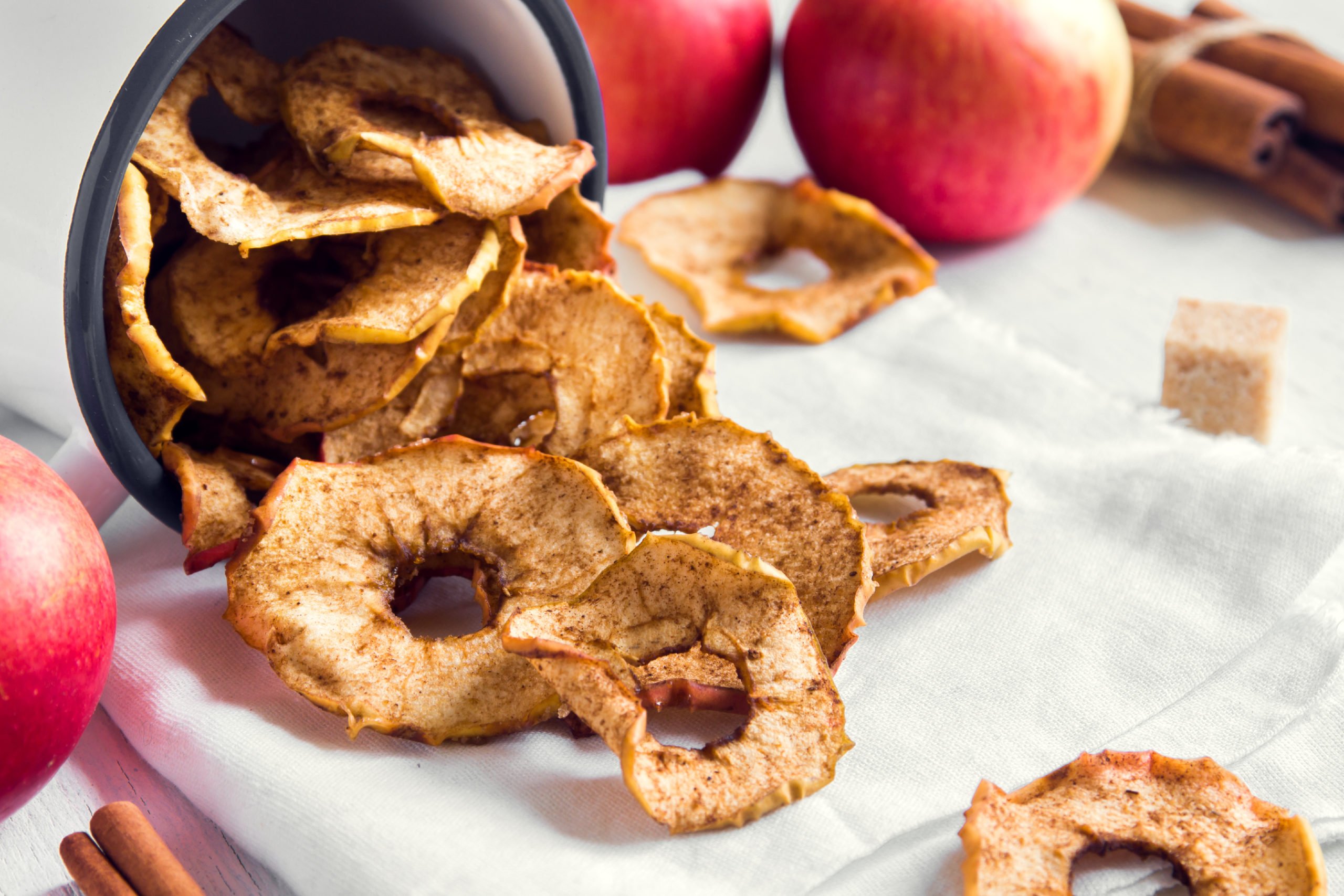 Benefits Of Baked Apple Chips
Apples are more than a delicious treat. They pack a nutritious punch, and are great for a number of health benefits, including:
Vitamins & Minerals—There's a reason they say apples keep the doctor away! Apples contain amazing vitamins and minerals such as vitamin C and K, potassium, manganese, copper, and a variety of B vitamins.
Fiber—Don't peel your apples! The skin on apples is a great source of fiber.
Heart Health—The polyphenols in apples are said to help support cardiovascular health. [1]
Gut support—The same compounds that support the heart are also said to be good for the gut, and aid in digestive support. [1]
Brain health—Apples and apple juice can help to fight oxidative stress, which can help improve cognitive function of the brain.  [2]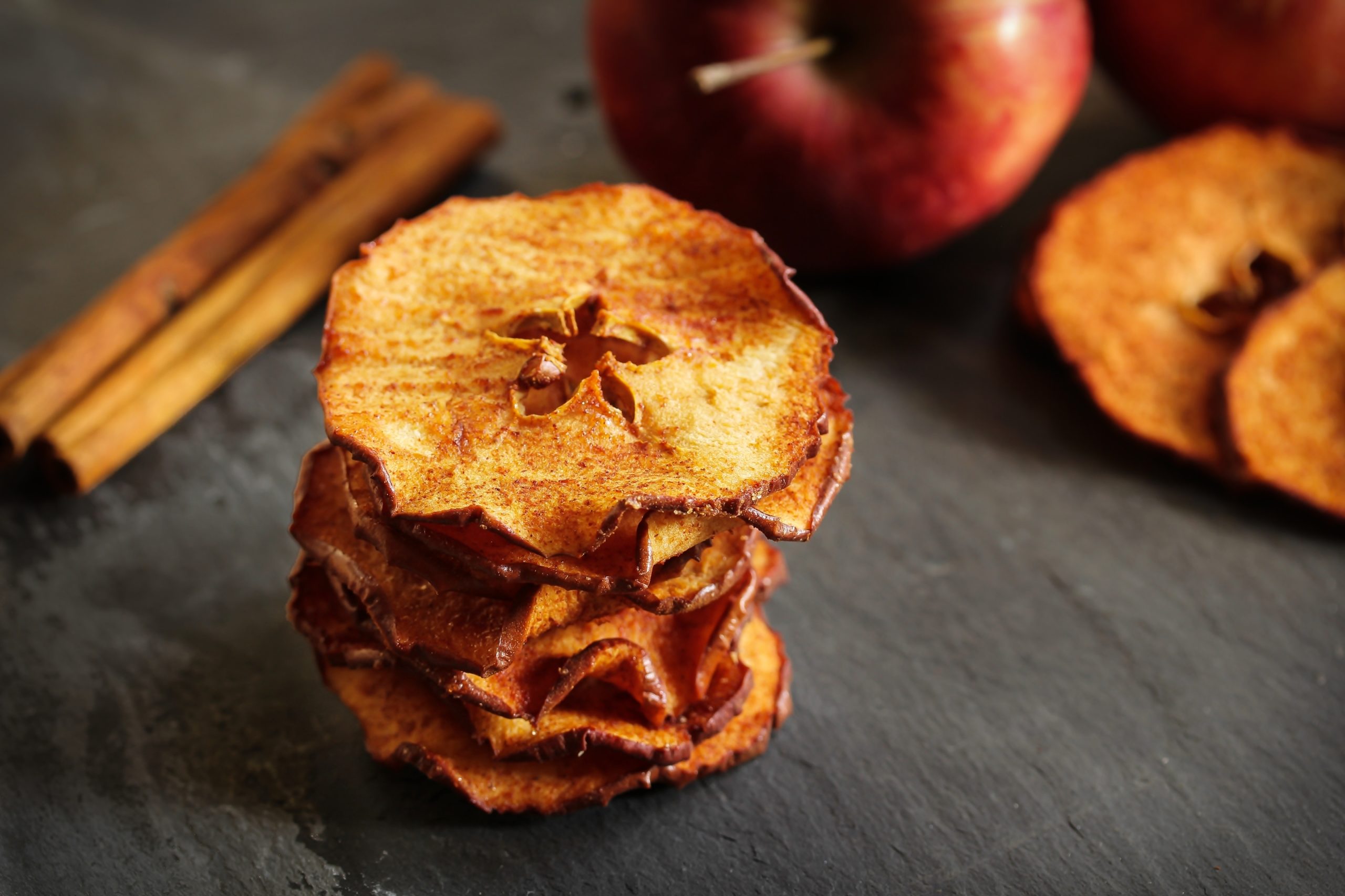 How To Make Homemade Apple Chips
Learning how to make apple chips is so easy, you won't believe you've never done it before! Simply pick your favorite apple—I personally love Gala apples, Fuji apples, and Honeycrisp apples for this recipe. Any will do, though! Preheat your oven to 200 degrees Fahrenheit and line two baking sheets with parchment paper, then you wash your apples. Slice the apples with a mandoline, or very thin with a knife. Spread the apples out on the baking sheets without touching, and then sprinkle with cinnamon on both sides. Let them bake for one full hour, flip the apples, and then let them bake for another hour. Once the hour is up, turn off the oven and let the apples sit for another thirty minutes. Patience is key here! If they're not crunchy, let them bake for another 15 minutes, or until they reach the crisp factor you're looking for.
Baked Apple Chips
Fall is finally in the air with these delicious homemade apple chips!
Prep Time:
Cook Time:
Total Time:
Serving Size:
Ingredients
3 large apples, such as Gala, Fuji, or Honeycrisp
1 teaspoon ground cinnamon
Steps
Preheat oven to 200 degrees Fahrenheit (90 Celsius).
Line two large baking sheets with parchment paper or a silicone baking mat.
Wash and thinly slice the apples using a mandoline to about 1/8-inch thick. Remove the seeds from each slice.
Spread the apple slices closely in one layer onto the baking sheets. Sprinkle with cinnamon on both sides.
Bake the apples for 1 hour. Flip the apples over and bake for 1 more hour.
Turn the oven off and let the apples cool in the oven for about 30 minutes before taking out. If the apples are not crunchy, continue baking them in 15 minute increments.
Remove the apples from the baking sheet and enjoy, or store immediately in an airtight container.