Jump To Recipe
Chocolate mousse is a light, airy, sweet cocoa decadence, plain and simple. It's also loaded with sugar, calories, cholesterol, and dairy. Fine for a once-in-a-while date night at a fancy restaurant, but what if you crave this sweet escape from everyday dessert… well, every day? Goodbye diet and health goals, that's what. Unless, of course, you're making this easy, healthy, and uh-freakin'-mazing avocado chocolate mousse.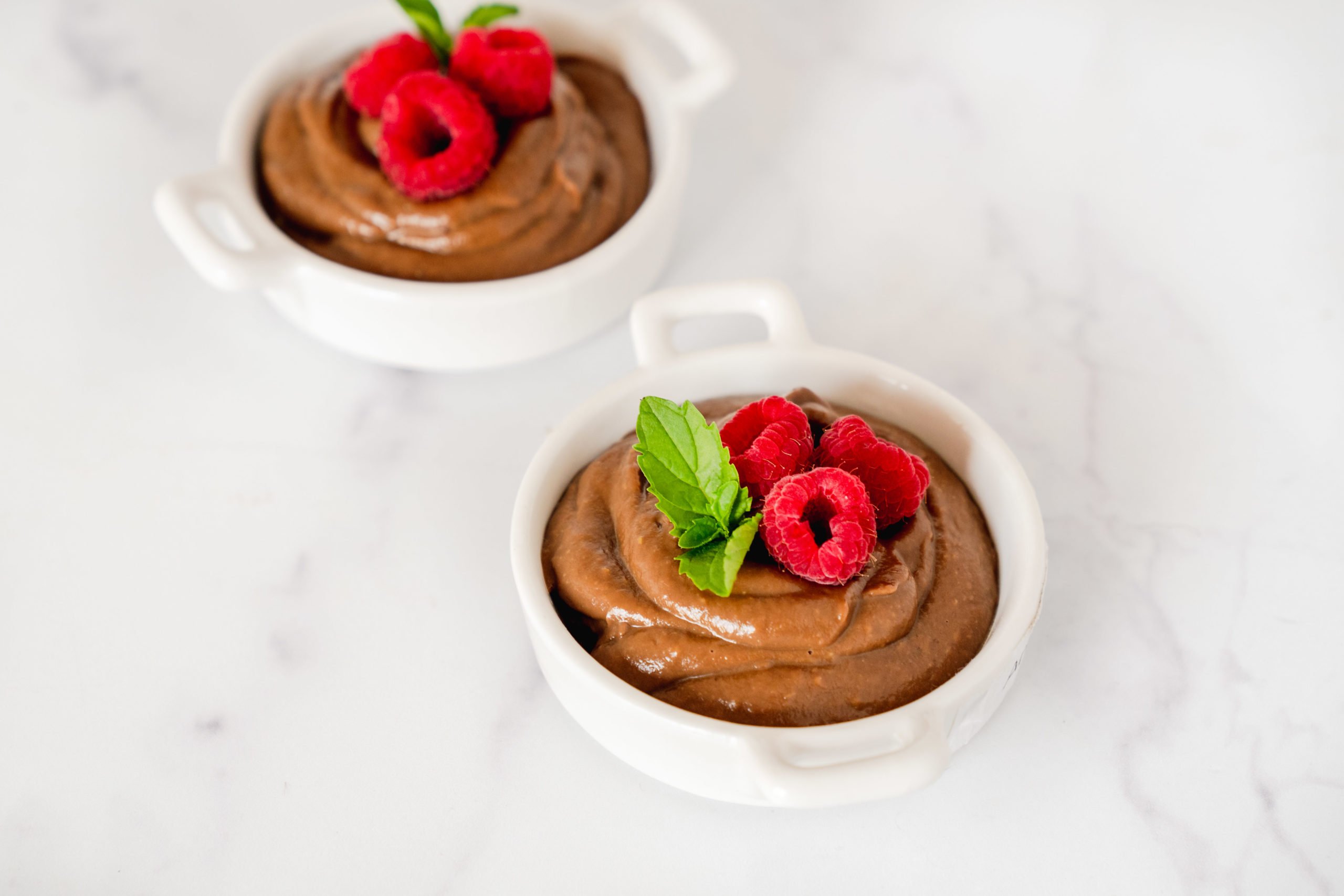 What Is Avocado Chocolate Mousse?
Traditionally, chocolate mousse is a rich dessert with an airy texture, thanks to air bubbles used in the making of it. Depending on preparation, mousse can be light and fluffy, creamy and thick, or something in between. And this makes sense. After all, mousse comes from the French word for "foam." 
Despite its popularity (or maybe owing to it), mousse can be challenging to make, especially for fresh chefs (excuse the pun), and particularly if you're in a hurry to whip up something nice for dessert. Luckily, avocado chocolate mousse is not just healthier than traditional chocolate mousse, it's way easier to make. (That yours truly did it on his first attempt is proof enough.) And this recipe in particular is healthy, with slimming, skin-brightening benefits that make you look and feel years younger. (More on that in a sec.)
Avocado chocolate mousse uses avocado as a substitute for eggs and heavy whipping cream. This gives chocolate avocado mousse the same richness as traditional chocolate mousse, without the ingredients that make it unhealthy. 
The chocolate avocado mousse recipe I'm using is a fast and simple no-bake recipe that's perfect for an impromptu dessert. It can be eaten as a healthy (and trendy) alternative dessert or layered onto cake in those rare moments when you simply have to throw diet to the wind.
With all that said, let's get cooking.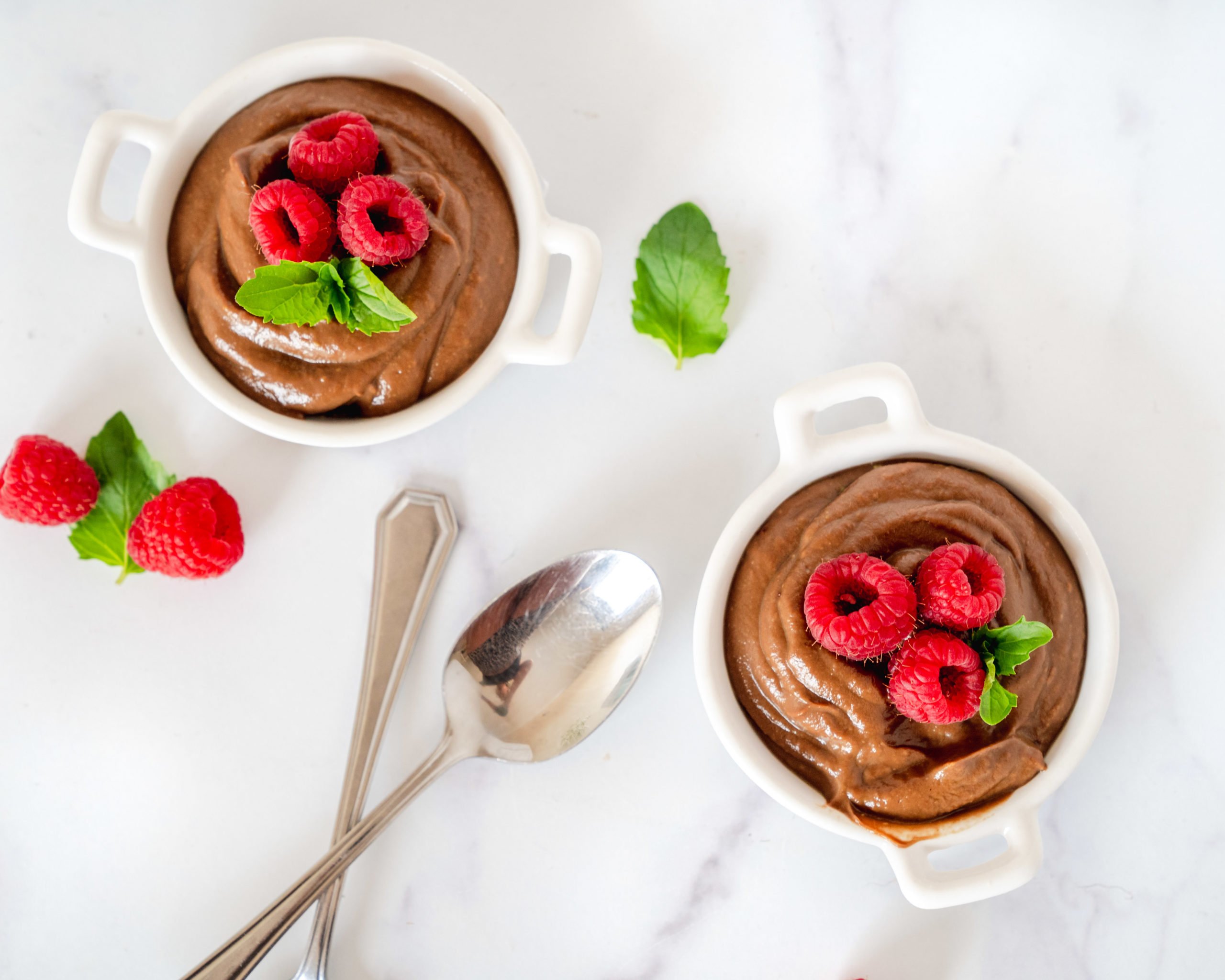 Benefits Of Chocolate Avocado Mousse
As I mentioned, this chocolate avocado mousse is packed not just with flavor, but with benefits. And when I say packed, I mean barely any room for more goodness! It's quite literally a healthy chocolate mousse, so remember these top benefits for all the nay-sayers.
1. Low in calories (Only 225)
With regular homemade chocolate mousse fetching 383 calories for a standard 6oz serving, and roughly 550 calories for dine-out mousse, this recipe's low calorie-cost alone wins its title as healthy chocolate mousse. What's also important to look at are the type of calories it contains. Substituting heavy cream for avocados and refined sugar for maple syrup, means you're getting way more healthful nutrients per calorie than other recipes.
2. Heart-healthy
Speaking of avocados, they're commonly referred to as a "good fat" food. Because, while they are high in fat, avocados contain mostly unsaturated fats, specifically monounsaturated fats, which are clearly associated with lowering LDL levels (the bad cholesterol) and increasing HDL levels (the good cholesterol). Because we've replaced significant amounts of saturated fat, found in standard mousse, with unsaturated fats, this chocolate avocado mousse recipe may help lower your risk of cardiovascular disease. [1]
3. Supports stronger bones, joints & ligaments
Here's where this chocolate avocado mousse really… takes the cake. 😏  By using SkinnyFit's Super Youth Chocolate Cake collagen, you'll be supporting your body with high-grade collagen peptides, shown time and again to strengthen joint integrity, reduce pain, and improve function. [2, 3] This is because each scoop resupplies your body with collagen, the production of which slows dramatically around your mid-20s to early 30s.
4. No refined sugar
Let that bag of sugar in your cupboard collect more dust—this avocado chocolate mousse gets its sweetness from pure maple syrup and all-natural, calorie-and-carb-free stevia extract. Maple syrup also contains important nutrients, completely lacking in refined sugar. [4] This recipe calls for two tablespoons of maple syrup, in which there is 12% DV of zinc, which is imperative for immune defense and the breakdown of carbohydrates. [5] You'll also find 66% of your daily recommended manganese, which is important for building bone, digesting carbs and amino acids, and healing wounds. [6]
5. Long, lush hair & radiant skin
Beyond joint health, collagen is also extremely effective at preserving your hair, skin, and nails against the aging process. Because collagen is also found in the cells around your hair and in your skin, it encourages your hair follicles to grow thick, long locks. [7] It also increases your skin's elasticity, which helps reduce wrinkles. [8]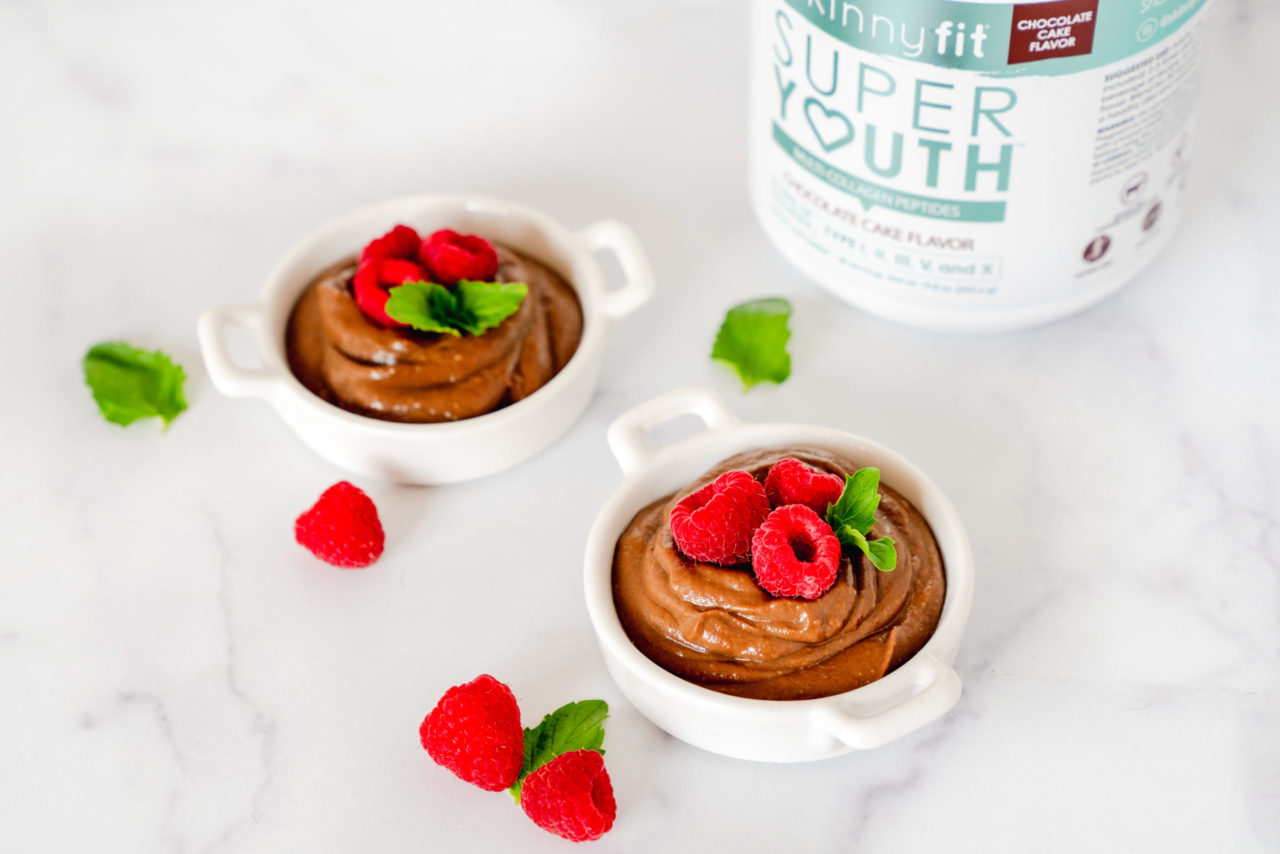 How To Make Healthy Chocolate Mousse 
Not only is this avocado chocolate mousse one of the healthiest mousse desserts out there, it's also incredibly easy! All you have to do is combine all the ingredients into a food processor and blend until smooth and creamy. When you've got that light mousse texture, place it whatever serving container you like and chill it in the fridge until dessert time.
Mentioned In This Post
SkinnyFit Chocolate Collagen
Look and feel younger with Super Youth Chocolate collagen! This scrumptious collagen powder includes 5 collagen types from 4 natural sources to restore youthfulness from the inside out.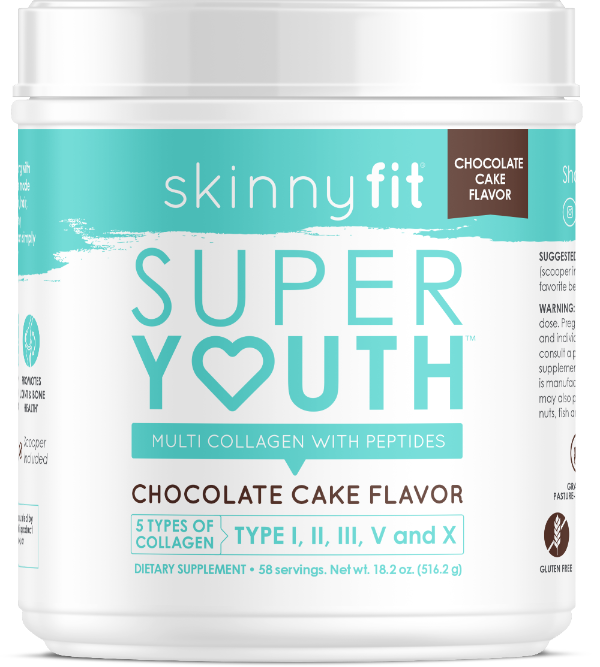 Healthy Avocado Chocolate Mousse
Avocado chocolate mousse is a healthy, nutritious twist on a timeless dessert favorite. It's packed with all the flavor you love from chocolate mousse, with added nutrients your body craves.
Prep Time: 5 minutes
Cook Time: 5 minutes
Total Time: 10 minutes
Serving Size: 4 servings
Ingredients
3 ripe avocados
1 tbsp cacao powder or unsweetened cocoa powder
¼ cup milk (any kind)
2 tbsp maple syrup
1/4 tsp salt
2 scoops Super Youth Chocolate Cake collagen
Steps
Place all ingredients into a food processor (or blender). Blend until smooth & creamy. Store in the fridge until ready to serve.
Total Calories: 225 calories
Carbs: 16g
Fats: 16g
Protein: 6g
Sugar: 7g
Fiber: 8g