Jump To Recipe
Warming, sweet, tart, filling, and often served with generous helpings of ice cream, eggnog, and cherished moments with family and friends. Indeed, nothing says the holidays, dessert, and grandma's cooking quite like a perfectly baked apple pie. But, then again, does anything say, "Oh, fuji! I need to start my diet ASAP!" quite like it either? Luckily, there are ways to make America's favorite pie á la mode healthy, delicious, and a hit with everyone at the dinner table. This baked cinnamon apples recipe unveils a low-carb apple pie re-do that keeps you satisfied all season long, while leaving less calories to burn off in the new year!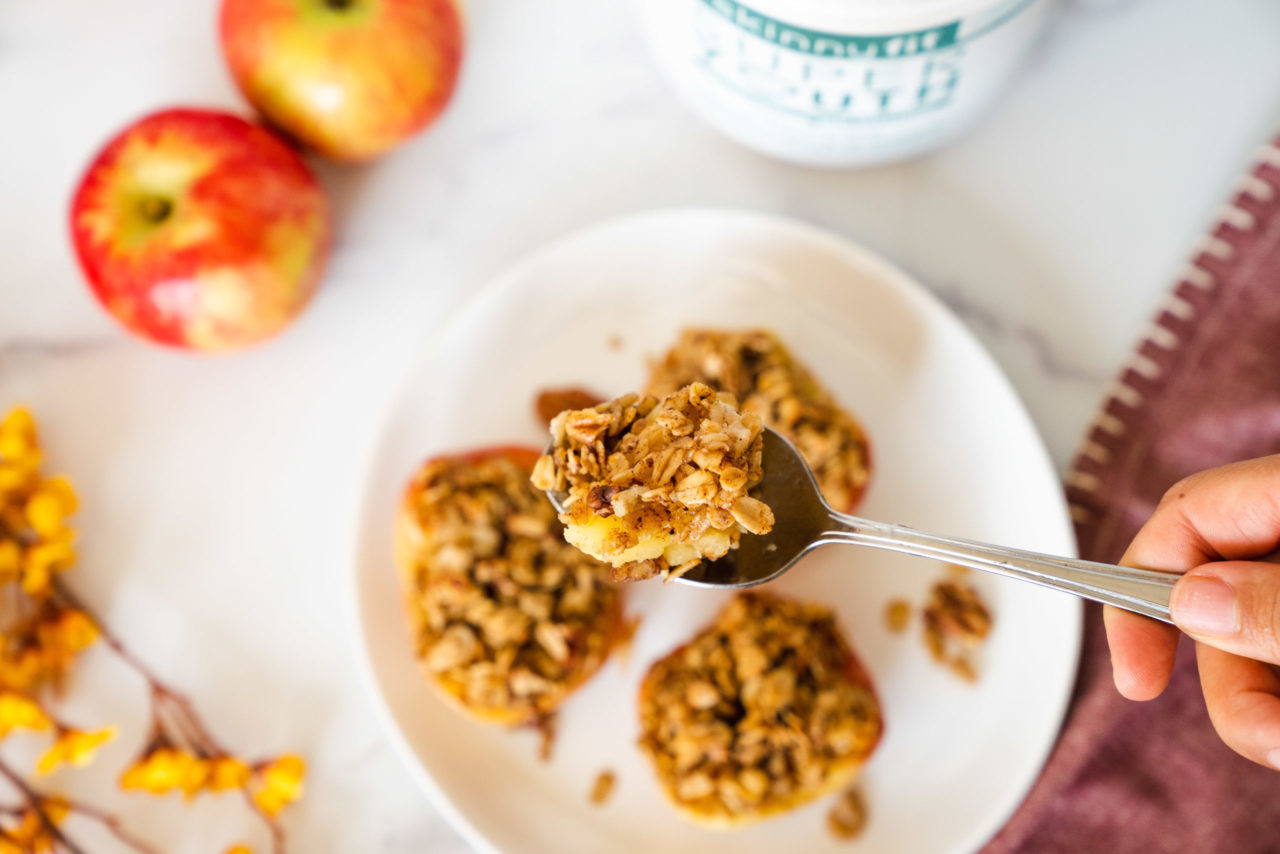 How To Make Low-Carb Apple Pie
Quality and taste preferences aside, pie is pie. Now, before you throw your phone across the room, slam your laptop shut in disbelief, or harangue me with the implications of baking blasphemy, just hear me out… 
Store-bought or homemade, sweet or citrusy, low-carb apple pie or high-fructose key lime, dessert pies are almost always generously sugared one-fruit salads baked in a breaded crust, and served with a scoop of vanilla ice cream to either complement or conceal the flavors within. And, they all look pretty similar, especially on the dinner party dessert table.
When it comes to making your pie stand out, you gotta think outside the crust.
This recipe is a low-carb apple pie that looks nothing like the freezer aisle options—or what Aunt Ann brings to Every. Single. Family. Dinner. Ever… 
Instead, you'll be cooking up baked cinnamon apples with a delicious oat-crumble topping that's not just eye catching and delicious, but waist-slimming and age-defying.
Here's why:
Swapping that nutrient-bereft crust for healthy baked apples provides your body with ample vitamins, minerals, and micronutrients. 
Fiber-rich and filling, these baked cinnamon apples help combat seasonal over-eating.
No preservatives, no added sugars, no unpronounceable ingredients… Check out the nutritional label of store-bought crusts and crumbles, even store-bought low-carb apple pie: all full of fake food! Every bite of these baked cinnamon apples is real and really delicious. 
While typical apple pies can cause inflammation and oxidative stress, thanks to unhealthy ingredients, these healthy baked apples are full of vitamins, minerals, and micronutrients that can help slow the visible and physical signs of aging and keep your body optimally tuned. 
They stand out amongst the standard pies at any family gathering. Just don't get caught drooling. 🤤
On top of everything above, these healthy baked apples are both easy and fun to make. They're a great dessert (or breakfast 😅) from autumn through spring.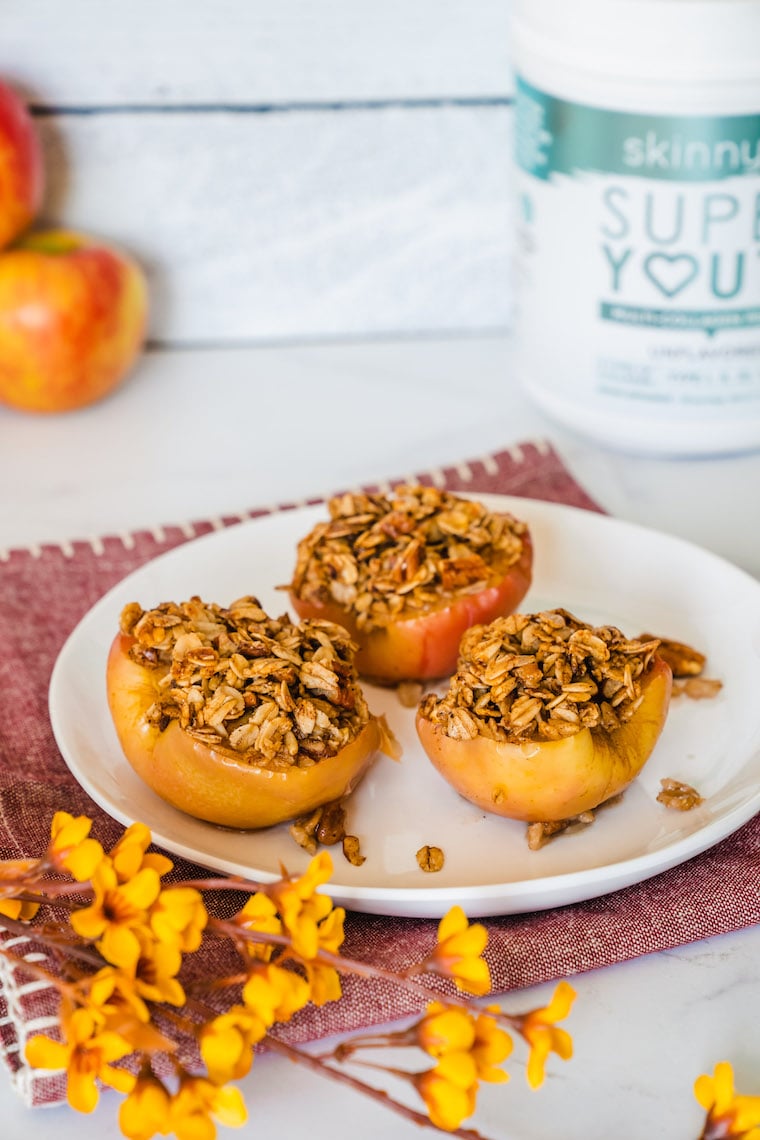 Best Apples For Pie
All apples may be delicious, but not all apples are made for baking. Stick to these to ensure your baked cinnamon apples come out fresh, tart, and with a satisfying crunch. 
Honeycrisp apples are my favorite for snacking and baking alike. And I'm not alone. They hold their texture and sweetness perfectly and complement almost any ingredient they're paired with. 
Braeburns hold intense sweetness with a relatively firm texture that maintains crunch when eaten raw or baked. They're one of the most popular apples in the store. [1]
Empire apples offer a slight melon or pineapple taste that's delightful in baked recipes, baked cinnamon apples included. A pro tip: pick the freshest empire apples in the bunch, as their characteristics tend to fade the longer they've been off the tree.
Benefits Of Baked Cinnamon Apples
As I mentioned, there are plenty of benefits to these healthy baked apples—especially compared to traditional apple pie.
Whether you're making this recipe for health, pleasure, or both, these baked cinnamon apples will brighten your holidays and help keep you on-diet without having to go full salad mode for the rest of the season.
Mentioned In This Post
SkinnyFit Unflavored Collagen
Look and feel younger with Super Youth Multi-Collagen Peptides! This versatile collagen powder includes 5 collagen types from 4 natural sources to restore youthfulness from the inside out.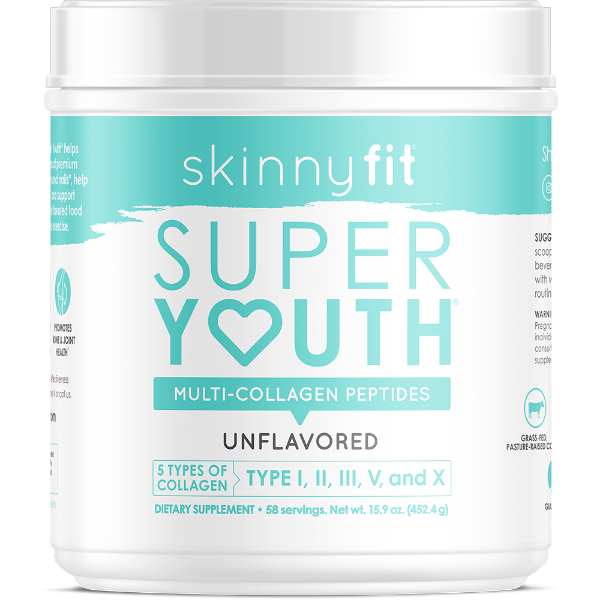 Baked Apples with Crumble Topping
These healthy baked cinnamon apples are the perfect low-carb alternative to apple pie! One bite is sure to satisfy your sweet tooth all season long!
Prep Time: 10 min
Cook Time: 20 min
Total Time: 30 min
Serving Size: 12 halves
Ingredients
6 large apples (honey crisp, braeburn, or empire are best)
1 cup old fashioned oats
½ cup pecans
1 tsp cinnamon
½ tsp nutmeg
½ tsp ginger
2 tbsp coconut oil
2 tbsp maple syrup
½ cup apple cider or water
1 scoop Super Youth unflavored collagen
Steps
Preheat the oven to 400 degrees.
Core apples—slice the tops of the apples flat and remove the stem with a knife. Cut about halfway down to remove the seeds from the center. 
Spray a baking dish with non-stick cooking spray or coconut oil and place the apples in the dish.
In a bowl combine oats, pecans, spices, and Super Youth collagen. Add in melted coconut oil and maple syrup.
Divide oat mixture evenly among the center of the apples, pressing the filling in towards the center.
Pour apple cider or water into the bottom of the baking dish. Cover the apples with foil and bake for about 20 minutes making sure to baste the apples with the cider every 5-10 minutes. Uncover the apples for the last 5 minutes.
The apples should be fork tender when cooked. *Optional: Serve with vanilla ice cream or whipped cream.